A left footed bullet from 21-year-old Brazil football prodigy, Neymar Junior, which flew past Spanish captain Iker Casillas, made the world sit up. Cowering on the floor, stunned and bleeding, was Spain's international reputation.
Spain swaggered into Rio on the back of stylish triumphs at the Euro 2012 and 2010 World Cup and buoyed by suggestions that the world was witnessing the greatest international team since Brazil's 1970 edition. Perhaps, football commentators whispered, the Spanish "tiki taka" of Xavi Hernandez and Andres Iniesta was even superior to the samba of Pele and Jairzinho.
How foolish that proposition looked at the conclusion of the 2013 FIFA Confederations Cup final on Sunday night as the Spanish players stared up at the scoreboard at the Maracanã Stadium in Rio de Janeiro and read: Brazil 3, Spain 0.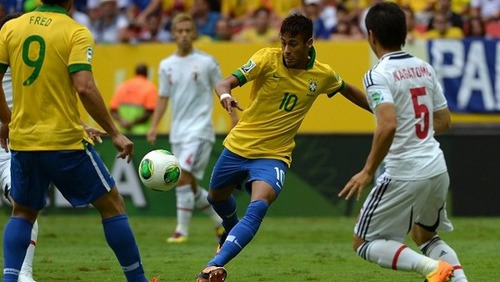 Is Brazil's "Selecao" back in business? Maybe. But it seems too soon to tell. The abbreviated format of the Confederations Cup makes it an easier proposition than the World Cup and, tellingly, no title holder has ever gone on to lift the showcase prize a year later.
But, as the "DIRECTV Road to Brazil 2014" media tour came to its conclusion, it is hard not to feel that the Confederation Cup said more about its runner-up than its champion.
Spain cruised past Italy 4-0 in the Euro 2012 finals but, against a noticeably weakened Italian outfit in the semi-finals, it took penalties to separate the two European nations. And Spain never looked even remotely like getting that far on Sunday as Fred, Neymar and company tore them apart.
The final stats revealed that Spain had 52 percent possession, one shot more than Brazil and were ahead on the corner count by eight to one. Yet, anyone who witnessed the event saw Spanish impotence against coach Luis "Big Phil" Scolari's well-oiled Selecao.
Lies, damned lies and statistics. As the late Green Bay Packers coach Vince Lombardi once said: "The score on the board doesn't mean a thing. That's for the fans. You've got to win the war with the man in front of you."
There were many Spanish players that did not do themselves justice in Rio. But it was the sudden mortality of the 33-year-old Xavi, as first evidenced in Barcelona's crushing, two-legged 2012/13 European Champions League loss to Bayern Munich, which should be most worrying.
Is the "Pass Master" past it?
At the Maracanã, Xavi rarely got forward enough to support the masterful Iniesta. He never got back to help Sergio Busquets either as Brazilian counter attacks sliced through the centre of the Spanish team like a hot knife through butter.
Like Tom Hanks in "The Terminal", Xavi was stuck in transit as the world went on around him. His two impressive Brazilian bodyguards, the strapping Paulinho and alert Luiz Gustavo, ensured that the uncle with the dodgy hairdo was kept largely in solitude.
On this evidence, it would be folly for Barcelona to let midfield starlet Thiago leave this summer.
Can Barcelona successfully maintain its high-stakes passing game without Xavi buzzing from box-to-box creating clever triangles and astutely manoeuvring the ball past snapping opponents? Would Spain be wise to retain its Catalan midfield trio when the engine now seems stuck in first gear?
Right back Alvaro Arbeloa was an accident waiting to happen against the nimble Neymar and was replaced for his own safety, striker Fernando Torres lacked penetration and winger Juan Mata did not quite fit in. All three were replaced by coach Vicente del Bosque in the second half.
But perhaps Spain might have been better served if the more solid and pragmatic Javier Martinez or Xabi Alonso was at Busquet's side instead.
Of course, there was an element of luck in Brazil's triumph. They scored within the first and last five minutes of the first half and then almost immediately after the resumption. Scolari probably could not dream up better timed goals.
But Brazil was also tactically superior.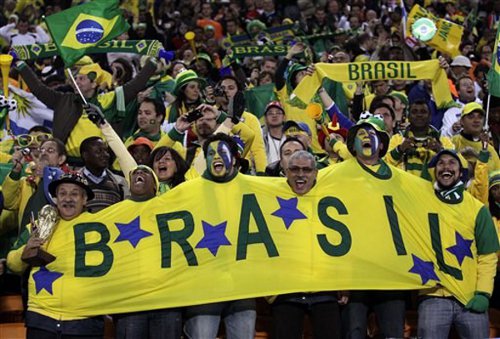 There were sporadic boos when Hulk's name was announced before kick-off. But Scolari used him effectively as Brazil launched aerial balls in his direction and he repeatedly bullied the diminutive Spanish left back Jordi Alba to take control in dangerous areas.
Hulk did not necessarily make the most of his opportunities but it was his inswinging cross that led to Fred's scrappy opener.
Midfield bouncers Gustavo and Paulinho never seemed to be more than five yards apart and they pressed in unison to disrupt any attempted Spanish triangles. At the back, Brazil captain Thiago Silva seemed to have more limbs than an octopus as he repeatedly poked the ball away Spain's frustrated attackers while one David Luiz goalline clearance from a Pedro effort took the breath away and emotionally crippled the tourists.
And, whenever possible, the Brazilians swept the ball swiftly in the direction of the fleet-footed Neymar at the other end. If Spain defender Gerald Pique was not in tremendous form, the final score might truly have been humiliating.
But, eventually, Pique was undone by the regularity of the demands on his athleticism and concentration and his first mistimed challenge was met with a straight red card. Spain's other central defender Sergio Ramos also contrived to miss a penalty kick after sprinting half the length of the pitch to take it.
The failings of Ramos, Pique, Pedro, Torres and company could be described as bad luck or an off day at the office. But Xavi's tame showing might symbolise a much deeper problem that threatens the root of the Spanish renaissance and cannot be quickly fixed.
At the home of football's old favourites, the new upstarts were firmly put in their place.
What is it about Brazil that Spain, who conquered the rest of South America, historically finds so impossible to subdue?
Later this month, Neymar will pack his bags and head to Barcelona with every intention of opening his own Carnival school on La Liga's pitches. Paulinho is heading for Europe too while the likes of Oscar and Lucas Moura are expected to press on from impressive debut seasons on the old continent.
The winds of change are blowing and it does not favour the Spanish Amistad. Brazil, it seems, is intent on colonising its football rivals once more.