Naparima College, with all their firepower, had to scrape past newly-promoted St Mary's College 3-2 today in an entertaining but scrappy affair at Serpentine Road in St Clair.
The win saw "Naps" join three other teams with a maximum of six points after two rounds of Secondary Schools Football League Premier Division action.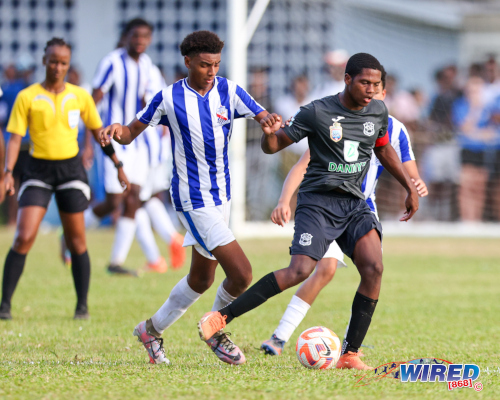 Fatima College edged Speyside High Secondary 1-0 in Tobago to also stay perfect, while San Juan North Secondary and East Mucurapo Secondary enjoyed contrasting wins over Pleasantville Secondary and St Benedict's College.
San Juan North thumped Pleasantville 5-0 while East Mucurapo edged St Benedict's 1-0.
At Serpentine Road, St Mary's gave Naparima a scare with "Saints" captain Kyle Phillip pulled his team within touching distance of a point in the 84th minute.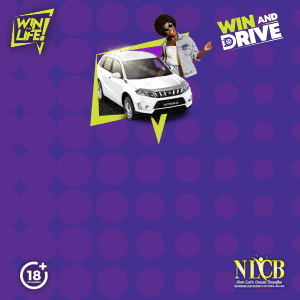 However, Naparima had sufficient chances to win by a comfortable margin.
"We dominated the game, we dominated possession, and I think their keeper (Jabali Doyle) had an excellent game," Naparima coach Travis Mulraine told Wired868. "But I think this result is a blessing in disguise.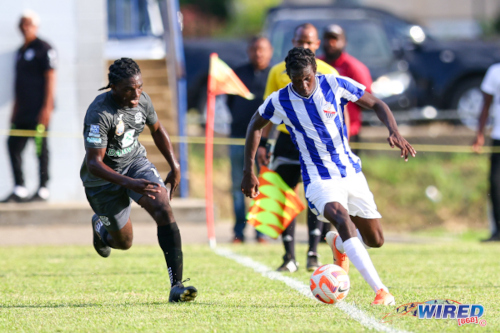 "One of the things I know I have to guard against this season is complacency because we have some guys who are playing in the TTPFL (TT Premier Football League) Tier One and these guys might think that they are a bit above this level.
"It's about managing their behaviours off the field and, as I said, this is a blessing in disguise to bring us back down to earth after that ten-nil victory [over Chaguanas North]."
After netting a hat-trick in the Saints' 8-0 opening round win over Pleasantville Secondary, left winger Ryan Radellant gave the hosts a surprise lead with a stylish finish in the 38th minute.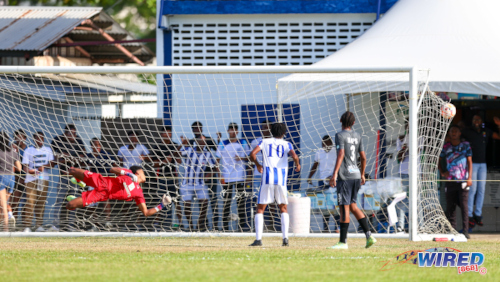 Radellant controlled a cross-field pass from the opposite flank and sidestepped two defenders before placing a rocket of a shot into the top right corner.
Naparima awoke immediately as they tried every channel to breach the St Mary's defence. And they were rewarded twice in the space of three minutes to take a 2-1 lead into the half-time break.
Central midfielder Jaron Pascall was the unlikely hero, as he pounced on a loose pass in midfield, and took a short stride before shooting past Doyle and into the bottom corner from outside the box.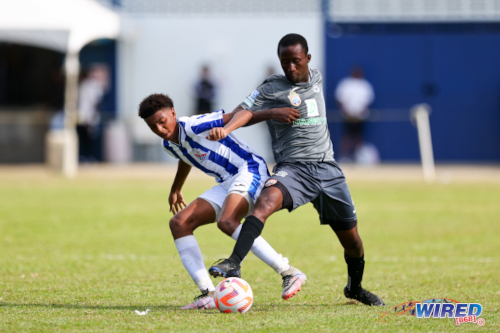 St Mary's were still reeling when Vesprey made it 2-1.
Invited to run at the opposing defence by Pascall, Vesprey wriggled away from Saints right back Darius Humphrey and wrong-footed centre-back Mekhi Pascal with a dropped shoulder, before scoring neatly with his right boot.
Despite a positive end to the first half, Mulraine opted for changes at the interval, as he brought in star forward Kanye Francis and midfielder Jelani Calliste to good effect.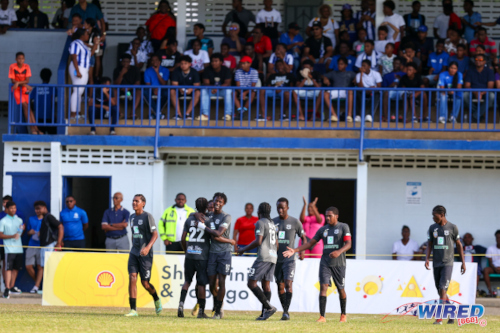 Francis scored what would ultimately be the match-winner in the 57th minute, as he ran on to a chipped ball by Jabari Forbes to finish.
From the latter stages of the first half and almost the entirety of the second, Naparima seemed likely to secure another lopsided win.
Instead, they nearly rued a flurry of missed chances—including a miss from the penalty spot in the 80th minute, as Francis' cheeky chipped effort was easily held by the stationary Doyle.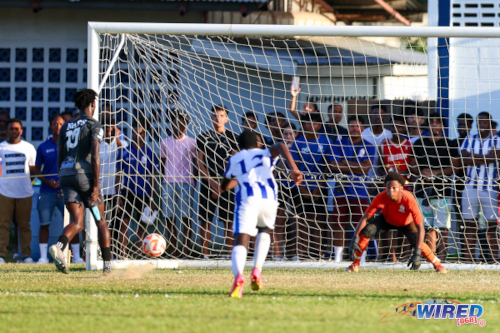 Somehow, St Mary's pulled one back in the 84th minute when captain Kyle Phillip pounced on a loose ball that Naparima were unable to clear from a distant, well-taken free-kick by Humphrey.
Both the hosts and visitors had ample chances in the final minutes, as St Mary's sought a valuable, if not fortunate, point, while Naparima tried to secure a score summary that better reflected their dominance in the final third.
"It will get [more] difficult as we go along," said Mulraine. "If you look at our fixture list, we have [initially] what you basically call the weaker teams. But I always preach to my guys that there are no easy games."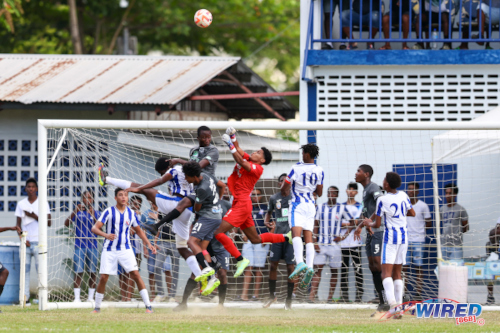 The Naparima coach and former Trinidad and Tobago national midfielder said he will be working on tightening up his defenders, who were guilty of a few lapses of judgment.
"In the first half, they (St Mary's) were playing some long balls into the channels between the wingbacks and stoppers and causing us to chase the ball, facing our goal," said Mulraine. "With a bit of work, we should have been dropping and attacking the ball but we were staying a bit too high. So, these are some of the things we have to work on during the week."
Mulraine also stressed on the importance of mentality training, insofar as the high-level players never underestimate their opponents or overestimate their abilities.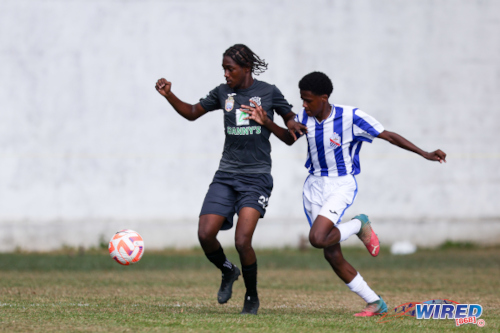 "Paper doesn't win football—you win it on the pitch," he said. "At the end of the day, we have to approach each game like we're playing a Benedict's or a Fatima or a Presentation College.
"That is my major challenge: to [limit] the complacency and keep these guys focused."
St Mary's College head coach Michael Grayson, meanwhile, took more positives from the match, giving consideration to the quality of the opposition.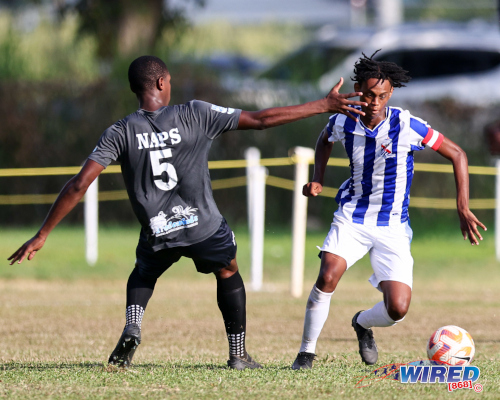 "[We weren't] bad at all," said Grayson. "Playing this level, coming from playing a weaker [team] in the first round, we adapted to it well. We went ahead, yes, but we should have been ahead by two, three goals. We have to get a bit sharper than that.
"[Naparima] were faster to the ball, they were stronger, but again, we kept playing in bits and pieces and then the bits and pieces came together."
Having drubbed Pleasantville and lost narrowly to Naparima, Grayson feels the team is "coming together", despite a few injury concerns. He expects St Mary's to have a couple new players soon, who they plan to register this week.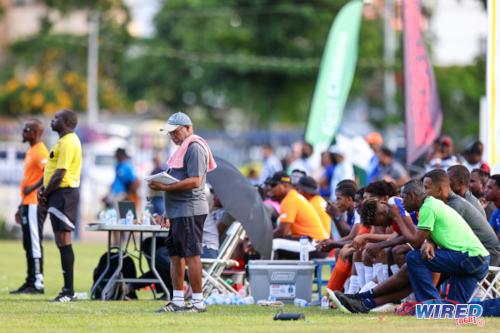 On Wednesday, the Saints will hope to return to winning ways as they host Arima North Secondary while Naparima College welcome table proppers Pleasantville Secondary to Lewis Street, San Fernando.
(Teams)
St Mary's College (4-3-2-1): 88.Jabali Doyle (GK); 18.Isaiah Morris, 4.Marley Callender, 5.Mekhi Pascal (2.Nicholai Manswell 90+4), 12.Darius Humphrey; 20.Dusan Cooper (9.Joshua Miguel 83), 6.Raul Aguilera-Nunes, 19.Eran McLeod (16.Alejandro Harper 50); 14.Elijah Wong (11.Tristan De Silva 59) 7.Ryan Radellant (8.Nathan Young 89); 10.Kyle Phillip (captain).
Unused substitutes: 1.Tyrese Henry (GK), 99.Kristoff Marcus, 3.Joshua Chalerie, 13.Micah Hernandez, 15.Kristian James.
Coach: Michael Grayson
Naparima College (4-3-3): 1.Tyrese Romain (GK); 3.Antonio Hills, 5.Josiah Cooper, 16.Darion Hernandez (18.Tyrel Alexander 46), 7.Jkwon Bailey (13.Jelani Calliste 46); 4.Jaron Pascall, 21.Zachary Seecharan (10.Kanye Francis 46), 8.Terrell Rajoon (captain); 11.Akiel Vesprey (6.Xarion France 65), 14.Tevin Pantor (9.Nathaniel O'Garro 72), 27.Jabari Forbes.
Unused substitutes: 25.Mikhail Clement (GK), 15.Arron Raymond, 19.Aidan Ramnarine, 24.Shabani Thompson.
Coach: Travis Mulraine
Referee: Crystal Sobers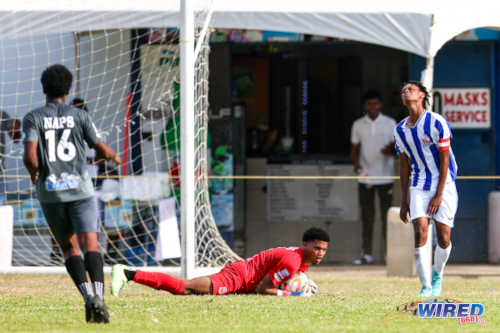 SSFL Premier Division results
(Saturday 16 September)
St Mary's College 2 (Ryan Radellant 17, Kyle Phillip 84), Naparima College 3 (Jaron Pascall 42, Akiel Vesprey 45, Kanye Francis 57) at Serpentine Road;
Bishop's High 0, Chaguanas North Secondary 1 (Nekayse Moore) at Plymouth Recreation Ground;
Speyside Secondary 0, Fatima College 1 (Aidan De Gannes) at Speyside Recreation Ground;
St Benedict's College 0, East Mucurapo 1 (Jemone Gulston) at Mahaica Oval;
QRC 1 (Stephan James), St Anthony's College 0 at QRC ground;
San Juan North 5 (Jaheem Danclar, Lindell Sween, Nathan Quashie, Joshua Lewis pen, OG), Pleasantville Secondary 0 at Bourg Mulatresse;
Presentation College (San F'do) 1 (Adah Barclay), Malick Secondary 0 at Manny Ramjohn Stadium;
Arima North 1 (Jemaul Ashing 1), Trinity East 1 (Deisean Plaza 4) at UTT, O'meara.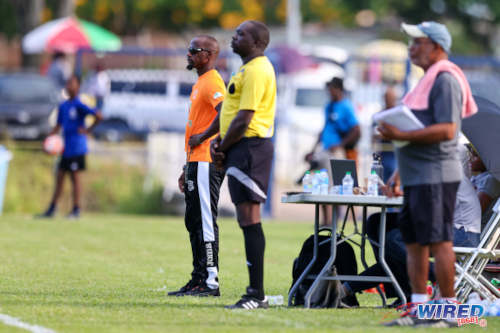 Upcoming fixtures
(Wednesday 20 September)
East Mucurapo vs Fatima College, Fatima Ground, 3.30pm;
Malick Secondary vs Chaguanas North, QRC Ground, 3.30pm;
St Mary's College vs Arima North, Serpentine Road, 3.30pm;
Bishop's High vs St Benedict's College, Plymouth Recreation Ground, 3.30pm;
Naparima College vs Pleasantville Secondary, Lewis Street, 3.30pm;
Presentation (San F'do) vs San Juan North, Manny Ramjohn Stadium, 3.30pm;
St Anthony's College vs Speyside High, Westmoorings, 3.30pm;
Trinity East vs QRC, Trincity, 3.30pm.