The Mannie Ramjohn Stadium in Marabella was the launchpad for just over a dozen young footballers from each of two Caribbean nations yesterday, as the Trinidad and Tobago and Jamaica Boys' National Under-15 Teams met in an international friendly.
The hosts were better but without really carving open the Jamaican outfit. And, in the end, the 1-1 score was probably fair.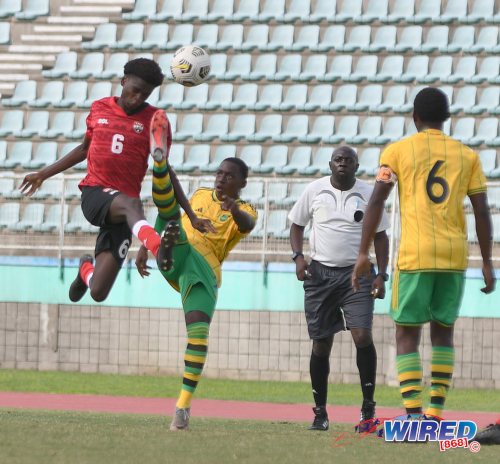 "Our boys showed some heart, and coming down in the dregs of the game—the last 15 or 20 minutes—they really took the game to the Jamaicans," said Trinidad and Tobago coach Shawn Cooper.
"[…] Now these boys have a game under their belt and they have an idea what the game speed of the international game [is like], I think we are in good hands going into the next couple games."
Jamaica coach Andrew Peart sounded satisfied too.
"For us, the first thing was about having them exposed to what international football feels like," said Peart. "The pace is different, the physicality is different, and that was evident [yesterday]. And also [we] managed to do a lot of the things we were doing in training—so that was good.
"At least now that first game is out of our systems and we look forward to Tuesday."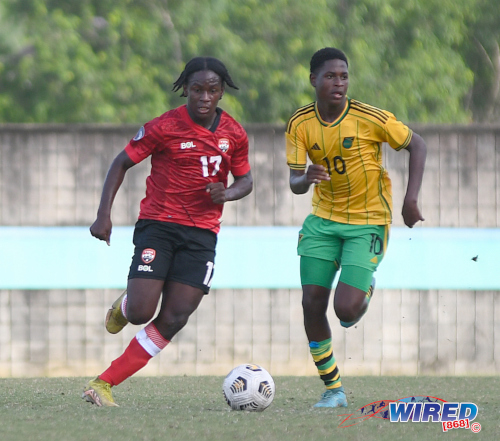 The two Under-15 Teams meet again from 3.30pm at the same venue on Tuesday. And, after yesterday afternoon's ice-breaker, chances are there might be more attacking verve on display then.
Yesterday's affair was what analysts euphemistically describe as "a coach's game" and it was not for nothing that, when asked for his thoughts, Cooper's first response was: "very interesting".
The kick-off of the 2023 Concacaf Under-15 Championship is just two weeks away in the Dominican Republic. It was perhaps unsurprising then that both teams put a premium on defensive shape above all else.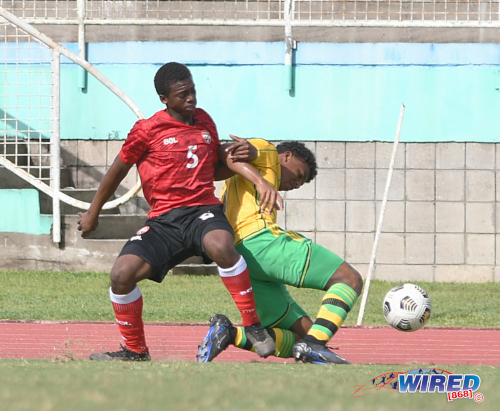 Over 80 minutes plus stoppage time, there was not a single one v one against either goalkeeper, or a defensive splitting pass, or dashing counter-attack.
Instead, Jamaica and Trinidad and Tobago sat off without the ball and stayed compact, while trying to ensure that their opponents played in front of them.
"I think our defensive organisation was pretty much spot on," said Cooper. "[…] What we wanted to do was keep shape—this is the first phase—to keep us in the game.
"We received an unfortunate goal but besides that clearance that went in the goal, the Jamaicans didn't have a sniff on our goal; because we were properly well organised."
Trinidad and Tobago lined up in a 4-1-4-1 formation with a relatively assured central defensive partnership of Sheridan McNish and Adam Pierre further complemented by the security of defensive midfielder Stephen Olliviere.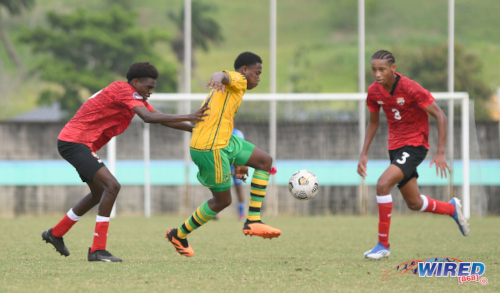 Diminutive goalkeeper Mikhail Clement might have felt as though he was in a safe room. Yet, somehow, he still let one goal in.
Jamaica midfielder Owen Jumpp looked to be challenging for the ball rather than taking a genuine shot on goal, but it flew at an awkward height for Clement who was off his line and misjudged its flight path.
And the result was the opening goal of the affair, after 38 minutes.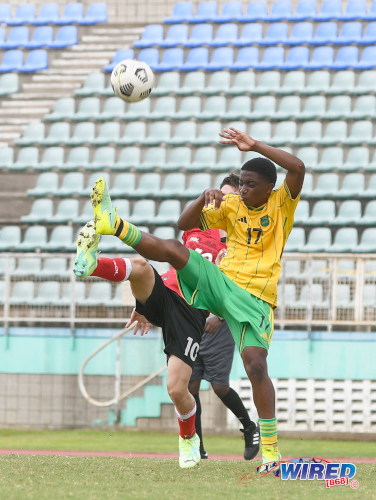 Pierre gave Clement a hug, the temporarily distraught goalie flashed the thumbs up at the bench, and the young Soca Warriors just got on with it.
For the first 40 minutes, Trinidad and Tobago's defenders seemed adamant in forcing lofted diagonal balls behind either Jamaican full back for their wingers to chase. It was an approach that rarely looked like paying off.
In the second half, the hosts were more patient in possession, as their back four tried to pass the ball vertically at a pace with the intention of unnerving the opposition and creating gaps in their defensive lines.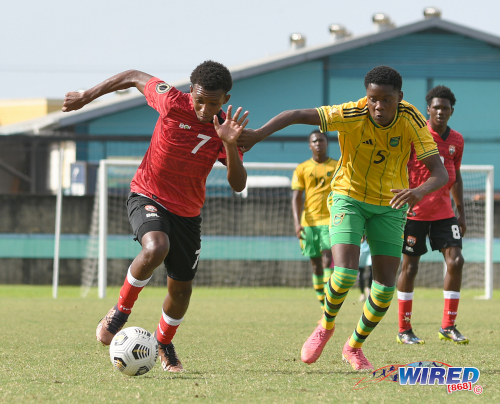 It worked on occasion with winger Elijah Diaz isolated against Jamaica right back Maalick White. But he had just one cross and a free kick to show for his efforts.
On the other flank, Jasai Theophilus got even less success against Jamaica's other full back, Zienodean McLean.
Instead, curiously, Trinidad and Tobago's goal came down the centre from an attacker who should have been outnumbered.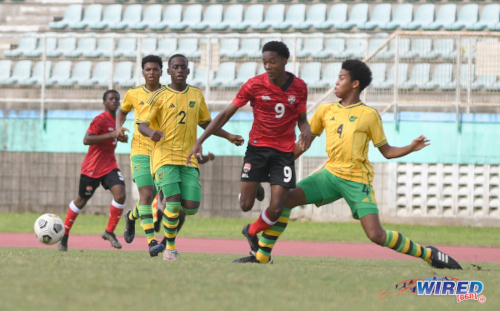 Near the centre circle, the Jamaican defence allowed opposing forward Jonathan Mason to turn and face them. It was an error—but they could hardly have imagined how costly it would be.
Jamaica may know a thing or two about sprinters, but the way Mason glided across the field with a football caught them cold. And when goalkeeper Justin Murray could only parry Mason's angled shot, the latter's teammate, Akel Vesprey, was right on spot to tap home the equaliser.
"You are most vulnerable after you have just scored!" Cooper shouted at his charges, as they celebrated by the north-western corner flag. "Emotional intelligence! Keep your heads in the game!"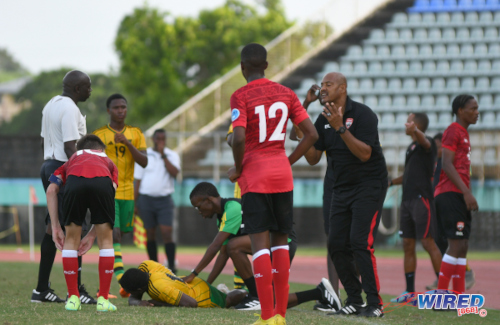 Cooper's instructions were another indication of the scale of the project at hand. The boys in red, black and white are 14 and 15-years-old and, hopefully, their best days are ahead of them. For now, they still have their training wheels on.
Regardless, there was a healthy dose of tension in the air that spilt over at times. Stand-in captain and midfielder Caden Trestrail claimed to have been struck off the ball by Jamaica substitute Duwayne Burgher near the hour mark.
And Trinidad and Tobago's Josiah Simmons and Jamaica's Raequan Campbell-Dennis—both substitutes—gave referee Gyasi McDonald some work to do, after their shoving match nearly sparked an inter-island conflict.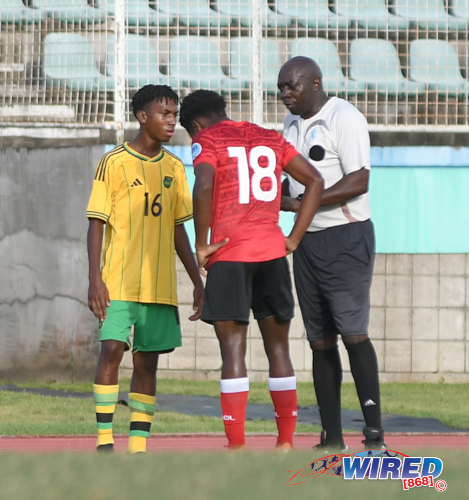 Jumpp nearly cut Trestrail in two in second half stoppage time, with a wild tackle that earned him a yellow card. But, outside of Trinidad and Tobago left back Criston Gomez who seemed to be struggling with cramp, everyone seemed to leave the field in good shape and will live to fight another day.
Peart said his Jamaican team have been in training for the past three and a half months. And he set himself a lofty target at next month's Concacaf Championship.
"We have never qualified from the group stage, so that is our first [target]—to do one better than we have done before," he said.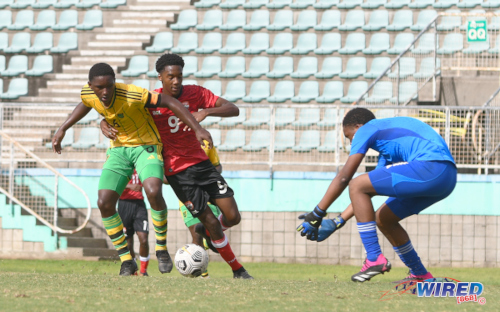 The young Soca Warriors began training about 14 months ago, but Cooper noted that they were without captain Seth Hadeed and holding midfielder Nikosi Foncette against Jamaica.
"We are very solid in the back and we have pace on the wings and upfront," said the National Under-15 and Under-17 head coach. "I think we still need to be a little more solid in the middle of the field but in saying so we had two starters out today: the captain Seth Hadeed and Nikosi Foncette.
"So, I think the other guys did a pretty good job in organising and keeping the team solid."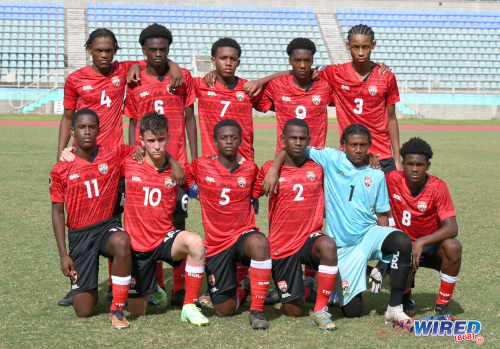 Hadeed and Foncette are expected to have recovered from knocks by Tuesday's outing against Jamaica. And there is a likelihood of more offensive thrust as a result.
"We need to manage the game a bit more and see how we can bring the other pieces together (in terms of the offensive side of the game)," said Cooper.
Foncette, a Chaguanas North Secondary student, is the only player in the current National Under-15 pool with significant Secondary Schools Football League (SSFL) Premier Division experience.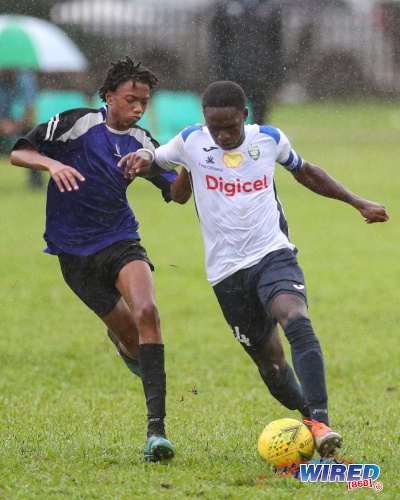 That is likely to change sooner rather than later, as the boys continue their development.
The Trinidad and Tobago Football Association's High Performance Programme is meant to create a future pool for National Senior Team coaches, and to allow the country to be more competitive at national youth level too.
The youngest Fifa international competition is at under-17 level. For this under-15 crop, that adventure starts in 2024 with the Under-17 World Cup qualifying series.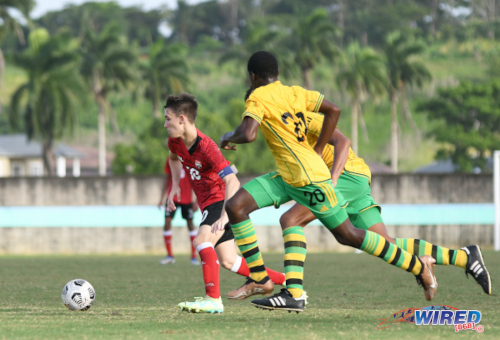 But the qualifiers are some distance away and it is uncertain how many boys will make it to even that starting line.
Next up for Trestrail, Hadeed, Mason and the boys is Jamaica again, on Tuesday, and another chance to show what they have learnt within the national programme so far.
(Teams)
Trinidad and Tobago (4-1-4-1): 1.Mikhail Clement (GK); 2.Jeremiah Daniel, 3.Sheridan McNish, 4.Adam Pierre, 5.Criston Gomez (14.Salim Soanes 71); 6.Stephen Olliviere; 7.Elijah Diaz (17.Riquelme Phillips 55), 8.Akel Vesprey (18.Josiah Simmons 71), 10.Caden Trestrail (captain), 11.Jasai Theophilus (12.Keston Richards 55); 9.Jonathan Mason.
Unused substitutes: 21.Marcelo Phillip (GK), 22.Shameel O'Brian (GK), 13.Jahseem Pierre, 15.Isaiah David, 16.Nikosi Foncette, 19.Joshua Miguel, 20.Antuan Louison, 23.Shane Telfer, 24.Antonio Hills.
Injured: Seth Hadeed
Jamaica (4-2-3-1): 1.Justin Murray (GK); 14.Maalick White, 4.Cai-Anthony McLean, 6.Earl Dennis (captain), 5.Zienodean McLean; 2.Damarley Williams (20.Duwayne Burgher 55), 17.Owen Jumpp; 7.Kai Myles (16.Raequan Campbell-Dennis 57), 10.Jahmarie Nolan, 11.Cadriano Marsh (21.Javaughn Anglin 62); 19.Orel Miller.
Unused substitutes: 13.Samir Doshi (GK), 23.Davill Jarrett (GK), 8.Justin Hayles, 15.Deshawn Byfield.
Coach: Andrew Peart
Referee: Gyasi McDonald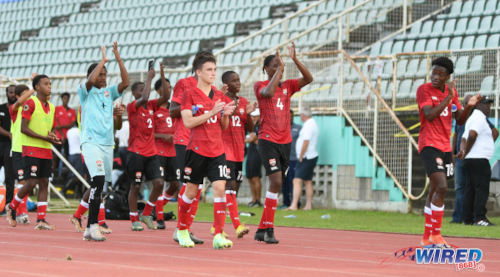 International friendly
(23 July 2023)
Trinidad and Tobago 1 (Akeil Vesprey 60), Jamaica 1 (Owen Jumpp 38) at Marabella.