On Thursday evening, Trinidad and Tobago Men's National Under-17 Team head coach Shawn Cooper and another staff member suffered an attempted "break-in" at their hotel in Antigua City, Guatemala.
"I saw someone trying to open my door," Cooper told Wired868. "They showed me a key with my room number…"
A quick check further revealed that Cooper's room key as well as those belonging to the Trinidad and Tobago contingent had been deactivated.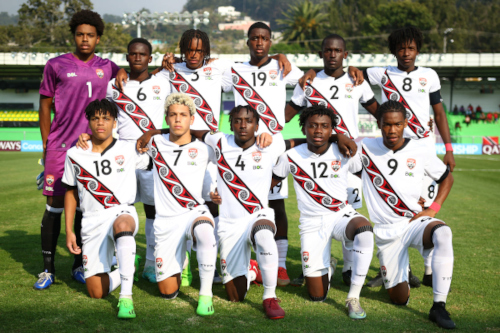 Temporarily, the Soca Warriors had been checked out. An administrative mix-up between Concacaf and the hotel staff meant that the latter party thought Trinidad and Tobago were eliminated in the group stage of the Concacaf Under-17 Championship.
Life comes at you fast at Concacaf youth tournaments.

"If we had lost, we would have had to be in the airport at 8am the next morning," said Cooper. "Concacaf sends you home immediately."
There were only eight minutes on the clock when San Juan North Secondary student Lindell Sween swung his educated left boot to pull Trinidad and Tobago level against Barbados.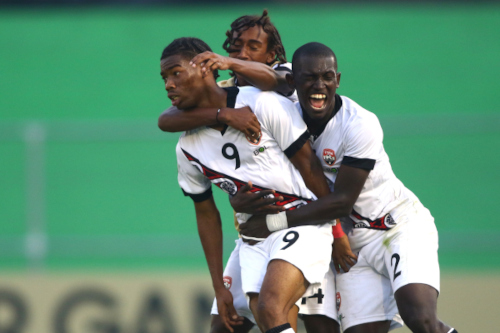 And, via that slender margin, the young Soca Warriors are preparing for a Round of 16 clash with El Salvador from 9pm on Sunday 19 February. The Barbados players have long since been returned to sender.
Trinidad and Tobago are the only outfit left in the competition without a single win. Was Cooper really satisfied with advancing to the knockout stage on the back of a come-from-behind draw against Barbados?
"It wasn't pretty," he said. "We didn't start on the front foot. Sometimes players go out with the mind-set that the victory will come, and only when desperation hits you see them making the effort they should have made from the start.
"In the second half you saw a change of attitude with the same players on the field, when they took up the intensity. It is about attitude—how you value the game, your approach to the game. It is not just if you can play or not."
It is worth pointing out that the feedback for Trinidad and Tobago's efforts had largely been positive up until that point.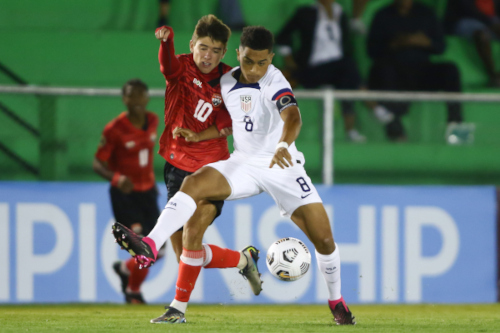 Undoubtedly, the young Soca Warriors were second best against Canada and the United States when they suffered 3-2 and 3-1 losses respectively.
But after recent results at youth level—Trinidad and Tobago lost 5-0 to Mexico at the Concacaf Men's Under-20 Championship last year, and 10-0 to the same nation at the 2022 Women's Under-17 Championship—Cooper's returns so far, barring Barbados, could only be considered an upgrade.
"After being three down to America in that short space of time, you would have expected the floodgates to open, and it didn't," said Cooper. "We made some adjustments, yes, which is down to my experience (this is Cooper's fifth Concacaf tournament). But you have got to credit the mentality of the boys.
"When last you see a Trinidad and Tobago team run this hard in the second half of a game? Usually they are dying—but they are giving me blood.
"What they are probably lacking in tactical ability and stuff they are giving me in heart and soul. They are really representing the country to the best of their ability, although they are young boys and still learning."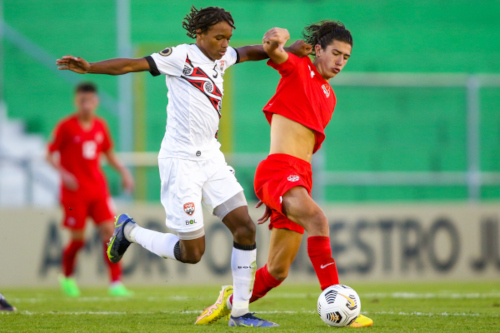 Cooper noted that the likes of Canada and the United States have players already attached to professional clubs, whereas the likes of Trinidad and Tobago rely on schoolboys.
The Warriors had two practice games away to Jamaica before the competition. However, US preparations, he said, started two years ago and involved over 40 practice matches and two overseas tours.
"People might ask, 'coach are you ready?'—but it is not if I'm ready, it is if the players are ready," said Cooper, who took the National Under-17 Team to within 90 minutes of the Fifa World Cup at the 2011 and 2013 Concacaf tournaments. "We are dealing with amateurs and that is different to professionals in terms of how they deal with certain situations."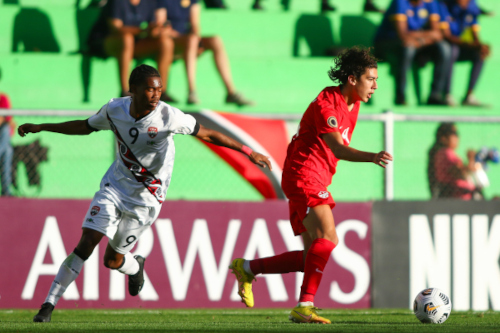 As an example, he pointed to one key player who initially refused to try any of the wide array of breakfast and lunch meals available at their Guatemalan hotel and was attempting to make do on bread and butter. Cooper threatened to drop the young man to finally get him to budge.
"We tell them the same way vehicles use gas for energy, humans use food—you can't be a top class footballer without eating properly," said the national youth team coach. "Our players are not educated enough about things like nutrition to understand how it helps you get the maximum out of your body.
"These are the things we should be doing from back home but we don't have the resources to do it."
Other things, he chalked down to a lack of exposure.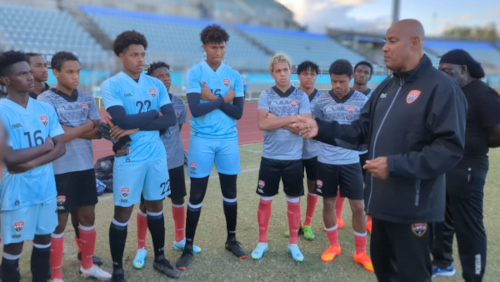 "You will see the US and Canada players go in the pool and relax, make two strokes, and then chill out and chat, or stand to the side and listen to some music," said Cooper. "When our boys get to the pool, it is who going down the slide, who jumping on a next man's head. It is what we would call 'never see come see'. But that is about not being accustomed.
"This is one of the reasons why we have tours to get players accustomed to things like this. Still, I think this is the most disciplined team that I've seen in terms of things like running about in the hotel and so on."
Another handicap for Trinidad and Tobago teams has generally been support staff.
Former Women's National Senior Team head coach Kenwyne Jones had 11 technical staff members—inclusive of a sport psychologist, video analyst and a rehab specialist, massage therapist, trainer and strength and conditioning coach—at the 2022 Concacaf W Championship. And former Men's Senior Team head coach Dennis Lawrence also had significant support.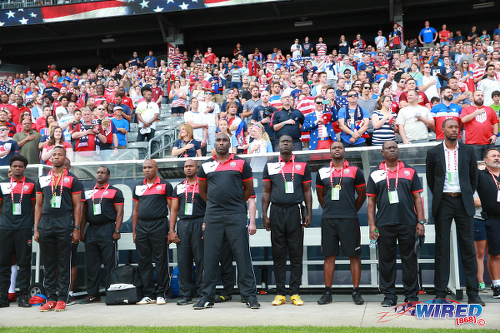 But those are aberrations rather than the norm for Trinidad and Tobago's national football coaches.
Cooper's staff has seven members, which does not include a massage therapist or video analyst.
"You're starting with school boys coming up against professional teenagers and then the resources the other team has on top of you," he said. "Teams like USA and Honduras have coaches on the opposite side of the field with microphones who are telling the head coach what issues they are seeing on the next side of the field.
"It is like they have two benches, and things like that make the coach's job much easier. We are miles behind in terms of use of technology and so on.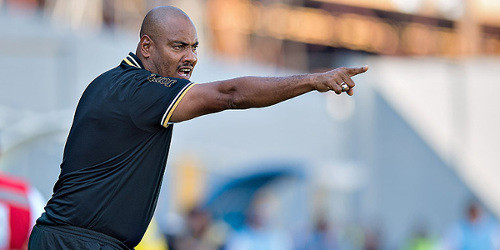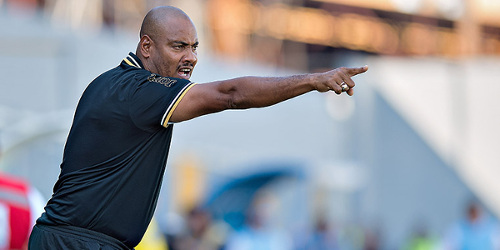 "[…] So to be at this juncture with these boys, they are punching above their weight. We don't look at all these fine details but it tells at the higher level."
Trinidad and Tobago coaches must find ways to bridge the gap, regardless of the disadvantages.
"People might say we have been six months together but I say it is more like one month," said Cooper. "Because all those other times when the SSFL was still going on, you couldn't do much. After you play a (SSFL) game on Wednesday, what meaningful work can you do on the Thursday?
"The most we could use that time for was bonding and getting players to understand what we need from them."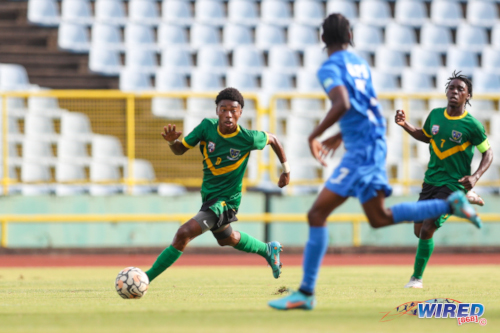 Faced with short preparation time, Cooper focused on fitness and defensive organisation. Thereafter, he tries to maximise the talent within his squad.
Sween, with two goals and an assist, has been Trinidad and Tobago's most productive offensive player, although he tends to pop in and out of matches.
Crystal Palace Under-18 player Rio Cardines, who played at right midfield and right back against Barbados, also has something to offer in attack.
"[Cardines] is very explosive—he is dynamic as a wingback [and] he has the ability to go forward," said Cooper. "He has a long way to go still in the game but he has the ability—you can see it.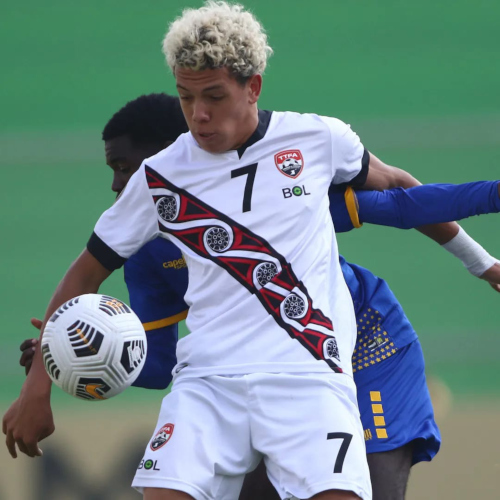 "He is not the finished product yet but he has some good attributes and you can tell his professionalism."
It probably suits Cooper's team to concede possession to their opponents and play on the break, as is likely to be the pattern of Sunday's knockout fixture.
"We want to play in transition and use the speed of our wingers in the transition—we want to stretch them," he said. "The Central American teams don't like you in their face and they don't like you to run at them. They play a lot with their bodies when they don't have the ball and try to foul you early, so you can't use your foot speed.
"We are expecting that and we are trying to prepare our boys for that."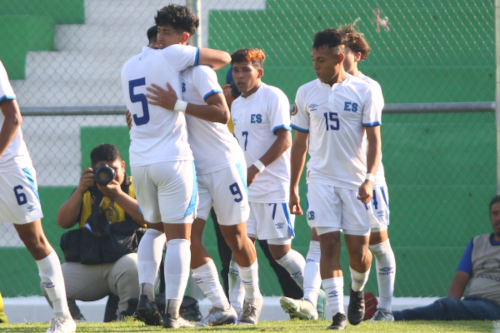 If Trinidad and Tobago might be limited in terms of their offensive approach, Cooper suggested that they have more than a few players who can hurt the opposition—as was already evidenced by second half cameos from St Benedict's College attacker Malachi Webb.
"Guys like Webb and [Jeremiah] Niles and [Vaughn] Clement with their speed can come on and bring a different dimension to the game," said Cooper, who noted that talented flanker Derrel Garcia is still troubled by an ankle injury. "And [Michael] Chaves also, who is relentless in chasing and attacking. So we have guys who can come off the bench and be game changers."
It would help, though, if the Warriors are still in the game after the interval. They have trailed at halftime in every match so far and Cooper suggested it is a mental thing.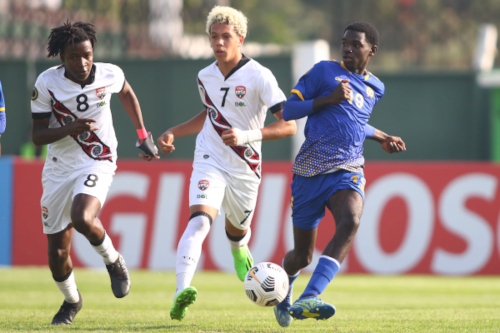 "We are trying to get them to play two halves and not just one—we are starting too slow," said Cooper.
He noted that the technical staff has changed the warm-up routine and pre-match team in an effort to get the players to "start on the front foot". But, so far, the right response continues to elude them.
"I think maybe as Trinidadians, we are more reactive than proactive," said Cooper. "You (the player) have to see it to believe it. You practice but values are hard to change sometimes—you need belief in what you are doing."
He again reiterated the value of exposure and a professional mind-set. Trinidad and Tobago players, he said, are inherently as blasé about warm-ups as they are with their diets.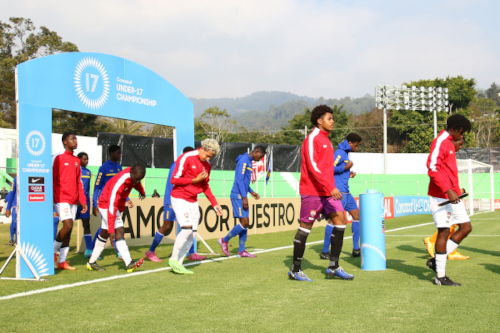 "Some people feel warm-ups are just a thing you do before the game, but there is a purpose," he said. "You warm up to get ready to play—and not just with your body but your mind.
"[…] The first 15 minutes and the last 15 minutes are very vital in the game."
Trinidad and Tobago football fans will hope the boys find the right gear at kick-off on Sunday. They were nearly booted out of their hotel on Thursday—defeat tomorrow would see the Warriors ejected, for real this time.
"Nobody here wants to come home for Carnival," said Cooper.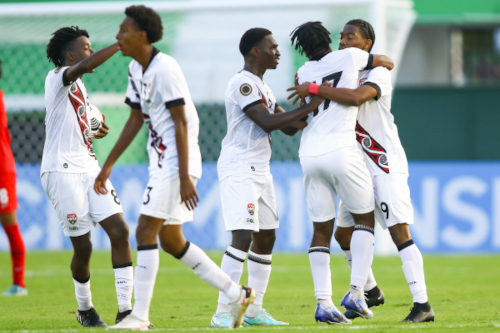 Wired868 has provided readers with solid, independent journalism since 2012. And we still need your support! If you appreciate our work, please contribute to our efforts.
Support Independent Journalism