After another breathtaking weekend of the Republic Cup National Youth Football League (NYFL), the four grand finals have been set across the varying age groups: Under-13, Under-15, Under-17 and Under-20.
There will be an all-North Zone final in the Under-15 category for fans to savour at the Republic Bank Sports Club this Saturday.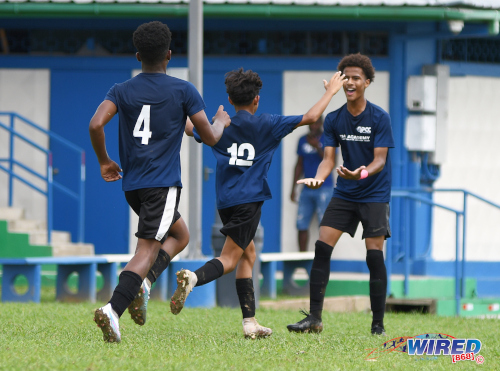 Yesterday, at the Republic Bank Sports Club on 8th Avenue in Barataria, the Pro Series and QPCC Under-15 teams—both fierce rivals—battled manfully against south counterparts Cox Coaching School and Union Hall United to advance to the grand finale.
In an epic semifinal bout, QPCC got a hat-trick from playmaker Caden Trestrail to assume a 3-2 lead in the 77th minute, before Union Hall's Mickal Bullock late item pegged them back and forced penalties.
In the dreaded lottery of the shootout, the QPCC Under-15 team held their nerves to emerge 5-3 winners. The result matched the success of QPCC's Under-20 team, which got a 3-2 shootout win over Premier Sports Club in yesterday morning's semifinal, to avenge a penalty loss to the same South Zone opponent in Saturday's Under-17 semis.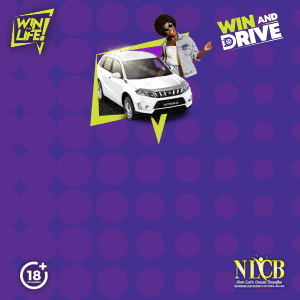 The "Parkites" might consider Raheem Nelson's unsuccessful attempt to be poetic justice as Premier's shootout hero in Saturday's Under-17 clash was emphatically blanked by QPCC U-20 goalkeeper Tyrese Romain—to deny the southern debutantes the chance to lift two national titles this weekend.
Instead, QPCC and Pro Series are the only teams vying for a coveted NYFL double.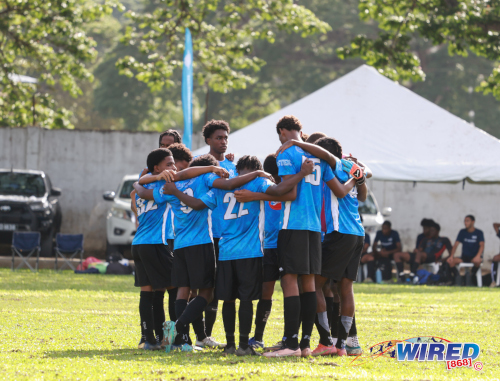 Pro Series earned their place in the Under-15 final the hard way yesterday, as they overcame a 1-nil halftime deficit against Cox Coaching School to emerge with a narrow 2-1 victory—after a dramatic late winner by Jonathan Mason.
After qualifying two finalists on Saturday, the South Zone teams had a rough go of it yesterday, incurring three heartbreaking losses. Perhaps, none was more devastating than Premier's semifinal loss to QPCC in the Under-20 category, as coach Sharaz Ali's team nicked a late regulation time leveler only to crash to a 3-2 shootout loss.
Premier were without the services of bustling National Under-17 forward Malachi Webb who—having limped off the field in the quarterfinal round—asked to be rested for the Under-17 final versus Pro Series.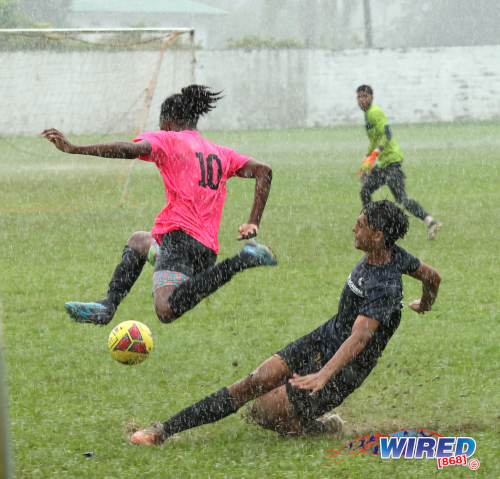 Ali was also without injured defender Emmanuel Harrington, who, according to the coach, played through the pain of a dislocated ankle in Saturday's Under-17 semifinal win.
Nelson, who scored as a winger in the Under-17 semifinal before his penalty shootout herics as a goalkeeper, was asked to deputise at left back on Serpentine Road yesterday.
Premier got off to a good start, as flanker Duane Matthews swept home from close range after only four minutes—following a purposeful run down the right by attacker Jaden Grant.
However, Premier quickly relinquished that lead after an absolute thunderbolt by QPCC midfielder Aidan De Gannes, who unleashed from just outside the area in the 16th minute.
Impressive QPCC winger Joshua Mason was brought down just outside the opposing area but, as the ball rolled to De Gannes, the referee waved play on. De Gannes looked to have found himself in a cul-de-sac, as he twisted and turned while seeming to look for a passing option.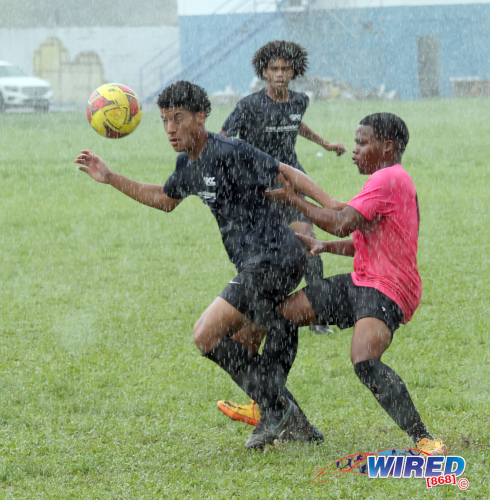 Then, with no passing lane available, the Fatima schoolboy rifled home a brute of a right-footed shot that might have startled lawmen at the nearby Police Barracks.
Premier captain and goalkeeper Kerdeem Duncan could not stop De Gannes' effort even if he had the aid of a step-ladder. However, in the 34th minute, Duncan was culpable for QPCC's second.
Parkites defender Scott Patience looked to be aiming for a teammate at the back stick with his lofted free kick, as Duncan charged off his line bellowing "keeper!"—only to woefully misjudge the fight of the ball, which flew over his head and into the back of the net
An intriguing contest in the first half became a dogfight after the interval, as the heavens opened up in St Clair, to send substitutes, coaches and parents scampering under the tents for shelter the swirling rain—save for QPCC coach Colm De Freitas, who was the lone person to brave the elements as he barked instructions at his team.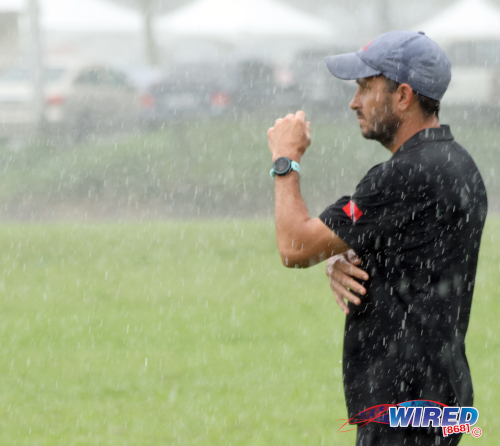 Ali pushed Nelson higher up the left flank in the second half to link up successfully with frontman Jarelle Sutherland, while slender Premier playmaker Zachary Seecharan was causing QPCC headaches with his wicked set pieces.
In the 53rd minute, Premier defender Andre Guide missed a free header in the six-yard box from a left-side Seecharan corner, while midfielder Nesean Duncan headed straight at Romain on the hour mark following a corner from the other flank.
De Freitas was unhappy with his team's defensive marking, although Premier SC didn't seem intent on capitalising—at least not yet.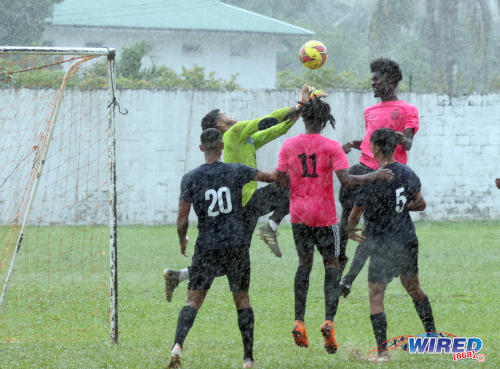 At the other end, De Gannes missed a glorious chance to get his team's third item and potentially kill off the game, as he sprayed a point-blank effort wide of the mark after excellent link-up play down the right from QPCC star attacker Michael Chaves and all-action right back Jesse Hospedales.
After Duncan (K) just about managed to keep out another teasing left side attempt by Patience in the 80th minute, the Premier captain's namesake, Nesean Duncan, grabbed an equaliser as Hospedales found himself outnumbered at the back stick while trying to deal with a Sutherland cross.
Two minutes from full-time, Hospedales had a chance at swift redemption, as he went on a surging run through the middle after winning possession—only to be stopped in his tracks by a puddle of water, as he appeared set to enter the opposing penalty box.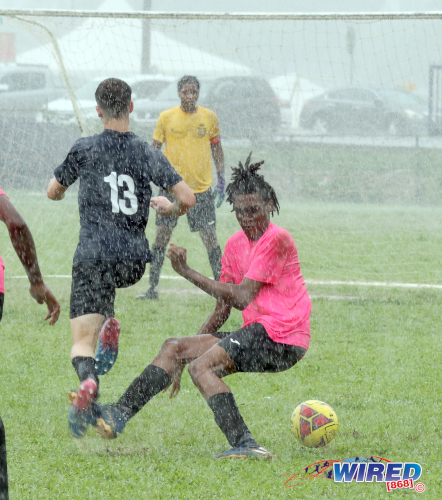 Both Hospedales and Chaves went on to miss in the shootout, with the latter denied from the spot on consecutive days. But Romain came up with the goods as he sprawled to his left to deny Nelson with the final kick of the lottery.
"Our guys just didn't make it happen like Saturday when we scored five penalties—today, we scored two," Ali told Wired868. "[…] At the end of the day, I put faith in senior players and […] it's up to them to make it happen. It's unfortunate how it went… but somebody has to win and somebody has to lose."
The Defence Force Under-20 team started the competition as favourites and they gave another show of their strength yesterday, as they overturned a 2-nil halftime deficit against the prowling Malick Blue Lions team to get a stunning 3-2 win in St Clair.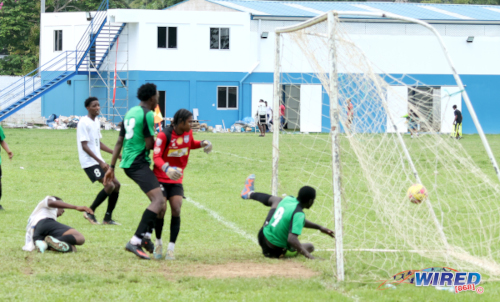 Coach Stephen "Bison" Williams, whose Soccer Made Simple (SMS) team lifted the NLCL U-19 Community Cup in 2022 and 2023 respectively, lauded Malick for their performance—but he always believed that his team's resilience would see them to victory.
"I expected that fight from Malick [and] I told the boys that they're going to come with aggression and intensity," said Williams, who blamed his team's sloppy first half performance on their lackadaisical warm-up.
With Malick captain Lendelle Baptiste and fellow attacker J'Lon Matthews out for blood on either flank, Defence Force paid for their sluggish start.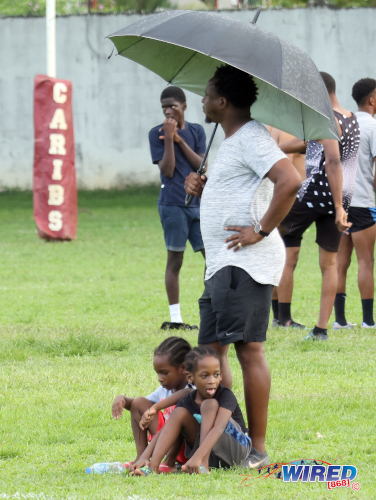 The lanky Baptiste's elegance and decision-making in the final third had SSFL scouts inquiring about his status ahead of the 2023 school season. And he shot Malick into the lead after nine minutes, as he drilled a left-footed shot past Defence Force goalie Xavion Haynes from a tight angle on the left flank.
With the ability to let loose from any range with either foot, the Malick skipper had Defence Force right back Alex Piper skating on the Serpentine Road outfield for much of the first half.
"The skipper (Lendelle) always shows his worth; everytime the ball goes into him you're seeing a raw footballer, somebody who knows the game and is very skilful," said Malick coach Anthony Bartholomew, who said that the majority of his Blue Lions team will suit up for Malick Secondary in the upcoming SSFL season.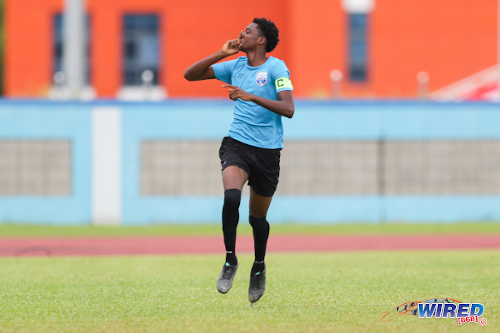 "Lendelle is unplayable when he has the ball. He's a very deft player in the sense that, anywhere you play him he has it—he has it all-round. I have to give him the praise because really and truly he deserves it."
SSFL coaches around the League will hold their collective breaths as Baptiste decides his next step, with Bartholomew noting that the 18 year-old is awaiting exam results before deciding on his next career move.
"A lot of teams are calling Lendelle, so we are just waiting to see because we want him to make the best step going forward for the future," Bartholomew told Wired868. "We don't want him to lose his way because we want the best for our players holistically. I know he could go on to any Pro League team and make money but we'll wait to see how he progresses and we'll go from there."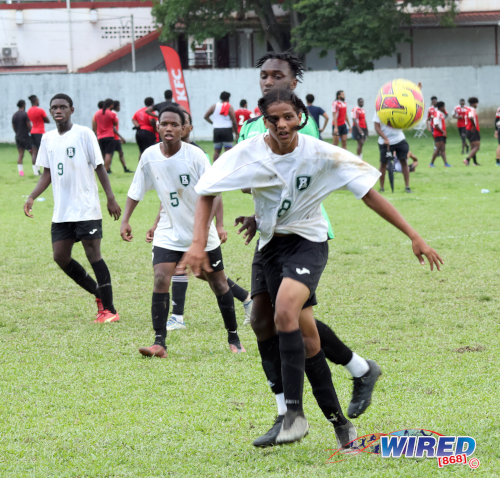 The Baptiste show continued in the first half of yesterday's opening NYFL Under-20 semifinal, as the youngster brought a pair of fine saves from Haynes with meaty cracks off either foot.
Haynes could do nothing about Malick's second item, in the 40th minute, as attacker Oba Samuel prodded home from close range via a deflection—after a devious right side corner by Matthews.
Defence Force looked to be on the ropes and in danger of being mauled by the rampant Blue Lions. But the second half was a different kettle of fish.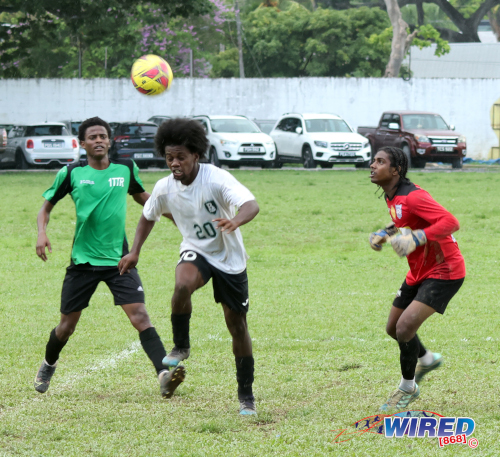 "We went down 1-nil and then 2-nil but I wasn't worried," said Williams, who introduced attacker Malachai Daniel at the interval and went to an ultra-attacking 4-2-4 formation. "We conceded two goals in the quarterfinals and semifinals. We may not have the luxury of conceding two and coming out victorious again and we definitely have some work to do on the training field this week to rectify that problem.
"[But] I don't think at any point in time my players believed they were down and out, even though they were 2-0 down at halftime."
Attacking the southern end of the St Mary's College Grounds in the second half, the Defence Force teenagers, led by Noel, laid siege on the Malick goal.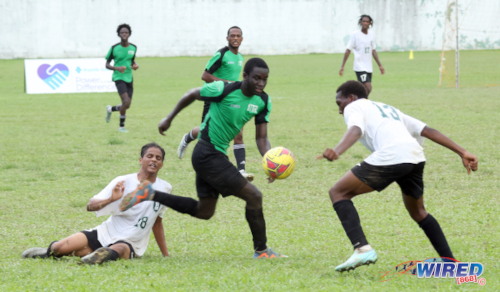 In the 47th minute, Noel got a real poacher's item as he slammed in a left-footer from close range after a jinking run down the left flank by former Queen's Royal College (QRC) player Jaheim "Pablo" Granderson.
For most of the game, the chirpy Malick supporters teased the skilful Pablo about the Blue Lion's ability to shut him down—and, in the process, nullify Defence Force. Pablo slowly came to life after the break, though, as he buzzed around in those small pockets in the final third.
Noel let loose with his own silencer in the 58th minute, as he rocketed a left-footed volley past goalkeeper Nicholai Kyle from outside the area.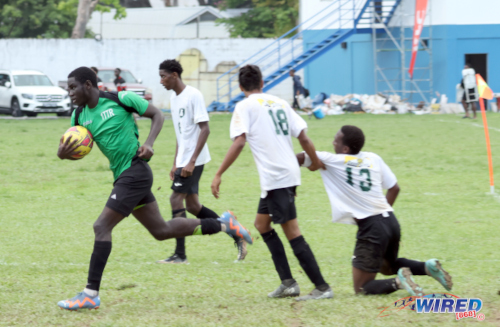 Baptiste, who swapped flanks at the half, was isolated now as the tide turned in favour of Defence Force.
"[Baptiste] was definitely a threat and we talked about it at halftime," said Williams. "We gave it about five to ten minutes in the second half to see what he would've done. To be quite honest, the [Malick] coach did us a favor and moved him from our right-hand side to our left side, which is Malick's right.
"[…] Thanks to Malick's coach in this instance that it worked out for us."
Three minutes after Noel's blast, Granderson got the last laugh at the expense of the Blue Lions supporters with a precise left-footed effort after an audacious, low outside-of-the-boot cross by Daniel.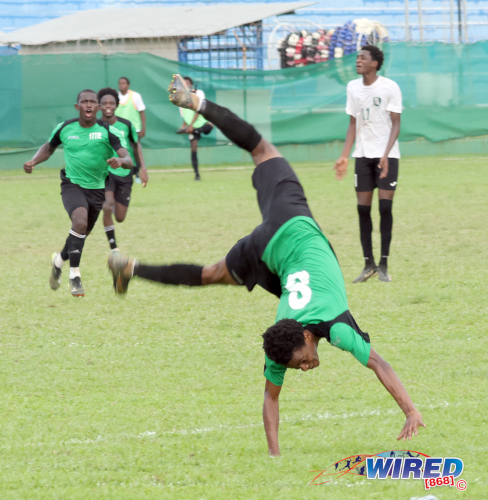 Bartholomew and company saw the danger that was coming but couldn't avert it.
"We always knew that they would come out hard in the second half and with a change of formation," Bartholomew said. "We knew they would've come out pressing because they have the legs to press. We told the guys to maintain the defence."
The contest finished in a contentious manner, with both teams aggrieved not to receive penalties late on.
In the 75th minute, Haynes absolutely clattered Baptiste as he tried to punch a cross by Du'Shaun Augustus, but the referee waved play on.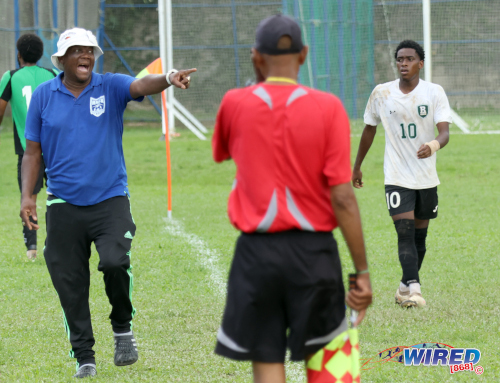 Then, in the second minute of stoppage time, the Defence Force bench went into an uproar as attacker Jaden McKree appeared to be impeded by a high challenge in the area by a Malick defender.
Williams pleaded with the referee to protect the players but was given his marching orders, along with assistant coach Keive Vanloo—who seemed to be an innocent bystander.
"I was asking the linesman about the stamp on McKree—and the ref basically said to me that's it [under-20] football and he doesn't need to make those calls," said Williams. "He said that he shouldn't be questioned by anybody on the technical staff and then he asked if I wanted to fight with him.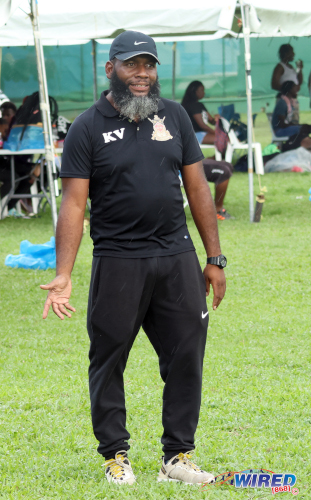 "I was like ref, I don't want to fight with you but I need you to make the calls. You are here to ensure the safety of the players. It was a game where the two teams and both technical staff had an issue with the officials."
After overcoming a lackluster first half display and a thorough Malik Blue Lions test, Defence Force would hope to be locked in for a full 90 minutes on Saturday as they eye another local trophy and look to deny QPCC a chance at an NYFL double in the process.
Hopefully, the coaches and referees will be singing from the same hymnbook then.
(Teams)
Malick Blue Lions (4-2-3-1): 1.Nicholai Kyle (GK); 20.Epifany Halls (24.Jabari Williams 68), 4.Ackeem James, 13.Jaland Brooks, 18.Keston Singh; 8.Jahsima Duncan, 5.Du'Shaun Augustus; 10.J'Lon Matthews, 9.Zackery Joseph, 11.Lendelle Baptiste (captain); 17.Oba Samuel (16.Ronaldinho Richards 68).
Unused substitutes: 2.Kareem Richards, 6.Aden Huggins, 14.Nathaniel Baptiste, 15.Malakia Thomas.
Coach: Anthony Bartholomew
Defence Force (4-2-3-1): 40.Xavion Haynes (GK); 16.Alex Piper (23.Terron Miller 62), 6.Andre Providence, 3.Kiel Lopez, 13.Tyrell Inniss (captain); 25.Daniel Ramcharita (21.Malachai Daniel halftime), 2.Jaden Williams; 18.Jaden McKree, 8.Jaheim Granderson, 24.Jeremiah Frank-Williams (29.Josiah Daniel 62); 9.Larry Noel.
Unused substitutes: 1.Isaiah Diaz (GK), 4.Jeremy Bobb, 5.Dexter Croal, 12.Jahronite Pierre, 20.Liam Dayal.
Coach: Stephen Williams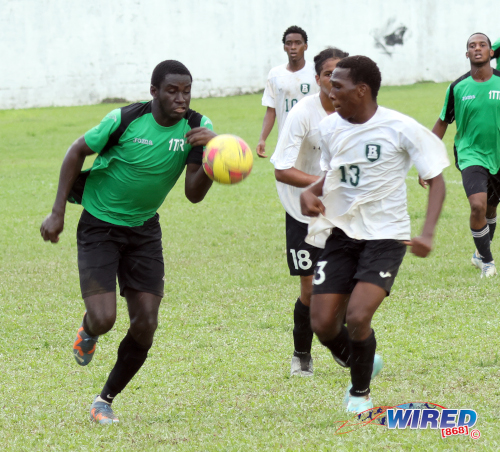 Premier SC (4-2-3-1): 1.Kerdeem Duncan (GK) (captain); 5.Chaz Forde, 4.Chad King, 3.Andre Guide, 11.Raheem Nelson; 16.Nesean Duncan, 18.Cameron Wylie; 20.Jaden Grant, 8.Zachary Seecharan, 7.Duane Edwards (6.Joshua Gustave halftime); 10.Jarelle Sutherland.
Unused substitutes: 9.Jabari Rodriguez, 13.Quincy Thomas, 17.Joshua Friday.
Coach: Sharaz Ali
QPCC (4-3-3): 1.Tyrese Romain (GK); 13.Jesse Hospedales, 5.Elijah Camacho, 20.Alijah Nunes, 12.Scott Patience; 8.Aalon Wilson-Wright, 10.Aidan De Gannes, 6.Armani Rowe (16.Aydan Williams 66); 7.Ishmael Lewis (11.Joshua Miller 73), 15.Michael Chaves, 17.Joshua Mason.
Unused substitutes: 22.Michael-Peter Hadad (GK), 2.Isaiah Zamore, 18.Aidan Nunes.
Coach: Colm De Freitas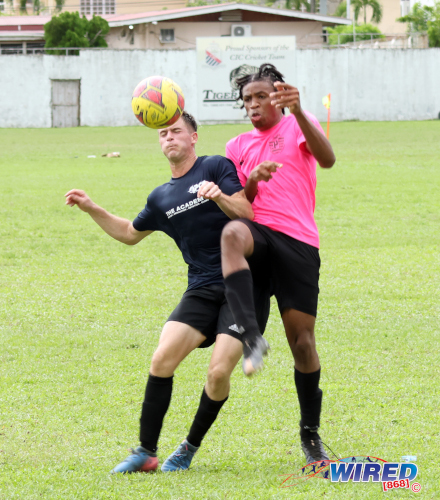 Republic Cup NYFL Semifinal Results
(Sunday 4 June)
Under-15
Union Hall 3 (Mickal Bullock 54, 81, Isaiah David 63), QPCC 3 (Caden Trestrail 26, 32, 77) at Republic Bank Sports Club;
*—QPCC won 5-3 on kicks from the penalty mark.
Cox Coaching School 1 (Donovan Drayton 5), Pro Series 2 (Joshua Miguel 36, Jonathan Mason 68) at Republic Bank Sports Club.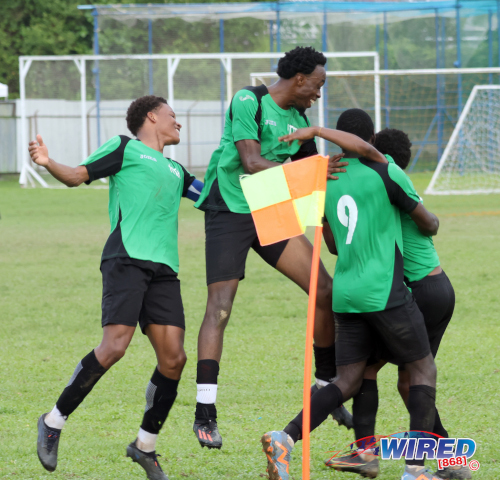 Under-20
Malick Blue Lions 2 (Lendelle Baptiste 9, Oba Samuel 40), Defence Force 3 (Larry Noel 47, 58, Jaheim Granderson 61) at St Mary's College Grounds;
Premier Sports Club 2 (Duane Matthews 4, Nesean Duncan 81), QPCC 2 (Aidan DeGannes 16, Scott Patience 34) at St Mary's College Grounds;
*—QPCC won 3-2 on kicks from the penalty mark.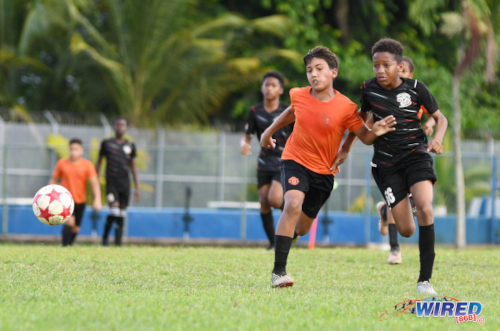 Republic Cup NYFL Third Place Playoff
(Thursday 8 June)
QPCC vs Cardinals Football Academy, Under-13 playoff, 9am, Mannie Ramjohn Stadium, Marabella;
Union Hall United FC vs Cox Coaching School, Under-15 playoff, 11am, Mannie Ramjohn Stadium, Marabella;
QPCC vs Point Fortin Youth Academy, Under-17 playoff, 1.30pm, Mannie Ramjohn Stadium, Marabella;
Premier Sports Club vs Malick Blue Lions, Under-20 playoff, 3.45pm, Mannie Ramjohn Stadium, Marabella.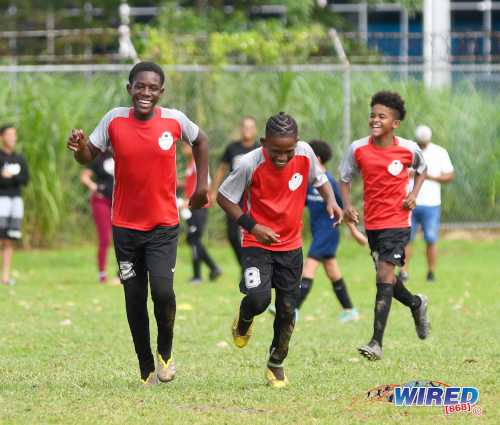 Republic Cup NYFL Finals
(Saturday 10 June)
FC Ginga vs Cox Coaching School, Under-13 final, 9am, Republic Bank Sports Club;
QPCC vs Pro Series, Under-15 final, 11am, Republic Bank Sports Club;
Premier Sports Club vs Pro Series, Under-17 final, 1.30pm, Republic Bank Sports Club;
Defence Force vs QPCC, Under-20 final, 3.45pm, Republic Bank Sports Club.