Penalties, penalties, and then some more penalties.
The first day of semifinal action in the 2023 Republic Cup National Youth Football League (NYFL) was filled with penalty drama yesterday, with both Under-17 semis decided by dramatic penalty shootouts—with a Naparima College cricketer, Raheem Nelson, emerging as the hero at the end of one of those games.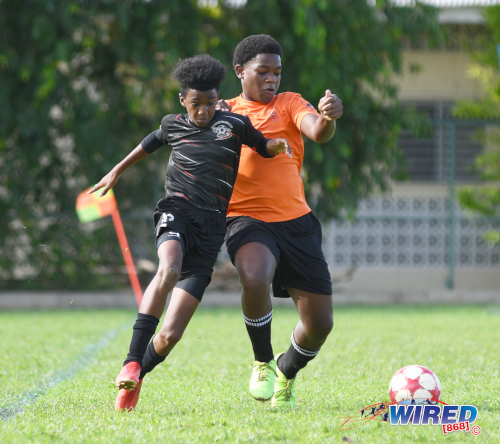 Meanwhile, fans and players of the Cardinals FA Under-13 team were left cursing their luck at a non-penalty call which denied them the chance of a late equaliser against Cox Coaching School in a tense semi at the Republic Cup Sports Ground in Barataria.
Cox CS earned a 1-nil triumph over Cardinals thanks to a 25th-minute header by Djibril Hamilton, and they will face East powerhouse FC Ginga who got a comeback 2-1 win over QPCC thanks to a wonder goal by Jeremai Nanton and a bit of South American flavour by Oskelyer Carrion-Herrera.
The Ginga supporters may have been doing their own 'baila' as they said 'gracias' to the Venezuelan-born Carrion-Herrera for his contribution in Barataria.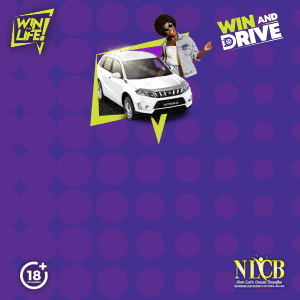 However, the biggest thank you of the day perhaps came from Premier Sports Club coach Sharaz Ali, who gave a big embrace to Nelson after his heroics in a 5-3 penalty shootout win over QPCC at St Mary's College Grounds in St Clair.
Last week, the nippy Nelson introduced himself to the NYFL audience with a scrumptious scissors-kick goal in a quarterfinal win vs the East Zone champs Tinto's Sporting Academy (TSA). And yesterday, the "Naps" cricketer once again showed his value on the football field, as he scored a header in regular time, then donned the gloves in the shootout to save a spot kick by National Under-17 attacker Michael Chaves.
And if that wasn't enough, Nelson also spanked the winning penalty past the QPCC goalie to earn Premier SC their spot in the Under-17 finale.
Premier SC ran out to a 3-1 lead by the 51st minute, thanks to a double by their bulldozing centre forward Malachi Webb and Nelson's early towering header.
Webb's National Under-17 teammate, Chaves, then came off the bench to cut Premier SC's lead to 3-2 in the 66th minute with a penalty conversion, while Webb had his own subsequent penalty effort stopped by QPCC custodian Michael-Peter Hadad—the son of Fifa-appointed Normalisation Committee chairman Robert Hadad.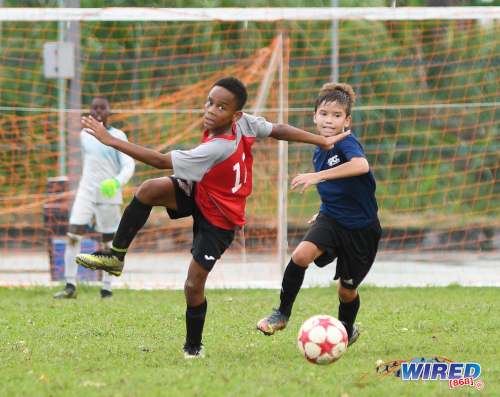 In a wild and wet NYFL semifinal on Serpentine Road in St Clair, Chaves would make it 3-3 on the stroke of 90 minutes as he once again converted from the spot, after a handball in the area.
As fate would cruelly have it for QPCC, Nelson and Premier SC would have the last say as the nimble, versatile winger took the gloves from custodian Emmanuel Thompson and sprung to his right in the shootout to deny Chaves.
Nelson then applied the finishing touches to the first NYFL Under-17 semi, as he confidently stroked his right-footed penalty into the far corner.
Point Fortin Youth Academy were one kick away from setting up an epic South final with Premier SC, but North champs Pro Series had the final say in that semifinal encounter, as they emerged 6-5 victors in the dreaded lottery of the penalty shootout.
National Under-17 captain Josiah Ochoa and tricky winger Jeremiah Niles shone bright like diamonds on an overcast St Clair day, with Ochoa opening the scoring for Point Fortin with a goal in the 39th minute.
However, with National Under-17 midfielder Tau Lamsee and a number of dazzling players within their ranks, Pro Series managed a 55th-minute equalizer through central defender Akil Henry.
Like Chaves in the first Under-17 semi, Ochoa was denied from the spot in the shootout though as coach Kerdyn Moe's Pro Series team advanced to face Webb, the allrounder Nelson and the plucky Premier SC outfit—that is making its competitive debut in the Republic Cup competition.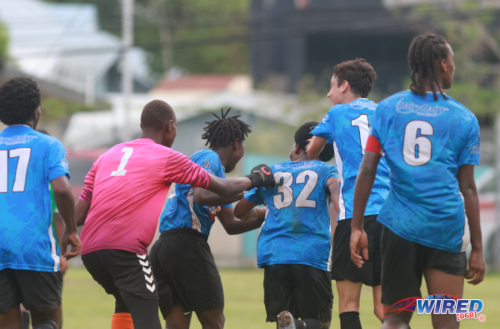 Cardinals coach Gyasi Nkrumah also enjoyed a fine debut season and he vowed to enter teams into each age group in 2024. But his 2023 adventure came to an end yesterday as they were ousted at the Under-13 semifinal stage by Cox Coaching School.
A scrappy and physical semifinal at the Republic Bank Sports Club ended on a sour note, as cries for a penalty by Cardinal players and technical staff—as well as some parents—in the dying moments of the 60-minute match fell on deaf ears.
As Cardinals desperately tried to find a response for Hamilton's headed item, Nkrumah and his fellow coach Michael Tinto instructed burly defender Jaylon Roberts to push further afield. Roberts was effectively the clean-up man at the back for the Cardinals, while both he and captain Deron Blackman posed occasional threats from distance with their booming kicks.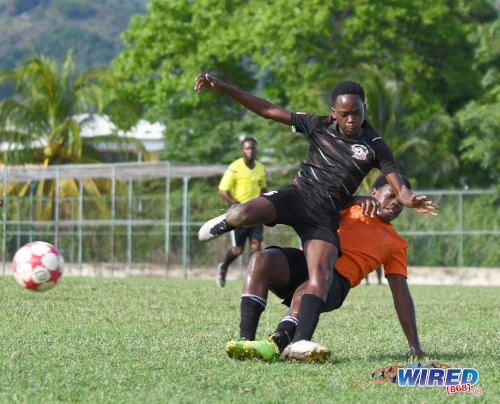 Roberts' brawn and rugged play at the back for Cardinals was matched by Cox CS captain Sebastian James, who was perceptive and seamlessly snuffed out danger at the back.
Soon enough, Roberts and James matched wits in the Cox penalty area, with the former getting little change from the Cox captain.
As James hacked clear for the umpteenth time during a Cardinals attack in the last of three 20-minute thirds, Roberts quipped: "Wham, you don't miss nothing awa?!"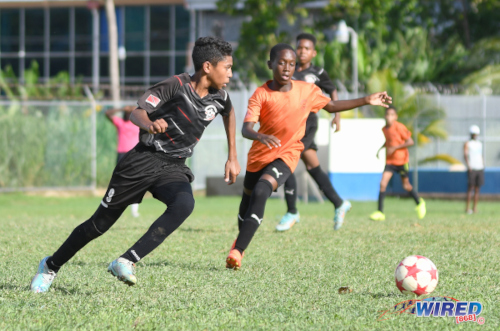 In the 59th minute, as the duo challenged for a lofted ball in the Cox penalty area, there was an awkward coming together that saw Roberts tumble to the ground and feverishly clamour for a penalty as he got back to his feet.
"Ref, that's clearly a foul!" said Roberts, as he huffed and puffed out his cheeks and marched towards half-line.
"Ah fed up!" the Cardinals youngster continued, even ordering Cox CS coach Dennis Cox to hush as he tried to calm him down.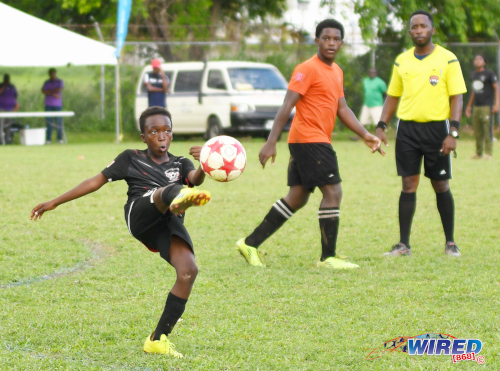 The referee quickly called Roberts for a word, but the Cardinals defender swiftly went up in gears again after being booked a few minutes later.
"What I do, what I do?" an increasingly frustrated Roberts shouted.
By the end of stoppage time in the final third, both Roberts and Blackman were left pounding the Republic Sports Club turf in disgust, as the latter sent an ambitious shot over goalkeeper Justin Charles' bar with Roberts as free as a bird down the right channel.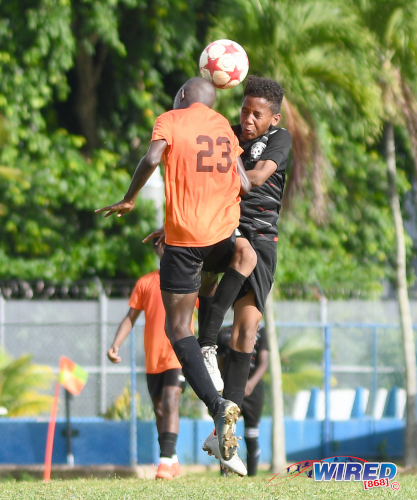 It proved to be Cardinals' last shot in anger in the Under-13 semi, but things were also simmering on the sideline.
A couple of the Cardinals supporters accused the match officials of cheating, while Nkrumah had to hold back one of his reserve players who exclaimed: "That ref is sh*t boy!" as he tried to walk towards the officials.
NYFL East Zone coordinator and Secondary Schools Football League (SSFL) president Merere Gonzales urged Nkrumah to keep control of his charges.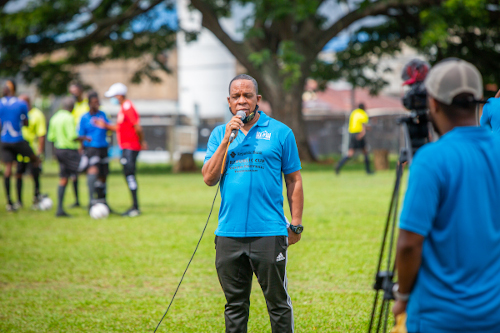 "Manage your players please, sir," Gonzales said, as he neared the makeshift technical area.
After the game, Nkrumah tried to grab a word with the SSFL president and the former Fifa referee on the performance of yesterday's officials.
"I will not have a back and forth with you on this," Gonzales said. "Not like this […] accept defeat and go your way nah man. Do you all want to referee and coach at the same time?"
Nkrumah, who said that he expected his team to lift the NYFL Under-13 title, admitted that emotions conquered his players near the end of the game. However, he suggested that referees should be held accountable for their decisions as well.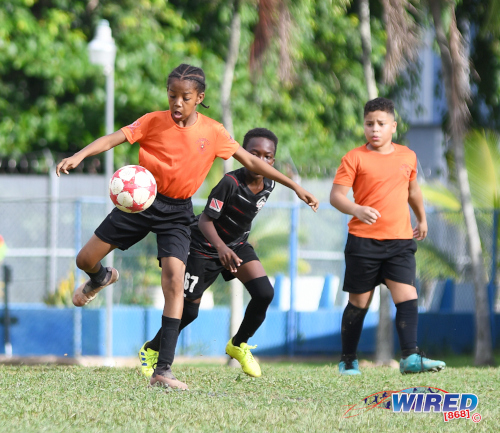 "Nobody is perfect, but there are a few jobs that require something that is close to perfection," Nkrumah told Wired868. "As a police officer or a doctor, you can't say it's a mistake or you didn't see it. I think these guys who call themselves referees also fall into that category.
"I think at Trinidad youth level, there's really a lackadaisical way that they treat the youth game. It's just a simple disregard for rules.
"I can't expect a referee who's refereeing two or three games in a day to have a good game every game. But at the same time, there must be a standard and there must be a lot of accountability because we are showing these kids how important we see what they're doing.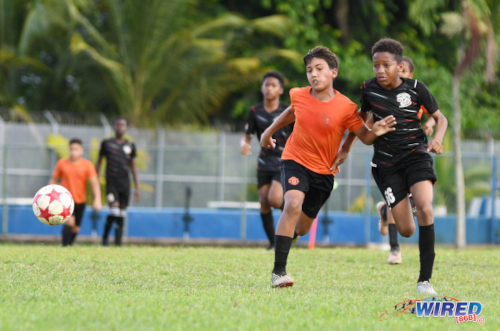 "It's either it is important to them or they're treating it with no kinda respect. I think that transcends throughout society on the whole."
In the fast-paced, 9v9 format at the NYFL Under-13 level, the Cardinals were beating all comers and had only conceded two goals prior to yesterday's meeting with Cox CS. As it turned out, getting past the southerners was a bridge too far to cross.
"It's really good to see that the boys gave their heart today, they played really well," Nkrumah said. "It's unfortunate but the other team played really well also. Kudos to [Cox Coaching School], they played really well and we could only get better from here."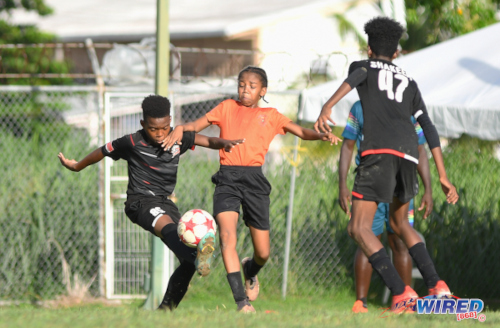 In the NYFL Under-13 final, the Cox outfit will come up against a slick-passing FC Ginga team which includes a pair of tricky Nantons, as well as the Venezuelan attacking duo of Carrion-Herrera and Sebastian Sanabria.
Yesterday, Ginga were in the midst of a right battle versus QPCC, as they looked to deal with the imposing and towering threats of QPCC striker Reagan Rowe and midfield enforcer Lucas Shaw.
Rowe was QPCC's go-to man up top, and with a height advantage over all of the players on the field—bar Shaw—the QPCC attacker looked capable of winning the semifinal on his lonesome at times.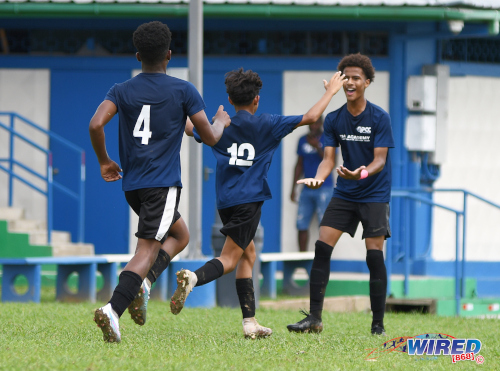 After just two minutes, Rowe kissed the base of Lamar Paynter's upright with a thumping shot from a tight angle on the right side. And by the 13th minute, Rowe and QPCC forced Ginga and coach Titre Gibson into a quick reshuffle at the back as he poked home from close range, after the tireless Matthew Lee Young robbed defender Gervon St Clair of possession in the final third.
St Clair had only been on the field for roughly eight minutes, after replacing defender Aiden Prince—who limped away from a robust 50/50 tackle with Rowe in the middle of the park.
With flying substitutions available to the coaches, St Clair was subsequently replaced at the back by Aiden Joseph as Ginga looked to curtail QPCC's hot start.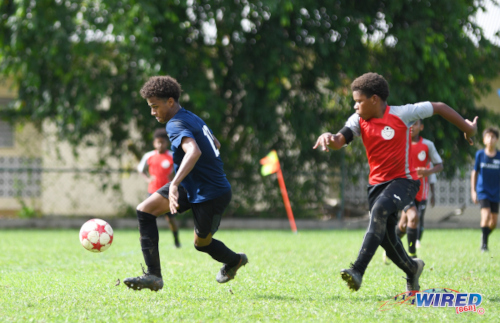 "In this game, I'd say the first third was a bit shaky—we conceded because of a lack of focus," Gibson told Wired868. "In the second third, we tightened up defensively and we played more on the counter because they pressured us when we tried our possession-based style. It was a bit hard to play out of that so we tried to play a bit more on the counter-attack."
In an opening third where most of their forays forward came at the elegant dancing feet of winger Jiair Nanton, Ginga would have felt as though they dodged a bullet by ending at 1-1—as Carrion-Herrera beat onrushing QPCC goalie Malachi Leach, after a right side cross from Jiair fell kindly into his path.
By the second third, Ginga seemed to have adjusted to Rowe's power game, while the Nantons and the diminutive Nyrell Roberts stamped their authority on proceedings.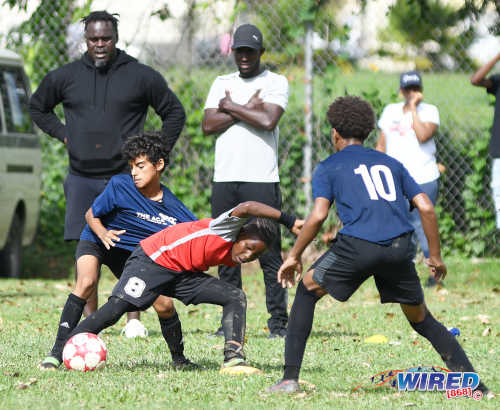 Roberts (N) was one of the shortest of the 18 players on the field at any given time, but he crunched into tackles and showed an insatiable desire to win back possession for coach Gibson and the Ginga team.
He may seem little, but Nyrell was definitely Tallawah in the middle for Ginga.
"I really asked the boys to try and keep the ball and play a little more compact defensively because we knew they were targeting the man on top (Rowe) to do everything," Gibson said. "We had that coverage going and once we did that it was easy work. Once we saw what he was about we got to isolate him as he was very much right-footed."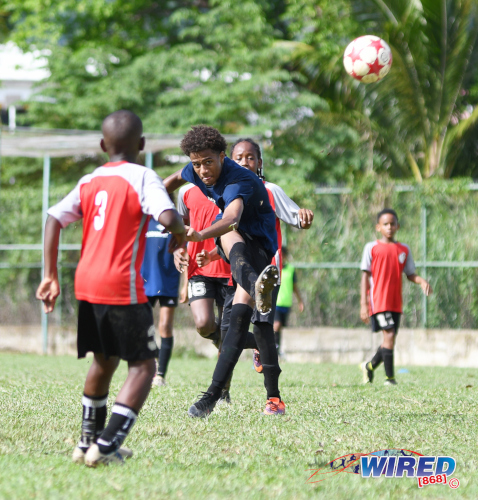 As Rowe's light in the contest faded, the taller of the Nantons—Jeremai—took centre stage. In the 38th minute, Jeremai nearly ran the length of the Republic Sports Club field as he went on an impressive surging run from inside in his own half before being halted by an opposing defender.
From the resulting throw, Jeremai slipped to the ground and somehow managed to put his left foot through the ball with some venom and swerve, as he beat the QPCC goalkeeper with an audacious half-volley from way out on the left flank.
It was a stupendous hit!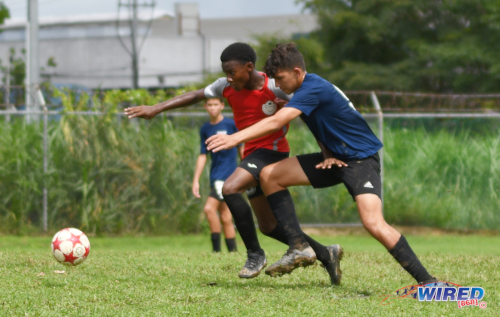 As the final third wore on, QPCC were playing with just two defenders at the back as they pressed forward in search of an equaliser.
With one minute left in regulation time, it appeared that time stood still at the 8th Avenue, Barataria venue, as Rowe ominously stood over a free kick after Gabre Kambon was fouled outside the area.
Rowe tried to caress the ball into the top corner, and his technique was near perfect too, but Ginga's substitute goalkeeper Kaden Samuel sprawled impressively to his left to keep Rowe's effort out and send his team into's Saturday's final.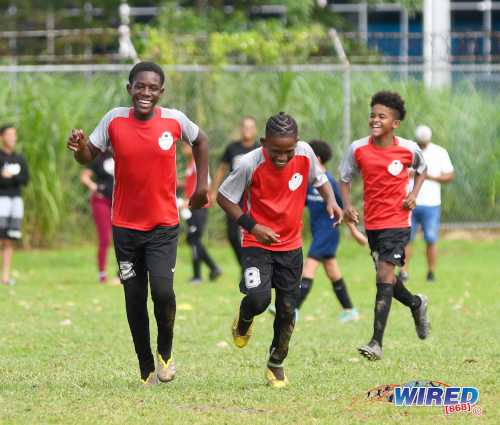 "I wanna thank my boys for putting out the effort because we worked really hard," Gibson said. "The boys really dug in so I'd say that's what really helped us to win, but we have some things we have to continuously work on."
The Venezuelan-flavoured Ginga and Cox CS in the Under-13 final, with Premier SC's allrounders and North champions Pro Series in the Under-17 final. On Saturday 10 June, the Uefa Champions League Final wouldn't be all that's worth watching.
(Teams)
FC Ginga (3-2-3): 1.Lamar Paynter (GK); 7.Aiden Prince, 4.Ky-Mani Moore (captain), 3.Jayshaun Waldron; 8.Nyrell Roberts, 16.Jeremai Nanton; 17.Jiair Nanton, 10.Sebastian Sanabria, 2.Oskelyer Carrion-Herrera.
Substitutes: 111.Kaden Samuel (GK), 5.Ronaldo Peter, 6.Rondell Bramble, 9.Elijah Sampson, 11.Evan Ross, 12.Aiden Joseph, 13.Gervon St Clair.
Coach: Titre Gibson
QPCC (3-1-3-1): 25.Malachi Leach (GK); 4.Jaren Chase, 3.Liam Hosein, 2.Austin Wharton-Lake; 9.Lucas Shaw; 12.Brandon Chin Sang, 7.Matthew Lee Young, 15.Daniel Chaves; 10.Reagan Rowe.
Substitutes: 1.Christian Telfer (GK), 5.Elliot Nieves, 8.Kade Mitchell, 11.Mason Joel, 13.Xavi Sankar, 16.Jude Correia, 17.Zaidyn Camps, 21.Gabre Kambon.
Coach: Khalil Mathura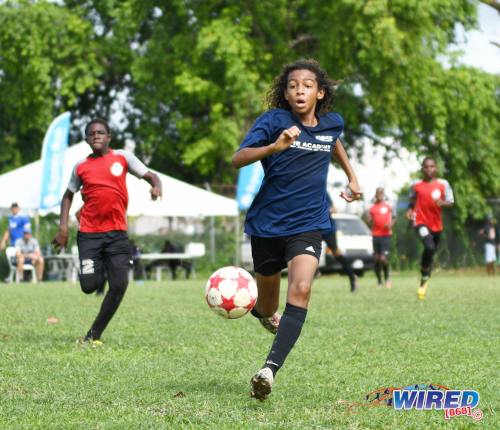 Cardinals FA: 1.Estefan Gift (GK); 3.Jonmichael Abraham, 4.Jaylon Roberts, 5.Amani Seon, 6.Trevon Crichlow, 7.Kayden Moraldo, 8.Angelo Fairchild, 10.Dylan Suarez Lugo, 23.Deron Blackman (captain).
Substitutes: 12.Kiyan Jupiter, 21.Prince-Jehvon Goodridge, 22.Etaleon Sherewood.
Coach: Gyasi Nkrumah
Cox Coaching School: 1.Justin Charles (GK), 9.Sebastian James (captain), 15.Adasa Richardson, 20.Javier Martin, 47.Shakeem Phillip, 66.Djibril Hamilton, 67.Javon Smith, 85.Tyreek Howe, 94.Emeri Emmanuel.
Substitutes: 34.Ezekiel Garcia, 95.Averi Emmanuel.
Coach: Dennis Cox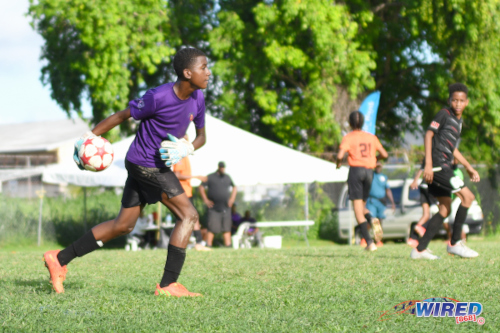 Republic Cup National Youth Football League
Semifinal Results
(Saturday 3 June)
Under-13
FC Ginga 2 (Oskelyer Carrion-Herrera 20+3, Jeremai Nanton 39), QPCC 1 (Reagan Rowe 11) at Republic Bank Sports Club;
Cardinals FA 0, Cox Coaching School 1 (Djibril Hamilton 25) at Republic Bank Sports Club;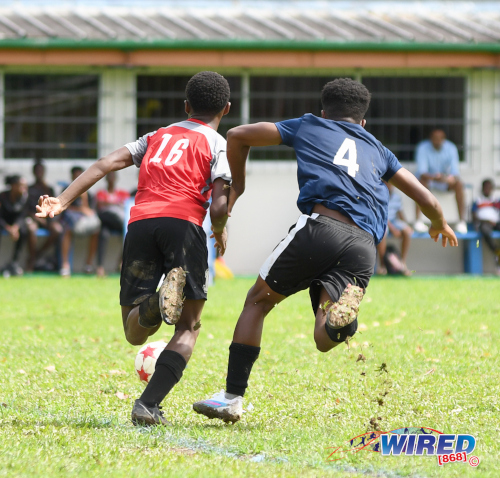 Under-17
QPCC 3 (Jadiel Joseph 7, Michael Chaves 66, 90), Premier SC 3 (Raheem Nelson 10, Malachi Webb 38, 51) at St Mary's College Grounds;
*—Premier SC won 5-3 on kicks from the penalty mark.
Pro Series 1 (Akil Henrey 55), Point Fortin YA 1 (Josiah Ochoa 39) at St Mary's College Grounds;
*—Pro Series won 6-5 on kicks from the penalty mark.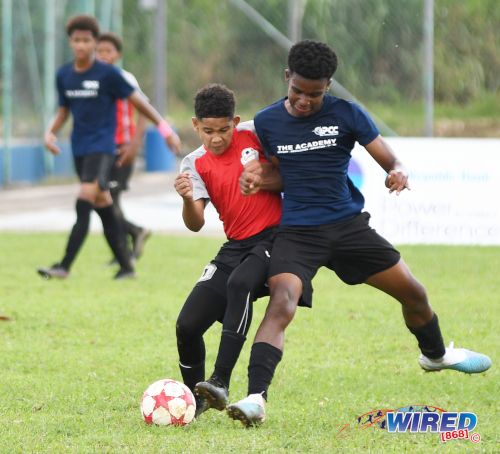 Republic Cup NYFL Finals
(Saturday 10 June)
FC Ginga vs Cox Coaching School, Under-13 Final, 9am, Republic Bank Sports Club,
QPCC vs Cox Coaching School/Pro Series, Under-15 Final, 11am, Republic Bank Sports Club;
Premier Sports Club vs Pro Series, Under-17 Final, 1.30pm, Republic Bank Sports Club;
Defence Force vs QPCC, Under-20 Final, 3.45pm, Republic Bank Sports Club.
Editor's Note: Check Wired868 on Monday 5 June for our round-up of Sunday's Republic Cup NYFL matches in the Under-15 and Under-20 divisions.