"Who are we?"
"One, two, three, Kamillionaire!"
The youngsters from the Kamillionaire FC team were in high spirits on Saturday at the Edinburgh 500 Recreation Grounds in Chaguanas, as they dug deep and hung on for a 1-nil win vs Evolution FC in the Central Zone of the Republic Cup National Youth Football League (NYFL) Under-17 age group.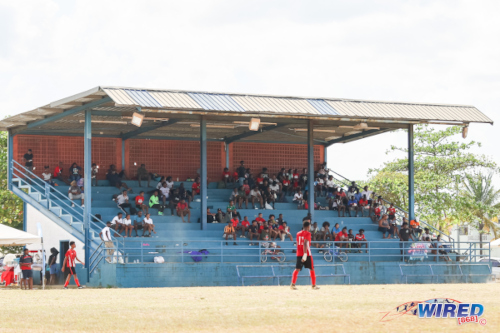 "In football, just as in life, you often get what you deserve," Evolution coach Husani Thomas told Wired868.
He tried to summarise a match where his Under-17 charges did everything but find the net against a Kamillionaire outfit which snatched a goal on the counter-attack, mere seconds into the second half on a rare foray into the attacking third.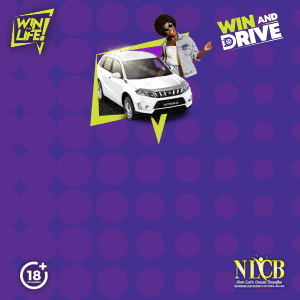 "I think we started the game with a bit of a lackadaisical attitude and that transferred further along into the game," said Thomas. "In the first half, they showed more hunger and desire than us. We dominated possession but then we were really unable to turn that possession into anything tangible because of the lackluster approach that we had."
Though Evolution ended up on the losing side, the composition of their starting XI did turn some heads in the dust bowl that was the Edinburgh 500 ground, as 12 year-old Marley Ramdass and 14 year-old Kadeem Browne rubbed shoulders against their elder counterparts.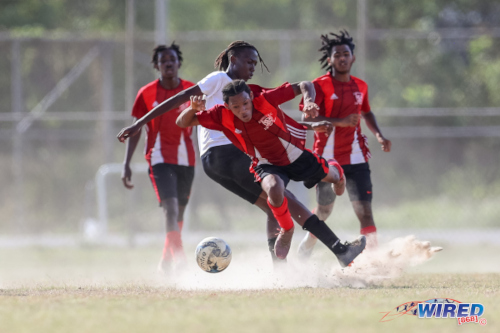 Browne and Ramdass were easily the tiniest players on the field, while Ramdass, who is set to sit the SEA examination on Wednesday, looked as though he could fit into the pockets of several Kamillionaire players.
"The person who would've started in that position in the first game was unavailable today—but Marley actually came on in the first game and he played really well," Thomas said of the pint-sized Ramdass, who played the number 10 role and kept possession ticking for Evolution with took two to three touches at most. "His selection is based on merit. It's not based on anything else."
At present, as he approaches the final stretch toward his SEA exams, the standard five student not only juggles with Language Arts and Mathematics on a weekly basis, but there is also the matter of competing and training with the Evolution Under-15 and Under-17 teams as well.
Oh, and the not-so-small matter of getting his mother's consent of course.
"We have Marley on the list of players for the Under-13s also but he hasn't been in any games there yet because we don't want to overload him too much," Thomas said. "He sits SEA on Wednesday so we managed to negotiate with mummy to get him for last week's games and then today. And then he would have to look off and zone in and do as well as he could in the SEA."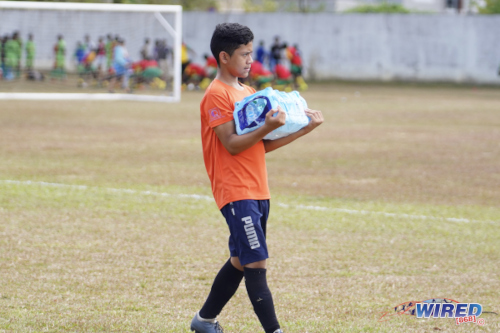 Barring the young Marley—who got loud cheers anytime he worked a neat one-two with the tricky Kyle "Ratty" Holder down Evolution's right flank—Thomas mandated every player to show up for Evolution's next session on Tuesday evening.

It wouldn't take Einstein to work out that finishing drills would be high on the agenda.
As they relentlessly attacked Kieron Guy's goal in the second half, Evolution shot themselves in the foot with wayward finishing. And midfielder Kai Thomas-Robertson surely managed the miss of the young NYFL season thus far as he inexplicably shot over bar from all of two yards, after meeting a low cross in the 48th minute.
In the 66th minute, Kai's namesake and skipper, Kaeden "Blood" Thomas-Robertson, was unlucky not to have brought Evolution level as he kissed an audacious long range right-footed effort off the outside of Guy's post.
In Thomas' words, it was just one of those days for his Evolution team.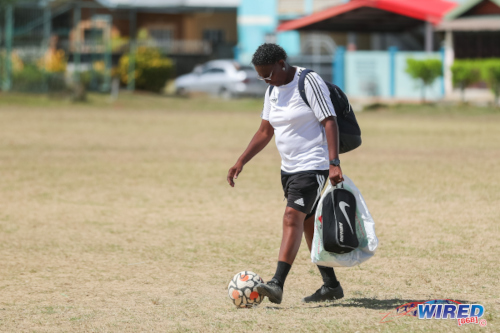 "I think they did everything that I could have asked of them, except for putting the ball in the back of the net," said Thomas. "On another day, we could have probably scored about five, but that's how football goes […] I'm proud of the players for their response and their attitude but that start that we had hurt us.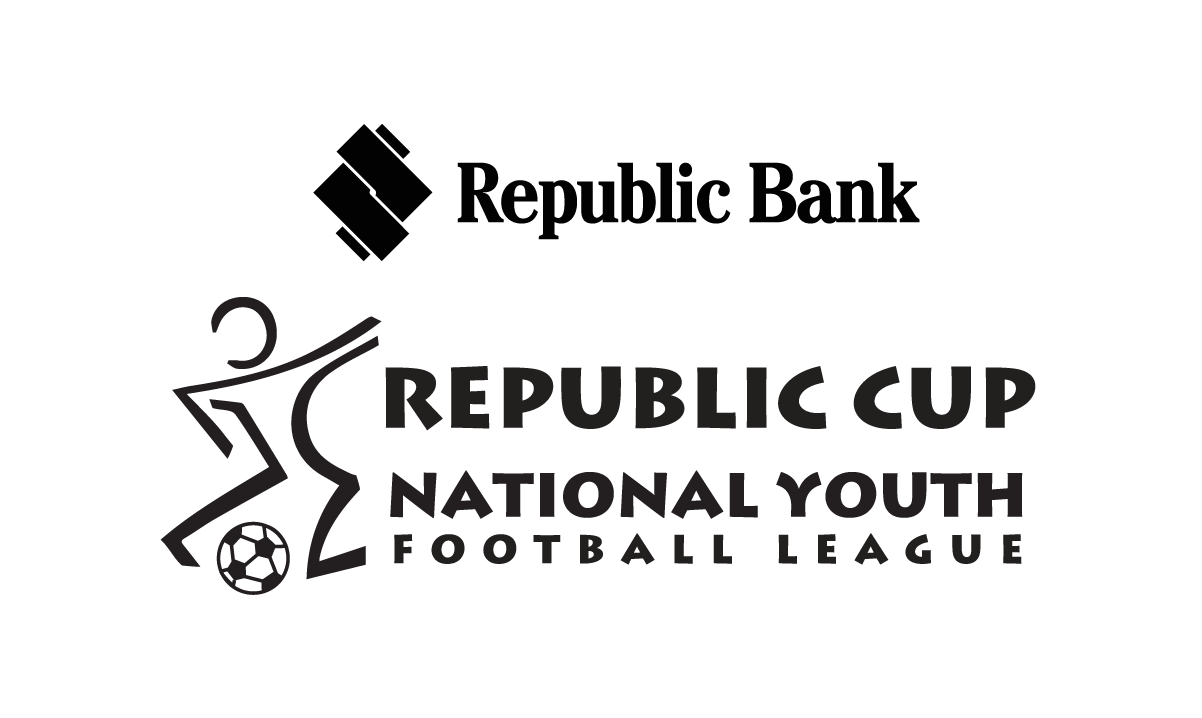 "It was a tough loss but they'll learn. I always say you never lose, you only learn. We will go back to the drawing board and I'm very confident in this bunch of players, that we can still win this zone."
Evolution were definitely brought back down to earth after their 5-nil thumping of Talent and Energy on Match Day One, but yesterday, it was the turn of coach Patrick Sambrano and his Kamillionaire team to soar on cloud nine.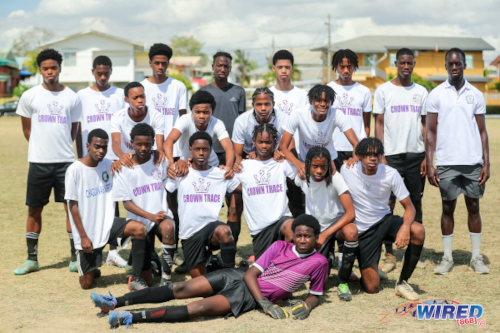 Following a defeat to Gasparillo Youths in their opening game, Sambrano reminded the Central Zone that his Kamillionaire underdogs shouldn't be counted out just yet.
"We come out as the underdogs and everybody does tell themselves that the underdog is the team to run over," Sambrano said. "But today, we proved them wrong. Moving forward, we hope to get better and better."
Intriguingly, the Central Under-17 age group has already been sent into something of a tailspin after just two matches, as Gasparillo also tasted defeat in Edinburgh on Saturday against a Crown Trace FC team who were playing their first game in the age group.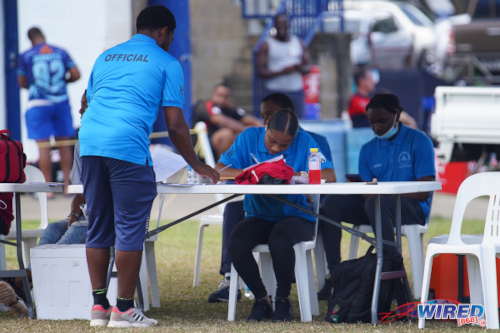 Crown Trace, Evolution, Gasparillo and Kamillionaire are now all level on three points, and something will have to give sooner or later.
While Thomas is confident that Marley and his band of Evolution youngsters could ascend to the top, and coach Nicholas Griffith warning challengers that his Crown Trace team have come to sweep all age groups, Kamillionaire vowed to show that they aren't in the NYFL to make up numbers.
"We came into the League unsettled and untrained and after the first game, we started to get some training so the boys are now starting to gel," said Sambrano. "We just need to get more practice in and get the guys to gel together and playing as a team and I think we could be successful for the rest of the tournament."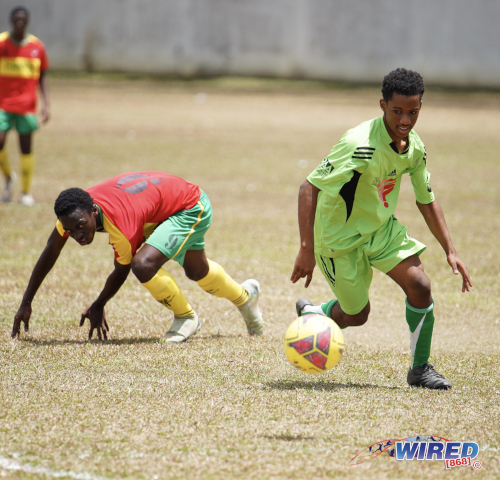 On Saturday, perseverance and survival appeared to be the watchwords for Sambrano's squad, as Evolution threw attack after attack in their direction, with Ratty and Blood dazzling and dancing in the midfield.
However, with the final blow of referee Jordan Cox's whistle, Sambrano felt as though the game plan worked to a tee.
"We played against the team a couple of times and we know how the coaches and they operate—they like to build from the back," Sambrano said of Evolution's tactics. "I told the guys to high press all the time. We were playing for the fast break and getting an early goal and defending it. Unfortunately, we only got in one goal.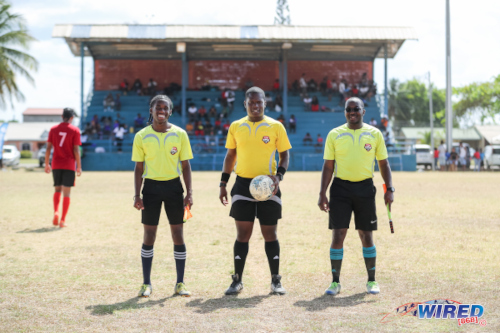 "It was a well-fought game. Both teams played well but in my opinion, the better team came out on top and deserved the win."
In the earlier Under-17 encounter, Gasparillo thought they were heading for three points too, when attacker Dave Lulchan gave them the lead with a close range finish in the 65th minute. Lulchan's goal sparked a furious protest by Crown Trace assistant coach Eric Alfred who asked the referee for an offside call but ended up being sent off instead.
Let's just say that Cox didn't take kindly to that question—although Crown Trace did have a case. Lulchan appeared to be lurking in an offside position when opposing defender Alex Thomas banged an attempted clearance off of Gasparillo attacker Keron Burnett and into his path.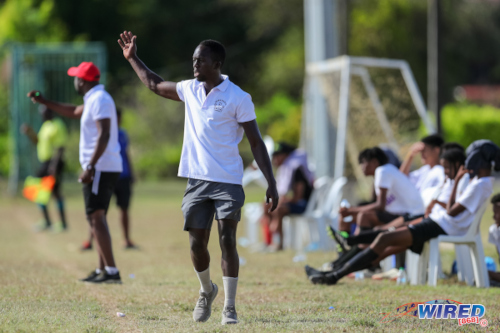 Lulchan made no mistake with his finish, as he tucked a right-footer under Crown Trace goalkeeper Jaydon Meharris.
"That was a blatant offside," Griffith lamented, as he entered the official's tent following his team's comeback 2-1 win over Gasparillo. "If we had lost the game due to that goal, all football was shutting down today!"
Thankfully, Griffith was only engaging in picong. And, in any case, he had no reason to unleash his inner beast as Crown Trace battled back to win the game on their terms.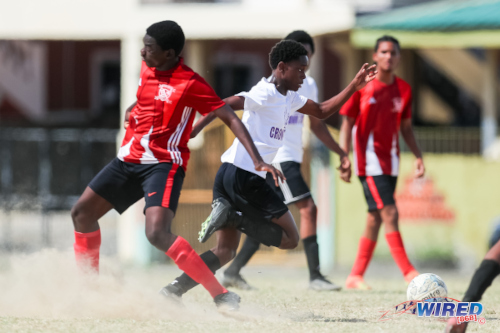 Centre back and team captain Jayden Bartholomew leveled the fixture with a devilish set piece in the 76th minute—mirroring Crown Trace youngster Kayden Joseph, who scored a pair of late free kicks earlier on Saturday as his team battled back to hold Gasparillo 2-2 in an under-13 contest.
After full back Christopher Regis drew a foul near the pavilion on the western side of the Edinburgh ground, Bartholomew bent a gem of a right-footed free kick into the top corner and beyond the reach of Gasparillo custodian Kwasi St Lewis.
The Gasparillo goalie may go on to save many free kicks in his playing days, but Bartholomew just had him fetching the Edinburgh dust on Saturday.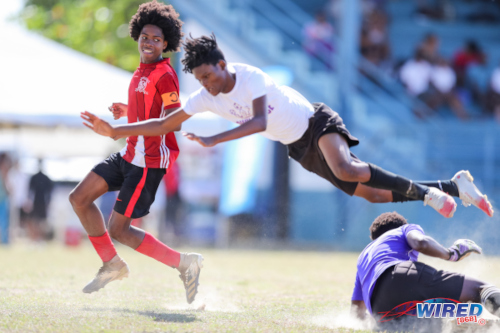 It was some hit!
With the game in the balance, Meharris found himself in a spot of bother in his own penalty area a few moments later, as both he and the ball crashed into the frame of the goal after a lovely glancing header by Gasparillo central defender Malerkay Fraser.
So close, but yet so far.
The winner would come in the 82nd minute, and the three points were heading to Enterprise, not Gasparillo.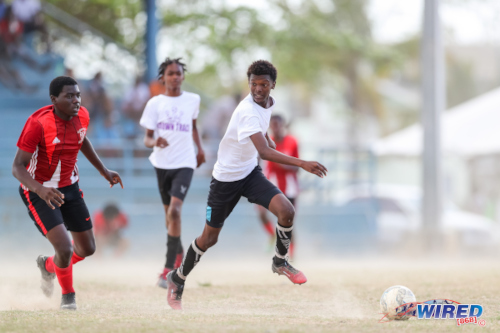 Cruelly, Fraser was culpable, as the defender unsuccessfully tried to shield Crown Trace attacker Supreme Outar from a lovely Nickosi Foncette through pass—with young Supreme stealing a yard to finish past St Lewis.
If Fraser was still mourning his glancing header at the opposite end, then Supreme gave him more than a glancing headache with his neat close range finish.
On Sunday 19 March, young Outar put the hurt on Evolution as he registered a double to lead Crown Trace to a 4-nil rout in the Under-15 age group.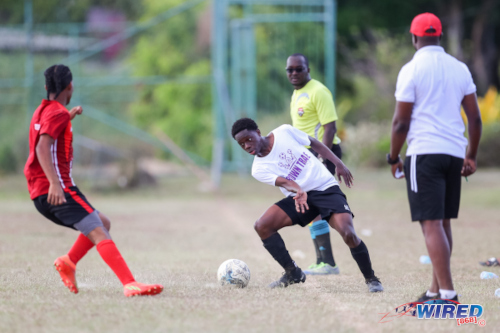 And, on Saturday 25 March, Outar reigned supreme again as he came off the bench to give Crown Trace three vital points in their first Under-17 game of the 2023 NYFL campaign.
Offside calls notwithstanding, Griffith and company can breathe a little easier now.
(Teams)
Crown Trace (4-2-3-1): 5.Jaydon Meharris (GK); 15.Christopher Regis, 21.Alex Thomas, 10.Jayden Bartholomew, 4.Jaheim Hoyte; 110.Nikosi Foncette, 6.Camron Burke; 8.Josiah Samuel, 18.Christian James, 3.Jahmiel Guishard; 22.Israel Outar.
Substitutes: 2.Zander James, 11.Ronaldo Audain, 111.Zachary Kalloo, 13.Tyrik Joseph, 16.Supreme Outar, 116.Israel Spencer.
Coach: Nicholas Griffith
Gasparillo Youths (4-3-3): 1.Kwasi St Lewis (GK); 4.Ezra Feverique, 2.Gyasi Pinder (captain), 17.Malerkay Fraser, 18.Atelon Charles; 8.Daniel Alexander, 6.Christopher Bhageratie, 11.Tyrese Harding; 7.Deondre Moonesar, 9.Dale Lulchan, 10.Keron Burnett.
Substitute: 12.Jesse Charles.
Coach: Jasandra Joseph
Referee: Jordan Cox
Wired868 Man of the Match: Nikosi Foncette (Crown Trace FC)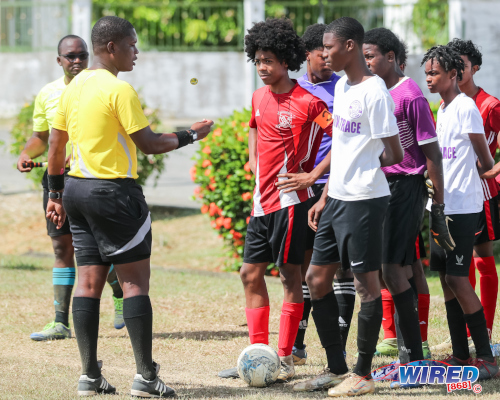 Republic Cup National Youth Football League (NYFL) results
Central Zone
Under-13
(Saturday 25 March)
Crown Trace 2 (Kayden Joseph [2]), Gasparillo Youths 2 at Edinburgh 500;
Under-15
(Sunday 26 March)
Crown Trace 5 (Zaim McIntosh [2], Supreme Outar, Kylil Miller, Keron George), Waterloo Academy 1 at Edinburgh 500;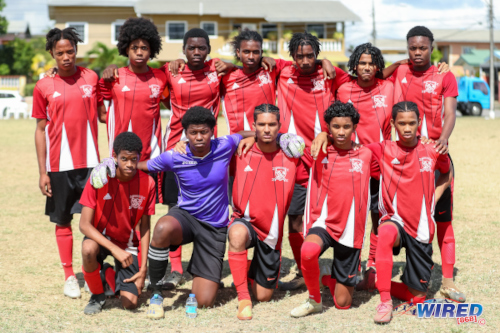 Under-17
(Saturday 25 March)
Crown Trace 2 (Jayden Bartholomew 76, Supreme Outar 82), Gasparillo Youths 1 (Dale Lulchan 65) at Edinburgh 500;
Evolution FC 0, Kamillionaire FC 1 at Edinburgh 500;
Under-20
(Sunday 26 March)
Crown Trace 1 (Nathan George), Gasparillo Youths 0 at Edinburgh 500;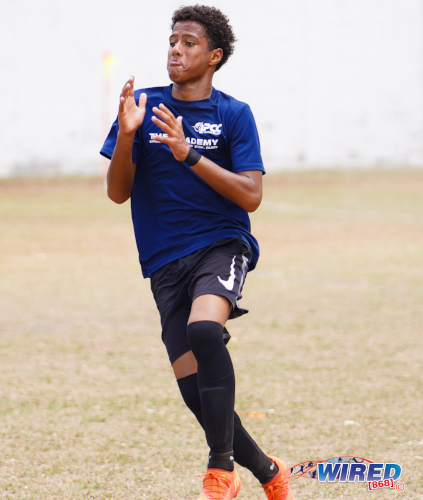 East Zone
Under-13
(Saturday 25 March)
FC Santa Rosa 6 (Aidan Inniss [2], Christian Thomas [2], Isaiah Sampson, Rea Jean Vanloo), San Juan Jabloteh 0 at Republic Bank Sports Club;
Trincity Nationals 6 (Eli akim Nelson [3], Sebastián Matute, Kalani Bissessar, Armani Durant), Hillview College FC 2 (Sanjeev Mungal, Matthew Beharry) at Republic Bank Sports Club;
FC Ginga 8 (Evan Ross [3], Luis Sebastian de Sanabria [2], Joshua Williams, Arrvon Nelson, Jiair Nanton), Ultimate Unison 1 at Republic Bank Sports Club;
Under-15
(Sunday 26 March)
Eastern Jaguars 4 (Josiah Thompson [2], Jakwon Howell, Amani Lewis), Hillview College FA 0 at Eddie Hart Grounds;
FC Ginga 5 (Elijah Diaz [2], Kymani Hazel, Criston Gomez, Elijah Edwards), San Juan Jabloteh 0 at Eddie Hart Grounds;
Arima Semi-Pro Blasters 4 (Marcell Valentine, Stephen Olivierre, Victory Woodruff, Renaco Hernandez), Hayden Tinto FA 1 at Eddie Hart Grounds;
Seed of Greatness Biche Football Development School 1 (Shawn Samuel 5), Arima Araucans Academy 2 (Daniel Lewis 15 pen, 40) at Eddie Hart Grounds;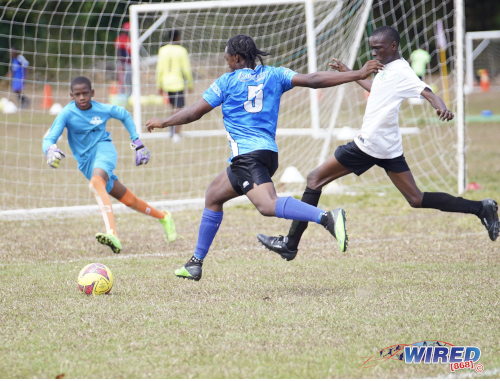 Under-17
(Saturday 25 March)
Arima Semi-Pro Blasters 1 (Jeremy Joseph), Hayden Tinto FA 1 at Eddie Hart Grounds;
FC Santa Rosa 3 (Keslon Pierre, Areelio Niles, Zen-Isaac Reymo), Eastern Jaguars 1 (Jonathan Gadjadar) at Eddie Hart Grounds;
Athletic International Academy 2 (Isaiah Isaac, OG), Hillview College FC 0 at Eddie Hart Grounds;
Trincity Nationals 4 (Khaleem Prince [3], Randon Baptiste), Elton John YA 1 at Eddie Hart Grounds;
Under-20
(Sunday 26 March)
San Juan Jabloteh 2 (Sean West, Elizsha Rogers), Trincity Nationals 1 (Khaleem Prince) at Eddie Hart Grounds;
Defence Force 4 (Larry Noel [2], Jaden Williams, Jaheim Granderson), FC Ginga 0 at Eddie Hart Grounds;
Athletic International Academy 0, Maracas United 0 at Eddie Hart Grounds;
Eastern Jaguars 2 (Theo Cravador, Jameel Cooper), Cooper's Coaching Academy 1 (Joshua Mitchell)at Eddie Hart Grounds;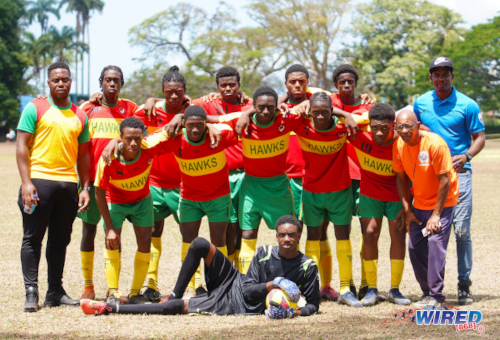 North Zone
Under-13
(Saturday 25 March)
Pro Series 5 (Kaleb Gocking [2], Luke Ferreira, Cristiano Budhoo, Nasique George), Academia De Futbol Excelencia 0 at CIC Grounds;
QPCC FC 5 (Reagan Rowe [3], Gabre Kambon, Matthew Lee Young), Trendsetter Hawks 1 (David Williams) at CIC Grounds;
Cardinals Football Academy 2 (Kayden Moraldo, Jaylon Roberts), IATF Academy 0
Under-15
(Sunday 26 March)
Pro Series 6 (Jake Barclay [5], Kai Williams), Cardinals Football Academy 0 at CIC Grounds;
QPCC FC 8 (Caden Trestrail [2], Benjamin Harragin [2], Nadeem Grant [2], Thomas Conlon [pen], Adriel Faure), AC Port of Spain 1 at CIC Grounds;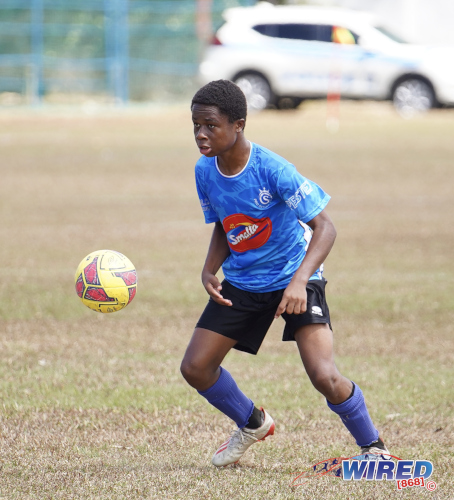 Under-17
(Saturday 25 March)
Pro Series 8 (Jaheim Bailey [6], Mich'ael John, Tau Lamsee), Santa Cruz FA 1 at CIC Grounds;
Trendsetter Hawks 15 (Andell Fraser [5], Zion Harley [3], Ryan Radellant [2], Jahime Joseph [2], Maalik Jarvis, Russell Francois, Jadon McShine), Laventille United 0 at CIC Grounds;
QPCC FC 3 (Luke Correia, Jaden Bobb, OG), AC Port of Spain 0 at CIC Grounds;
Under-20
(Sunday 26 March)
QPCC FC 5 (Luke Correia [2], Christian Bailey, Michael Chaves, OG), Santa Cruz FA 0 at CIC Grounds;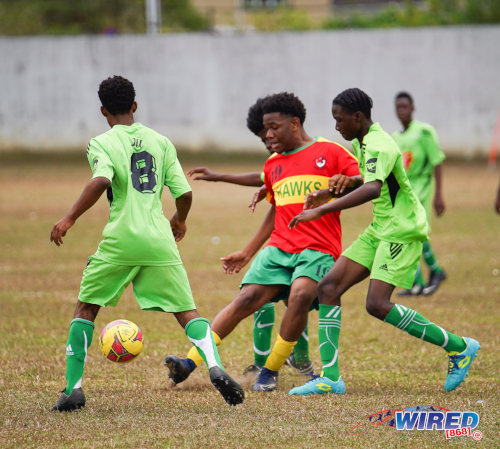 South Zone
Under-15
(Sunday 26 March)
Ste Madeleine Strikers 1 (Orande Parris), San Fernando Academy 0
Under-20
(Sunday 26 March)
Premier Sports Club 6 (Jarelle Sutherland [2], Duane Edwards [2], Jabari Rodriguez, Ephraim Brown), Southstars 0
Ste Madeleine Strikers 4 (Maliq Brathwaite, Adriel Asseveiro, Micah Brathwaite, Tariq Lucas), San Fernando Academy 0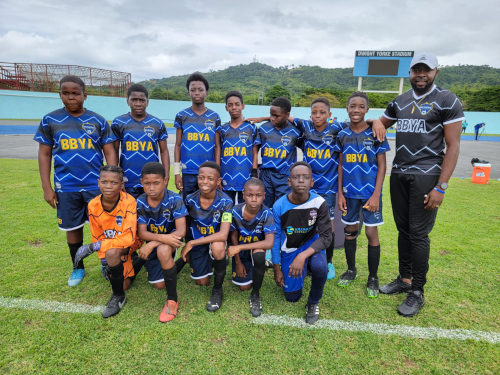 Tobago
Under-13
(Saturday 25 March)
Ball Blasters YA 13 (Jahmiah Gibbs [3], Jaeden Anthony [2], Jaysean Felix [2], Ackim Duncan, Zaire McMillan, Kashif Small, Kyen Anderson, Kaeron Alfred, Izea Phillips), Brother Ry's FA 0
Under-15
(Sunday 26 March)
Ball Blasters YA 11 (J'Meke Watkins [2], Marie Pereira [2], Daevion Maxime [2], Raevion Marshall, Jermaine Morgan, Jahmiah Gibbs, Sellon Guy, Jediael Marcelle), Balko's Football Academy 1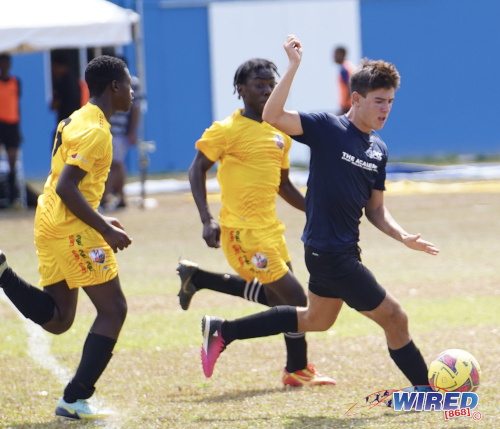 Under-17
(Saturday 25 March)
Ball Blasters YA 8 (Kaieem Lewis [2], Kaylon James [2], Khadeem Phillips, Kyle James, Malik Wilson, Antonio Hopkins), Bethel United 0
Girls Under-20
(Saturday 25 March)
Talent and Energy FC 0, St Augustine FC 1 (Lillian Selvon 5) at Edinburgh 500;
San Juan Jabloteh 2 (Taya Williams, Mya Pereira), Athletic International Academy 1 (Meagan Briggs)
Editor's Note: Wired868 will have a full round up of Republic Cup NYFL scores by midweek.