Trinidad and Tobago started their 2023 Concacaf Under-17 Championship campaign with a 3-2 defeat to Canada this evening at the Estadio Pensativo in Antigua, Guatemala.
However, the young Soca Warriors could take heart from making things difficult for their North American counterparts, despite playing a man short for much of the contest.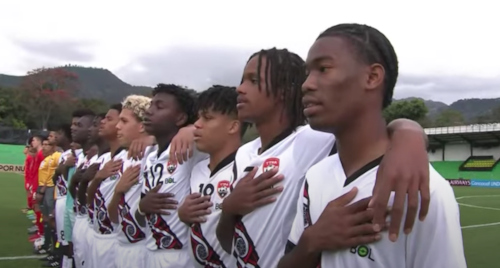 The score was goalless after 19 minutes when, in an inexplicable lapse of judgment, right back Rio Cardines stretched his hand out towards the ball in his own penalty area. Guatemalan referee José Fuentes flashed the red card and pointed to the penalty spot. And Trinidad and Tobago coach Shawn Cooper might have felt his stomach churn.
Yet, remarkably, goalkeeper Ailan Panton denied gifted Canada forward Kyler Vojvodic from the penalty spot. It arguably set the tone for stubborn resistance from the Caribbean visitors.
At the final whistle, Canada, as expected, had the three points. But they knew they were in a game. And there was plenty to encourage local football fans.

Trinidad and Tobago play the United States next from 7pm on Monday while Barbados face Canada from 4pm in another Group F double header at the Estadio Pensativo. USA trounced Barbados 5-0 on Saturday night, courtesy of three goals in the last 10 minutes.
The Warriors will be without the suspended Cardines on Monday night while central defender Jaden Williams has little time to recover from a blow to the knee, which saw him replaced at halftime.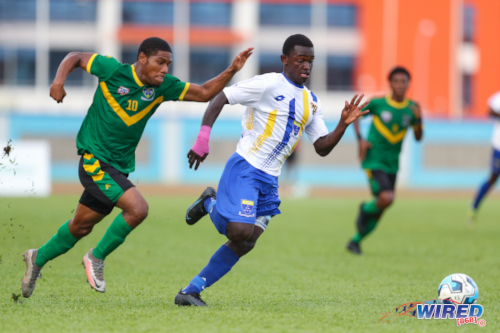 But the Trinidad and Tobago contingent would know they could land a blow themselves, after scoring twice this evening through substitute Malachi Webb and attacker Lindell Sween.
At the sidelines, Cooper probably had mixed emotions. After agonizing for the past two weeks over delays in acquiring Cardines' passport, a belated signature by Minister of National Security Fitzgerald Hinds meant the Crystal Palace Under-18 player got to Guatemala just before lunch today.
Remarkably, Cooper picked him in his starting line-up barely five hours later. It was a massive vote of confidence that was not repaid today.
The game was just 19 minutes old when Panton strayed off his goalline from a corner kick—momentarily drawn to a Antoine N'diaye cross that he had no chance of reaching.
Canada defender Chimere Omeze sent a looping header towards the T&T goal but a furiously backpedalling Panton looked like he would reach it. Cardines never gave him the chance though, as he lifted his hand high above his hand towards the sphere.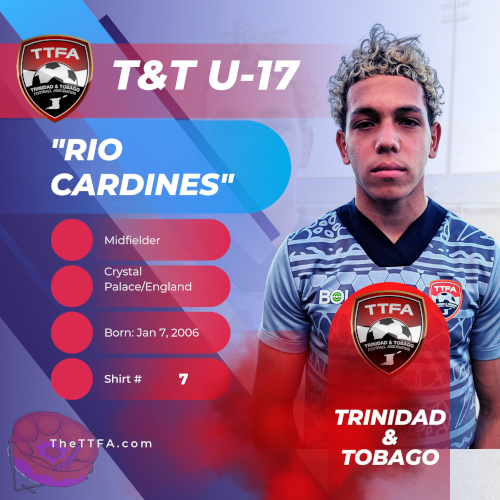 Had the emotions of the past week plus the late trip to Guatemala affected Cardines' mental state?
Thankfully, Panton saved the resulting penalty with a low dive to his left. But the Warriors were rattled.
Cooper was cautioned in the 24th minute—presumably for dissent—and, three minutes later, Canada were ahead.
Central midfielder Armani Rowe, suddenly asked to deputise for Cardines at right back, misjudged a lofted diagonal pass from deep-lying Canada playmaker Alessandro Biello and flanker Gael De Montigay was away.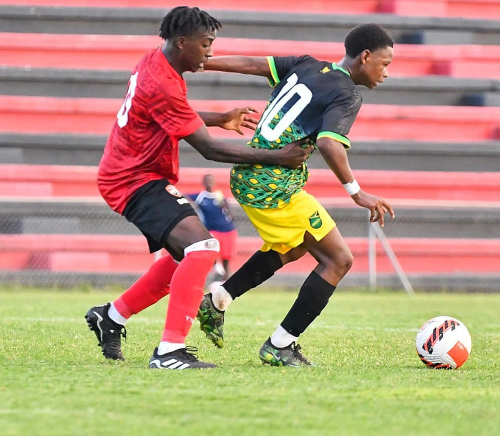 Forward Lucas Ozimec dummied De Montigay' cross beyond Williams and T&T left back Lyshaun Morris was caught on the wrong side of Vojvodic, who atoned for his missed penalty with a simple finish from close range.
Canada nearly got a second in the 31st minute, as Ozimec blasted just overbar after turning on the edge of the box following a long diagonal ball from Omeze.
But rather than lose shape or crumble, the Warriors consolidated well. Cooper swapped 5-2-3-1 for 4-4-1 and, the move that led to the goal apart, Trinidad and Tobago defended on the flanks well and kept Canada playing in front of their defence.
Patient and comfortable on the ball, Canada kept shuffling the ball from side to side and pushing numbers forward to create passing lanes. The Warriors, for all their grit, were against the ropes.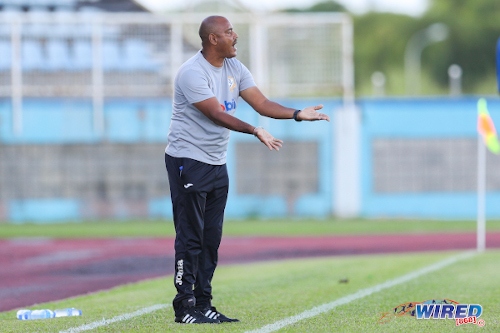 Worse, Cooper lost another first choice defender as Williams needed treatment late in the first half and did not return after the interval. In his place, versatile midfielder Aydon Caruth went on at right back while Rowe slid into central defence.
But Cooper was not only reacting. He replaced Dominic Wilson—another late entry to his squad—with the speedy Webb and rejigged his offence. Webb went into the centre forward role while Sween dropped to midfield.
Since Trinidad and Tobago were struggling to pass the ball through the Canada team and looked in danger of being overrun by their opponents attack-minded defenders, Cooper opted to take the more direct route.
Things did not improve straight away. Off a short corner kick in the 61st minute, Canada doubled their lead.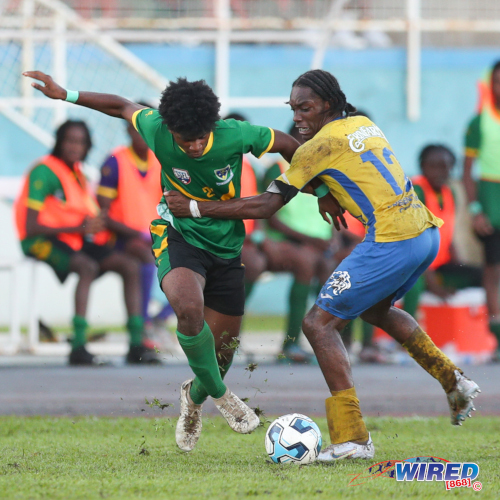 De Montigay delivered an inswinging cross from the right flank and Omeze drifted away from Caruth to score a free header.
But then Trinidad and Tobago got a peek in the 67th minute. Sween picked out Webb with an astute pass that broke Canada's offside trip and the St Benedict's College bullet-train rounded the opposing goalkeeper to slot home—despite the goalline effort of retreating skipper Lazar Stefanovic.
Trinidad and Tobago 1, Canada 2.
Scarcely had Trinbagonians started dreaming of an unlikely equalizer before Canada restored their two-goal advantage within seconds. After an exchange of passes in the midfield, Vojvodic charged into the area and beat Panton with a cracking effort that went in off the underside of the bar.
The young Warriors refused to be put in their place though.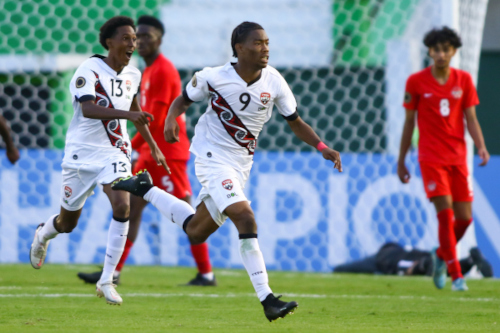 Down at the other end, Sween shaped to shoot and then chopped the ball to outfox Omeze who barged him over for a yellow card and a free kick.
And the San Juan North Secondary hotshot dusted himself off and sent a superb free kick beyond Canada goalkeeper Nathaniel Abraham and into the far corner. It proved to be the final goal of the evening.
According to Concacaf stats, Canada outshot Trinidad and Tobago by 13 attempts to three, while they managed 649 passes at an 88% success rate compared to 158 from the boys in red, white and black at 60% accuracy.
The Canadians were credited with 77% ball possession.
Using almost any gauge, Canada were better. But then we knew that before kick off. The North America outfit are ranked 53rd in the world at present. Trinidad and Tobago are 104th.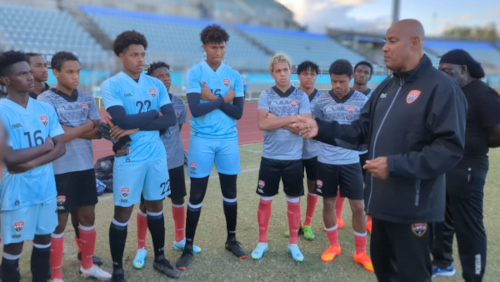 And it should not be necessary to compare the preparation of either team.
The young Soca Warriors did well to make a game out of it. They have less than 48 hours rest before they try to repeat the trick against the United States.
(Teams)
Trinidad and Tobago (4-2-3-1): 1.Ailan Panton (GK); 7.Rio Cardines [Red card 19], 3.Joshua Figaro, 2.Jaden Williams (6.Aydon Caruth 46), 4.Lyshaun Morris; 15.Armani Rowe, 8.Josiah Ochoa (captain) (19.Tyrell Moore 90); 11.Derrel Garcia (13.Vaughn Clement 68), 12.Jeremiah Cateau (14.Tau Lamsee 68), 18.Dominic Wilson (17.Malachi Webb 46); 9.Lindell Sween.
Unused substitutes: 20.Jaden Ottley (GK), 5.Samuel Duncan, 10.Michael Chaves, 16.Jeremiah Niles.
Coach: Shawn Cooper
Canada (3-1-4-2): 1.Nathaniel Abraham (GK); 5.Chimere Omeze, 6.Lazar Stefanovic (captain), 13.Richard Chukwu; 4.Alessandro Biello; 2.Theo Rigopoulos (12.Aidan Fong 72), 10.Antoine N'diaye (20.Andrei Dumitru 46), 8.Jeevan Badwal, 3.Gael De Montigay (15.Victor Fung 72); 19.Kyler Vojvodic (7.Ibrahim Higazy 84), 11.Lucas Ozimec (9.Erik Pop 72).
Unused substitutes: 18.Alexander O'Brien (GK), 14.Ruben De Sa, 16.Etienne Godin, 17.Liam MacKenzie.
Coach: Andrew Olivieri
Referee: José Fuentes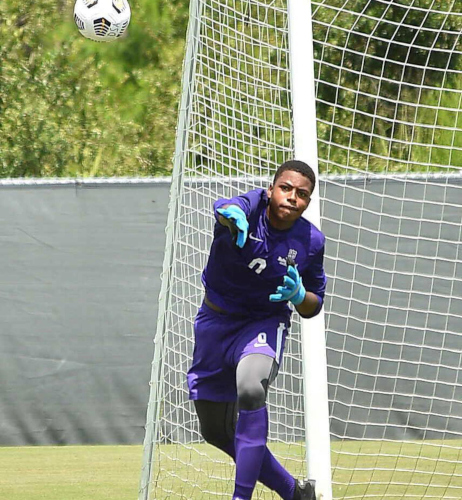 2023 Concacaf U-17 results
(Sat 11 February)
Group F
Canada 3 (Kyler Vojvodic 27, 68, Chimere Omeze 61), Trinidad and Tobago 2 (Malachi Webb 67, Lindell Sween 80)
United States 5 (Cruz Medina 25, 43, 90+3, Keyrol Figueroa 86, Taha Habroune 89), Barbados 0
Group E
Mexico 9 (Gael Álvarez 2, Isaac Martínez 14, Fidel Barajas 17, Stephano Carrillo 23, 45, Álex Valencia 72, Joaquín Moxica 86, José Urias 89, José Arroyo 90+2), Curaçao 0
Panama 1 (Kevin Walder 16), Guatemala 0