Defending Next Level Consultant Ltd (NLCL) Under-19 Community Cup champions Soccer Made Simple (SMS) and W Connection FC advanced to the semifinal stage of the 2022/23 NCL tournament yesterday with convincing quarterfinal wins at the Larry Gomes Stadium in Malabar.
The second quarterfinal round kicks off at 2pm today as Ball Blasters FA tackle Gasparillo Youths FC at the Mannie Ramjohn Stadium in Marabella. World Class Soccer Clinic and Made In La Brea FA close the curtain on this round from 4pm at the same venue.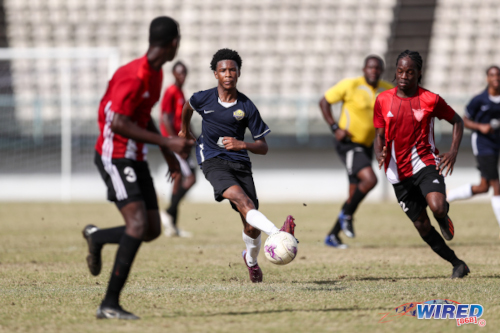 Yesterday, SMS put in a scrappy performance at Malabar and were well below their best for the most part in their quarterfinal duel with Eagles FC. However, much like last year's semifinal against the same Tobago outfit, SMS were still too much to handle as they stopped the Eagles' flight en route to a 3-nil win.
It must have felt like a touch of déjà vu for coach Keyun Boatswain and the Eagles team, as SMS forward Terron Miller again played his part in terrorizing their souls.
MVP of the 2022 NLCL tournament and a hat-trick hero in last year's semifinal win over the Eagles, Miller twice profited from errors by opposing goalkeeper Tyrese Carrington to put the boys from the Sister Isle to the sword yesterday.

As a unit, the Eagles looked constructive enough, with Omar Daniel trying to pull the strings in the midfield, and the pair of Jahiem Trim and Keanu Boatswain offering a threat further afield—before the latter was forced to come off with a first half injury.
The finishing by the Eagles left a lot to be desired though, with Trim squandering presentable opportunities in either half, and fellow attacker Jabari Alexander hitting the base of the post with the goal at his mercy late in the encounter.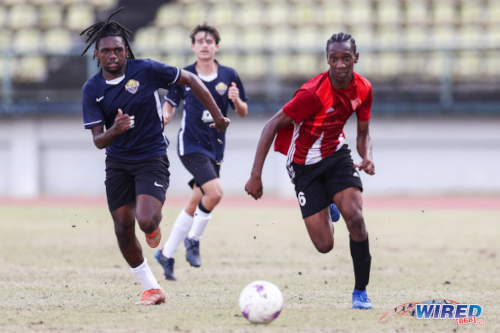 The visitors had their fair share of problems in their own goalmouth too, as a wobbly Carrington always looked like a mistake waiting to happen.
Unfortunately for the Boatswains and the Eagles camp, those mistakes didn't go unpunished by an SMS outfit that also possesses San Juan North Secondary standout, Larry Noel.
In hindsight, perhaps the Eagles can take solace from the fact that ace SMS winger and former national youth player Jaheim Faustin was unavailable for yesterday's clash.
Good luck to any Under-19 defence trying to keep out Fuastin, Miller and Noel!
Yesterday, Carrington's task in Malabar was to try and keep out two of the three SMS musketeers. And by the 40th-minute mark, the Eagles custodian looked as though he was ready to fetch a taxi straight to Piarco and board the first flight back to Crown Point.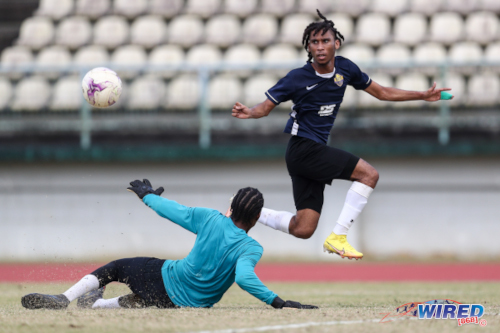 After surviving the spill of a regulation cross by Noel in the 23rd minute, Carrington was left with egg on his face, nine minutes later, when his attempted clearance went straight to Miller who swept into an unguarded net.
Carrington and the small Eagles posse argued in vain that Miller used his hand to intercept the ball before tucking into the empty net.
The situation went from bad to worse in a hurry, as Miller tapped home from two yards after Carrington mishandled a wicked right side free kick from SMS captain Tyrell Inniss in the 40th minute.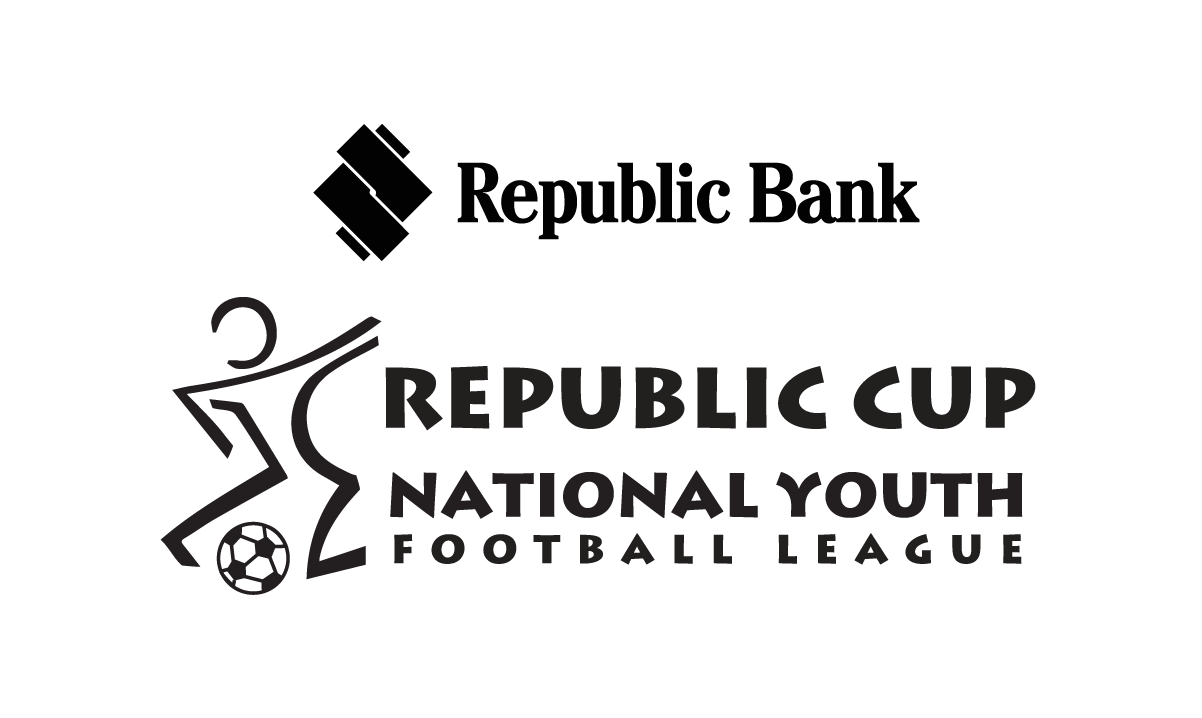 Inniss, incidentally, was almost flawless at left back. He defended smartly, provided a constant outlet down the left flank, and troubled the Eagles rearguard all game with his calculated left foot from set pieces and open play.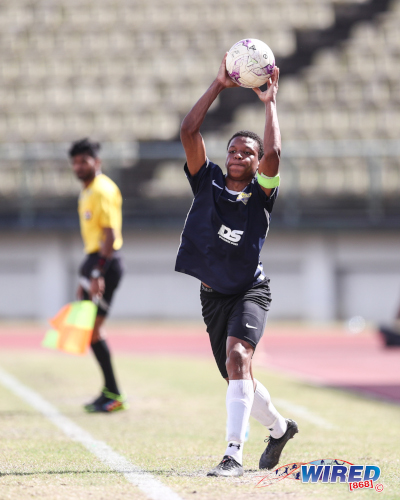 A swerving Inniss corner kick offered Miller a hattrick, just before halftime, only for the SMS forward headed wide while unattended at the back stick. Miller helped create the Bon Air team's final goal though, as he unselfishly squared for Noel to tuck home—after another poor Carrington kick took the Eagles defenders completely out of the contest.
SMS return to action on Carnival Sunday (19 February) for the semifinal round. But, at present, they look to be on a collision course with the "Savonetta Boys" of W Connection for the NLCL's grand prize.
W Connection coach Brian Williams refuses to get carried away though, despite yesterday's facile 4-nil triumph over Malabar Young Stars.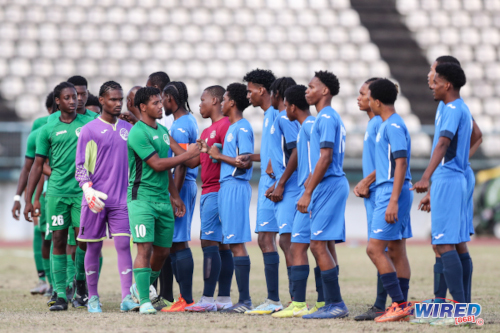 "Yes, SMS are doing well and they more or less blew the North/East Zone out of the water—we'd have to pay attention to them," Williams told Wired868. "We will take each game one at a time and when that time comes around we'll see about it.
"We still have a semifinal to play and that's what we're focused on."
After an early goal by the teenager dubbed "Captain America" by club supporters, Caleb Boyce—set up by a beautiful curling cross from unplayable left winger Maliki "Yellows" Clement—the Savonetta Boys and the Malabar youngsters had a proper physical joust for the better part of an hour, with neither team keen on giving an inch of space at the Larry Gomes facility.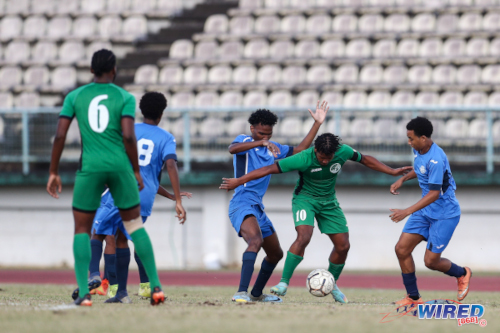 "I know that they are a very technical team and they would be playing the ball a lot on the ground," said Malabar coach Kevon Hall. "When we saw that's what they trying to do, I gave the instructions for the guys to play a higher line. We did it to try and force more errors from Connection in the attacking third.
"I think it worked very well at least for the first hour of the game."
The Malabar high line had its pros and cons.
At times, the feisty midfield pair of Angel Aragones and Tayshaun Cummings were able to pinch the ball off Connection in the midfield.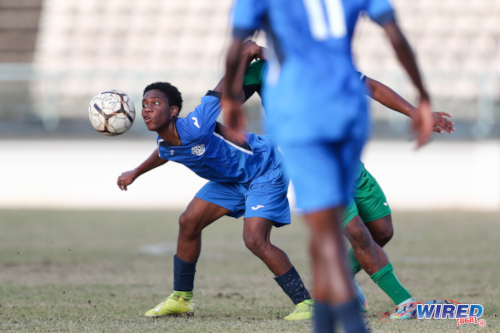 On other occasions though, Connection found the acres of space in behind and Malabar goalie Raymond Barras stormed off his line on multiple occasions to try and thwart opposing attackers who breached his defence.
In his sweeper-keeper role, Barras twice smothered forays by Connection central midfielder Adah Barclay and Clement—but the warning signs were there for the hosts.
And, much like the first quarterfinal matchup, a key goalkeeping error played a major role in determining the outcome of the contest.
It was a real pity for Malabar too, as Connection's second goal came when Hall's players were getting some footing in the encounter.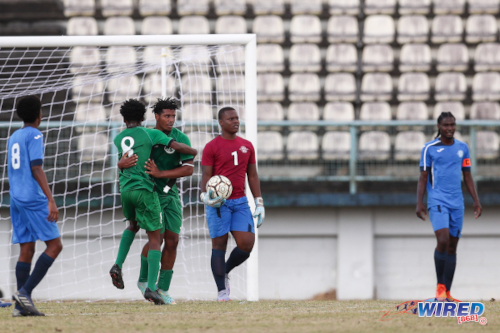 "Although we were 1-nil down, we were still well in the game […] until the silly mistake we made going backward," said Hall. "From there, we were playing catch-up."
Mere minutes after Malabar midfielder Jadon Durity gave the Connection posse anxiety with a right-footed volley that just whistled past Zeronn Collymore's upright, Barras effectively killed the game as a contest when, pressed by a Connection attacker, he presented substitute Josiah Hypolite with an open goal.
Hypolite turned provider a few moments later, as the flanker danced his way past his marker down the right before squaring for Yellows to apply a sweet, side-foot finish at Barras' near post.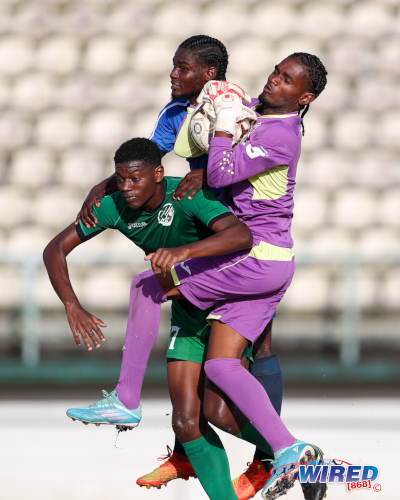 And another substitute, Chaz Forde, netted in injury time to send the Connection posse into a hard fete frenzy.
"Even after going through ten games this season, we were still searching for that best eleven," Williams said. "This is the first time we're with this group of boys so we are still looking to get the right chemistry and cohesiveness on the park.
"But as I said before, it's a work in progress and we will continue searching for the best team."
Williams will try his best to keep his young charges focused for Carnival Sunday.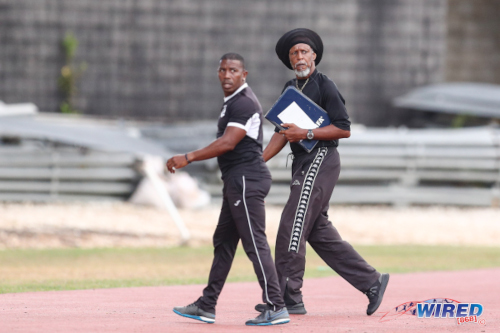 "We don't have these boys in a camp or whatever so we have to try and manage their energy levels, and it's also for them to be responsible as young boys," said the former Strike Squad star. "Playing a semifinal on Carnival Sunday will be a strange thing for the guys [but] we'll try to keep them focused on the job at hand.
"I know it might be difficult for those boys but we will try to keep them together as best as possible."
Two wins away from capturing the 2022/23 NLCL trophy, both Connection and SMS would be hoping to 'play a Mas' when their quest for glory resumes on Carnival Sunday.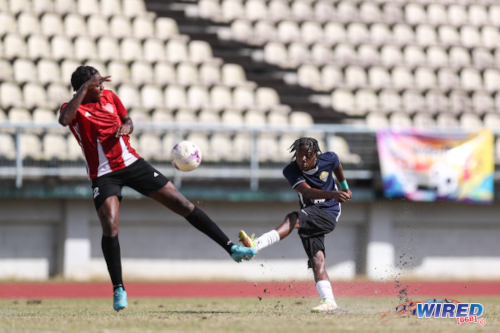 Jump up nah!
(Teams)
Soccer Made Simple (4-2-3-1): 1.Xavion Haynes (GK); 12.Hasheem Hill (15 Nathan George 87), 4.Jeremy Bobb, 6.Andre Providence, 13.Tyrell Inniss (captain); 10.Micah Nelson, 8.Philip Tinto (5.Kanye Baker 59); 20.Liam Dayal (11.Khaleem Prince 67), 18.Israel Joseph (14.Jeremiah Frank-Williams 84), 7.Terron Miller; 9.Larry Noel.
Unused substitutes: 25.Aidan Raymond (GK), 16.Alex Piper, 19.Arron Raymond.
Coach: Lester Young
Eagles FC (4-2-3-1): 1.Tyrese Carrington (GK); 22.Kenaldo Melville (5.Adriano Hernandez 81), 4.Charles Hall (captain), 2.Jediah Phillips, 3.Justin Henry; 8.Omar Daniel, 12.Jarion Dennis; 13.Calleyon Francois (26.Jelani Johnson 78), 7.Jabari Alexander, 10.Keanu Boatswain (6.Kyron Melville 22 [19.Ronnie Reid 68]); 9.Jahiem Trim.
Unused substitutes: 11.Jariel Miller, 15.Zaheem Kent.
Coach: Keyun Boatswain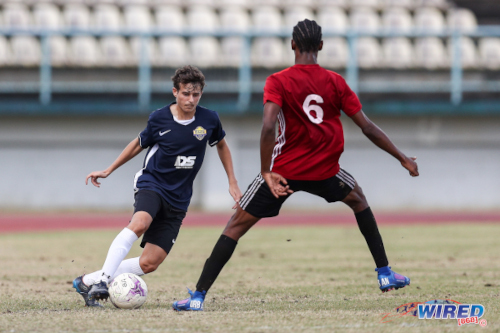 W Connection FC (4-3-3): 1.Zeronn Collymore (GK) (18.Josiah Chandler 87); 26.Terrence Worrell (3.Camron Wylie 83), 23.Jacquil Adams, 17.Sahrai Mitchell (19.Aklilu Joseph 69), 2.Duhrell Young; 7.Adah Barclay, 6.Levi Jones (32.Ethan Trotman 62), 29.Kaylon Baptiste; 8.Maliq Brathwaite (24.Josiah Hypolite halftime), 10.Caleb Boyce (captain) (9.Chaz Forde 74), 34.Maliki Clement (27.Micah Brathwaite 80).
Coach: Brian Williams
Malabar Young Stars (4-2-3-1): 1.Raymond Barras (GK); 3.Ethan Friday, 4.Saddiq Abdul Qadir, 5.Josiah Shade (captain), 16.Terrell Latapy; 10.Tayshaun Cummings, 17.Angel Aragones; 11.Anthony Wells (18.Isaiah Edwards 68), 8.Jadon Durity, 7.Nyron Dyer (14.Ezekiel Larose 55); 9.Ja-shawn Thomas.
Unused substitutes: 6.Ishmael Probherbs, 19.Kaliq Cook, 20.Kanye John.
Coach: Kevon Hall
Referee: Ashton Benjamin
Wired868 Man of the Match: Maliki Clement (W Connection FC)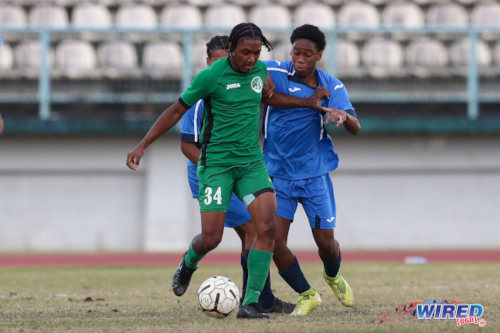 NLCL Quarterfinal Results
(Saturday 4 February)
Soccer Made Simple 3 (Terron Miller 32, 40, Larry Noel 83), Eagles FC 0 at Larry Gomes Stadium;
W Connection FC 4 (Caleb Boyce 11, Josiah Hypolite 63, Maliki Clement 71, Chaz Forde 90+3), Malabar Young Stars 0 at Larry Gomes Stadium.