"Back in the North at last!"
Those were the sentiments of Fatima College coach Hutson "Baba" Charles as his team got their first National Intercol title since 2005, after eking out a 1-nil win in the grand finale versus St Benedict's College at the Hasely Crawford Stadium yesterday.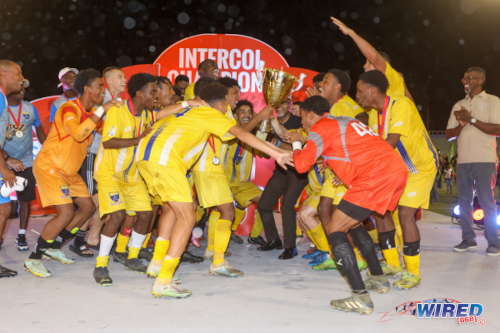 In this season's Secondary Schools Football League (SSFL) Premier Division Big 4 Final, St Benedict's captain Tarik Lee scored an impressive hat-trick as the "Golden Lions" of La Romaine roared to a deserved 3-1 win over Fatima at the Ato Boldon Stadium.
Yesterday though, the boys from Mucurapo Road were in no mood to give way to their southern opponents, and they bullied and harried the St Benedict's team for much of the 90 minutes.
Fatima never gave St Benedict's technicians room to dally or dance with the ball and the game's lone goal, just 12 minutes into the affair, came as forward Joshua Mason aggressively pressed the opposing back line.
St Benedict's goalkeeper Ja-ir Buckmire tried to clear a back pass by centre back Nesean Alexander and, under pressure, it rebounded fortuitously off Mason and into the back of the net.
"We said as long as the ball is going back to the keeper, we need to push on them and pressure that ball right through," Charles said. "It happened to fall in our favour. The ball ended up in the back of the net."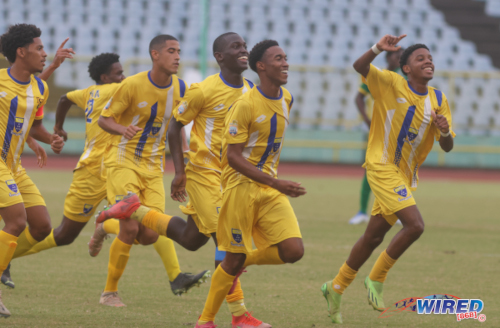 Buckmire's three penalty saves in the South Intercol final helped his team edge a tense shootout against Presentation College (San Fernando) at that stage of the competition. But he presumably wanted a hole to swallow him up at the Port of Spain venue in yesterday's final.
Charles didn't mind how he got it. He was a happy man.
"This is something we have been talking about since pre-season—we wanted to win some trophies to bring back to Fatima," Charles told Wired868. "Unfortunately, we fell short in the League. But I always felt that we would get to [National Intercol] finals with the football we were playing. And now, we are Intercol champions.
"It's about time the Intercol trophy comes back to the North. It's been in South too long. I'm glad for Fatima. They haven't celebrated like this since 2005, so all kudos to them."
Unfortunately, Mason could not enjoy the celebrations as he was stretchered off the field after 33 minutes.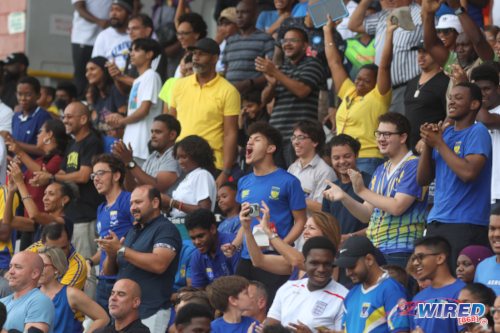 "I think he went by the dentist today [and] got some injections and anaesthetics," said Charles, "and I think the constant running up and down caused him to get blackouts."
Numerous attempts were made to revive Mason on the Hasely Crawford track before he was eventually whisked to the ambulance on the stroke of halftime to rapturous applause from the crowd.
"I haven't gotten an update yet but I know he's in good hands," said Charles.
Truth be told, St Benedict's needed reviving as well. They were far from their fluid best yesterday, as Fatima successfully disrupted their passing game with some intense pressing.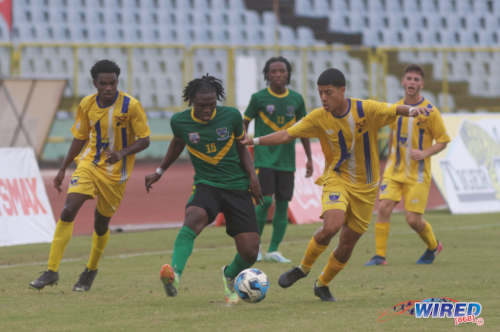 "As you saw in the first half, it wasn't our usual game," St Benedict's coach Randolph Boyce told Wired868. "Fatima came out to play. They were first to the loose ball, they were faster to the ball. They wanted the game and you could see that from the first half.
"Our guys were kinda passive. We grew into the game in the second half and it was more of a balanced game—there was more energy from us [then]. But kudos to Fatima.
"They deserved their win. They came out and worked hard and they played well."
Khiba Romany, used at centre forward rather than in his usual midfield role, led Fatima's defensive effort, while his pace and hold-up play worried his opponents so much that both St Benedict's central defenders, Alexander and Joshua Demas, were booked trying to stop him.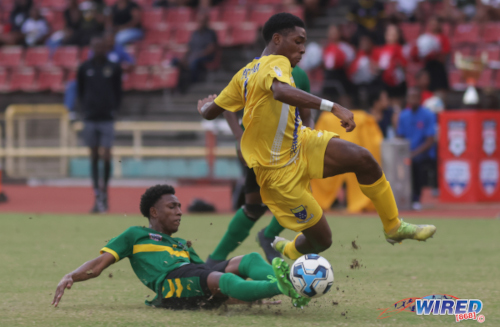 Alexander must have been counting his lucky stars when he saw yellow and not red in the 24th minute, as he unceremoniously hacked down Romany on the edge of the area after an errant back pass by Benedict's right back Keanu Morean.
Sixteen-year-old Jaden Williams put in an impressive shift in central defence, as Lee—despite the occasional mazy, tantalising run—did not get a sight at Tristan Edwards in the Fatima goal
And in the midfield, Charles used captain Christian Bailey and Jose Attong as holding players to nullify St Benedict's pacy counter-attacking quartet.
It worked to perfection.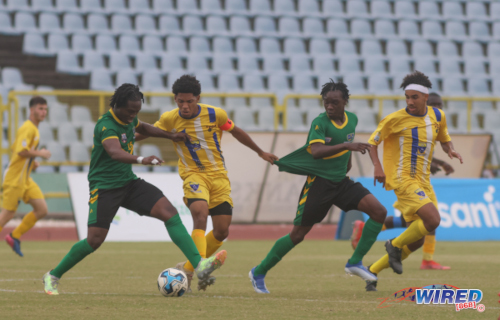 "Bailey's primary role is as a defender [and] we needed that aggression in the midfield there," Charles said. "They weren't expecting us to put him in the middle of the park. I think that kinda confused them and they never changed their plans from the first half.
"They came back out with the same tactics and I think we were in total control of them."
Known more for his bombarding runs down Fatima's right flank, Bailey adjusted to his new role seamlessly as he and Attong snapped at loose balls in the middle of the park and limited time and space for opposing midfielders Ephraim Brown and Josiah Ochoa.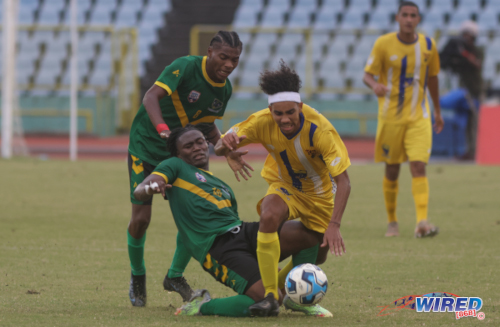 Particular attention was paid to the electric Lee too. And today, the Benedict's skipper is perhaps still seeing a sea of yellow wherever he turns.
"We know that St Benedict's strength is getting the ball wide and also into the feet of Tarik Lee," said Charles. "They use their wingers really well and Tarik Lee is a player you have to pay particular attention to. We changed up the way how we played for this game.
"We played with two holding midfielders to nullify the threat of Tarik Lee and Ochoa. We told the wing backs to stay home so their wingers wouldn't get a free run at our defence in [transition] up and down the flank."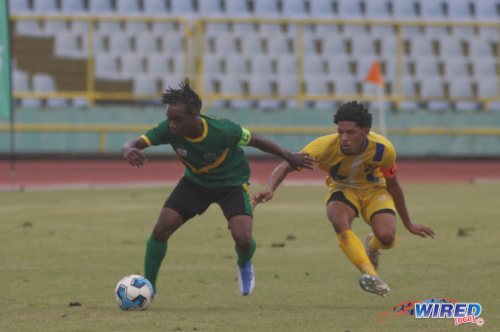 The Fatima coaching staff definitely addressed some of the shortcomings from their Big 4 final defeat, with Boyce's outfit struggling to assert their regular dominance over proceedings, instead resorting to test Edwards with long range free kicks from Derrel "Zoom Zoom" Garcia.
"Fatima brought Bailey inside to use his quickness because you could see their plan was to close us down as quick as possible in twos and threes," Boyce said. "That plan worked well so I must say props to them.
"Nothing really break down in our game plan. Our plan was to move the ball around as fast as we could and try to find the spaces they normally leave in the channels. Today, those gaps were well closed off.
"It works some days, and other days it doesn't work."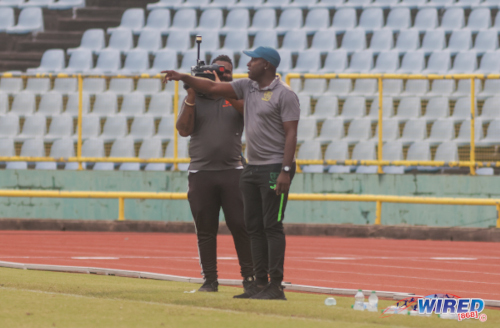 As the pressure got to the St Benedict's players, Alexander was lucky to avoid an early show after dishing out an elbow to the jaw of Fatima substitute Kade Collier.
Assistant referee Ainsley Rochard seemed to be trying to catch referee Nikolai Nyron's attention to Alexander's elbow—delivered in retaliation to a foul by Collier—but the former player escaped further punishment.
Boyce turned to his bench for inspiration as Garcia and Jeremiah Niles were taken off midway through the second half, while Ochoa and pacy forward Nicholas Bobcombe followed in the latter stages of the encounter.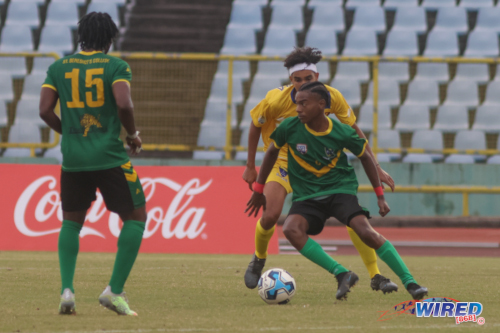 Ochoa's replacement, Rayshawn Crichlow, forced Edwards into a parried save in the third minute of second half stoppage time. But there was nobody there to follow up.
Edwards had another anxious moment in the fifth and final minute of stoppage time, as he fumbled the ball at his near post following a corner from another St Benedict's substitute, Tyrique Lucas.
But Fatima cleared their lines. And, at the final whistle, Mason's goal separated the two teams.
"Yes, our goal came from a deflection—but what a sweet deflection it was!" Charles said, as he grinned from ear to ear. "What happened to our team is that we were disciplined. We stuck to our game plan for long periods. That's why we won the game.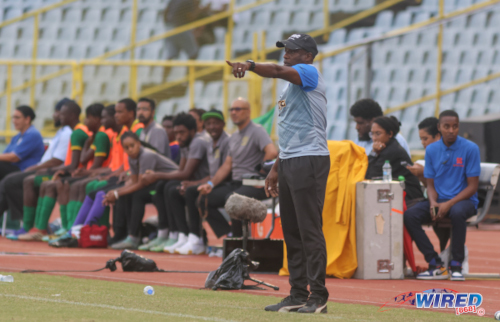 "I wanna thank all the sponsors, the principal, the teachers, my coaching staff, the players and all the supporters. They were good."
In 2014, East Mucurapo Secondary thwarted St Benedict's in the National Intercol final. Yesterday, it was the turn of their Mucurapo Road neighbours.
"It's psychological—remember I told you that we need psychiatrists in sports," Boyce said. "We were warning them that if you beat somebody once or twice, they're not going to come a third time and lie down. And as you could see here, Fatima didn't come out to lie down. They came out to prove a point and they worked for their win.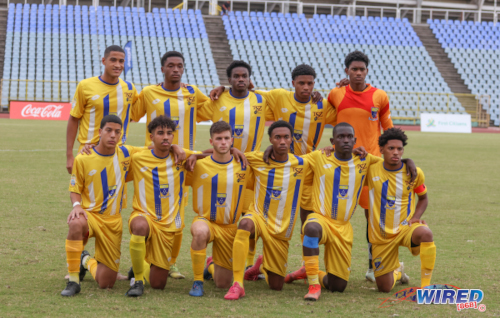 "I hope we have made boys into men and they take this experience on board to help the younger ones who will have to fill the spaces, so that they could learn what we are teaching."
What a time for St Benedict's to suffer their first loss of the SSFL season.
(Teams)
St Benedict's College (4-3-3): 1.Ja-ir Buckmire (GK); 4.Keanu Morean, 6.Nesean Alexander, 5.Joshua Demas, 19.Lyshawn Morris; 8.Derrel Garcia (18.Tyrique Lucas 63), 15.Ephraim Brown, 12.Josiah Ochoa (20.Rayshawn Crichlow 83); 10.Nicholas Bobcombe (21.Malacai Webb 80), 7.Tarik Lee (captain), 11.Jeremiah Niles (9.Jaden Grant 59).
Unused substitutes: 22.Thane Devenish (GK), 2.Joshua Phillip, 3.Anthony Williams.
Coach: Randolph Boyce
Fatima College (4-2-3-1): 40.Tristan Edwards (GK); 3.Jesse Hospedales, 6.Jaden Williams, 2.Alijah Nunes, 5.Darius Jordan (4.Yohance Atherton 80); 33.Christian Bailey (captain), 17.Jose Attong; 12.Chaim Williams (15.Michael Chaves 80), 10.Aidan DeGannes, 9.Joshua Mason (14.Kade Collier 33); 7.Khiba Romany.
Unused substitutes: 8.Justin Alcantara, 11.Josiah Corbin, 16.Savio Yearwood.
Coach: Hutson Charles
Referee: Nikolai Nyron
Wired868 Man of the Match: Christian Bailey (Fatima College)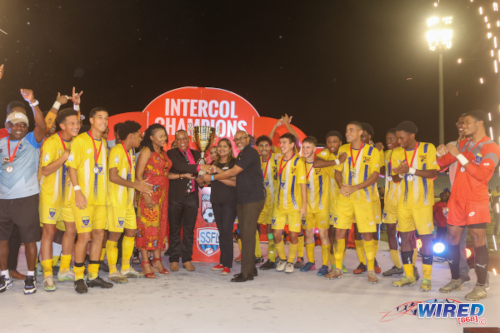 National Intercol final
(Wed 7 Dec)
St Benedict's College 0, Fatima College 1 (Joshua Mason 12) at Hasely Crawford Stadium.