St Augustine Secondary and East Mucurapo Secondary will meet on Monday 12 December in a play-off fixture from 3.30pm at the St Mary's College ground, in what looks set to be the final act of the 2022 Secondary Schools Football League (SSFL) season.
The loser will join relegated outfit Moruga Secondary—although Moruga have a protest lodged in respect to a game away to Chaguanas North Secondary—and suspended school Carapichaima East Secondary in the SSFL's second tier competition, the Championship Division, for the 2023 season.
There is still no official word on an appeal by Carapichaima East to their suspension from the Premier Division, due to fielding an ineligible player—lower six form goalkeeper Nicholai Rivers—for their league and Intercol matches this season.
Rivers, who began lower six at Chaguanas North Secondary in 2020 before dropping out of school, was deemed to be a transfer repeater when he signed up at Carapichaima in September 2022. And, as a result, he is unable to play schools football without a lower six pass.
Rivers was marked absent for all of his exams at lower six, after dropping out of school during the pandemic.
SSFL president Merere Gonzales confirmed that "Caps" are out, although he said the league is still in the process of issuing a release to that effect.
"A decision was already arrived at, with the appeals committee upholding the decision of the disciplinary committee," said Gonzales.
The expected ruling is a reprieve to a St Augustine team which lost all seven Premier Division outings this season—the only top-flight side without a solitary point—and yet could still avoid relegation.
To do so, though, the "Green Machine" would have to play their best game ever under rookie coach and schoolteacher Tacuma Jones against a Mucurapo side led by former Pro League title winning coach Dale Saunders.
There is another potential issue, though. The SSFL's decision to schedule the play-off contest before completing the Premier Division fixtures raises the question of whether the 2022 schedule will ever be completed.
In Group A, fourth-placed Speyside High School are still due to host sixth placed Pleasantville Secondary. Prior to the Carapichaima ruling, Pleasantville needed a win in Tobago to avoid the playoff. However, the fixture now is merely academic.
Three weeks since their last competitive fixture, Speyside are still in training to face Pleasantville. It is the Tobago team's sendoff to the 2022 season and the last chance for players to treat their fans before Christmas.
Technical director Kerry Lynch said the "Country Boys" have received no notification from the SSFL on the matter. He made it clear that Speyside are ready to play, although he has doubts as to whether everyone shares their enthusiasm.
The SSFL fixtures committee comprises Azaad Khan (chair), Gerald Elliot and Laurence Seepersad.
"Apparently it seems the league doesn't see any necessity to play the game," Lynch told Wired868. "But for me I think the game should play. It is a fixtured game within the confines of the league—not because two teams are mathematically safe that a league game shouldn't play.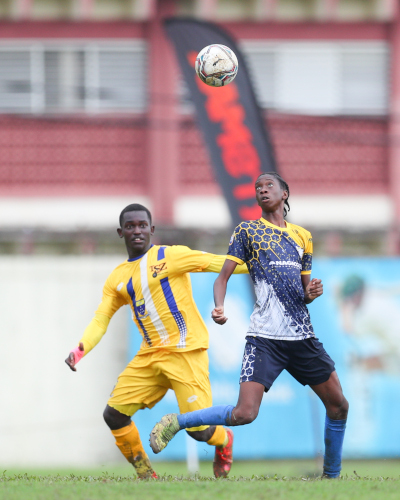 "We haven't heard any word from the league, so we are waiting. People are looking forward to the game here."
Gonzales confirmed Lynch's suspicions, although he did not provide a definitive answer on the outstanding match.
"We are contemplating that there may not be a need to play that game," said Gonzales, "as it has no bearing on the standings and there may be expenses to attend that game for Pleasantville."
SSFL general secretary Azaad Khan echoed Gonzales' sentiments, although he stressed that the relevant committee will make the final decision.
"That trip [to Tobago for Pleasantville] will cost $10,000 eh," said Khan. "So if it is not going to impact the demotion…"
Pleasantville representative, Alison Quashie-Boucher, admitted that the game would also be deemed an unnecessary expense by the southern school. But they are taking a "wait and see" approach.
For St Augustine versus East Mucurapo, though, it will be a case of "all or nothing".