Bishop's High School picked up their first points of the 2022 Secondary Schools Football League (SSFL) Big 5 competition today, as they came from behind to edge Siparia West Secondary 3-2 at the Dwight Yorke Stadium in Bacolet.
Adverse weather conditions prompted postponements of several SSFL fixtures today, including a clash between Arima North Secondary and St Mary's College on the Arima Old Road. However, Siparia West were already on the Sister Isle and opted to give it a go.
The South Zone champions made a dream start too, as Brandon Ramgarib put them ahead after just 18 minutes in Bacolet. But Bishop's were always in the contest and struck back with goals by Malik Wilson and Aaron James—to take a 2-1 lead into the dressing room at halftime.
Gifted attacker Akel Vesprey leveled for Siparia in the 66th minute, to restore hope that the visitors might leave Tobago with a result. However, Wilson got his second of the evening, four minutes later, to assure a win for the home team.
Bishop's, who lost 2-1 away to St Mary's on Thursday, are seeking to join fellow Tobago outfit Speyside High School in the SSFL's Premier Division—with the top three Big 5 teams assured of promotion.

At present, the "Saints" top the standings with two wins from as many outings while Arima North won their only match 4-0 against Miracle Ministries Pentecostal High School.
The Tobago Championship winners return to Trinidad on Wednesday 30 November to face Miracle Ministries before they host Arima North in their final fixture on Sunday 4 December.
For Siparia West, they still have three remaining matches and a potential nine points to chase. The southerners, who are coached by former Strike Squad star and Shiva Boys High School coach Dexter Francis, face St Mary's next at the Siparia Regional Complex from 3.30pm on Wednesday.
They then tackle Miracle Ministries (away) and Arima North (home) on 4 and 8 December respectively.
The SSFL Fixtures Committee now has to assign a new date for St Mary's trip to Arima—God willing and weather permitting.
Big 5 results
(Sun 27 Nov)
Bishop's High 3 (Malik Wilson 39, 70, Aaron James 45+2), Siparia West Secondary 2 (Brandon Ramgarib 18, Akel Vesprey 66) at Dwight Yorke Stadium.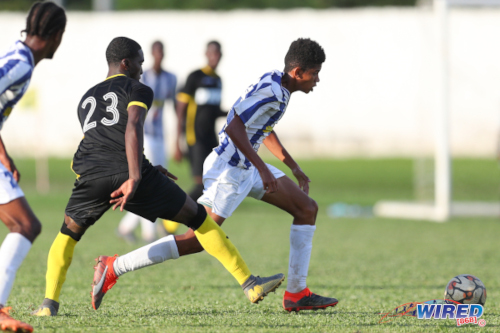 Upcoming Big 5 fixtures
(Wed 30 Nov)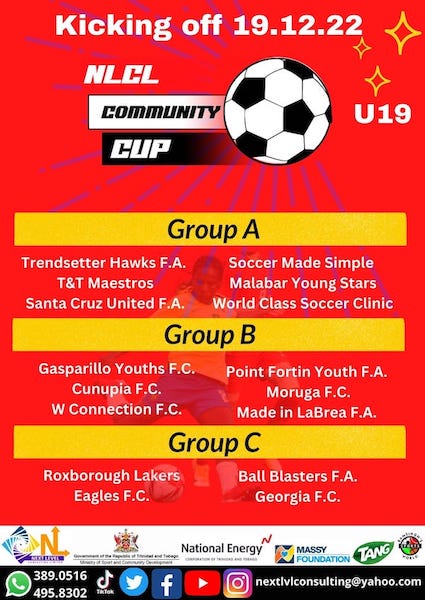 Miracle Ministries High vs Bishop's High, 3pm, TBA;
Siparia West Secondary vs St Mary's College, 3.30pm, Siparia Sporting Complex;
Arima North Secondary are on a bye
(Sun 4 Dec)
Miracle Ministries vs Siparia West Secondary, 3.30pm, TBA;
Bishop's High vs Arima North Secondary, 3pm, Bishop's;
St Mary's College are on a bye
(Thu 8 Dec)
Siparia West Secondary vs Arima North Secondary, 3pm, Siparia Sporting Complex;
(TBD)
Arima North Secondary vs St Mary's College, 3.30pm, Arima Old Road.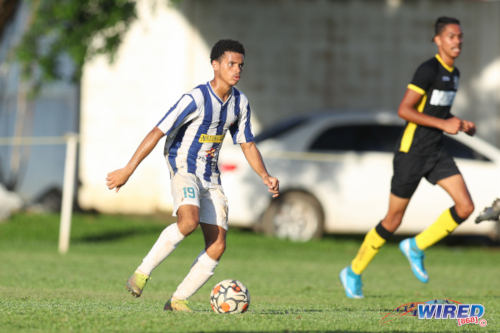 Standings (Tabulated as Played-Won-Drawn-Lost-Goals For-Goals Against-Points)
St Mary's College 2-2-0-0-7-2-6
Arima North         1-1-0-0-4-0-3
Bishop's High      2-1-0-1-4-4-3
Siparia West         1-0-0-1-2-3-0
Miracle Ministries 2-0-0-2-1–9-0