Fatima College advanced to the Big 4 Finals in the 2022 Secondary Schools Football League (SSFL) Premier Division today after edging San Juan North Secondary 1-0 in a scrappy affair at the Hasely Crawford Stadium in Port of Spain today.
They will battle St Benedict's College for the title on Wednesday, after the "Saints" outgunned Presentation College (San Fernando) 5-3 in the first semi-final match yesterday evening at the Ato Boldon Stadium in Couva.
Today, on a slick Hasely Crawford Stadium surface, Fatima and San Juan North both struggled to get the ball down and play their best football. However, a wonder strike from Fatima left back Alijah Nunes decided the contest in the 41st minute.
Nunes' wicked left-footed hit came from all of 30 yards out—way on the left flank—and certainly caught San Juan goalkeeper Xavion Haynes off guard, as it arrowed into the far corner with force.
The Fatima goal quite literally came out of nothing. Nunes collected a pass on the left side from flanker Jose Attong, before shaping outside San Juan flanker Jadiel Joseph.
However, with one powerful swing of his left boot, the Fatima defender altered the contest in drastic fashion and had supporters of the Mucurapo Road school swooning in their seats.
"Move over San Juan, let Fatima pass!" came the chant.
Fatima coach and Trinidad and Tobago football icon Hutson "Baba" Charles said he encouraged his left back to go for goal, given the wet nature of the surface. And boy did Nunes hit it!
"If you can't shoot we can't score," said Baba, as he told Wired868 his message to Nunes. "We know he has a powerful shot on him and we wanted him to express himself in these conditions. Nunes is one of the most powerful strikers of the ball within our team.
"I always tell him, anytime he gets in those kinda positions—the conditions were conducive to shooting—he has to have a shy. You never know what the keeper could do. He certainly took his goal nicely."
Nunes' hit also caught veteran San Juan coach Jerry Moe by surprise, as he opined that the 18 year-old Fatima left back had attempted to cross the ball into the area.
Charles insisted that Nunes meant every bit of it though and it would be a goal which rocked Haynes and the San Juan dressing room.
"The boys were down at halftime," Moe told Wired868. "The keeper was a little bit down on himself. Maybe he could have worn his screws—he didn't have on his screws—and he probably slipped.
"Outside of that, it was just to let them know that it's just a football game. We had to go out there and try to win the second half […] the game plan was to stop them from playing at the back because once you're in their face—as you realized how the game went—both teams were making mistakes."
In truth, the 16 year-old Haynes didn't have his best of games under the bright lights at the Hasely Crawford Stadium. He left Bourg fans with their hearts in their mouths on a couple of occasions as he tried to deal with lofted balls in his penalty area.
In one instance in the first half, Haynes spilled a high misdirected clearance by his all-action defender Joshua Lewis—only to be bailed out as Fatima attacker Michael Chavez slipped in the penalty area at an inopportune time.
And in the second half, Haynes misjudged a long punt upfield by a Fatima player and allowed the ball to bounce over his head in the area. Like a cricketer desperate to atone for a misfield near the boundary ropes, the San Juan goalkeeper recovered at a rate of knots as he just managed to collect the ball precariously close to his upright.
At one point, it looked as though Haynes might exit the game early as he received treatment for a knock.
That gave Cantaro United goalkeeper Stephon "Papa" Langaigne the chance to briefly introduce himself to the SSFL faithful, as he went through his warm-up paces on the track behind the San Juan technical area.
The heavyset Papa, who turned 16 on Friday, showed Wired868 his capabilities during the NLCL Community Cup earlier this year.
"Where he going?" one Fatima fan enquired curiously, as Papa stretched his legs on the running track. "That can't be San Juan backup keeper!"
"Don't worry nah man—the youth man could save," a San Juan supporter snapped back.
In the end, the Papa show was delayed as Haynes soldiered on.
The Tristan Edwards feature was well and truly on though!
Nunes would undoubtedly get the plaudits for his wonder strike when he returns to school on Monday. However, Fatima have Trinidad and Tobago National Under-20 goalkeeper Tristan Edwards to thank for seeing off coach Jerry Moe's San Juan outfit.
Edwards made 11 saves in the match, including a pair of spectacular diving saves in the 71st minute to thwart efforts by San Juan midfielder Jardell Mitchell and playmaker Lindell Sween—before Joseph aimlessly volleyed over the bar.
Arguably, Fatima's match started in the protest room as they successfully appealed a red card decision against Edwards by referee Rashby McPhie in their final group stage match against St Anthony's College on Tuesday afternoon.
The SSFL executive rescinded the red card yesterday on "a point of law" after deeming that "the goalkeeper was not denying an obvious goalscoring opportunity" when he was sent off.
"When we watched the replays we saw that he didn't really foul the guy. He and the St Anthony's attacker were both breaksing from the challenge," Charles told Wired868. "I told my manager that we have to look into this and appeal it to see if anything would come out of it. He went to the Disciplinary Committee and they overturned the red card."
Today, another critical decision went in Fatima's favour too, as a neat left-footed finish by San Juan captain Larry Noel was ruled offside by assistant referee Nathalya Williams in the 52nd minute.
However, as Sween sprung Noel with an intelligent through pass, replays suggested that the San Juan captain timed his run to perfection—having been played onside by Fatima defender Jaden Williams.
"I didn't have a good vantage point of the offside call [and] it has no VAR," Moe said with a chuckle. "But that's how the game is. You have to depend on the referees. We can't play without them.
"[…] When the referees make a mistake we feel like we don't need the referees but we do need them. The game will be a far worse situation without them. We live and die with the decisions they make."
In yesterday's semi-final, referee Nikolai Nyron overturned an incorrect offside call against St Benedict's attacker Nicholas Bobcombe, which saw the "Golden Lions" take an unassailable 5-0 lead. There was no such respite for Noel, as referee Cecile Hinds stood by her assistant's call.
It would be Noel's last clear sight on goal—and the only time Edwards was beaten in the contest.
Even after the final whistle, a few San Juan fans stayed back to plead their case, remonstrating with anyone who was brave enough to give them a listening ear. Too late, too late, would be the cry though.
"I think overall the both teams were competitive—they were trying to go at it," Moe said. "In a game like this, I thought the emotions got the better of the both teams. For my team, I think we could have done a little bit better. But not because we lost means that we did everything wrong.
"I just have to take the positives from the game and go and work on it."
Sween's tenacious attitude could probably be a starting point for Moe. The tireless San Juan playmaker fought tooth and nail to replicate Nunes' wonder strike with some left-footed bombs of his own, but Edwards looked up to the task every time.
For Fatima, the game plan was simple enough. Charles ordered his team to shut down the space and time afforded to the dangerous San Juan duo of Noel and Sween, much like Presentation coach Shawn Cooper and Trinity College East coach Dwayne Davis alluded to previously.
"Our plan was straightforward—to kinda nullify Larry [Noel] and Sween," Charles said. "We know those are their go-to guys and once they are on top of their game San Juan will look like a well-oiled machine. It was all about snuffing out the both of them and then San Juan is just an ordinary team."
And barring Noel's breach of the Fatima defence in the 52nd minute, Charles might give his team an 'A' grade for their marshalling of San Juan's attacking pair—as the free-scoring captain failed to add to his 14 goals already this season.
Whenever Fatima central defenders Williams and Yohance Atherton weren't able to snuff out the danger, an alert and inspired Edwards answered the call between the uprights.
"[Tristan] was the difference maker today—I'm glad for him," said Charles, as he looked towards the heavens. "I think he deserved to be in this game and he deserves to play in the final. So far, he's been on top of his game."
Charles hopes his defenders are stingier still against an impressive St Benedict's attack in the Big 4 final and admitted that they would need an improved performance to tame the Golden Lions.
"We know that San Juan could play much better than that and we know that our team could play a lot better than that also," said Charles. "I think the guys went out there with the expectations of a finals in place and I think a lot of nerves were out there today.
"It's something we will have to go back and work on because in the finals we will be meeting a well-oiled team in St Benedict's. We can't put down this kind of performance versus Benedict's in the finals."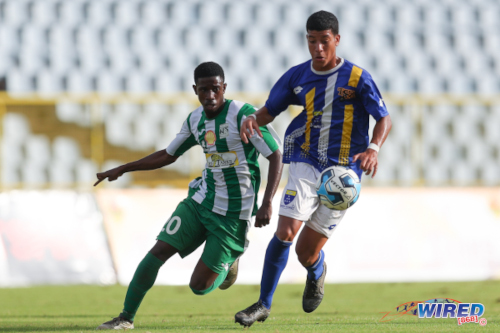 Incidentally, Fatima and Benedict's met on the opening day of the season in Moruga and played to a 1-1 draw, although the former team battled for a lengthy period with just 10 players—after Hinds ejected Attong. Only goal difference separated the two Group A teams in the earlier round of competition.
"Benedict's are good in every department," said Charles. "It's gonna take a huge effort to win the finals but it's an effort we are willing to make and an effort we are going to make because we want to be champs too.
"Come Wednesday, the best team is going to win!"
Something will have to give on Wednesday. Between Nunes' left foot and Benedict's midfielder Derrel "Zoom" Garcia's enterprising play, there should be no shortage of quality as the 2022 Premier Division reaches its climax.
Can Tristan save the day again?
Given St Benedict's five-star showing versus Presentation on Friday, the Fatima goalkeeper might be a busy man in the Big 4 finale.
(Teams)
San Juan North Secondary (4-2-3-1): 1.Xavion Haynes (GK); 14.Desailly Lewis, 6.Jaheshua Ferguson (3.J'Sean Batson 89), 2.Joshua Lewis, 15.Kent Guy; 12.Jardell Mitchell, 20.Kedell Jones (17.Jahdel Chase-Charles 77); 21.Christian Browne (7.Elizsha Rogers 17 (8.Adel Black-Haynes 71), 10.Lindell Sween, 11.Jadiel Joseph (25.Niem Thomas 76); 9.Larry Noel (captain).
Unused substitutes: 30.Stephon Langaigne (GK), 18.Rondell Harewood.
Coach: Jerry Moe
Fatima College (4-3-3): 40.Tristan Edwards (GK); 3.Jesse Hospedales, 4.Yohance Atherton, 6.Jaden Williams, 2.Alijah Nunes; 8.Justin Alcantara, 10.Aidan DeGannes (13.Isaiah Zamore 84), 7.Khiba Romany; 33.Christian Bailey (captain), 15.Michael Chavez (5.Jordan Darius 67), 17.Jose Attong (14.Kade Collier 76).
Unused substitutes: 42.Tyrece Romain (GK), 9.Josiah Gobin, 11.Elijah Camacho, 16.Luke Correia.
Coach: Hutson Charles
Referee: Cecile Hinds
Wired868 Man of the Match: Tristan Edwards (Fatima College)
Big 4 semi-finals
(Sat 22 Oct)
San Juan North Secondary 0, Fatima College 1 (Alijah Nunes 41) at Hasely Crawford Stadium.
(Fri 21 October)
St Benedict's College 5 (Derrel Garcia 20, Josiah Ochoa 24, Lyshawn Morris 31, Tarik Lee 59, Nicholas Bobcombe 64), Presentation College (San Fernando) 3 (Vaughn Clement 69, Adah Barclay 70, 83 pen) at Ato Boldon Stadium.
Wired868 has provided readers with solid, independent journalism since 2012.  If you appreciate our work, please contribute to our efforts. 
Support Independent Journalism