St Benedict's College stormed to the final of the 2022 SSFL Premier Division this afternoon with a thoroughly deserving 5-3 win over their southern rivals Presentation College (San Fernando) in a frenetic game at the Ato Boldon Stadium in Couva.
Presentation coach Shawn Cooper dubbed the matchup the "Clash of the Lions", which saw his "Pres Lions" drawn against the "Golden Lions" of St Benedict's. But it proved to be a largely one-sided affair as Benedict's led 5-0 at one point, thanks to a spanking display of slick, counter-attacking football.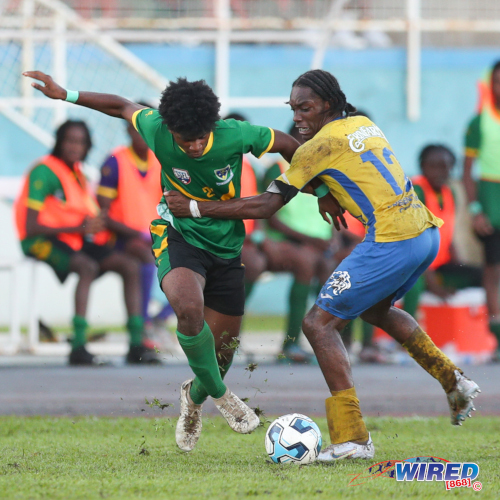 Presentation defender Micah Brathwaite and midfielder-turned-striker Adah Barclay had decent scoring opportunities within the opening 15 minutes.
Electric 15-year-old St Benedict's starlet, Derrel "Zoom" Garcia, made sure they did not wait long to regret it.
Playing as part of a midfield three and with license to attack the opposing defence from all sides, Zoom showed all and sundry the reason for his catchy nickname as the Presentation defence just could not live with him.
In the 20th minute, Garcia gave Benedict's the lead as he worked a nifty one-two with the tricky Jeremiah Niles down the left flank—which parted the Presentation defence like Moses through the Red Sea—before sending a sweet right-footed effort past goalkeeper Kanye Lazarus.
Garcia repeated the trick a few minutes later as St Benedict's doubled their lead.
This time, he picked up the ball in his own half—after a Presentation free kick broke down—and charged towards the opposing area with devilish intent. He shared a sweet exchange with flanker Nicholas Bobcombe who then unselfishly squared from the right byline for midfielder Josiah Ochoa to apply a smooth one-time finish.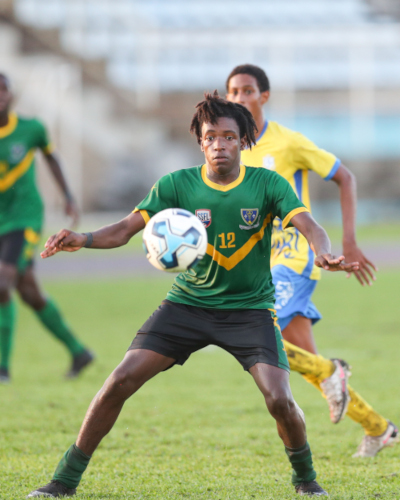 Presentation shot themselves in the foot once more in the 28th minute, as attacker Maliq Brathwaite missed a presentable header at the back post after opposing goalie Thane Devenish made a meal of a deep Cody Cooper free kick.
And, three minutes later, things went from bad to worse for Cooper's charges as Benedict's left back Lyshawn Morris scored arguably the goal of the game with a curling right-footed beauty into the top corner that left Lazarus a mere flat-footed spectator.
Morris' goal oozed class and was reflective of the dominant performance by the Golden Lions.
"It was about 15 minutes of madness where they took control of the game and they seized on their opportunities," Cooper told Wired868. "We had three early chances where we should have been up 3-0. We didn't capitalize on it and in the end, we were down 3-0 at the half."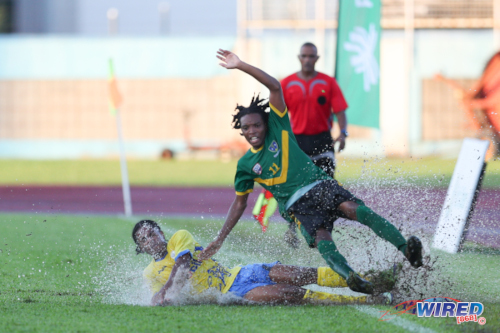 Critically, opposing coach Randolph Boyce said that it was imperative that his team scored first, given Presentation's ability to be stubborn in defence once assuming a lead.
"We looked at Pres and we saw where they have some weaknesses that we wanted to exploit," said Boyce. "We wanted to stretch them and we wanted to keep the ball away from them and have them working for long periods of time. And at times, we actually achieved that but we wanted to make sure that they didn't score first."
Benedict's game plan worked like a charm then, with their three goals in the space of 11 minutes effectively knocking the stuffing out of the Presentation unit, while their passing was always positive, precise and as smooth as Steph Curry's three-point shot.
"Somebody say wap, wap, wap," cheekily sang one St Benedict's fan, after Morris delightfully tucked away his team's third goal in quick succession.
"They had to come out and try and change the game," said Boyce, who credited Presentation for their late fightback in the second half. "We looked at their last game vs San Juan and we saw that they were defending deep and solid. We knew once we got the first goal today we knew they would have to come out and try to play because they have nothing to lose again.
"We saw that happened today and we happened to take the opportunities that came our way."
With a brief—yet powerful—downpour raining down on the Balmain venue just before the kickoff, Cooper felt the pendulum swung the way of Benedict's even before a ball was kicked owing to their physicality and quickness of foot on the break.
"I thought when the rain came and made the field heavy, it took away the advantage from us because they have the bigger guys—the physicality—and they have the foot speed," Cooper explained. "They were able to manipulate the surface a bit better than us […] we always knew that they were the biggest offensive threat of the League. They are an excellent offensive team."
Still, even as Presentation faced a 3-0 halftime deficit, Cooper pleaded with his team to have that belief to turn things around.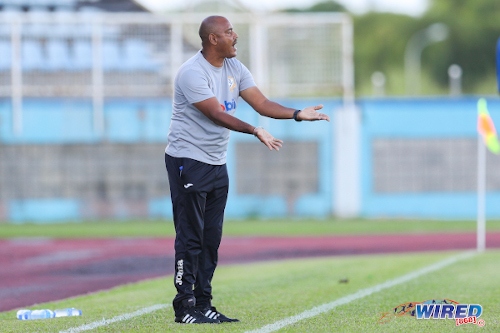 "In the second half, we had to believe that we could get back into the game," Cooper said. "We had to come out in the second half and throw caution to the wind. You saw that they came and they scored again and made it 4-0. From there, we had nothing to lose."
After being denied by a smart point-blank save by Lazarus, mere minutes into the second half, Benedict's captain Tarik Lee added his team's fourth item via another devastating counter-attack in the 59th minute. Benedict's stole possession in their defensive third and it took them all of ten seconds to get the ball into Lazarus' goal as the rapid Lee blew by Cooper's son, Cody, before finishing neatly.
Lee's item was controversial though, as referee Nikolai Nyron tried to offer an advantage to Presentation following a foul by Garcia on their captain, Duhrell Young.
Within two passes, Presentation lost possession and the speedy Lee scored on the break.
Nyron booked Garcia—just as he finished celebrating the goal—but Cooper would have surely preferred the referee to call the foul instead.
There was a lot to admire about Benedict's assertiveness and directness in transition though, and their fellow southern Lions were simply being devoured.
"Our transition play isn't based on instinct," Boyce told Wired868. "It's something we work on because transition in football is here to stay and it's a main part of the game in modern-day football now. It's something we work on in training because we have the quality of players to do it. They are explosive, they have great speed and they are dynamic.
"We can't play and not teach them transition football because when they go on to national teams and get scholarships abroad it will be a requirement of them when they go to these teams."
There was a bit of confusion with Benedict's fifth item too, which was squeezed home by the tireless Bobcombe after another sweeping move in the 64th minute.
Assistant referee Noel Moore flagged for offside against Bobcombe. However, Nyron overruled Moore's decision.
Bobcombe had tried to cut the ball back for Niles, only for it to ricochet into his path again. Moore flagged for offside. But Nyron spotted that the ball was inadvertently returned to the winger by a Presentation defender and allowed the play to continue—and the 20 year-old Bobcombe beat Lazarus from a tight angle.
At age 20, it's fair to say that the speedy Bobcombe is a man amongst boys in the SSFL. It remains to be seen what Bobcombe's next move will be from a football standpoint, but at present he is part of a lethal Benedict's team which seeks to take the school back to its glory days.
"It's a historic moment—St Benedict's College [have] really been grinding and staying alive in the Premier Division but they haven't been hitting the high notes," Boyce said. "This year, Benedict's have hit the high notes in terms of winning the group and reaching to the semifinals and now progressing to a final which they haven't done in a League format for maybe over 20 years."
St Benedict's last major trophy came in 2014 when the won the South Zone Intercol title but were stopped in the National Intercol final by East Mucurapo Secondary.
"We still have a lot of work to do—we haven't won anything as yet," said Boyce. "The next two teams are two good teams [and] two very well-coached teams. It's setting up to be an exciting final."
Presentation conceded just three goals in seven Premier Division games so far this season. But they had not met the likes of Benedict's before, while Cooper also suggested that the lingering aftereffects of an influenza bout with several of his players also took its toll.
"We have a couple of surprises for the Intercol [tournament], but, what I would really like is for our boys to fully recover," Cooper said. "As I said, they were hit very hard with a virus—that influenza that's going around right now. You could see that some of them are still lethargic on the football field and the surface did not really help it."
Cooper admitted that the better and more experienced team won on the day.
"At the end of the day, the team with the better quality man to man, in terms of the better XI, won today," Cooper said. "Their team is basically an under-20 team […] they have a couple of Under-17 players but the core of their team is basically an under-20 team. They are more experienced.
"I would have expected that they would have had some dominance because they have been scoring a lot of goals."
In truth, there is precious little separating the two teams in terms of age disparity, with the total aggregate of the Presentation starting XI reading at 184, with Benedict's at 185.
"Where you going boy?" one excited St Benedict's fan asked a Presentation supporter, with the score reading: 5-0.
"I ain't going anywhere boy," came the reply. "I have to see the greatest comeback of all time!"
Presentation did manage to claw back three goals in the final 25 minutes. Substitute Vaughn Clement and Barclay scored within two minutes of each other, while Barclay also converted a late penalty—after a rash tackle by opposing defender Anthony Williams.
"Ain't nobody, ain't nobody better than Pres!" sang the boisterous Presentation supporters.
However, much to the displeasure of Boyce, the Golden Lions had already taken their foot off the gas.
"Coming back out in the second half, we asked them not to be complacent and get too cocky," Boyce said. "I have been asking for more psychiatrists in sports. People laugh at me sometimes when I say that we need a psychiatrist around the team to deal with these fellas mentally. That was a lapse in concentration which saw Pres getting back into the game.
"It's high time for sports in Trinidad and Tobago that we bring in psychiatrists to work with the teams because you are seeing all around the world where they have psychiatrists working with youth teams straight up to professional teams."
Presumably, the Benedict's players were thinking ahead to the Big 4 final where they would face the winner of Saturday's semi-final between Fatima College and San Juan North Secondary.
The free-flowing Fatima and the boys from Bourg Mulatresse meet from 4pm at the Hasely Crawford Stadium. And if there's half the entertainment that was on display in Couva today, supporters can expect quite the treat.
The winners have a tall task ahead, with the Golden Lions of St Benedict's waiting to pounce.
(Teams)
St Benedict's College (4-3-3): 22.Thane Devenish (GK); 4.Keanu Morean, 6.Nesean Alexander, 5.Joshua Demas (3.Anthony Williams 69), 19.Lyshawn Morris; 12.Josiah Ochoa, 15.Ephraim Brown (18.Tyrique Lucas 78), 8.Derrel Garcia (20.Rayshawn Crichlow 69); 10.Nicholas Bobcombe (9.Jaden Grant 69), 7.Tarik Lee (captain) (21.Malacai Webb 84), 11.Jeremiah Niles.
Unused substitutes: 1.Ja-ir Buckmire (GK), 2.Joshua Phillip, 21.Malacai Webb.
Coach: Randolph Boyce
Presentation College (San Fernando) (4-4-1-1): 1.Kanye Lazarus (GK); 16.Micah Brathwaite, 2.Terrance Worrell, 5.Cody Cooper, 12.Duhrell Young (captain); 14.Daniel Quashie (13.Shawn Boodram 69), 3.Abayomi George, 6.Levi Jones (17.Djibril Felix 81), 11.Isaiah Jacob (19.Mackeil Edwards 57); 18.Maliq Brathwaite (7.Vaughn Clement 55); 15.Adah Barclay.
Unused substitutes: 28.Zeronn Collymore (GK), 20.Justin Haniff, 21.Zachary Ramjit.
Coach: Shawn Cooper
Referee: Nikolai Nyron
Wired868 Man of the Match: Derrel "Zoom" Garcia (St Benedict's College)
Big 4 result
(Fri 21 October)
St Benedict's College 5 (Derrel Garcia 20, Josiah Ochoa 24, Lyshawn Morris 31, Tarik Lee 59, Nicholas Bobcombe 64), Presentation College (San Fernando) 3 (Vaughn Clement 69, Adah Barclay 70, 83 pen) at Ato Boldon Stadium.