A regular reader, who messages me occasionally, opened a WhatsApp exchange about last week's Budget debate in the House of Representatives with the question: "Have you heard the comments targeted at citizens made in Parliament?"
She added: "Honestly, whenever I think they can't get any worse, they do. I do not know what they really want to happen before they stop, but they have dragged us to a very dark place."
This expression of disgust and voluminous others in all forms of media reflect that the prevailing political sentiment in Trinidad and Tobago at the moment is probably "vote dem out".  These conditions prevailed in 1986 and in 2015.  
On both occasions, the incumbent government had tested the patience of a sufficient number of open-minded voters beyond the level that indifference and tribal voting could bear and there was a swing against them in the polls.
In 1986, then Prime Minister George Chambers became a figure of fun. I recall one round of jokes when he was photographed in the print media during a visit to a factory wearing a protective head-covering that looked like a shower cap. Chambers didn't deserve to be thrown out for that, but people were already looking for anything to mamaguy his government.
It was the prevailing recession of that time that did for the Chambers-led PNM government. The landslide extent of that defeat was the result of an opposition united under the promises of one love and rolling back the recession.
The current PNM government is the butt of mirth and sarcasm far outstripping what the Chambers PNM received. People vex. There are a number of clowns who are living real nice at taxpayers' expense, but giving arrogant and misplaced advice to an economically-besieged public.  
They have relentlessly insulted us and that would be almost guaranteed to bring electoral defeat. However there is a big "but".
Other than the UNC Opposition, there are some pretenders to the government throne—but their links with what has gone before may be off-putting. There is no untarnished catalyst for change, such as a Lincoln Myers sitting on the steps of the Hall of Justice.
Regrettably, the pungent observations of Phillip Edward Alexander may not have the effect which Alexander desires for his People's Empowerment Party. But good luck to him if only because our coward, easily bought and self-appointed, high society needs someone to tell them home truths.
In 2010, the Kamla Persad-Bissessar UNC-led People's Partnership approximated another broad-based alliance. Voters then replaced the Manning PNM with what the late great Lloyd Best might have described as another "pick-up side".  
The major players in that government set out to satiate their own appetites and those of their satellites who were in it for material goods and glory, and that mashed up hope.
Kamla and some leftovers of her failed 2010-2015 grouping remain ensconced in leadership in the Opposition, but that is a stale and tarnished offering and not likely to be seen as a way out of the monkey-pants we are in right now.
Secure therefore, as the Dr Keith Rowley-led PNM may think it is because of the deficiency of the other items on the political menu, does it have to crudely and relentlessly insult the hurting public?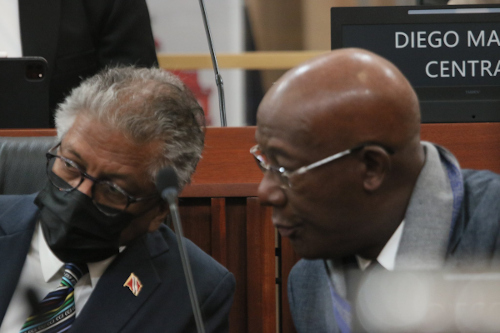 If you believe that the ability of the privileged and those well-supported by the underground economy to attend fetes and buy expensive cars is a sign of a strong economy, I suppose you can fool yourself into believing that "your job is done" even though ordinary people are under water—both financially and in floods.
A word on coal pots: in the modest circumstances in which I was raised by my mother Celia and Auntie Lorna, I can testify that a ham boiled in a pitch-oil or biscuit tin on a coal pot for Christmas cannot be beaten for taste.
However, nothing in my childhood experience would lead me lustily to recommend the use of a coal pot, as Keith Scotland MP did, and to leave the stove gas cylinder empty.
Scotland, formerly my learned junior in one well-known case, began speaking promisingly on the re-allocation of resources, but man, like he "Shamfa on himself" after I stopped listening?