Feed Faustin and he will score!
That was the apparent game plan for Trinity College East as they faced QRC in Secondary Schools Football League (SSFL) Premier Division action at the Hasely Crawford Stadium today. And boy, did it work like a charm.
On Wednesday, 17 year-old Jaheim Faustin battled muddy conditions and a stubborn San Juan North Secondary defence as he and Trinity Blue Hawks succumbed to a 1-nil loss against the Jerry Moe-coached team in Trincity.
Today, in much better conditions at the Hasely Crawford Stadium, San Juan got a fifth straight win as they beat East Mucurapo Secondary by a 2-0 margin. But it was the lively Faustin who stole the show with a clinical beaver trick in the second match of a double-header.
It's fair to say Trinity felt right at home today.
From as early as the sixth minute, Faustin had fans on the edge of their seats as he sent an audacious right-footed volley over bar after some nice interplay down Trinity's right flank with fellow attacker Desailly Bastien-Cowan. After giving the QRC team another warning shot in the 12th minute, Faustin quickly found his scoring boots at the Wrightson Road venue as he engineered a 5-1 rout of the Royalians.
"This Trincity team eh playing no setta football inno," muttered one QRC supporter, as she kicked every ball in anguish. "That number 17 (Faustin) running rings around their players though."
The elderly QRC supporter was right on the money, as Faustin was unplayable from the first blow of referee Crystal Sobers' whistle, right up to the point when he was substituted by his coach Dwayne Davis in the 72nd minute—with his team already enjoying a five-goal cushion.
After watching clips of previous QRC matches, Davis felt his team needed to press the Royalians at key junctures at the back in order to force turnovers in dangerous areas.
The ploy reaped dividends, with Faustin tearing away in the 14th minute to slide into a vacant net after QRC goalkeeper Shemuel Cassimy and centre back Zakari King were slow to react to a misplaced back pass.
It wouldn't be the only time that Cassimy or King were left with egg on their faces this afternoon.
"That was part of the game plan in terms of knowing when and who to press," Davis told Wired868, as he also credited the surface for his team's improved slick play today. "And we thought that once we did it right they would cough up the ball and give us chances. It was good to see that [Faustin] went along with the plan perfectly and we got the easy chance to score the opening goal."
Faustin and Khaleem Prince provided the guile and directness up top for Trinity, while the lanky Riley Hill brought a certain solidity and authority to the midfield—the 18 year-old Hill walked around the Hasely Crawford Stadium as though he was the 1976 Olympic gold medalist himself.
With Prince and centre back Nicholas Whiteman coming into the Blue Hawks lineup, they cut a much different outfit to the one San Juan topped in Trincity. And by the 35th minute, the game was virtually over as a contest. Kenwyne Jones' QRC team had no idea what had hit them.
Davis explained that both Prince and Whiteman were unavailable on Wednesday due to their bout with the flu, which also affected a few other squad members.
"We have some guys in the camp who recovered from the flu last week so they are now getting back some of their energy too," Davis said. 
The break did not seem to harm the Trinity pair, as Whiteman barely put a foot wrong at the back—alongside captain Andre Providence—while Prince always seemed to have a trick or two up his sleeve on the flanks. 
The QRC contingent were not immune to the virus.
"QRC came into the game today with a lot of illness among the team. A lot of guys were sick and whatever so we had to make a few changes," said assistant coach Kerry Baptiste. "We started slowly and obviously Trinity East capitalised on that."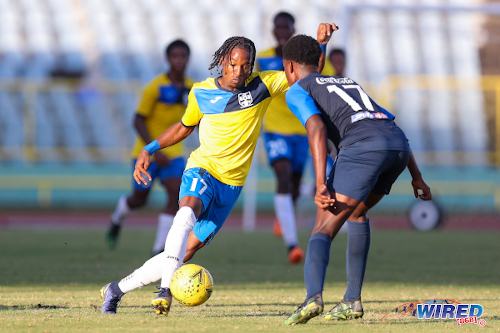 If the QRC players thought the flu was bad, then a buzzing Faustin was far worse. The former national youth attacker was everywhere. 
In the 17th minute, Faustin doubled up as he faked out a defender to bang in a left-footer, after receiving a Bastien-Cowan cut back down the right.
And after QRC left back Kaylon Tuckett inadvertently headed past his own keeper in the 31st minute from an in-swinging Anderson Barnwell corner, Faustin wrapped up his hat-trick in the 35th minute as he dribbled past Cassimy before stroking into an empty net—to finish off a sublime Prince pass behind the opposing defence.
"I don't know what going on dey nah," another spectator chimed in. "Number six on the (SSFL Premier Division) table dealing with number three. Nah man!"
"Kudos and respect to Trinity East—we wish them the best for the rest of the season," Baptiste said. "We will have to go back to the drawing board and pick up the pieces and go again." 
During the first half, the QRC coaching staff sent a few players through their paces on the mundo track. However, a QRC substitution was not made until the 56th minute when the pair of Musaddiq Mohammed and Roshaun Doobay came in for right back Malic Harraman and flanker Micah Nelson. 
Doobay eventually got a consolation item late on for the Royalians, as he sent a speculative volley past the impressive Brandon Dalrymple in the 82nd minute after a left side corner. It was the lone blemish in an otherwise excellent display for Trinity and their custodian Dalrymple, who again caught the eye with some smart reflex saves. 
"It was a good effort by the team overall—we stayed solid defensively again," Davis said. "Today, we got a little more chances. It was a good effort overall and we had good execution of our game plan in terms of what we planned to do for this QRC team.
"We looked at QRC play a little bit and we saw that certain players aren't too strong on the ball. We looked at the centre backs positioning and the defensive positioning and we looked at how we could exploit that." 
While Davis and Trinity were scheming to cut down the Royaalians, Baptiste and Jones tried to keep the QRC players motivated.
"The halftime message was that we had to keep our heads up—all wasn't lost," Baptiste told Wired868. "The football field is a level playing field. We had to try and see if we could come back in the game by scoring some goals and building our confidence." 
The Faustin show rolled on early in the second half though, as Jaheim, the son of former Strike Squad defender Marvin Faustin, completed his beaver trick in the 49th minute.
This time, the younger Faustin set off on a foot race with King as he chased a long ball over the top. And though he initially looked second best, Faustin showed King a clean pair of heels and resisted a couple nibbles from the defender before slotting past a hapless Cassimy.
Faustin celebrated with a jig near the corner flag as the Trinity Blue Hawks got their second win in Premier Division Group B play and utterly stunned the Royalians in the process.
"Hopefully, it's a stepping stone for the rest of the season and we could continue to get the goals because we weren't getting the goals previously," said Davis, whose charges suffered 1-nil losses in three of their five games this season against Malick, Presentation College San Fernando and San Juan. "Hopefully, we'll keep getting the goals and move from strength to strength."
For QRC, it was their second 5-1 loss to an East Zone team. On the opening day of the season, Larry Noel put four past their goalkeeper. Today was Faustin's turn—although Baptiste suggested they would bounce back again.
"We are QRC—we win and lose as a team," Baptiste said. "We will have to learn from our mistakes. Most of our guys are debutants in the League this year so this is a taste and feel of it for them. Hopefully, we will get better results in the last two games." 
In the earlier match, San Juan captain Larry "Bound To Score" Noel bagged a typical predatory brace as the boys from Bourg Mulatresse saw off a plucky Mucurapo outfit.
For his first item, which came in only the third minute, Noel outran Mucurapo captain and central defender Atiba Khidr to reach a Kedell Jones through pass, before slotting past Dayshawn Alexander in goal.
And just past the half hour mark, Noel was Johnny on the spot as he banged into the roof of the net after the Mucurapo goalkeeper parried a low free kick by Lindell Sween.
Alexander must not know Noel's work. You don't want to give Mr Larry Noel any half chances. 
It just wouldn't end well for you. Fourteen goals in five League games tells a story. 
Wins for San Juan and Presentation College (San Fernando) today mean that the two schools—who are both on 15 points—have now booked their passage through to the Premier Division 'Big 4' in this new, truncated League format. 
The Bourg Boys and the Pres Lions square off at the Hasely Crawford Stadium in two weeks' time to decide Group B honours.
Meantime, in Group A, Naparima College (nine points) kept the pair of Fatima College and St Benedict's College (both on 10 points) honest as they got a 2-nil win over Pleasantville Secondary in a rescheduled game, to keep their own Big 4 hopes alive with three fixtures still to be to contested in that group. 
On Wednesday, coach Travis Mulraine and his 'Naps' team will go toe-to-toe with their southern counterparts Benedict's as they look to push on with their dream of adding another Premier Division crown to their trophy cabinet. 
Stay tuned.
(Teams)
QRC (4-2-3-1): 1.Shemuel Cassimy (GK); 2.Malic Harraman (5.Musaddiq Mohammed 56), 15.Philip Gray (7.Mikel Cardinal 74), 17.Zakari King, 13.Kaylon Tuckett; 25.Teshuan Franklyn, 21.Tau Lamsee; 11.Micah Nelson (6.Roshaun Doobay 56), 8.Nathan Quashie (18.Phillip Nelson 88), 19.Stephon James; 14.Aydon Caruth (captain).
Unused substitutes: 22.Jaheim Affan (GK), 12.Zion Griffith, 16.Ronaldinho James.
Coach: Kenwyne Jones
Trinity College East (4-4-2): 1.Brandon Dalrymple (GK); 2.Josiah Daniel, 4.Nicholas Whiteman, 6.Andre Providence (captain) (13.Hasheem Hill 80), 3.Anderson Barnwell; 20.Riley Hill (18.Joshua Figaro 62), 5.Dexter Croal; 19.Desailly Bastien-Cowan (11.Jonathan Emrith 71), 14.Jeremiah Frank-Williams, 10.Khaleem Prince (16.Terrel Davis 88); 17.Jaheim Faustin (7.Seretse Browne 72).
Unused substitutes: 23.Alexis Ambrose (GK), 12.Jon-Michael Romero.
Coach: Dwayne Davis
Referee: Crystal Sobers
Wired868 Man of the Match: Jaheim Faustin (Trinity College East)
(Teams)
San Juan North Secondary (4-2-3-1): 1.Xavion Haynes (GK); 14.Desailly Lewis, 6.Jaheshua Ferguson, 2.Joshua Lewis, 15.Kent Guy; 12.Jardell Mitchell, 20.Kedell Jones; 21.Christian Browne (25.Niem Thomas 67), 10.Lindell Sween (17.Jahdel Chase-Charles 90+4), 11.Jadiel Joseph (3.J'Sean Batson 81); 9.Larry Noel (captain).
Unused substitutes: 30.Stephon Langaigne (GK), 7.Elizsha Rogers, 8.Adel Black-Haynes, 18.Rondell Harewood.
Coach: Jerry Moe
East Mucurapo Secondary (4-2-3-1): 22.Dayshawn Alexander (GK); 4.Michael Luke, 18.Atiba Khidr (captain), 3.Shuron Hendrickson, 8.Clint Latchman (15.Jelani Cox 72); 14.Kamali Henry (10.Malik Jarvis halftime 45), 6.Jadon Pierre; 17.Al-Kalipha Henry (9.Nieem Taylor 77), 19.Jemon Gulston, 24.Mikel Toussaint (20.Omari Rivers 85); 7.Zion Harley.
Unused substitutes: 35.Aaron Andrews (GK), 5.Khufu Muhammad, 20.Omari Rivers, 23.Nigel Latchman.
Coach: Dale Saunders
Referee: Kevin Saures
SSFL Premier Division results
Group B
(Sat 1 October)
Presentation (San F'do) 3 (Adah Barclay 41, 57, Vaughn Clement 85 pen), Chaguanas North 0 at Ato Boldon Stadium;
QRC 1 (Roshaun Doobay 82), Trinity College East 5 (Jaheim Faustin 14, 17, 35, 49, Kaylon Tuckett OG 31) at QRC;
Moruga Secondary 2 (Brandon Collymore, Terrell Thompson), Malick Secondary 2 at Moruga
San Juan North 2 (Larry Noel 3, 34), East Mucurapo 0 at San Juan;
Group A
(Saturday 1 October)
Naparima College 2 (Jelani Calliste, Kanye Francis), Pleasantville Secondary 0 at Ato Boldon Stadium.
Upcoming fixtures
Group A
(Wednesday 5 October)
Carapichaima East vs St Anthony's College, 2pm, Ato Boldon Stadium;
St Benedict's College vs Naparima College, 4pm, Ato Boldon Stadium;
St Augustine Secondary vs Fatima College, 4pm, St Augustine;
Speyside High vs Pleasantville Secondary, 3.30pm, Speyside.
Group B
(Sat 8 October)
Chaguanas North vs Moruga Secondary, 1.30pm, Ato Boldon Stadium;
QRC vs Presentation (San F'do), 3.30pm, Ato Boldon Stadium;
East Mucurapo vs Trinity College East, 3.30pm, Fatima;
Malick Secondary vs San Juan North, 3.30pm, Serpentine Road.
Wired868 has provided readers with solid, independent journalism since 2012.  If you appreciate our work, please contribute to our efforts. 
Support Independent Journalism