"They have lots of heart. We fought like lions today, young lions!"
After being caged away for three years due to the Covid-19 pandemic, the "Pres Lions" of Presentation College (San Fernando) came out roaring at the Ato Boldon Stadium in Couva yesterday, with a 3-2 penalty shootout win over their southern rivals Naparima College to lift the Secondary Schools Football League (SSFL) Tiger Tanks Cup. 
Much like the FA Community Shield or the Super Cup, the Tiger Tanks Cup serves as the SSFL's curtain-raiser for the 2022 season. If you were in the vicinity of the Ato Boldon Stadium on a sunny Friday afternoon though, you'd be forgiven for thinking that coach Angus Eve and the Trinidad and Tobago Men's National Senior Team were in competitive international action. 
Heck, Eve would love such frenetic support in the near future as he and the Soca Warriors aim to climb the Concacaf Nations League ladder. The covered stands at the Ato Boldon Stadium was filled to capacity, as the varying rhythm sections sent decibel levels soaring at Balmain while they did friendly battle in the stands. 
When fans entered the arena, they knew they were turning up for a real football derby: a Naps/Pres derby. The only other local fixture to rival this match-up in recent years was the Central FC/ W Connection clash. And, yesterday, a new generation of Pres and Naps players got their long-awaited baptism. 
The game was just 37 seconds old when referee Kwinsi Williams brandished the first card of the season, as he flashed yellow at Presentation right back Terrance Worrell for a wild tackle on Naparima wing back Josiah Bobb. 
In Naparima's technical area, new head coach Travis Mulraine was also savouring his first derby. Mulraine, a former assistant to Eve at Naps, vowed to maintain the school's winning tradition while playing a spanking brand of football as well. 
However, as the sun set in Couva and substitute Terrell Rajoon's spot kick thumped off the base of Presentation goalkeeper Kanye Lazarus' upright, Mulraine had his first blip at the helm against his employer's most bitter rival. 
"We hate losing," Mulraine told Wired868, "but if there's a time to lose, I'd choose this game." 
Playing a 5-3-2 formation, which shifted to a 3-5-2 shape when in possession, Naparima started brightly enough in the scrappy affair and got a footing in the game early, as they were first to most second balls. 
Lazarus was forced into the first meaningful save of the season in the 15th minute, denying attacker Omari Campbell from close range after the marauding Bobb dug out a cross from the left. 
Naps' early endeavour paid dividends in the 23rd minute, as midfielder Kanye Francis calmly beat his namesake, Lazarus, with a left-footed shot after dispossessing Adah Barclay in the middle of the park and working a neat one-two with Xarion France. 
Naparima faithful let rip: "North, South, East, West, Naparima is the best!" 
They soon got a reply, though. 
Cooper credited Mulraine and Naparima for their start, and explained that his players initially struggled to cope with their rivals' physicality—although Worrell landed the first real blow of the 2022 season.  
"We started very slowly. We had a bit of nerves," Cooper said. "The bigger boys from Naparima, I thought their physicality had a lot to do with the first half… We started to raise the intensity of the game—and we could play football—and we started playing a lot of good football and putting them under pressure. 
"I think this is what nullified the game."
Presentation got back on level terms just past the half-hour mark, albeit against the run of play and in some comical fashion. Naparima goalkeeper Dejon Collingwood hesitated to deal with a long ball just outside his area, as he stopped dead in his tracks when he realised he could no longer handle the ball. 
Industrious Presentation striker and captain Caleb Boyce duly obliged, as he prodded the ball over Collingwood before slamming it into an empty net—to take full advantage of the keeper's misjudgment. 
Presentation fans roared back: "Ain't nobody; ain't nobody better than Pres!"
SSFL president Merere Gonzales was among those who soaked in the rollicking atmosphere created by the 3,000-strong crowd. This season's truncated two-group League format means Pres and Naps could only meet again in the Premier Division's 'Big 4' or in the National Intercol. The president would hope they reproduce the frenzy that was witnessed yesterday. 
"[The crowd] was excellent," said Mulraine, a former Trinidad and Tobago international who played professionally in Germany and the United States. "As I said to [the players], this is as close as you'll get to the real deal abroad—a Naps/Pres derby." 
The second half often mirrored the scrappiness of the first half, while there were a couple of robust, cringeworthy head collisions and a brief flare-up involving Francis that was quickly quelled by the combination of Lazarus and referee Williams.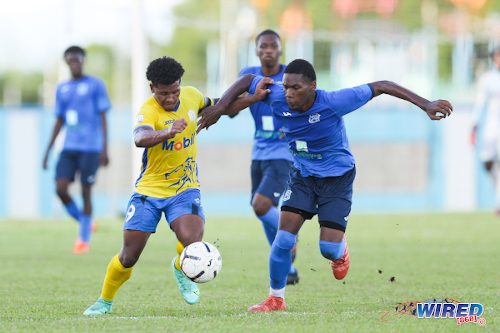 "That just goes to show the level of commitment that these guys were playing with," Mulraine said. "I thought it was a bit reckless at times in my opinion, especially where the head is concerned. It's all about trying to get them to be aggressive but with control."
The Lions were getting stuck in alright. And from coach Cooper's son, Cody, at the back, to the bustling pair of captain Boyce and sub Chaz Forde up front, the 2019 National Intercol champs were making their presence felt in Couva. 
"I told them Naparima dominated the first half and they had their opportunity to score again and they didn't," Cooper said. "Now, this is our half. We changed up things tactically and you saw we had them pinned in their half of the field."
In goal, Collingwood showed that he wasn't feeling sorry for himself after his first half error, as he valiantly punched away a dangerous loose ball near the edge of his area, following a deflected Barclay shot, while he gobbled up a speculative long range effort by Forde with ease as well. 
At the other end, lanky Naps sub Israel Joseph came closest to winning the game in regular time, as he smacked a header off the crossbar in the 80th minute after centre back Josiah Cooper—cousin of the Presentation and National Under-17 Team coach—stepped into midfield and served up a delicious cross from the left. 
Lazarus was a mere bystander when Joseph's header thumped the woodwork, but the Presentation goalie would soon have his moment.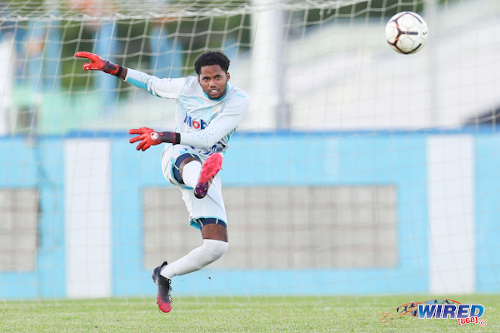 In truth, the penalty shootout was a bit bizarre, with the first two kickers—Boyce and Mitchell—both sending their efforts high over the bar. Collingwood saved an effort from Presentation's Worrell, while Lazarus got his revenge on his namesake, Francis, by thwarting the Naps goal scorer with a dive to his left.
With the scores level at two apiece after four kicks, Barclay sent an absolute bullet into the "jep nest" to give Pres a 3-2 shootout lead. Then Rajoon struck his penalty off the base of Lazarus' post to signal roars from the Pres Lions and their die-hard supporters. 
"[I learned] they have lots of heart," said Cooper, when asked about his new players. "We fought like lions today, young lions. In the second half, they trusted what the coaching staff told them and they trusted the work we did over the past couple of months. And today, they were successful.
"I think the two teams are so evenly matched in terms of football, most of the games go into penalty kicks because we more or less cancel out each other."
Cooper expects that won't be the end of their story with Naparima this season.
"It's not over yet," he said. "I know [Naparima] will go and do their homework… All in all, it was a very exciting football game for the fans this afternoon—a wonderful way to open the 2022 season."
Walking away from his first South SSFL derby as Naparima head coach, Mulraine wants to stay focused on the prize. 
"I was very happy with the performance. Of course, there are things we need to work on going forward," Mulraine said. "After the game, I told the guys that we need to focus on Wednesday because Wednesday is when the League really starts and we start playing for points.
"And when it really matters […] they need to work their socks off now to ensure that they don't experience this feeling again for the rest of the season."
If this is the kind of drama the 2022 SSFL's appetiser can stir up, it will be interesting to see what the main course offers to its fans nationwide. 
The Pres Lions have got the bit between their teeth and are ready to circle their Premier Division prey. 
"Ain't nobody better than…" 
(Teams)
Presentation College (San Fernando) (4-4-2): 1.Kanye Lazarus (GK); 2.Terrance Worrell, 5.Cody Cooper, 3.Abayomi George, 12.Duhrell Young; 7.Vaughn Clement (19.Mackeil Edwards [18.Chaz Forde 39]), 15.Adah Barclay, 6.Levi Jones, 11.Isaiah Jacob; 9.Caleb Boyce (captain), 14.Daniel Quashie. 
Unused substitutes: 28.Zeronn Collymore (GK), 13.Shawn Boodram, 16.Micah Brathwaite, 17.Maliq Brathwaite, 20.Jaden Alexander. 
Coach: Shawn Cooper 
Naparima College (5-3-2): 30.Dejon Collingwood (GK), 7.Jkwon Bailey (22.Jabari Forbes 53 [21.Zachary Seecharan 87]), 12.Omari Asher (captain), 5.Josiah Cooper, 6.Damiel Mitchell, 14.Josiah Bobb; 17.Kyrise Frontin (18.Giovanni McKnight 79), 16.Xarion France (8.Terrell Rajoon 71), 10.Kanye Francis; 9.Nathaniel O'Garro (20.Israel Joseph 63), 11.Omari Campbell.
Unused substitutes: Unused Substitutes: 3.Matthew Cooper, 25.Josiah Chandler. 
Coach: Travis Mulraine 
Referee: Kwinsi Williams 
Tiger Tanks Cup 
(Friday 9 September)
Presentation College (San Fernando) 1 (Caleb Boyce 33), Naparima College 1 (Kanye Francis 23) at Ato Boldon Stadium. 
Presentation won 3-2 on penalty kicks. 
Upcoming Premier Division fixtures
Group A
(Wed 14 September)
St Augustine Secondary vs Naparima College, 4pm, St Augustine;
Carapichaima East vs Speyside High, 4pm, Ato Boldon Stadium;
St Benedict's College vs Fatima College, 4pm, TBA;
Pleasantville Secondary vs St Anthony's College, 4pm, Mannie Ramjohn Training Ground.
Group B
(Wed 14 September)
San Juan North vs QRC, 4pm, San Juan North;
Chaguanas North Secondary vs Malick Secondary, 4pm, African Grounds, Enterprise;
East Mucurapo Secondary vs Moruga Secondary, 4pm, Fatima College;
Trinity College East vs Presentation College (San F'do), 4pm, Trinity College East.
Wired868 has provided readers with solid, independent journalism since 2012.  If you appreciate our work, please contribute to our efforts. 
Support Independent Journalism