Highly-rated Point Fortin Youth Football Academy winger and captain Jeremiah Niles lapped up almost every opportunity when he led his team to an unfettered victory in the Under-16 division of the Republic Cup Youth Football Tournament South/Central Zone on Saturday.
The full-day seven-a-side event at the Mannie Ramjohn Stadium training field in Marabella closed the zonal competitions ahead of Saturday's national finals at the Ato Boldon Stadium training ground in Couva.
Niles, a St Benedict's College stand-out and winner of the U-13 division MVP award at the last Republic Cup, scored a brace in the U-16 final, while Rekel Ramgosine, Lyshaun Morris, and Xarion France, netted the other goals in a 5-1 win over PFYA's second team.
Point Fortin Youth Football Academy ended with two trophies, having also captured the U-14 division zonal crown—getting past Union Hall United with a sudden-death spot-kick after a goalless draw.
Goals prevailed in spite of the shoddy pitches, and long-range efforts were the order of the day.
Initially scheduled to run over the weekend, the zonal tournament was squeezed into Saturday alone, and despite the blessing of ideal weather, heavy rain over the previous week meant the training field, divided into four pitches, was as good as mush.
It got worse as the day wore on—much like Mandela Park, St Clair, for last week's North Zone segment.
And while the dozens of games ran seamlessly and on schedule over eight hours of nearly non-stop football, teams sometimes played back-to-back matches, gruelly testing the young players' endurance thresholds, while making the fields almost unplayable when the knockout matches began.
Worse yet, for the players, and through no fault of the administrators, several teams that played in more than two divisions arrived with thin squads, resulting in some players moving across divisions and appearing in over ten matches on the day.
There were tired legs but certainly no shortage of passion. The winning teams celebrated enthusiastically and the losing teams bowed out with dignity.
There was a conspicuous lack of grumbling and protests from parents, players, and coaches. Players from opposing teams hugged, shook hands, and interacted with each other, exemplifying discipline and sportsmanship. Attractive kits exhibited a sense of pride.
The reduced goal posts, shoddy grounds, and ten-minute halves, surprisingly, did not stop the barrage of goals.
Niles, a former national Under-14 player ended the day with eight items, contributing five in four group stage wins and another in the semi-final.
In the Boys U-19 division, Football With a Cause were crowned zonal winners after winning all four of their group matches, scoring 16 goals, ahead of Cox Football Academy, who also finished runners-up last week in the Next Level Consultant Ltd (NLCL) Under-19 Community Cup.
Jason Spence Football Academy won the Girls' U-19 with four wins from four matches.
Cox Football Academy sealed both the Girls' U-15 division, facing only one team, Kamillionaire, twice.
Several more former national U-14 players featured, including defender Jeremiah Daniel and midfielders Mikhael Bullock and Antonio Hills—all starring for Dexter Cyrus' Union Hall United.
Hills in particular raised many an eyebrow because of his height, body strength, and shot power, eclipsing many in the U-19 division. The 12-year-old, standing at 5'9", appeared even taller among his teammates. Hills frequently shook off opponents easily before firing a rocket from a distance, one of which he scored to see his team into the final.
Uprising Youths, one of the teams which played in all three boys' divisions, entered a small squad and stretched themselves. The Point Fortin team admirably reached the semi-final stages where they were booted out. Brothers Akel, 13, a left full-back, and Akiel Vesprey, a 14-year-old midfielder, finished top scorers for their teams after both scored in nearly every match, despite often switching positions.
The latter seemed a born finisher, clinically slotting home goals from all angles under pressure.
Akeil featured in both the U-16 and U-19 teams, switching positions and even taking a stint in goal when exhaustion kicked in. Both were pipped by their coaches as having promising careers in football, possessing not only the glaring talent but the desire to train consistently and improve.
"They would play football for the whole day," said coach Sheldon Mitchell. "It would sometimes get them in trouble. They also had it hard growing up."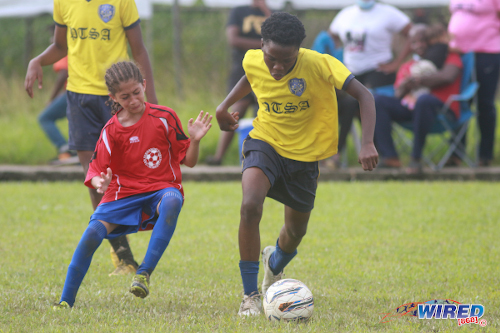 Preceding the action, attendees observed a minute's silence to show respect for former Trinidad and Tobago Football Association president David John-Williams, who died on Friday.
The event is being administered by Gateway Athletics International.
The winners of Saturday's national finals will take home $3,000 each, with the second and third-placed teams earning TT$2,250 and TT$1,250, respectively.
Players from the U-19 division will be selected for an All-Star team following the finals. Some of them will then be chosen to participate in an all-star weekend, next month.
South/Central Zone
Under-14 final
Point Fortin 0 vs Union Hall United 0
Point Fortin Youth FA won on sudden-death penalties
Under-15 girls
Group winners: Cox Football Academy
Runners-up: Kamillionaire FC
Under-16 boys' final
Point Fortin Youth FA (White) 5 vs Point Fortin Youth FA (Blue) 1
Under-19 boys
Group winners: Football With A Cause
Runners-up: Cox Football Academy
Under-19 girls
Group winners: Jason Spence Soccer Academy