Trinidad and Tobago Men's National Under-20 Team head coach Angus Eve suggested that "a lack of belief" and poor use of the football during the first 45 minutes of their Concacaf Under-20 Championship Round of 16 contest with Costa Rica was a significant factor in their 4-0 loss yesterday at the Estadio Yankel Rosenthal in San Pedro Sula, Honduras.
Eve did not directly link either issue to his decision to start the match with seven players listed as defenders, while Trinidad and Tobago's top scorer Nathaniel James—who scored four of his team's seven goals in the tournament and created the other three—began on the substitute's bench.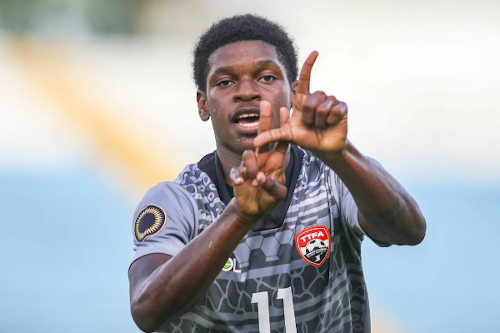 James sat alongside Trinidad and Tobago's most dangerous attacker, Real Gill, and the lone centre forward in the squad, Tarik Lee, while the Junior Soca Warriors kicked off the Round of 16 affair with five defenders, and two additional players listed as defenders were used in midfield.
Otherwise there was one defensive midfielder, Kassidy Davidson, and winger, Micah Cain, while captain and midfielder Molik Khan was again used out of position as a makeshift centre forward.
Trailing 1-0 at the interval, the Junior Soca Warriors went on to concede three second half goals, as they slumped to their second heavy defeat in four matches—after a 5-0 loss to Mexico in group action.
James, who was introduced at halftime along with Gill, created the Junior Warriors' lone goal for Khan. In a post-match talk with the TTFA Media yesterday, Eve said his troops failed to recover from their shaky start.
"I think there was a lack of belief in the first half," said Eve, "and in the second half when we started to put down the ball and we played and we started to create, I think we started to show our real qualities going upfront.
"[…] We didn't show composure, we didn't pass the ball well; I think that was the downfall in the first half. I thought we were much better in the second half."
Eve did not directly state what role his tactics might have played in the team's downfall—if any. However, he confirmed that his priority at kick off was to stop Costa Rica from scoring.
"I thought that our main problem going into this game was conceding goals and soft goals," he said. "So we tweaked what we did at the back; we went with three centre backs and two wingbacks and I thought for the most part it went really well.
"We countered what they were doing and until the soft penalty I thought we were really in the game. We had a couple chances, we got in the box a bit."
Eve, who also doubles as Men's National Senior Team head coach, noted that his ploy of using James off the bench was successful in their 3-0 group stage win over Suriname. Although Trinidad and Tobago were far more positive during that contest, in which Eve started two orthodox holding midfielders alongside four attacking players.
Suriname, who failed to score a single goal in the competition and conceded 14 times in three matches, could not resist the Junior Warriors. But Eve has generally been far more tentative against teams with even a hint of an offensive threat.
Ironically, Eve was on national senior team duty when the National Under-20 Team, led by assistant coach Reynold Carrington, drew goalless with Costa Rica and then were edged 1-0 by the same team in pre-tournament friendlies.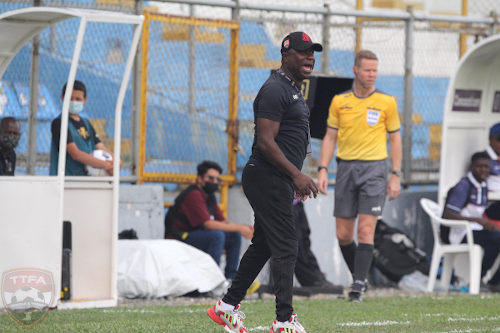 Yesterday, Eve noted, without irony, that his team played better with their best players on the field and even suggested that they created enough chances to draw level with the "Ticos". However, they continued to leak goals and finished with 13 items conceded in four outings, despite solid performances from both goalkeepers: Jahiem Wickham and Tristan Edwards.
"I thought for the first 15 minutes in the second half we were on top of the game," said Eve, as he suggested a significant impact to his introduction of the team's best attacking players. "We made a couple of changes, we tweaked the system somewhat [and] put some players who have a little bit more ability on the ball—which we have done in recent games—and it was working. 
"I thought that we created a lot in the second half, even though we continue to concede soft goals. I thought we could have equalised the game [with] the amount of chances we had down to the last 15 minutes of the game."
Eve also claimed that, although he held his first session with the National Under-20 Team in October 2021, he didn't start preparing the team in earnest until roughly two months ago.
"I am somebody who definitely doesn't make excuses if we lose a match," he said, "but if you put into perspective the six months when we started back in October most of that was screening.
"[…] We screened for this team until it was 18 April […] because we felt we didn't have the quality that we thought we should get to play in a tournament like this."
The Trinidad and Tobago Football Association (TTFA), now run by the Robert Hadad-led Fifa-appointed normalisation committee, had special permission to begin training the national youth team since June 2020. Inexplicably, they waited 17 months before putting a new youth team staff together—which, in this case, meant simply expanding the portfolio of the men's senior coach.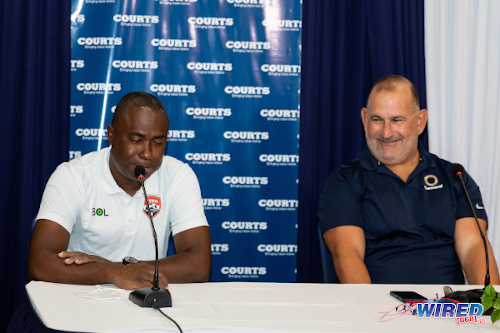 Since 18 members of the current Under-20 squad are either based in Trinidad and Tobago or played on previous national youth teams, it is uncertain why it took Eve six months to put them together.
Eve claimed yesterday's kick off time also put the Junior Warriors at a disadvantage, as they had 24 hours less recovery time from their last group match than Costa Rica. Also, he pointed out that Trinidad and Tobago did not have the benefit of playing in the qualifying round of the Concacaf Under-20 Championship as automatic qualifiers.
"This is the first tournament that we are playing at under-20 tournament—we were not in the preliminary phase," he said. "[…] We were one of the last teams to qualify and we were the first team to play 12 o'clock in the hot sun today. Again not excuses these are facts. What happened to us [yesterday] was unfair."
On the former point, all 16 teams that participated in the group stage of the competition—which inevitably includes all four of Trinidad and Tobago's opponents—were automatic qualifiers and did not play in the earlier round. So Eve's troops were not disadvantaged there.
(Suriname, incidentally, started their under-20 team preparations with screening on 14 March 2022, while Haiti began training in June and hired their youth coach, Angelo Jean-Baptiste, just three days before they faced Trinidad and Tobago. The inadequacies of all three Caribbean nations, in this case, are self-inflicted.)
The fact that Trinidad and Tobago had just two days to recover from their final group match was down to their performances in the earlier stage. If they had held on to defeat Haiti in their opening fixture, the Junior Warriors—and not the French-speaking islanders—would have played today instead.
Notably, Panama played their final group stage match later than Trinidad and Tobago on Thursday and also had their first knockout game on Saturday evening. They were still good enough to edge Cuba 1-0 in the Round of 16, although the latter team had an extra 24 hours rest.
Eve pointed too to the inexperience of Trinidad and Tobago players in relation to their opponents.
"Where our guys are playing in the Tiger Tanks tournament, these guys are playing for Necaxa and Club America, and rubbing shoulders with top international players at a club level," said Eve. "We don't appreciate that back home. Even the Haitians, most of their players play for [senior] teams in Haiti.
"That is the disadvantage. We need our guys at this age to play a little more mature football and I believe some of them have the ability to do so."
Eve misspoke regarding Necaxa and Club America, since those Mexican teams do not employ any of the Costa Rica players. However, seven of Costa Rica's starting team on Saturday are attached to top flight clubs, and four of them got significant playing time in the Primera Division: flankers Josimar Alcócer and Andrey Soto, midfielder Creichel Pérez and forward Enyel Escoe. (Although Costa Rica also started two university students.)
Yet, Eve had six players with senior football experience within his ranks. (He omitted a seventh, former San Juan Jabloteh attacker Jaheim Faustin, who did not make Trinidad and Tobago's 20-man squad.)
National youth captain, Khan, has five national senior team caps while left back Marvin Waldrop was an unused substitute when the senior Soca Warriors drew with Guyana to hoist the Courts Caribbean Classic in March. Both started on Saturday.
However, Eve chose to bench his other four players with senior domestic top-flight experience, who are: James, Gill, Kaihim Thomas and Luke Phillip. 
Gill and Thomas are full-time professionals with Terminix La Horquetta Rangers. They do not play at the same level as the Costa Rica boys, but their sole occupation is, similarly, football. Phillip plays in the Ascension competition with Deportivo Point Fortin while James made his Pro League debut for W Connection in the 2019/20 season and scored his first goal at just 15 years of age.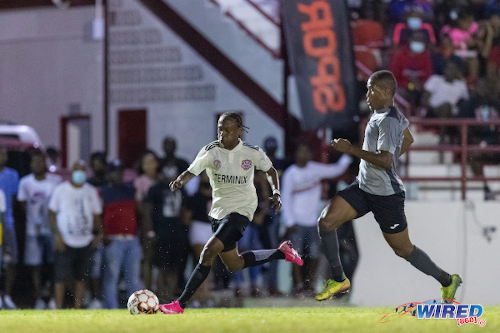 Gill and Thomas were members of Eve's recent pool for the Concacaf Nations League and the Soca Warriors coach suggested that James, Davidson and central defender Jaheim Joseph may also be ready for senior team call-ups.
On the back of the individual performances of those highlighted players along with several positive passages of play during ultimately lopsided losses to Mexico and Costa Rica, Eve felt there was enough to encourage local football fans about their Under-20 campaign.
"There were a lot of challenges coming into this tournament but, again, I am not one who makes excuses," said Eve. "We still came here and I thought we gave a good account of ourselves and we really tried our best to represent Trinidad well and I think we achieved that.
"[…] One of the good things in this tournament, we have [shown] that Trinidad and Tobago can play for 90 minutes—because the guys never let up. But if you concede 13 goals in four matches, usually you are going to lose."
With no agreed start date for either the Pro League or Trinidad and Tobago Super League (TTSL) competitions and no confirmed Men's National Senior Team matches on the horizon, the only local-based national youth players likely to see action in the short term are those involved in the Ascension Tournament.