Two goals and an assist from diminutive attacker Nathaniel "Natty" James was the difference between Trinidad and Tobago and Suriname at the Estadio Olimpico in San Pedro Sula this evening, as the former outfit cruised to a 3-0 win in their final Concacaf Under-20 Championship group stage match.
As a result, the Junior Soca Warriors are into the Round of 16 where they will play Costa Rica from 6pm on Saturday. Haiti, who drew goalless with Mexico this evening, finished second in Group F and face Jamaica on Sunday.
For national coach Angus Eve, who juggles duties as senior and youth team coach, he has again met his minimum requirement—just as he took the Men's National Senior Team through the Concacaf Gold Cup Playoff rounds and into the group stage last July.
The fare from the national team will not yet satisfy long-standing fans who are accustomed to higher standards from the boys in red, black and white gear. But, at the same time, the results have improved since the rut under his immediate predecessors, Terry Fenwick and Dennis Lawrence.
And sport is a result-oriented business.
A draw would have sufficed for the twin island republic today, but Eve said beforehand that they would play for a win—and his starting team reflected that ambition. Well, to a point anyway.
As usual, Eve played two holding midfielders in front of a conservative back four; but there were no defenders in supposedly attacking roles with Noah Roka, for instance, finally used in his orthodox position at left back.
Roka started in central midfield against Mexico, performed creditably, and was apparently rewarded with his preferred left back spot. 
Usually coaches pick players in their accustomed roles and decide whether to keep them based on their showings there. Eve has so far laughed in the face of such orthodoxy.
Micah Cain, for instance, was selected in the 20-man squad as a winger, used as an attacking central midfielder instead against Haiti on the weekend, and has not been seen since.
Today, the glass was certainly half-full for Trinidad and Tobago football fans though. (Once you overlook the team's grey outfit, as sponsors Bol appear unwilling to design a new white uniform for the Warriors—after Concacaf deemed their initial offering to be illegal, due to the size of the Indian print.)
There was little of note from either team in the first half, although the Junior Warriors should probably have been ahead. Captain Molik Khan produced a precise finish off the far upright in in the 41st minute, which appeared to have been ruled out by a phantom handball call by Guatemalan referee Ryan Lopez.
St Kitts and Nevis official Tristley Bassue, with the benefit of television replays in the VAR booth, sided with Lopez.
That apart, Trinidad and Tobago goalkeeper Tristan Edwards, in his first involvement of the competition, made two fine saves from opposing forward Dimitrio Andro and flanker Givon Derby in the 20th and 44th minutes respectively.
While, at the other end, Khan spurned a clear opportunity from inside the box in the 23rd minute and, three minutes later, was denied by the legs of Suriname custodian Jonathan Fonkel from close range.
It was a scrappy affair, although a draw was sufficient for the Warriors. Eve had no intention of settling for that though. And, at the interval, he introduced James for forward Tarik Lee.
Lee, Edwards and central defender Josiah Cooper made their first starts of the competition today and, at this stage, Eve has used all 20 of his players—only Isaiah Thompson and Josiah Wilson have not faced kickoff so far.
With three games in five days, perhaps James just needed a breather this evening. But the sight of "Natty" entering the field at halftime should have filled Suriname with dread.
From Trinidad and Tobago's four goals in the tournament up until that point, James was involved in every one. He scored twice against Haiti, won the free kick that led to Kaihim Thomas' brilliant strike in the same match, and then rolled a short corner to  Real Gill and watched him fly past two defenders before scoring an outrageous solo item.
Gill's electric feet were the lasting memory of Trinidad and Tobago's opening affair. But there was nobody to upstage James this evening.
In the 63rd minute, the QRC schoolboy collected a stray pass near the half-line, stepped inside a defender, dashed forward and then beat Fonkel with a precise blast into the corner from 25 yards. Fonkel did not even bother to mamaguy his teammates with a vain dive after the ball.
James celebrated with a creative manipulation of four wingers to spell out "LH", as homage to his hometown, La Horquetta—a gesture that another resident, senior Soca Warriors midfielder Neveal Hackshaw, has already introduced to the international football audience.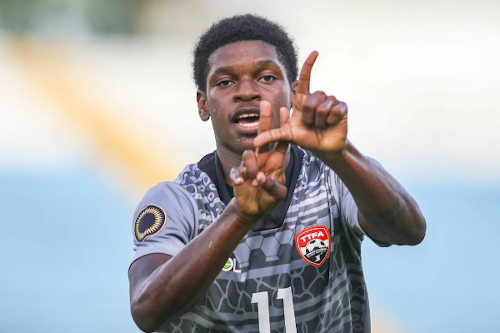 James turned provider in the 83rd minute, as he swung in a free kick that found Khan criminally unmarked. And the skipper deftly flicked home to double Trinidad and Tobago's lead.
Four minutes later, James tallied his second double of the competition with a close range finish after Suriname left back Eja Dakriet inadvertently completed a one-two that the Trinidadian meant to exchange with fellow substitute Tyrik Trotman. He wasn't complaining though.
Trinidad and Tobago have scored seven goals in the 2022 Concacaf Under-20 competition. James scored four of them and created the other three. It goes without saying that his name is one to remember.
Spare a thought too for Edwards, who made a string of fine saves to preserve a clean sheet. Initially cut from the team and flown back to Trinidad, the Fatima College student got a reprieve when Rushon Sandy fell ill with the dreaded flu-like symptoms during the pre-tournament camp in San Jose, Costa Rica.
Now, he is suddenly in contention for a starting place in the business end of the tournament—after regular number one, Jahiem Wickham, missed today's fixture with a slight injury.
Whatever combination of players Eve puts out to stop goals, there is no doubt about the young man needed at the other end to help bang them in.
Incidentally, Trinidad and Tobago, on the pristine surface at the Estadio Olimpico, attempted 280 passes today at a pass accuracy of 77 percent. It was their most wayward passing display of the tournament and did not support Eve's claim, on Tuesday night, that the muddy pitch affected his team's "passing game" against Mexico.
But then the coach has a reputation already of engineering "alternate facts" at press conference and its uncertain whether his suggestion was taken seriously.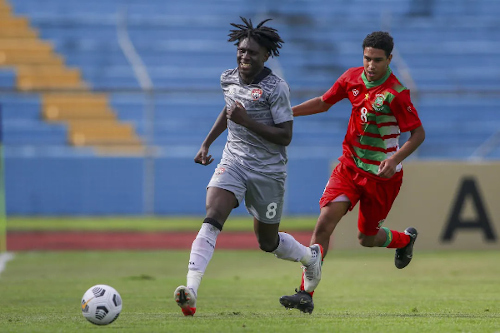 Much continues to be said too about what expectations can be placed on Trinidad and Tobago's national youth teams when they include a fair number of schoolboys at international tournaments. Well, Suriname used six players today who are attached to professional clubs in the Netherlands—for all the good that did them.
What is the value of individual talent when your FA, like Suriname's governing body, uses it as a shortcut to preparation and simply throws players together on the eve of a competition?
Perhaps the lesson is that how you develop your players—not whether that takes place within a school or at a professional youth team—is what counts most. And, ironically, Eve is a Secondary Schools Football League (SSFL) coach himself.
(Teams)
Trinidad and Tobago (4-2-3-1): 18.Tristan Edwards (GK); 2.Christian Bailey, 4.Jaheim Joseph, 14.Josiah Cooper, 13.Noah Roka; 6.Kassidy Davidson (3.Marvin Waldrop 80), 8.Luke Phillip; 7.Kaihim Thomas (17.Andrew De Gannes 69), 10.Molik Jesse Khan (captain), 9.Real Gill (16.Tyrik Trotman 79); 20.Tarik Lee (11.Nathaniel James 46).
Unused substitutes: 1.Jahiem Wickham (GK), 5.Jaron Pascall, 12.Josiah Wilson, 15.Micah Cain, 19.Isaiah Thompson.
Suriname (4-3-3): 20.Jonathan Fonkel (GK); 15.Chesron Oostwoud, 2.Shafiek Wassenaar (18.Raviek Pryor 66), 4.Dichayro Naarendorp (captain), 5.Eja Dakriet; 7.Eldjerp De Mees (9.Ammiel Reingoud 46), 8.Jaydavon Haas (17.Roche Asidan 80), 11.Adelij Chiverio; 13.Givon Derby (12.Jair Brashuis 73), 10.Dimitrio Andro, 16.Jayen Gerold.
Unused substitutes: 1.Dwayne Meerzog (GK), 6.Rafael Wartes, 14.Jamal Lodik, 19.Georrayne Bourmann.
Coach: Werner Blackson
Referee: Ryan Lopez (Guatemala)
Concacaf U-20 Championship Group F result
(Thu 23 June)
Trinidad and Tobago 3 (Nathaniel James 63, 87, Molik Khan 83), Suriname 0 at the Estadio Olimpico, San Pedro Sula;
Mexico 0, Haiti 0 at the Estadio Olimpico, San Pedro Sula;