True story: 'In 1919—over 80 years after Emancipation—a Trinidadian petitioned the King for compensation for 31 freed persons previously owned by his grandfather, which he claimed had never been paid.'
It's one of the astonishing tales recounted by Professor Emerita Bridget Brereton in her newly released book, History Matters: Selected Newspaper Columns, 2011–2021.
The selection of 138 from the 248 columns she wrote for the Express during that period represents such a diverse array of subjects that I had to force myself away from it when other matters inconsiderately interrupted.
She had written about this unconscionable request in 2016, under the heading, 'Compensation', explaining that a historian friend with Trini roots, David Trotman, had sent her the related correspondence which he had found at the British National Archives.
Briefly, George Mathias Martin, grandson and heir of Regis Vincent, former owner of Mon Repos sugar estate, had 31 slaves at the time of Emancipation. Martin thought he should get his wutless hands on the dirty money, so he wrote to the Colonial Office demanding his legacy. 
Instead of dismissing him, wrote Brereton incredulously, they actually 'carefully researched the records and established that compensation for these 31 human beings at Mon Repos had indeed been paid, in 1836, to two persons holding a mortgage on the estate, one in Scotland and one in Port of Spain. Mr Martin of San Fernando failed in his extraordinary bid to get money for enslaved people held by his grandfather so long ago'.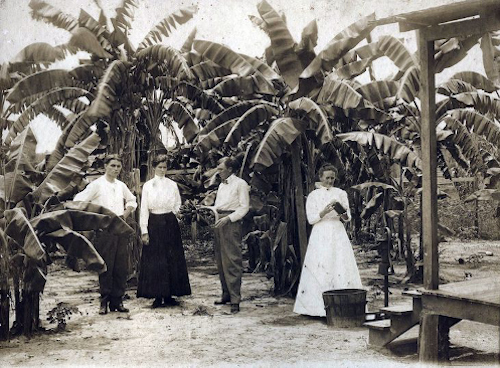 I had been asked to review the book for UWI TODAY (out tomorrow), the St Augustine campus monthly newspaper, and I thought I would share this remarkable collection with Wired868 readers. 
It seemed more than appropriate for many reasons—one being that in the decade that she wrote for the Express newspaper, Brereton consistently reviewed books from all genres. 
'I want to notice' so and so book, is how she would often begin these potted reviews (on account of space), that somehow still seemed to be impartial and thorough.
Among the other compelling reasons to bring this book to your notice, is that it is an excellent collection—that may have its root in the historical background of Professor Brereton, but is an example of engaging, entertaining, erudite writing that is a rare combination, especially among academics. 
And unlike many, she does not gerrymander data to suit any hidden agendas. You can trust her information. Indeed, within her columns there are a few instances where she has corrected misinformation from others, with the firm tactfulness that she has mastered. 
In so doing, she has righted many historical wrongs that may have otherwise been inadvertently transmitted. She'd set out on a mission of public education she says in the Preface, and she's done that in multiple ways—one of the simplest being how she explains the meaning of words that may not be commonly found in a newspaper reader's vocabulary, like anthropologist.
Her columns were fairly topical, taking cues from events of the day, except where she reviewed books. That final section of the six is the longest, devoted to those notices, and without them we would never have known of the surprising volume of writings emanating from the region, or the range. 
The other sections cover events, people, debates, celebrations, holidays, heritage—a mix that provides such an impressive spectrum of regional life that it must be included as essential reading for schools from primary level upwards, and for everyone else.
As I wrote in the UWI TODAY review, it is an intelligent way to educate our children about themselves and their Caribbean and a chance to learn about their heritage.
Thinking about how far such a book can go as a teaching tool that reduces the blinkering effect of the silos of information that currently define the school curricula—it's social history at its best—I wondered about the possibility of tapping into the mainly newspaper world for collections that have the same potential. 
A few names came readily to mind. For the Express, Richard Charan has been doing a marvellous job with his beautifully written and well-researched pieces on generally obscure stories. 
Dominic Kalipersad has been spectacular with his offerings on social media platforms (those marvellous photos!). The work of Angelo Bissessarsingh, Louis B Homer, Shamshu Deen, Dennis Hall, and so many others, who have collectively published enough tantalising tales of our history that would make it a joyful mind excursion—rather than the tedious drudgery that characterises it for many.
This could be a truly productive thrust for the Ministry of Education.
We are a people rooted in the tradition of story-telling. Reading Prof Brereton's collection reminded me of its powerful impact.
We have toppled into a barbaric environment, where rage has overtaken reason and violence is its expression. I believe that it is fuelled by a sense of alienation from a significant part of our population, who believe that systems exist to oppress, institutions to reject, and leaders to render them invisible by their callous indifference.
I urge the Ministry of Education to take a leap of faith—it's not a big leap because there is nothing to lose—and invest in creating these collections for the schools. 
Let our children hear stories about their world. Let them feel they are part of it. Make them proud.
History matters—it really does.
Editor's Note: History Matters is available at Paper-Based Bookshop at Normandie, Metropolitan Book Suppliers on Ariapita Avenue, Tales N Treasures on Delhi Street, St James, and UWI Bookshop.