Trinidad and Tobago Men's National Senior Team head coach Angus Eve vowed to come out swinging on Monday night. He announced as many as nine changes to the match-day squad which suffered a 2-1 Concacaf Nations League defeat to Nicaragua on Friday night in Managua.
From 8pm tomorrow at the Hasely Crawford Stadium in Port-of-Spain, Eve's Soca Warriors host the Bahamas. Tickets are priced at TT$100 in the covered stands and TT$50 in uncovered while children under 12 are allowed in free.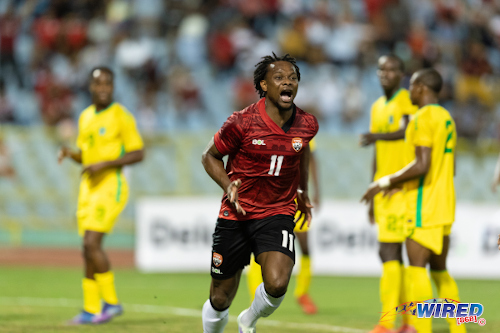 The Bahamas won their opening match against the St Vincent and the Grenadines 1-0 on Friday in Nassau, courtesy a penalty by captain Lesly St Fleur. It was their first competitive win in three years. In contrast, Eve felt his team lacked fluidity in Managua as they lost all three points in a drab affair.
"I thought that we didn't have a lot of cohesion [and] we looked a little bit disjointed," said Eve, in a media briefing at the Hasely Crawford Stadium. "So I went back to the players who we had in the [Courts Caribbean] Classic. I think they understood the way that we want to play a little bit more than some of the guys who came in.
"[…] Also we tried to freshen up the team as much as possible because we need to play a more attacking game."

Eve missed the Nicaragua affair owing to an unspecified 'personal family emergency' while midfielders Noah Powder and Neveal Hackshaw, right-back Alvin Jones and goalkeeper Jabari St Hillaire did not feature on account of a variety of travel-related issues.
All four are in the squad to face the Bahamas.
However, Eve also wielded the axe, cutting midfielders Joevin Jones and Justin Sadoo, central defender Mekeil Williams, forward Marcus Joseph and left-back Triston Hodge from the 23-man squad altogether.
Hodge played at left-back for an hour in Managua while Jones (J), Williams and Joseph were second-half changes. Sadoo was an unused substitute.
Williams, Hodge and Sadoo were actually all part of the Warriors squad that trounced Barbados 9-0 and drew 1-1 with Guyana in the Caribbean Classic—although Sadoo never got on the field. However, Eve explained that they did not have the characteristics he felt were required to help overwhelm the Bahamas, while Jones (J) is yet to recover his rhythm after a long-running injury last year.
"Mekeil is more of a defensive-minded player," said Eve, who used the central defender in midfield for his last three international appearances. "To be honest, I don't think Joevin is up to speed—he hasn't played much with his club and I think he was off the pace a bit. 
"It is nothing major. He is coming back gradually. He probably needs a little bit more match practice under his belt before he plays a full competitive match."
In their places, Eve selected winger Reon Moore, defender Radanfah Abu Bakr, playmaker Duane Muckette, left-back Jameel Neptune and forward Nicholas Dillon.
The Bahamas have the same coach, Nesly Jean, as last June when they held Trinidad and Tobago goalless in Nassau—a result that saw the Warriors eliminated from the 2022 World Cup qualifying series and cost then head coach Terry Fenwick his job.
However, only seven Bahamian players from that World Cup meeting were involved against St Vincent and the Grenadines last week. Trinidad and Tobago have retained 10 players from that outing.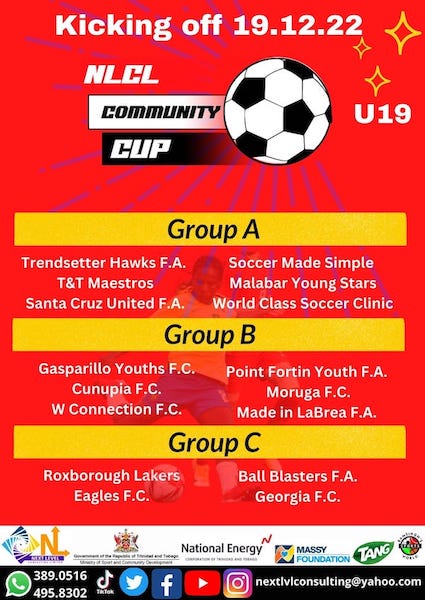 Eve believes the Bahamas' style of play will be similar to last year, though.
"We believe they are going to sit deep and try to hold [us] off," said Eve. "Hence the reason I said we brought in a lot more attacking players and attack-minded players—Triston Hodge, for instance, is a defensive wing-back, Jameel Neptune is an attacking wing-back who likes to go forward and cross the ball. 
"We have freshened up the team with players who play a different way."
Eve opted not to keep teenage Terminix La Horquetta Rangers midfielders Kaihim Thomas and Real Gill, who were initially listed in his 28-man squad for the Nations League. 
Instead, the duo will join the National Under-20 Team, which departs for a pre-tournament camp in Costa Rica on Tuesday 7 June—rather than today, as initially announced.
"We are trying to get all the guys on one flight," said Eve, who is also head coach of the Under-20 squad. "We didn't want to have them fragmented like how the senior team was, so we chose to leave a day later—where we could get all of them on one flight."
Eve, of course, will not be on that flight. Instead, he should be en route to St Vincent by then for Trinidad and Tobago's third CNL assignment away to the 'Vincy Heat'.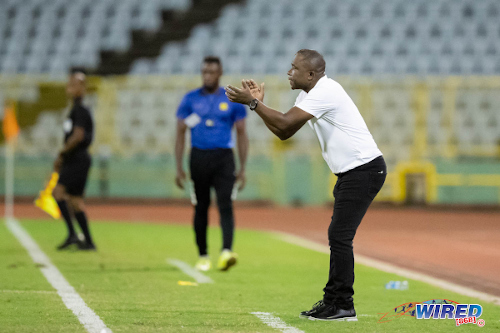 Or will he be flying at all?
"Hopefully!" Eve said, with a laugh. "I am scheduled to do it, so yes."
Wired868 asked whether Eve and his managerial staff had identified anything they could do to cut back on their recent travel issues.
"No," he said. "Nicaragua is a nightmare to get to… The problem is the players we have are playing in the American leagues and these leagues don't stop. We had guys play up until the 29th.
"[…] When we were trying to book the flights, a lot of the flights were filled."
It was a different explanation from the one provided by TTFA Media three days ago.
"Both Jones (A) and St Hillaire did not reveal their online travel health pass approval from the Nicaraguan Health Authority in time to board the departing flight out of Piarco," the Trinidad and Tobago Football Association stated via a press release on 1 June. "Powder and Hackshaw also did not receive their PCR results in the United States within the required time necessary to receive similar approval for their entry into Nicaragua."
In fact, of the four players who did not travel to Nicaragua, only two, Powder and Hackshaw, were flying from the United States. Jones (A) and St Hillaire were already in Trinidad.
Eve was also keen to 'correct' suggestions from assistant coach Reynold Carrington that Trinidad and Tobago set out to play for a draw against Nicaragua on Friday—a game they started with six defenders on the field.
"I think offensively we set up the team, as Reynold said, to keep the game close in the first half and we did that," said Eve. "And then we wanted to put on the more expressive players in the second half. That was basically the game plan.
"[…] I don't think he said that [we played for a draw]."
In the post-game interview with the TTFA Media, Carrington said: "Our intention was not to concede… Our intention to go into the game playing away from home was always to see if we were going to be able to consolidate.
"[… Despite] the conditions and the stoppage, [in] these games we have to be a little more disciplined to be able to sometimes take the point."
Warriors captain Marvin Phillip also noted that: "[…] we should have been more professional and managed the game to come out with a point."
Eve offered that the pair might not have properly expressed the tactical approach to the game adopted by Trinidad and Tobago.
And what does the head coach see as the tactical approach best suited for his pool of National Senior Team players?
"I definitely think a counter-attacking style," said Eve. "Because defensively is where we are often found wanting. I think we need to play resolutely at the back and then play on the break because we do have good pace upfront."
On Monday night, Trinidad and Tobago are likely to be far more proactive against a team ranked 201st among Fifa's 211 member nations.
With four attack-minded full-backs to choose from, additional ball-handlers in Muckette and Judah Garcia and an old-fashioned centre-forward in Dillon, the Warriors can attack the 'Baha Boys' in a variety of ways.
Eve, who had a solitary training session with his players today, must find the right formula to unstick Trinidad and Tobago's plucky guests. He promised the Warriors will not pull their punches tomorrow.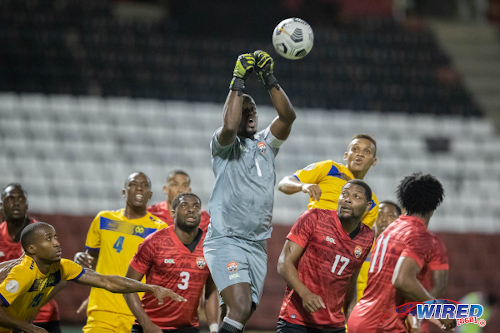 (Trinidad and Tobago 23-man squad)
Goalkeepers: Marvin Phillip (Deportivo PF), Denzil Smith (W Connection), Jabari St Hillaire (Terminix La Horquetta Rangers);
Defenders: Shannon Gomez (Sacramento Republic—USA), Alvin Jones (Forward Madison—USA), Kareem Moses (Vaasan Palloseura—Finland), Sheldon Bateau (Samsunspor—Turkey), Aubrey David (Deportivo Saprissa—Costa Rica), Radanfah Abu Bakr (Sure Sports FC—USA), Jameel Neptune (Las Vegas Legends—USA), Keston Julien (FC Sheriff Tiraspol—Moldova);
Midfielders: Noah Powder, Neveal Hackshaw (both Indy Eleven—USA), Kevon Goddard (Defence Force), Leston Paul (Memphis 901—USA), Daniel Phillips (Watford FC—England), Duane Muckette (Unattached), Molik Khan (Minnesota United II—USA);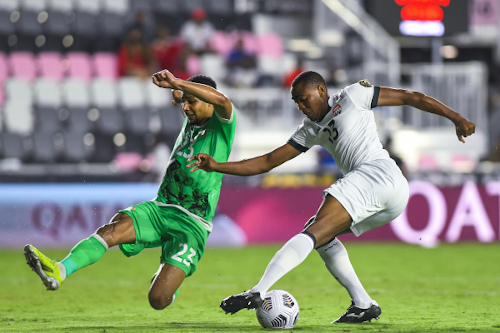 Attacking midfielders: Reon Moore (Defence Force), Michael Kedman (Thróttur Vogar—Iceland), Judah Garcia (AEK Athens B FC—Greece), John-Paul Rochford (Sure Sports FC—USA);
Forwards: Levi Garcia (AEK Athens FC—Greece), Nicholas Dillon (Central Soccer World).