Trinidad and Tobago will return empty-handed from a bizarre trip to Managua, as the Soca Warriors fell 2-1 to Nicaragua in the wee hours of this morning in their opening 2022-23 Concacaf Nations League fixture.
There are still five group matches left in Group A of Concacaf's second tier competition. But today's defeat, coupled with a surprise 1-0 win for The Bahamas over St Vincent and the Grenadines, means coach Angus Eve's team will be in desperate need of all three points when they host the Bahamians at the Hasely Crawford Stadium on Monday 6 June.
In nine matches at the helm so far, Eve has two outright victories—over Montserrat and Barbados. And his team have now gone five successive competitive matches without a win, not counting the penalty shootout triumph over French Guiana which Fifa tallies as a tie-breaker rather than a triumph.
Coaching Trinidad and Tobago is no easy task at the best of times—far less with no technical committee in place for support, irregular warm-up fixtures and a managerial staff that cannot even be relied upon to get 23 players to the match venue.
Eve himself did not travel to Nicaragua, with a TTFA release explaining that the coach had had 'a personal family emergency'.
Hopefully, Eve's family is okay now. It has to be said, though, that local football personnel have not exactly earned themselves the benefit of the doubt with the overall lack of transparency under normalisation committee chairman Robert Hadad, whose approach seems simply to have continued from where the David John-Williams presidency left off.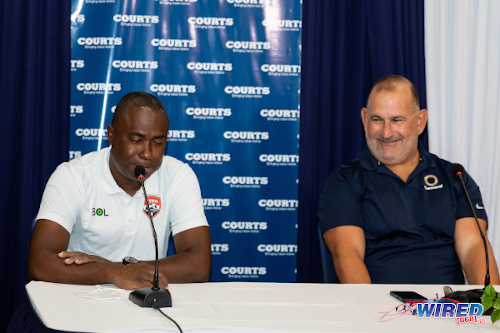 The reality is that the Soca Warriors were suffering from self-inflicted wounds long before, just seconds before halftime,  Triston Hodge's deflection re- directed a speculative effort from Nicaragua right-back Josue Quijano past Trinidad and Tobago custodian Marvin Phillip.
In a match in which the two-island republic started with four full-backs, Nicaragua's full-back got the only goal of the first half. Who says God does not have a sense of humour?
Up until that point, the game had been keenly contested but lacking in quality. Trinidad and Tobago were conceding possession while trying to catch Nicaragua in transition through the pace and directness of the ever-dangerous Levi Garcia.
But Garcia, largely on his own, seemed to have too much to do and Nicaragua restricted him to mostly rushed shots from outside their penalty area.
Trinidad and Tobago began with their regular 4-2-3-1 formation, but it was an unusual roster of players—as Eve started with four full-backs, three central defenders, two orthodox midfielders and two attackers. 
It was not atypical of Eve, though. The Soca Warriors head coach has played with at least one career defender in midfield for three of his last four matches—and started with eight defenders against Mexico at the 2021 Concacaf Gold Cup.
Last night, full-backs Shannon Gomez and Keston Julien lined up as wingers with the clear assignment of disrupting Nicaragua's attempt to build the ball and providing extra security on the flanks. And for the most part, they did just that—right up until Quijano's deflected item.
In sport, as in life, control can be elusive and there is a reason why someone once suggested that 'fortune favours the brave'.
At the interval, the Warriors—handled by assistant coach Reynold Carrington, who surely had Eve at the end of the phone—made a double change straightaway, with teenage playmaker Molik Khan and the experienced Joevin Jones replacing Daniel Phillips and John-Paul Rochford.
Within seconds of the restart, Trinidad and Tobago were back on even terms. Gomez, still impersonating a right-winger, tried to cross the ball into the area, only for it to deflect off the chest of opposing defender Christian Reyes and beat Nicaragua goalkeeper Douglas Forvis at his near post.
Concacaf recorded it, correctly, as a Reyes own goal. God was having a laugh again.
In the 60th minute, Carrington made two more changes, with Marcus Joseph and Mekeil Williams replacing left-back Triston Hodge and midfielder Leston Paul. 
As a result, Julien dropped to his usual full-back position with Joseph a far more attacking option—although the latter player prefers to play upfront or on the opposite flank where he can cut inside on to his shooting foot. But Williams, a central defender with a limited passing range, was anchoring the midfield.
It was hard to tell at that point whether Eve was trying to play off the front or back foot.
Then, in the 68th minute, the power went out at the Managua match venue. Judging by the manner in which supporters calmly turned to their refreshments, one could only assume that the unexpected is not an infrequent visitor to Friday night limes in Nicaragua.
After about 30 minutes off their feet, both teams resumed action in a downpour. And, in the 78th minute, Nicaragua were ahead again.
Joseph lost possession in his own half of the field and, although Phillip appeared to spare his teammate's embarrassment with a vital block from Nicaraguan midfielder Matias Moldskred, the visitors did not regain possession. A rapid exchange of passes saw Bryon Bonilla collect the ball with space on top of the opposing box and arrow his shot to the right of the Trinidad and Tobago goalkeeper.
By then, Nicaragua had taken to dropping deep when they did not have the ball to deny open space to Garcia. And apart from one sprint by late substitute Michael Kedman, an England-born left-back who debuted at left-wing for T&T at just after midnight, the Warriors never looked like penetrating the opposing defence.
Ace midfielder Kevin Molino is still regaining his rhythm after a long-term injury and is not in the 23-man squad, Duane Muckette has been without a club for two years and was left in Trinidad. And Judah Garcia never got off the substitutes' bench.
In Managua, the Warriors could have used some of the guile any of that trio brings—with Jones looking off the pace and Khan still finding his feet at this level.
On Monday, Trinidad and Tobago will reacquaint themselves with the Bahamas, the plucky minnows who extinguished the Warriors' Qatar 2022 World Cup qualifying campaign with a goalless draw in Nassau and cost then coach Terry Fenwick his job.
Eve needs a result. Otherwise the Bahamas could make it two from two.
(Teams)
Trinidad and Tobago (4-2-3-1): 1.Marvin Phillip (GK) (captain); 6.Kareem Moses, 4.Sheldon Bateau (16.Michael Kedman 80), 2.Aubrey David, 18.Triston Hodge (9.Marcus Joseph 60); 23.Leston Paul (17.Mekeil Williams 60), 5.Daniel Phillips (10.Molik Khan 46); 14.Shannon Gomez, 15.John-Paul Rochford (3.Joevin Jones 46), 19.Keston Julien; 11.Levi Garcia.
Unused substitutes: 21.Denzil Smith (GK), 12.Judah Garcia, 20.Justin Sadoo.
Coach: Reynold Carrington
Nicaragua (4-1-2-3): 23.Douglas Forvis (GK); 2.Josue Quijano, 6.Christian Gutierrez, 20.Christian Reyes, 3.Oscar Acevedo (21.Francisco Flores 71); 4.Henry Niño; 11.Juan Barrera (captain) (8.Richard Rodriguez 85), 17.Matias Moldskred; 22.Brayan Lopez (9.Jaime Moreno 82), 7.Ariagner Smith, 10.Byron Bonilla.
Unused substitutes: 1.Alyer Lopez (GK), 12.Denver Fox (GK), 5.Marvin Fletes, 13.Henry Garcia, 14.Jason Coronel, 15.Melvin Hernandez, 16.Bancy Hernandez, 18.Jonathan Moncada, 19.Junior Arteaga.
Coach: Marco Figueroa
Referee: Keylor Herrera (Costa Rica)
Concacaf Nations League
Group C of League B
(Friday 3 June)
Nicaragua 2 (Josue Quijano 45+1, Bryon Bonilla 78), Trinidad and Tobago 1 (Christian Reyes OG 46) at Managua;
The Bahamas 1 (Lesly St Fleur 68 [pen.]), St Vincent and the Grenadines 0 in Nassau.