Trinidad and Tobago Men's National Senior and Under-20 Team head coach Angus Eve selected a 24-man squad for the junior Soca Warriors squad, which leaves on 5 June for a pre-tournament camp in Costa Rica.
The Under-20 squad swings into action at the 2022 Concacaf Men's Under-20 Championship from 19 June when they face Haiti at the Estadio Morazan in San Pedro Sula, Honduras. Also in the group are Suriname and Mexico, with three of the four teams advancing to the knockout stage.
The Concacaf tournament serves as the qualifying series for the 2023 Fifa Under-20 World Cup and the Paris 2024 Olympic Games.
Eve will miss more than half of the team's pre-tournament camp owing to his Concacaf Nations League commitments with the Men's National Senior Team—an inevitable complication deriving from the Fifa-appointed normalisation committee's controversial decision to have coaches hold two portfolios at once.
However, the former national football stand-out says he is excited about his June schedule.

"The staff with the Under-20s will leave on June 5th and we have two practice matches over there (in Costa Rica)," Eve told TTFA Media. "[Assistant coach] Reynold Carrington will be in charge of that group. We will join them on the 14th after we play our last CNL match on June 13th.
"[…] I am extremely excited about the next few weeks of our football. I am extremely fortunate. God has blessed me with a position where I can try to affect, improve and help Trinidad and Tobago football get back on the map and I am very humbled by that."
Eleven members of Eve's 24-man squad are graduates of the 'elite' National Under-15 Team coached by Stuart Charles-Fevrier, which includes Minnesota II midfielder Molik Jesse Khan, W Connection attacker Nathaniel James and midfielder Dantaye Gilbert, who is at FC Malaga City Academy in Spain.
(FC Malaga City Academy is a residential coaching school and is not linked to Spanish second division team, Málaga CF.)
Midfielders Andrew De Gannes (Atlanta United Academy—USA) and Curtis De Leon (University of Alabama—USA) are the only survivors from the National Under-17 Team that participated in the 2019 Concacaf Under-17 Championship, under then head coach Stern John.
The newcomers to the national programme include the Terminix La Horquetta Rangers pair of winger Real Gill and midfielder Kaihim Thomas as well as Club Sando defender Marvin Waldrop, who got a call-up to the National Senior Team in March but is uncapped.
The Under-20 training squad played six warm-up games during their two-week camp at the TTFA Home of Football, registering wins over Cunupia FC (4-1), Defence Force (2-1) and Police FC (1-0), a draw with AC Port of Spain (2-2) and defeats to Rangers (1-3) and the Guyana Senior Team (0-1).
Eve said he was happy with the camp and commended the effort made by the players.
"I think Trinidad and Tobago's football is in a good place seeing these kids coming up," said Eve. "Unfortunately we can't keep all of them and maybe put some of them in another league so we can continue seeing them like the bigger countries such as Mexico and the US do. But we will keep the boys in a database so we will know how to locate them and monitor their progress.
"I'm gutted for the guys who were not selected and I'm overly emotional over it but, as I explained to them, […] this is not the end. Michael Jordan was cut from his high school team and he became the best basketballer we've ever seen so this is just a stumbling block and they can go back to the drawing board and come back stronger."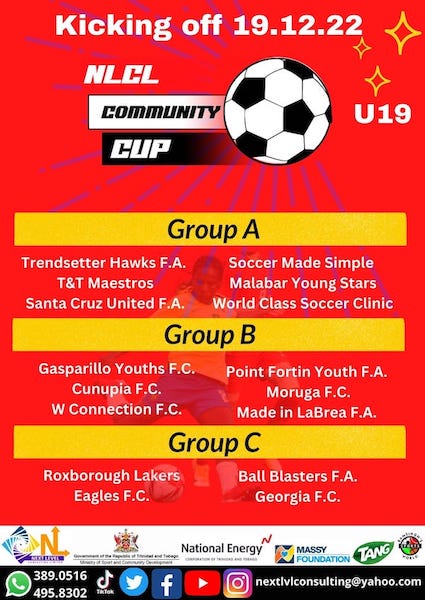 According to Concacaf rules, Trinidad and Tobago must submit a final list of 20 players, inclusive of two goalkeepers, by 8 June. As Eve will be with the Senior Team at the time, Carrington is expected to play a significant role in the final cull.
Eve, a 1991 World Youth Cup player, said he is pleased with what he has seen so far.
"On the players who have made it into the final cut, some of them have a bit of international experience," said Eve. "[…] And then we had some standouts from the local league here. We have a couple players who are also plying their trade in the MLS so it's a nice cadre of players.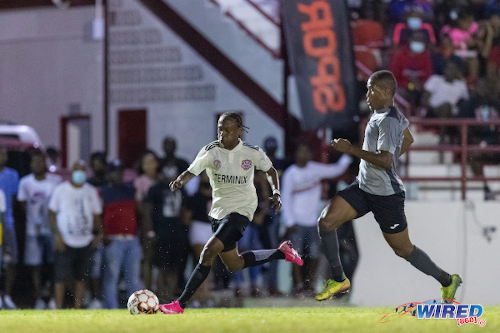 "The staff is excited with what we've seen of the players. We had some really good practice matches against Defence Force, Police FC, Guyana, […] top teams with really good coaches."
Trinidad and Tobago 24-man squad
Goalkeepers: Tristan Edwards (Fatima College), Rushon Sandy (Patuxent Football Athletics—USA), Jahiem Wickham (Toronto FC—Canada);
Defenders: Christian Bailey (Defence Force FC), Isaiah Edwards (Police FC), Jaron Pascall (Police FC), Jaheim Joseph (W Connection), Marvin Waldrop (Club Sando), Noah Roka (FC Stadieu—Austria), Josiah Cooper (Club Sando);
Midfielders: Luke Phillip (Deportivo Point Fortin), Andrew De Gannes (Atlanta Utd Academy—USA), Dantaye Gilbert (FC Malaga City Academy—Spain), Isaiah Thompson (Unattached), Tyrik Trotman (Hartford Community College—USA), Curtis De Leon (University of Alabama, Birmingham—USA), Kaihim Thomas (Terminix La Horquetta Rangers), Kassidy Davidson (IFAPT—Portugal), Molik Jesse Khan (Minnesota United II—USA),
Attackers: Jaheim Faustin (Defence Force FC), Tarik Lee (W Connection), Real Gill (Terminix La Horquetta Rangers), Josiah Wilson (Cercle Brugge KSV—Belgium), Nathaniel James (W Connection).