Trinidad and Tobago Men's National Senior Team head coach Angus Eve will use a friendly against Saint Lucia tomorrow to assess the depth of his squad, currently preparing for the 2022/23 Concacaf Nations League.
The Soca Warriors are in the second tier of the Concacaf competition and are grouped with Nicaragua, St Vincent and the Grenadines and The Bahamas.
Trinidad and Tobago open their Nations League campaign against Nicaragua in Managua on 2 June before they play their first home game of the current season against Bahamas from 8pm on 6 June at the Hasely Crawford Stadium.
They then play away to St Vincent and the Grenadines on 10 June before hosting the same team on 13 June. Trinidad and Tobago conclude their tournament with games against the Bahamas and Nicaragua on 24 and 27 March 2023 respectively.
Eve suggested that most of the 22 players who will face St Lucia tomorrow are not in his Concacaf Nations League plans. Still, he designated the match as a 'closed door' affair. Action kicks off from 3pm at the Manny Ramjohn Stadium in Marabella.

St Lucia are coached by record Trinidad and Tobago goal-scorer and World Cup 2006 player Stern John.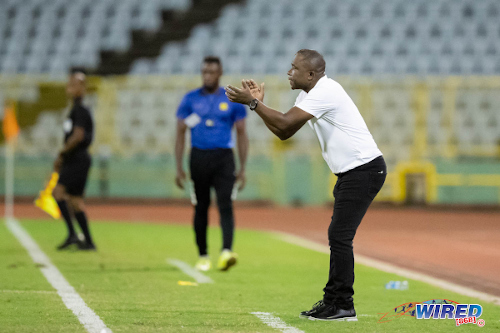 It is the second time that Eve has excluded the media and public from a friendly, after a similar move for the Men's National Under-20 Team match against Guyana last week. Under former head coach Dennis Lawrence, closed door outings became routine.
He told TTFA Media that 'this exercise is part of the preparations for the upcoming Concacaf Nations League [matches]'.
"We had the opportunity to scout the players so we drafted in most of them in a 22-man squad that we want to see, to pool them together with the overseas-based players that we already have available," Eve told TTFA Media. "It's four matches in ten days with a lot of travel, so we will definitely need some of these local-based players to supplement what we already have.
"We have been doing the work, scouting all the overseas-based players."
Eve's scouting reach is clearly considerable. Jameel Neptune's club was listed as Las Vegas Legends, which played in the United States' National Premier Soccer League—effectively the fourth division, and not fully professional.
Veteran central defender Radanfah Abu Bakr now plays for Sure Sports FC, which competes in the United Premier Soccer League. It was not clear what rung they occupy on the US soccer pyramid but they are certainly below fourth.
There was at least one surprising local club in the mix too. Former Morvant Caledonia United right-back Joshua Alexander's current team is Maloney Mavericks, which plays in the Gateway Athletic Super Cup, effectively a minor league.
That said, midfielder Duane Muckette, a regular with the Soca Warriors, has not had a club since 2020. He is expected to face St Lucia tomorrow and make the trip to Nicaragua.
Two intriguing overseas-based players are forwards Joshua Araujo-Wilson and Akeem Roach. The 19-year-old Araujo-Wilson just completed his second season with FC Vysocina Jihlava in the Czech National Football League, which is the country's second tier competition, while Roach plays for CD Real Sociedad in Honduras.
Veteran playmaker Keron 'Ballpest' Cummings and former national youth midfielder Che Benny are also involved, along with former SSFL MVP Mark Ramdeen and Terminix La Horquetta Rangers left-back Ross Russell Jr.
"We already had a 23-man squad selected before this match tomorrow against an international team," Eve told the TTFA Media. "Basically, we will be going [into the Nations League] with the squad that we played with in the Courts Caribbean Classic, with a couple local additions. We explained that to the guys and they understand what we are saying.
"I think this game on Monday will tell us a lot in terms of who we can include and go forward with in this phase."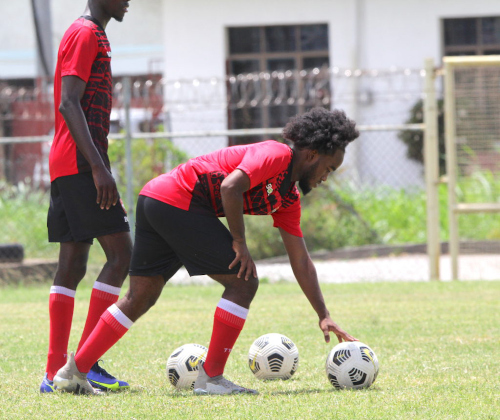 Along with Abu Bakr and Muckette, Defence Force midfield anchors Kevon Goddard and Justin Sadoo, Police FC playmaker Jabari Mitchell, W Connection goalkeeper Denzil Smith and Central Soccer World forward Nicholas Dillon all represented the Warriors at the Courts Caribbean Classic.
They will get a chance to get some international minutes tomorrow before Eve takes his troops to Nicaragua.
(Trinidad and Tobago team to face St Lucia)
Goalkeepers: Jabari St Hillaire (Terminix La Horquetta Rangers), Denzil Smith (W Connection);
Defenders: Joshua Alexander (Maloney Mavericks), Andre Ettienne, Paul Rondel, Isaiah Garcia (all Deportivo PF), Radanfah Abu Bakr (Sure Sports FC—USA), Jameel Neptune (Las Vegas Legends—USA), Ross Russell Jr (Terminix La Horquetta Rangers);
Midfielders: Nathaniel Garcia (Deportivo PF), Kevon Goddard, Justin Sadoo (both Defence Force), Michel Poon-Angeron (AC Port of Spain);
Attacking midfielders: Keron Cummings (Real West Fort), Mickaeel Gordon, Jabari Mitchell (both Police FC), Che Benny (AC Port of Spain), Duane Muckette (Unattached), Mark Ramdeen (Deportivo PF);
Forwards: Justin Araujo-Wilson (FC Vysocina Jihlava—Czech Republic), Nicholas Dillon (Central Soccer World), Akeem Roach (CD Real Sociedad—Honduras).