In the semifinals of this season's UEFA Champions League (UCL), 13-time winners Real Madrid got a pair of stoppage-time goals from Brazilian substitute Rodrygo, contriving to earn an epic extra-time win against Manchester City and move on to this weekend's finals.
With no Rodrygos or Karim Benzemas around last night at the Brian Lara Recreation Ground in Santa Cruz, home side Cantaro United's Nathaniel 'Bubba' Perouse offered a convincing impression.
The midfielder scored two goals in the dying moments of his team's Next Level Consultant Ltd (NLCL) Community Cup Under-19 game to help them earn a 3-2 comeback win over Malabar Young Stars and snatch a spot in the quarterfinals.
Heading into the final Group A fixture in third place and with fourth-placed Trendsetter Hawks hot on their heels, Cantaro knew that defeat could well see them ousted from the competition since only the top three teams advance to the quarterfinals.
What is more, while Cantaro were slugging it out with the table-topping Malabar, Trendsetter's challenge was to get past a Creek S&CC team that had lost all nine of their previous NLCL matches, conceding a whopping 37 goals in the process.

A Cantaro defeat and a Trendsetter victory would see both level on points, with goal differential determining who progressed.
It was just past 8pm on this lively Thursday evening in Cantaro Village, when Bubba, a former Secondary Schools Football League (SSFL) stand-out with San Juan North Secondary and Naparima College, told Wired868 and all other wannabe mathematicians to put away their calculators; they simply will not be needed.
At the 90-minute mark, with his team down 2-1 and desperately hunting an equaliser to save their season, an advanced Bubba latched on to a searching through pass from defender Keishaughn Pridar-Williams. With a defender for company, the 21-year-old Bubba smoothly took the ball in his stride, flicked it up with his heel to keep it away from his marker and then provided a deft right-footed finish to send it swishing past an onrushing Isaiah Villaroel in the Malabar goal.
(The NLCL Community Cup allows each team to register three under-21 players and to have two on the field at any given time.)
It was a quite confident finish from a player who had had his penalty wrapped up by Villaroel mere minutes into the second half. More than most, Pridar-Williams would have breathed a sigh of relief as he had struck the post with a rolling left-footed shot after the Bubba penalty miss.
"To miss a penalty is hard but I know Bubba has the experience and I knew that he wouldn't drop his head," said Cantaro coach Stephan David. "As I told the guys, the game doesn't end at 45 minutes; we have to play for the full 90. Once you have a never-say-die attitude, you'll get the goal."
Timely payback for Cantaro, then. With a goal worthy of taking your team through to the May 28 UCL finals at the Stade de France in Paris.
In fact, Bubba's timely equaliser sealed a May 28 NLCL Community Cup quarterfinal spot at the Ato Boldon Stadium in Couva. To judge by the celebrations of the Cantaro faithful last night, though, you'd think the final destination was the Stade de France.
No sooner had Villaroel picked the ball out of his net than the Cantaro fans stormed the field and swarmed Bubba and his teammates. Densill Theobald, former Caledonia teammate of coach David was spotted looking on from near the dugout.He would offer helpful advice to the Cantaro coach at the interval.
And most visible among the cheering, jubilant fans was West Indies and Trinidad and Tobago Red Force batsman Darren Bravo, currently having a hard time finding any runs in the ongoing West Indies 4-Day Championship.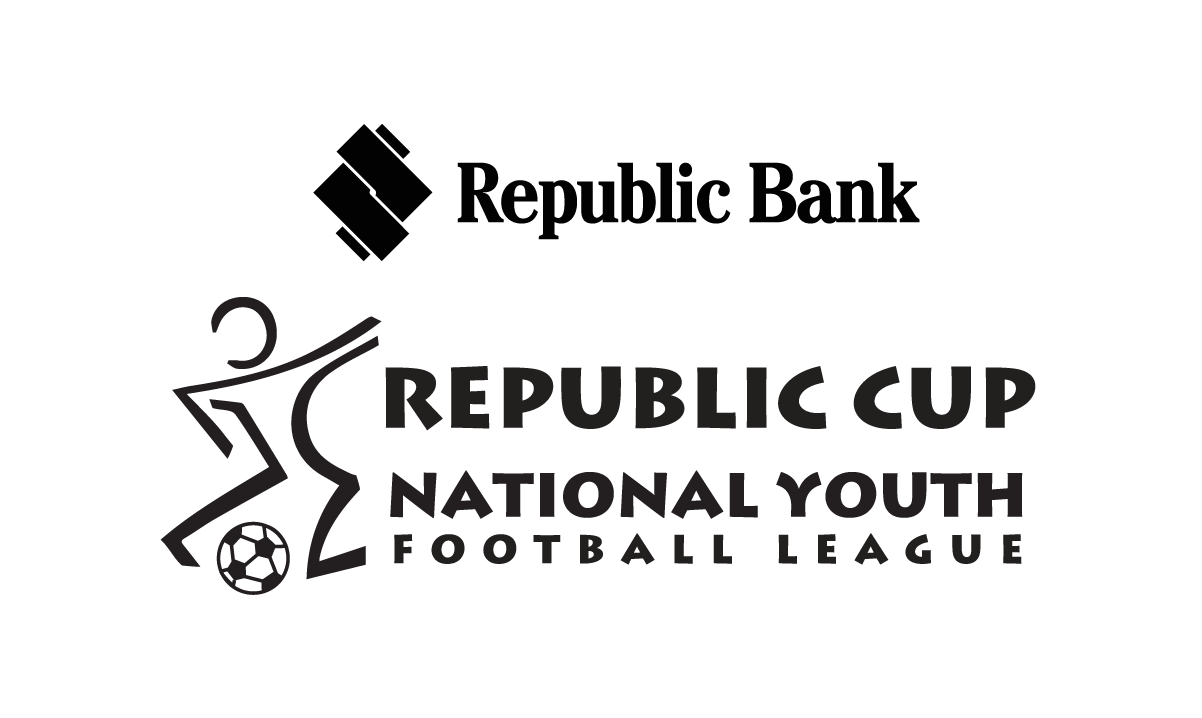 The cricket fans would have been hoping that 'Lil Bravo' might draw inspiration from the Cantaro comeback story and spur the Red Force on to a breathtaking comeback win of their own in the critical face-off against the table-topping Barbados Pride at the Brian Lara Stadium in Tarouba.
Not to be! In a country with so much crime, T&T couldn't find a man to hold up the side!
The pitch invasion over, the Cantaro supporters still catching their collective breaths and Malabar coach Yunus Abdullah anxiously counting down the stoppage time minutes on the sideline, Bubba struck again.
If the midfielder's first goal was a thing of beauty, his game-winner, notched five minutes into stoppage time on referee Jerome McIntyre's watch, occupied the same point on the scrappy scale.
For the umpteenth time in the second half, chaos ensued in the Malabar penalty area as Villaroel and his defenders failed to come to terms with a Jamal Williams set piece. It was a football match but what occurred in the penalty area in those frantic few seconds looked much more like ping-pong.
At the end of the mêlée, Bubba was on spot at the back stick to bundle the ball into the net, give Cantaro a 3-2 advantage and steal the three points from Malabar—much to the chagrin of the visiting technical staff and team.
In jest, Abdullah jogged along his technical area with his right hand aloft, motioning for an offside call. Meanwhile, from the players on the bench came any number of bemused remarks.
No offside call came, though. And much like Pep Guardiola and Manchester City saw their UCL hopes go down in flames, Abdullah and Malabar manager Clint Busby saw their perch atop the six-team table razed to the ground in a matter of mere minutes.
Somehow, somewhere, there is a link between the name Lara and pitch invasions.
"Another one!" yelled a Cantaro fan doing his best DJ Khaled impersonation as, completely unsympathetic, the Cantaro faithful once again stormed onto the field—reminding everyone of the events surrounding the Prince of Port-of-Spain's first capture of the world record with his 375 at the Antigua Recreation Ground.
Though not satisfied with the outcome of the game and the no-call in the dying seconds either, Busby was busy lapping up the Santa Cruz atmosphere.
"We came into a hostile environment," he told Wired868. "We were leading 2-1 with just a few minutes to go in the game so I must commend the team. At the same time, you know referees does spoil games and teams does get home calls."
"The last goal was a blatant offside," he argued, "because the man [Bubba] was liming with the keeper. He stand up next to the keeper when he tapped the ball in the goal so he have to be offside. The only offside the lineswoman didn't see was that one."
"And where was she to not see that?" Busby asked sarcastically. "At the end of the day, we were already through to the next round but we still wanted a good result. No team plays to lose."
Busby noted that as many as six Malabar starters took their place on the bench to begin last night's game, with Group A top scorer Jorel 'J-Boy' Grant (12 goals) only making an entrance in the 71st minute.
The aim, Busby pointed out, was to try and keep players fresh ahead of the quarterfinals this weekend. It would have worked like a charm too, were it not for Bubba's late interventions.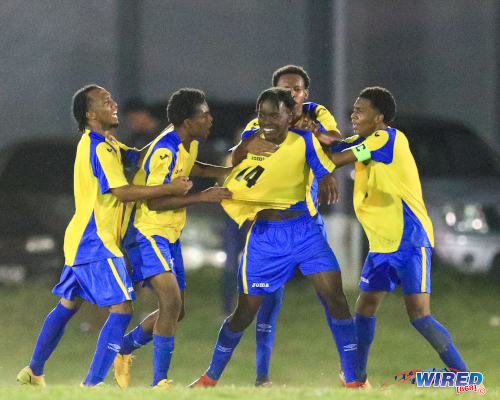 In retrospect, Abdullah may concede that his team conceded top spot in the group when he replaced his diligent central defender Josiah Shade in the 81st minute. Agile and strong in the tackle when necessary, Shade consistently dealt with the threat of silky Cantaro forward Jaydon Charles quite handily.
"Yuh was going too hard out dey boy," Abdullah told Shade, as the defender was subbed by Ethan Friday. Charles himself was replaced in the 86th minute so that both he and Shade were watching the latter stages of the thriller from the bench.
Like the on-field battle, the banter on the sidelines wasn't half-bad.
Abdullah and one of the Cantaro technical members had some running picong in the second half—the Cantaro official persistently pleading with Abdullah to remove the grains of garlic from his person.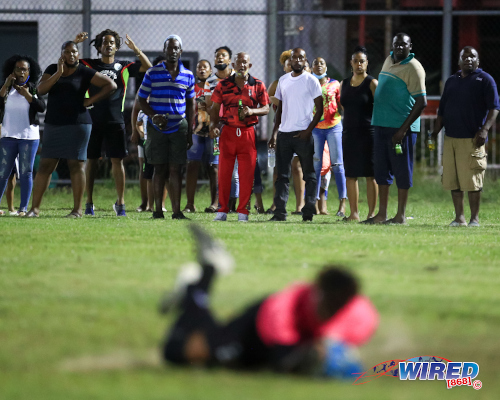 "Ah coming and look for the garlic in yuh pocket," the Cantaro official teased, as the hosts continued to squander chance after presentable chance in front of the Malabar goal.
"Allyuh done going through the group, boy!" a smiling Abdullah shot back.
The Malabar coach had got wind of the Trendsetter scoreline and tried to assure the Cantaro bench that their passage was safe.
The Cantaro officials and supporters didn't want to leave anything to chance, though.
Soon enough, musician and Cantaro supporter KV Charles got in on the banter as well.
"Nah, dat post hadda be mount," Charles said, casting an accusatory look towards the Malabar bench. "Who mount the post, boy?"
In the five minutes of utter madness as full-time neared, the Cantaro posse stopped seeking to remove garlic from Villaroel's goalmouth or Abdullah's pockets; they simply inquired where it had gone.
In the end, both teams are headed to the quarterfinals and they both have one shared goal.
"After this game, is three finals we have to play because as you lose you are out. We will recover from this," Busby said in closing. "We understand what took place and we will recover from this mentally and we will be ready for the quarterfinals no matter who we meet.
"[…] I think we have a good chance to win the Cup but the other team is coming to win too. We just have to get ready mentally and physically for our three finals."
David and Cantaro will try their best to keep the spirits high as they tackle the knockouts on the weekend. With all remaining matches to be contested at the Ato Boldon Stadium in Couva, the former Trinidad and Tobago midfielder probably wishes he could somehow take the Brian Lara Recreation Ground with him in his back pocket.
"We got a victory today but it's more than a victory for us; it's a victory for the whole Santa Cruz community with all that's going on," David said, alluding to the recent surge in violence in the community and the country. "That will be a driving force for us to keep going one day at a time.
"We get the youths to come off the streets and we get the whole village to support them so that's motivation enough for them to show that they have something to do. They are representing their families and the wider community as well so we are giving them something to aim for."
And what about barriers to prevent future pitch invasions?
"The fan base growing so going forward we will have to put things in place to control the fans," he suggested. "But it's just the excitement in the games and we like to see the fans coming out. We will try to manage it a little more. We can't promise but we'll do our best."
The final Thursday night act in Santa Cruz drew perhaps the loudest roar of the night. The wicked, long-distance goal he had conceded in the 11th minute now a distant memory, Cantaro keeper Stephon 'Papa' Langaigne enticed a Malabar attacker in before using his wide, burly frame to hurl the ball miles downfield.
"Well done, Papa," someone bellowed as the collective cheers receded.
Well done too to Cantaro United; they did it the hard way. But in the end, both they and Malabar Young Stars, their sparring partners on Thursday night, are headed to NLCL quarterfinals, no less than either deserves.
(Teams)
Cantaro United (4-2-3-1): 00.Stephon Langaigne (GK); 2.Jeremiah Kennedy, 8.Keishaughn Pridar-Williams, 4.Kareem Pope, 16; Jahdell Alexander; 13.Yohan Perouse, 17.Jamal Williams; 11.Christian Browne (14.Fidel Raymond 28), 10.Nathaniel Perouse, 5.Atiba O'Brien (6.Josiah Paul 46 [12.Nathan Pascall 85]); 7.Jaydon Charles (9.Quincy Eustache 86).
Unused substitutes: 1.Tarique Perouse (GK), 15.Derique Woods, 18.Samaki Felician, 19.Dimitri Rayside.
Coach: Stephan David
Malabar Young Stars (4-3-3): 1.Isaiah Villaroel (GK); 19.Stefan Auguste, 15.Gillano Nesbitt, 5.Josiah Shade (3.Ethan Friday 81), 2.Julio Zaragoza (6.Jean-Marc Williams 53); 18.Kanye John (10.Tayshaun Cummings 59), 8.Jadon Durity (captain), 12.Nkosi Ambrose (11.Anthony Wells 60); 16.Terrell Latapy (13.Keishawn Carter 71), 14.Ezekiel La Rose, 7.Nyron Dyer (9.Jorel Grant 71).
Coach: Yunus Abdullah
Referee: Isaiah McIntyre
NLCL U-19 Result
Cantaro United 3 (Yohan Perouse 51, Nathaniel Perouse 90, 90+5), Malabar Young Stars 2 (Nkosi Ambrose 11, Ezekiel La Rose 56) at Brian Lara Recreation Ground.
Quarterfinal fixtures
(all games at Ato Boldon Stadium, Couva)
(Saturday 28 May)
Soccer Made Simple FC vs Jaric Titans, 2pm,
Cox Football Academy v Malabar Young Stars, 4pm;
(Sunday 29 May)
Eagles FC vs Gasparillo Youths, 2pm;
Cantaro United vs Point Fortin Youth Football Academy, 4pm.