A skilful solo effort from attacking midfielder Asha James and an opportunistic finish by captain and utility player Karyn 'Baby' Forbes set the stage for a triumphant outing for the Trinidad and Tobago Women's National Senior Team this evening when they defeated Nicaragua 2-1 in 2022 Concacaf W Championship qualifying action at the Hasely Crawford Stadium in Port-of-Spain.
The score summary flattered Nicaragua. The Women Soca Warriors bossed the match and were rarely troubled by the Central American nation. But that is not to say Trinidad and Tobago were untroubled.
Lively left-back Kédie Johnson was sent off for a second yellow card in the first half while goalkeeper Kimika Forbes and key defender Rhea Belgrave both left the field on a stretcher.
It was Kenwyne Jones' maiden win as a head coach and his first word to describe their triumph was 'expensive'. Fair to say then that the mood in the women's camp is closer to professional satisfaction than elation.
Tomorrow, the Women Warriors travel to Guyana where they will play Dominica on Sunday before breaking camp. Their next outing is away to Turks and Caicos Islands on 9 April while they host Guyana on 12 April.

"I am very happy with the girls today," said Karyn. "[…] We bought into what the coach wanted and we got the victory and that's the most important thing."
Trinidad and Tobago are second in Group F on goal difference, after Guyana trounced Dominica 4-0 at home yesterday—despite being reduced to 10 players for much of their contest.
Only the group winner will advance to the July W Championship, which serves as the qualifying tournament for both the Australia/New Zealand 2023 Fifa Women's World Cup and the 2024 Paris Olympic Games.
Jones, a former England Premier League forward with Southampton and Stoke City, was not short on confidence in his troops.
"I wasn't too concerned about Nicaragua and what they could do; I focused mostly on what we could do—especially at home," said Jones. "Even when we go away, my concentration most times is to make sure we get better in every department: offensively, defensively and in transition. 
"I am not saying we didn't scout Nicaragua and we didn't prepare them for what they're supposed to be doing, but I don't think Nicaragua gave us too much trouble today."
In four warm-up games last year, Jones, a late stand-in for former head coach James Thomas, utilised a 3-4-1-2 formation with veteran Maylee Attin-Johnson as the midfield playmaker behind star forward Kennya 'Yaya' Cordner and the spritely Raenah Campbell.
Jones and Attin-Johnson have since opted to go their separate ways with Cordner choosing to follow the latter into the international wilderness, while Campbell missed today's qualifier after testing positive for Covid-19.
And, today, the Women Warriors lined up in a 4-2-3-1 formation with Karyn at centre forward for the first time in her national career.
"We are in the era of data analysis," said a smiling Jones, when asked about his tactical adjustments. "[…] From the time I came into the team, I and the assistant coaches thought it better to switch to something that most of the players are familiar with.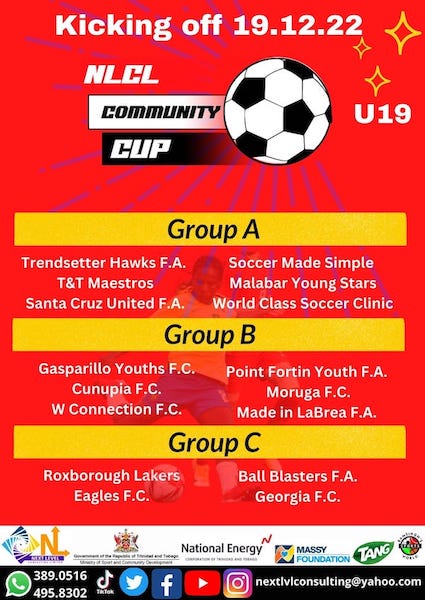 "We had a couple runs at it [and] it worked out for us today. As we go deeper into the competition and face other opposition, it will be good to have variations."
If Nicaragua coach Elna Dixon was blindsided by Trinidad and Tobago's adjustments, it soon became evident that the visitors had bigger problems.
Nicaragua could not compete with Trinidad and Tobago physically or athletically, while they lacked the technical ability to move the ball around quickly enough to trouble the hosts.
Nowhere was the mismatch more evident than on the Women Warriors' left flank. Johnson, a former SSFL MVP as an attacking left-winger, was converted to a left wing-back at Florida International University. And, for about 40 minutes, she seemed to play two positions at once—as she physically dominated Nicaragua right side midfielder Simri Villareyna and troubled opposing right-back Kesly Perez for pace.
Only, inexplicably, Mexican referee Lizzet Garcia seemed intent on tipping the scales the other way.
In the 15th minute, Villareyna miscontrolled the ball and Johnson brushed her aside to take possession. It was, arguably, a foul. But surely no more than that as the ball was there for the taking.
Garcia flashed the yellow card at Johnson.
Two minutes later, Trinidad and Tobago players were in raptures as James opened the scoring with a beautiful finish. Veteran defender Lauryn Hutchinson, used in a deep-lying midfield role, looked to be out of passing options and running into trouble when she neatly pirouetted and found James, bursting forward from midfield.
And James, promoted to the tip of the midfield triangle owing to Attin-Johnson's absence, skipped past two challenges before calmly finishing to the right of Nicaragua custodian Bethania Aburto.
In the 20th minute, Johnson bumped over Villareyna as she tried to win possession in a non-threatening area of the field. The referee waved her arms emphatically at the Trinidadian to signal 'no more'. She was not bluffing.
Three minutes before the interval, Nicaragua forward Yessenia Flores cheekily rolled the ball between Johnson's legs and the Warriors defender blocked her path. It was a foul.
Garcia showed Johnson a second yellow and the dreaded red card.
"Ref, I find yuh seeing in Spanish!" roared a male spectator.
Jones described the expulsion as 'a big loss' to the team as the winger is now suspended for their weekend match against Dominica.
"I am not going to comment too much on the circumstances of that [red card]," said Jones. "I don't think the game was balanced when it came to decisions and the issuance of cautions. What I am most happy about is the team itself was able to manage the situation, being one [player] down in the heat and facing an opponent like Nicaragua. 
"Yes, I'm pretty sure we have beaten Nicaragua in the past, but you can't take any team now for granted… We are way behind in terms of match preparation [as far as] the better teams in Concacaf go."
At the interval, Jones shuffled his pack as Hutchinson dropped into central defence, Belgrave moved to left-back and Forbes dropped into her usual midfield sentry role alongside debutante Amaya Ellis.
Trinidad and Tobago's 4-2-3-1 had become 4-2-1-2, with inverted wingers Cayla McFarlane and Maria-Frances Serrant asked to stay a bit higher up the pitch.
It was notable, though, that you could not tell the Women Warriors were a player short.
"I think it was pretty comfortable in the back," said Mexico-based central defender Victoria Swift. "It was more about us communicating and I think we did pretty well."
In the 63rd minute, the hosts doubled their advantage. Nicaragua failed to clear a James corner kick and Forbes took full advantage, stabbing home from close range after Belgrave and Cayla McFarlane efforts were both charged down.
But Trinidad and Tobago would, inadvertently, create their own problems.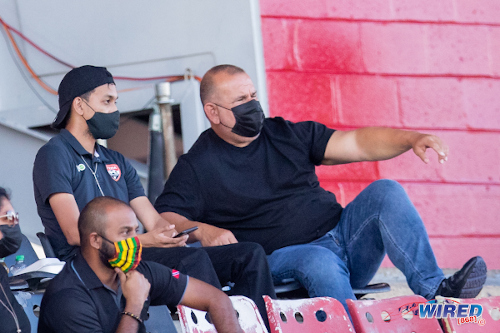 Kimika seemed to land awkwardly on her ankle after catching a cross and was eventually replaced by Tenesha Palmer. And Belgrave first went down for cramp in the 71st minute, before she eventually needed to be stretchered to the sideline in the 80th minute.
Farcically, it took Trinidad and Tobago's technical staff two minutes to get a substitute on. And, when they did, midfielder Shani Nakhid-Schuster replaced Serrant while, bizarrely, they continued with nine players for another minute before Abishai Guy finally took Belgrave's place.
Even then, Nicaragua did not really look like capitalising.
However, seconds before the fifth and final minute of stoppage time, Flores collected an appreciable memento of her visit to Port-of-Spain. With Trinidad and Tobago stretched defensively, the slippery forward collected on top of the opposing box and feinted right before gliding left to wrong-foot Liana Hinds and Hutchinson before flicking beyond Palmer for a consolation item.
It was a fine individual goal, albeit one that was scarcely deserved.
Jones, who made a fashion statement on the touchline by sporting a shirt from his tailor Damian Haynes—rather than the TTFA monogrammed polo—said it is not yet time to celebrate.
"[The] players are going to do part of their recovery and then we are going to leave here, go and eat, get back to the hotel, enjoy the three points for about 25 minutes, and then start to focus on Dominica," he said. "We did what we had to do today and the next step is to start to get ready and recover and travel tomorrow, God willing, to get ready for Guyana."
Karyn thanked the few hundred supporters who backed them from the stands and those who watched the Concacaf livestream from home. She compared their backroom issues over recent months with administrative issues in 2014—when the team famously travelled to the Concacaf Women's Championship with just US$500. 
"I know this team has been through a lot but I believe through adversity this is where […] we grow from strength to strength," said the T&T captain. "The mood has been positive… We have a lot of young players, we have something good going and we hope to continue that and make the country proud."
Next stop? Dominica in Leonora, Guyana.
(Teams)
Trinidad and Tobago (4-3-3-1): 1.Kimika Forbes (GK) (21.Tenesha Palmer [GK] 89); 7.Liana Hinds, 4.Rhea Belgrave (2.Abishai Guy 84), 8.Victoria Swift, 15.Kédie Johnson; 9.Amaya Ellis (12.Chelcy Ralph 67), 20.Lauryn Hutchinson; 16.Cayla McFarlane (13.Dennecia Prince 66), 10.Asha James, 18.Maria-Frances Serrant (3.Shani Nakhid-Schuster 83); 14.Karyn Forbes (captain).
Unused substitutes: 22.Klil Keshwar (GK), 5.Shaunalee Govia, 6.Kaydeen Jack, 17.Maya Matouk, 19.Meyah Romeo.
Coach: Kenwyne Jones
Nicaragua (4-1-2-3): 1.Bethania Aburto (GK); 3.Kesly Perez, 2.Martha Silva, 7.Yorcelly Humphreys (13.Jansy Aguirre 71), 5.Lisbeth Moreno; 4.Jaclyn Gilday (17.Josseling Berrios 81); 14.Dayana Calero, 10.Sheyla Flores (captain); 9.Simri Villareyna (6.Natalie Orellana 46), 11.Yessenia Flores, 16.Lilieth Rivera.
Unused substitutes: 12.Angela Gutierrez (GK), 8.Heyssel Martinez, 15.Reyna Hernandez.
Coach: Elna Dixon
Referee: Lizzet Garcia (Mexico)
Concacaf W Championship qualifiers
Group F
Guyana 4 (Shanice Alfred 17, Annalisa Vincent 26, Sydney Cummings 35, Britney Stoute OG 63), Dominica 0 on 16 February at Leonora;
Trinidad and Tobago 2 (Asha James 17, Karyn Forbes 64), Nicaragua 1 (Yessenia Flores 90+5) on 17 February at Port of Spain
Wired868 has provided readers with solid, independent journalism since 2012.  If you appreciate our work, please contribute to our efforts. 
Support Independent Journalism