In the period between Christmas 2020 and 2021, because of Covid-19, we have lost a staggering 2,456 persons. We have empty chairs and beds in many homes, which serve as a haunting reminder. 
How do we eat a Christmas Day meal without the presence and joy of a loved one? The loss has kicked away our props of life. Covid, the great inflicter of pain, robbed us of the ability to reach out and touch the loved one or get one last glimpse, scarred and left us feeling isolated.
We also have tremendous loss among those who still walk and talk with us: they eke out hollowed out existences. That longing was captured eloquently by Nap Hepburn in 1961. 
He sang, 'Listen, Mama, I want you to tell Santa Claus to bring a trumpet and a concertina for me / I am so lonely 'cause there's no children near by me/ Ma, you don't know how happy your son will be…' 
Sadly, this mournful tale is still the reality of many children. Not every home has food and toys in abundance. 
Others have sagged under the weight of loneliness brought on by the lockdown. Clinical psychologist Dr Peter Weller described the mental health issue among our young as a worsening one driven by uncertainty about the future. 
The pandemic has exacerbated the stresses of life (Guardian, October 2021). Our children, without school, have suffered greatly. Suggestive of Psalm 137, how can we sing songs while we weep at our fate?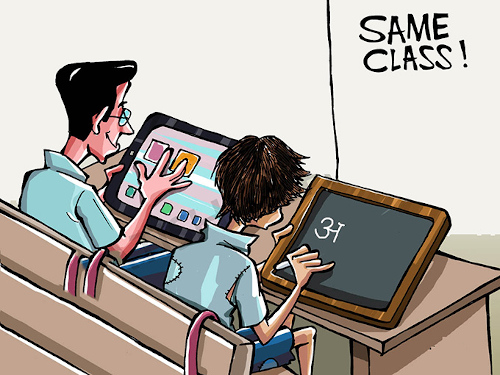 Yet this pain and loss are reflected in the Christmas story. Matthew 2:16 speaks to a devastating incident we call today the 'massacre of the Innocents'. It is a dark story of tragedy at the hands of a brutal and insecure man. 
Herod killed three of his sons and one of his wives, drowned the Chief Priest of the day, and murdered a few cousins and uncles. Brutality personified. 
Jesus, as a baby, was at his mercy. Herod had heard of his birth and wanted to rid his territory of all pretenders to his throne. He, therefore, ordered the deaths of all boys two years and younger in Bethlehem. 
Innocent lives were lost. But this was not surprising to God since He had foretold it in Jeremiah 31:15. God knows what is going to happen to us before it does.
This loss raises an important question: why does a merciful and kind God allow this evil to befall innocent persons? The Bible does not answer. This question is the mystery of grief. 
The same problem confronted Job (Job 10) when he sought answers about his plight. A glimpse of the answer may lie in the eventual fate of Job: God told his critics to apologise for their wrongful attacks on his integrity, and He rewarded Job with twice the blessings he had at the start of the journey. 
David, after his Bathsheba encounter, represents a different story.
Soren Kierkegaard, a Danish philosopher, suggests that a person can find great joy in life by courageously confronting suffering. His words resonate in our present circumstances: 
'Anyone who really knows mankind might say that there is not one single living human being who does not despair a little, who does not secretly harbour an unrest, an inner strife, a disharmony, an anxiety about an unknown something or a something he dare not even try to know, an anxiety about some possibility in existence or an anxiety about himself.' 
For him, courage was confronting our fears and losses. He argued that we put our present life into context only with a sense of eternity. 
We do not welcome pain, but it can be helpful. A needle in our arm may be necessary to ward off infection or prevent disease; we take the short-term apparent acute discomfort to enjoy a better future. 
Grieving may be the most challenging task we have on earth. It stalks us as we see others and causes us to ask, 'Why me? Why not them?'
We have to overcome two challenges: the pull of sadness that robs us of our present joy. The ache that sucks us in when we see the empty chair or bed. This past, which swallows up our present and future, must be resisted. 
The other challenge is the shadow of guilt that threatens to keep us in despair. It will not allow us to enjoy the thrill of any more Christmases. 
CS Lewis, in his book, A Grief Observed, said, 'There's no denying that in some sense I feel better, and with that comes at once a sort of shame and a feeling that one is under a sort of obligation to cherish and foment and prolong one's unhappiness.' 
Grief, which continually checks whether we are enjoying ourselves, should be put in its rightful place. 
We must accept that God is the God of the Ignored. The Christmas story includes Bethlehem (a tiny town, not Jerusalem), the shepherds (poor hirelings) were told but not Herod. 
The Magi were not Jewish, and Mary was a frightened young woman. He comes to us in our darkest moments and tells us not to be afraid but to hope. 
In describing the impact of Christ's mission, Micah 4:4 speaks to the ultimate in human flourishing: 'Everyone will sit under their own vine and under their own fig tree, and no one will make them afraid.'
This is the hope we should reach for in our darkest moment this Christmas.