When your World Cup ends prematurely, you're in more hell than Brown.
You looked at the West Indies line-up, boasting in excess of 1500 T20 matches, more than 20,000 thousand T20 runs and over a 1,000 T20 wickets.
"If deh beat we," you told yourself confidently, "deh eat we!"
So you made careful plans, completely cleared your 10, 11 and 14 November plate because those are the semi-final and final dates. You have already decided to metaphorically—perhaps even literally—turn your phones off.
You have repeatedly visualised yourself hunkered down in your sofa beside the loaded trolley in front of your 60" TV set, waiting for the permutations to play out and the knockout round to start.

And then, 55! Wtf!
Okay, you tell yourself, even defending champions can have a bad day. But two? Ha! No way!
Then Quinton de Kock seemingly disrespects Black people and gives Kieron Pollard's powerful sun-burnt Caribbean men all the incentive they need to trample Temba Bavuma's troops into the ground.
But the Proteas prevail. By eight wickets! Wtf!
Against minnows Bangladesh, Pollard's 'six-hitting' side stop the rot—albeit narrowly.
"We're kicking into high gear now," you reassure yourself, elated. "Sri Lanka? Suckeye! Six more sixes off six balls from Polly! Sure ting!"
Pollard makes a duck, Chris Gayle one and both DJ Bravo and Andre Russell 2. The so-called 'Fab Four' face a total of 13 balls and Wanindu Hasaranga and co. stop WI in their raise-our-run-rate tracks.
In the poet's words, all your carefully laid plans gang aft a-gley. Lying in ruins.
So, sick to the stomach, your focus shifts from sex—no more wtf!—and sixes. And you begin to contemplate not what will perhaps be but what once was …
Trying to ease the pain, your mind travels back to the good times, to what gave you the most pleasure.
And this is what comes out…
1950, Lord's: That first victory
Not quite three months old at the time, I have visualised and relived that moment vicariously very many times.
And like the bard, I consider (Sonny) Ramadhin and (Alf) Valentine to be 'two little friends of mine'.
In their youthful days, they must have been boy scouts, given the way they tied England up in knots in June 1950.
No fewer than 18 scalps between them. In one match!
The right-arm spinner from Trinidad with lots of trick balls up his rolled down sleeves claimed 5/66 in the first innings and 6/86 in the second. His left-arm Jamaican counterpart nabbed 4/48 in the first and 3/79 the second time around.
In the first innings, Prior Jones had 1/13 and Frank Worrell, who'd become captain less than ten years later, 1/39 in the second.
When his left-arm medium pace delivery cannoned into Johnny Wardle's pads with England still 327 runs shy of their target, it was all over.
Emancipation Day all over again.
All over Lord's.
All over the English-speaking Caribbean.
All over the diaspora…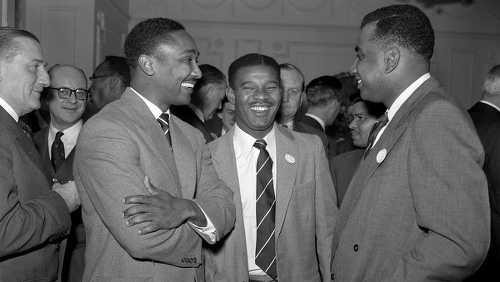 1960, Brisbane: The Tied Test:
"And, Wes, if you bowl a no-ball now, you'll never be able to go back to Barbados."
Good old Frank Worrell. Trust him to so put the fear of God into Wes Hall that, reports the 6'2" speedster, he put his back foot a good foot behind the popping crease as he delivered that last fateful ball to Ian Meckiff.
Go look at Ron Lovitt's famous picture again. See where Worrell is? What presence of mind!
Wonderfully wise, Worrell thinks of everything.
Whatever happens, they're going to run. Having thundered in at a rate of knots, Wes won't have any chance of getting back to the stumps. So what if a throw comes to the bowler's end?
But for the second time in two overs, Lil Joe Solomon swoops and snaffles the ball. From square-leg, with just one stump to aim at, he throws the stumps down at the striker's end.
Lil Joe was just too good. For Meckiff, for Australia…
…and for a 10-year-old cricket-crazy boy to ever forget him.
1958, Sabina Park, Jamaica: Garry Sobers' 365
In 1954, still just 17, Garfield St Aubrun Sobers, now Sir Garry, forced his way on to regional team as a useful left-arm orthodox spinner.
Twenty years later, he ended his international career as the best all-rounder the game had known—and the world record holder for the highest individual innings.
He had to wait until he was just over 21 to find his groove.
Like a bad politician, in the first four years after (s)election, he promised much but delivered little.
Between 1955 and February 1958, five half-centuries came; he never, however, once got as far as three figures.
That same February, he ended Day Two of the Third Test versus Pakistan on 20 not out. And Day Three, still unbeaten on 228.
When he tickled one of the Pakistani quicks down to deep-backward-square-leg and scampered a couple with Clyde Walcott, his immense promise was finally fulfilled.
365! Oh joy! Len Hutton's 20-year-old record was his.
And would remain his exclusive property for 36 years…until the eight-year-old boy who was beside himself with joy on that February morning was man enough to compose the headline that announced to the world the arrival of Sir Garry's 25-year-old successor.
1994, The ARG: Lara's 375:
'Triple Treat.'
On the morning of 18 April 1994, that very restrained headline adorns the back page of the Trinidad Guardian. It has been 36 years since Sobers has filled West Indian hearts to overflowing.
In the intervening period, we have had an embarrassment of cricketing riches with the runs often flowing like water: the mature Worrell still with us after the heyday of the 3 W's; Sobers and Rohan Kanhai; Clive Lloyd and Viv Richards and Kerry Packer's Caribbean Cavaliers; two World Cups and an agonising final defeat topped off by a loooooong stint of near invincibility at the top of the cricket world.
But through it all, Sobers' high-water mark has gone largely unchallenged.
Perhaps sensing the overkill that is certain to attend the achievement, the editor opts for something completely out of sync with the rapturous hailstorm of accolades unleashed by the tremendous, almost 13-hour, nearly three-day marathon.
By the end of Day One, the gifted left-hander, already dubbed the Prince of Port-of-Spain, is on 164. By the end of the second day, that number has grown to 320, 46 shy of Sobers.
This kid from Santa Cruz has always had big eyes. And appetite to match, where runs are concerned. Here at the Antigua Recreation Ground, he has been taking no chances; the ball has been staying on the carpet.
When he scaled cricket's Everest at Sabina, Sir Garry had had 28 fours and one six. Here, over 12 hours and 300-plus runs, there was not one six!
No. Fours will do fine. Why take the risk for just two extra runs?
After his first, epic 277 in Sydney just over a year ago, his coach warned him that his next innings would begin at zero. He has learnt that lesson well. He seems to have decided not to let this knock end.
And so it is that he drives Andrew Caddick handsomely through the covers for four. Level with Sobers.
Now, he finds himself up against Chris Lewis.
"I knew," the Prince would later tell a reporter, "that he was going to bowl a bouncer."
He is ready for it. So is the waiting world.
As the pulled ball speeds away to the fence at midwicket, a sizeable section of the crowd at the ARG races onto the field, submerging the new record-holder under a human tidal wave.
From it, he will emerge as the undisputed King of Batsmanship, Monarch of all he surveys…
…to bestride the West Indies and the cricketing world like a colossus for another decade and bring to each and every son and daughter so much joy …
…and heartbreak in perhaps equal measure…
Editor's Note: Click HERE to read Part Two of Earl Best's 2021 T20 World Cup post-mortem.