The Trinidad and Tobago Police Service (TTPS) has so far found no link between detonated firecrackers in a dustbin at the Parkade on the corner of Queen and Edward Streets in Port-of-Spain and an incident at the Office of the Attorney General on a hectic morning for law enforcement officers.
From last night, a WhatsApp voice note began to circulate which said the Besson Police Station was under attack and Port-of-Spain had been cut off. Even as the TTPS tried to assure the public that neither assertion was true, a bomb scare came from the Parkade with Attorney General Faris Al-Rawi claiming that there was shattered glass on the sixth floor of his building and a gunshot had been heard.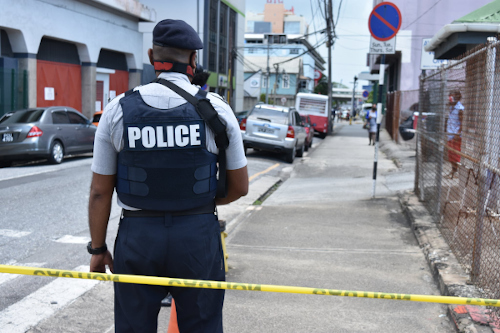 Employees were evacuated from the Office of the Attorney General and Legal Affairs, while traffic along Richmond and Queen Jenelle Commissiong Streets was diverted .
In the end, though, officers from the Special Branch and Central Police Station found only a damaged dustbin, evidence of 'modified firecrackers' and 'a crack in the glass' at the Office of the Attorney General.
"Reports from the investigative team revealed a device that appears to be some modified firecrackers," stated a TTPS release. "The only confirmed damage that occurred was to the dustbin, in which the device was placed.
"[…] Also, the report of a crack in the glass at the Attorney General's Building has not revealed any link to today's occurrences. Investigations are continuing into these occurrences."
The TTPS, headed at present by Deputy Commissioner of Police McDonald Jacob, stated that a 'manhunt' is on for the suspect in relation to the damaged dustbin.
The police also warned against sharing news from unverified sources.
"The TTPS would like to remind the public to always check the credibility of the sources of information before sharing," stated the TTPS. "Information of this nature can lead to undue panic in the community and throughout the wider population. 
"Remember to download the TTPS App and keep abreast of our social media pages to reduce the spread of misinformation."