Concacaf has mandated its disciplinary committee to investigate an incident between Surinamese club Inter Moengotapoe and Honduran outfit CD Olimpia on Tuesday evening, as a video appeared to show Moengotapoe owner, Ronnie Brunswijk, distributing money to Olimpia players and officials in their dressing room after the match.
Olimpia won the match 6-0.
"We are extremely concerned at the content of a video circulating on social media, which raises potential integrity issues surrounding the Concacaf League match between Inter Moengotapoe and CD Olimpia," stated a Concacaf press statement on Tuesday night. "The matter is being referred to the Concacaf Disciplinary Committee who will commence a formal investigation and a further update will be provided when that process has concluded."
Remarkably, the video of Brunswijk splashing out the cash was not even the most extraordinary thing to happen during the Concacaf League match at the Franklin Essed Stadion in Paramaribo.
And for Brunswijk, it was probably just another Tuesday.

Concacaf has indicted—and been run by—a colourful array of characters over the years, but its disciplinary committee has quite probably never met anyone quite like the 60-year-old Brunswijk before.
For starters, Brunswijk is the vice-president of Suriname. Not the football association; the country!
Second, he had already put himself in the record books that same day by starting the game at centre-forward, with the captain's armband to boot and alongside his 21-year-old son, Damian Brunswijk.
The elder Brunswijk wore the number 61 shirt to signify the year he was born. (Concacaf, incidentally, was formed six months after the Surinamese's birth.)
So Brunswijk, who played for 54 minutes, is now the oldest person to play in a Concacaf League match. Damian, who sported the number 10 shirt, lasted just 28 minutes before he was substituted—so not quite a chip off the old block.
Brunswijk would probably need Concacaf to turn its club competition into a two-month-long league format if the Suriname vice-president decided he didn't want his other offspring to feel jealous. He claims to have over 50 children!
Inter Moengotapoe is scheduled to play its return leg against Olimpia in Honduras on Tuesday 28 September but Brunswijk will not be there. Apart from being Suriname vice-president and Inter club owner, captain and centre-forward, he is also wanted by Interpol for cocaine trafficking.
Maybe we should have led with that.
In 1999, a Dutch court convicted Brunswijk in absentia of running a cocaine smuggling ring, with the French courts following suit a year later.
Brunswijk is accused of turning to drug trafficking to help finance a six-year civil war that he initiated against Suriname's military dictatorship. He denied the charge and insisted, according to a New York Times interview, that his wealth came from timber and gold-mining concessions he secured after the war.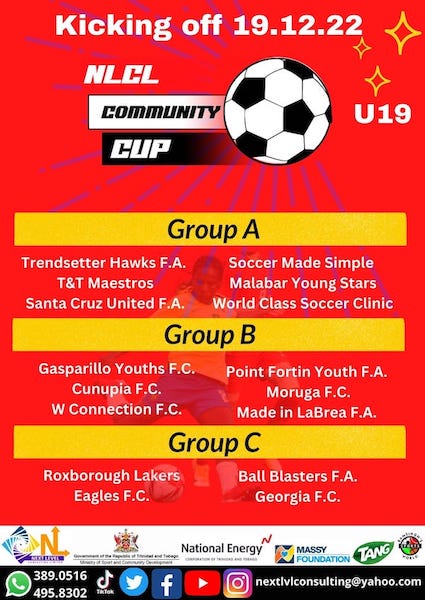 Interpol would like to have a word about that though and Brunswijk is not keen on that particular chat. So he leaves his country as frequently as Trinidad and Tobago's own 'international rogue', Jack Warner.
Add convicted drug trafficker, guerrilla leader, and gold and timber magnate to Brunswijk's swollen CV then.
"Everything I have, I give it to the people," Brunswijk told the NYT. "Ever since I was a child, I wanted to help others. I now have the chance to help the whole country."
As a young man, he supposedly robbed banks and shared the spoils with the marginalised Maroon minority that he hails from. Ever the innovator, Brunswijk was once filmed showering his supporters with money from a helicopter.
Brunswijk's detractors say his handouts keep his constituents dependent without offering a real path to self-improvement. However, his supporters describe the charity as a lifeline in a country without a proper social safety net.
Concacaf is unimpressed with his 'gifts' to the Olimpia players and officials. Good luck to Concacaf president Victor Montagliani in getting Brunswijk to follow any script he did not write himself.
Wired868 has provided readers with solid, independent journalism since 2012.  If you appreciate our work, please contribute to our efforts. 
Support Independent Journalism