Glory glory! It was a good weekend for Fantasy Football players who recognise a goal machine when they see one.
The Portuguese life-like 'Ken doll' returned to Old Trafford with a double in a 4-1 win that settled the debate as to what the Manchester United squad needs to win the England Premier League. 
They need to play Newcastle United every weekend. Duh!
Like a pickpocket in the mall on Christmas Eve, Cristiano Ronaldo was never going to return home empty handed and his two predatory finishes ensured that he ended joint top of the Fantasy Football chart with 13 points. 
For company, Ronaldo had Chelsea forward Romelu Lukaku—who looks as sure a thing as death and property tax—Lukaku's caddy, Mateo Kovacic, and Wolves left back Marçal.

Marçal, an obscure 32-year-old Brazilian defender, cashed in after contriving to prompt an own goal out of Watford FC defender Francisco Sierralta, who was only on the field due to successful late talks between his employers and the Chile FA—after he failed to show up for his country in the last international match window.
Who could have seen that coming right?
Well, Scott Rodriguez; that's who! The former Fatima College football standout—for whatever that's worth—selected Marçal and Ronaldo and captained Lukaku in his 'Azzurri' line-up, en route to a remarkable 101 points in the first match week of September.
Good grief. Maybe Colm Imbert should consult Rodriguez before he sets the figure for oil and gas revenue in the next Budget!
Rodriguez is tenth in the Wired868 Lime Kickers league, with 330 points, and could be one to watch if Marçal's Jedi mind-tricks on opposing defenders keep working.
At the top of the charts, the KFC bucket special-bound trio of Daniel Geelalsingh's 'Geeze and Ages', Andre Roberts' 'A Wick 5_Amco' and Nigel Seerattan's 'No Europe FC' were finally separated after a run of consecutive matching scores that might have had their madams more than a touch curious.
Geelalsingh was the only of the triumvirate with the foresight to captain Ronaldo and he managed 75 points, which took him to 348. It was just enough to hold off Marc Fermin's menacingly titled squad 'Watch Yuh Legs FC', which had not only Ronaldo and Lukaku but also Liverpool attacker Mo Salah and Everton winger Demarai Gray.
Seeratan and Roberts dropped to third and 12th respectively.
And Mr Live Wire? Well, 'Birdie Wick 868' captained Ronaldo too—naturally!—en route to a respectable 77 points and, cough, 98th place with a total of 296.
That should show CNC3 ace investigative journalist Mark Bassant who is boss! Bassant's 'Zero 2 Hero FC' captained West Ham forward Michail Antonio who chipped in minus two points, for a total game work score of 53. The 'Irons' were as cold as a dog's nose and, as a result, Bassant slipped to 102nd with 296 points.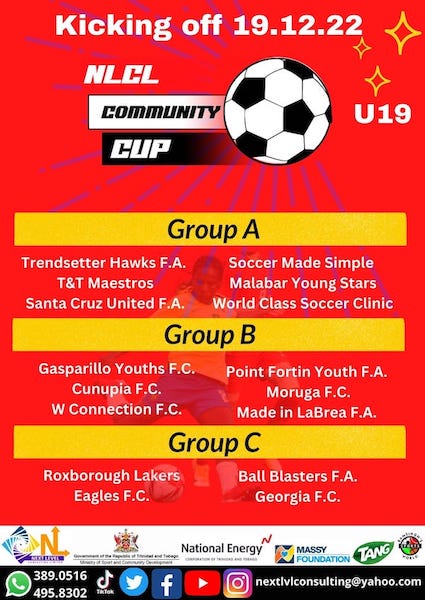 There was no stopping Brian Springer's 'Trini Tuchel FC' though as he soared to 19th place with 86 match day points, after also selecting Ronaldo, Lukaku and Marçal. Trini Tuchel captained Ronaldo too. No shame in these fellahs game nah.
Burdie and Barney podcast producer Corie Sheppard took his 'Winners' to 69th place with 69 match day points. What kinda voodoo is that? Winners have 303 total points.
And just as maddening, another Wired868 Volley group member, former Defence Force FC playmaker Ronald 'Bor Bor' Boyce, climbed to 91st after his 'Blues Fuh Life' snatched 80 points with Ronaldo wearing the armband. Steups.
Might Mr Live Wire offer a suggestion, Brian, Corie and Bor Bor? Pick Sierralta!
Week Four in numbers:
348 points (total score): Daniel Geelalsingh's 'Geeze and Ages'.
101 points (round score): Scott Rodriguez's 'Azzurri'.
Editor's Note: Click HERE to join the Wired868 Lime Kickers Fantasy League.