Unified Football Coaches of Trinidad and Tobago (UFCTT) interim president Jefferson George and former Trinidad and Tobago Football Association (TTFA) technical committee member Ken Elie both suggested that Angus Eve is the right coach to lead the Soca Warriors.
However, both expressed misgivings about the manner in which Eve was appointed by the Robert Hadad-led normalisation committee—which was created by Fifa president Gianni Infantino on 27 March 2020 to replace then TTFA president William Wallace and his board.
"We support Angus [Eve] and the decision is a logical one," George told Wired868, "but the process—well you can't even call it a process…"
In a press statement on Thursday evening, Hadad, the co-CEO of HadCo Limited, revealed that Eve was appointed to the dual roles of Men's National Senior Team and Under-20 Team head coach until 31 March 2023.
"Angus [Eve] knows the under-20 players and is extremely decorated in youth football from his time in the SSFL," stated Hadad, who has never held a managerial post within football prior to his Fifa appointment. "He has shown that he can relate to and get the best out of the young players. And though his time was short so far, he showed that with the Senior Team as well. So this was viewed as an ideal fit as we target development towards qualification for the 2026 World Cup.
"Angus earned an (sic) opportunity because of his desire to help Trinidad and Tobago football, his success in the last few outings and the potential that he has shown."
George was decidedly unimpressed and unconvinced by Hadad's statements.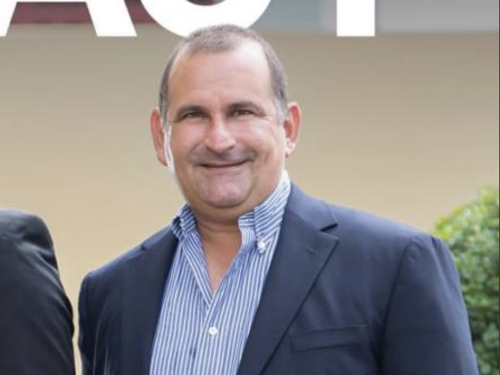 "This appointment deserves a full press conference from the normalisation committee and the meat on those bones should come from technical people," said George, a former national youth team goalkeeper and goalkeeper coach. "Hadad does not have the expertise to appoint a coach! If every decision from the normalisation committee is a problem and they are not seeking to address [these issues]—well that is not how an organisation is supposed to run.
"I spoke to several coaches and they are all pleased with the appointment and happy for Angus. But everyone has an issue with how it was done.
"It is unfortunate because this should be a real happy moment for local coaches. But [the way the appointment was done] takes away from the appointment of Angus and causes people to have questions when they shouldn't have any."
The normalisation committee, according to George, promised to make all coaching positions open for tender in a transparent manner—as was generally the case under previous administrations.
On 14 June 2021, normalisation committee member Nicholas Gomez told the media that applications for the full-time post of head coach will be invited in August, based on 'established criteria', and Eve 'will be free to apply for that position, as well as anybody domestically, regionally or internationally'.
Hadad was present at the June press briefing. However, neither Gomez nor Hadad subsequently lived up to their word.
Controversial former TTFA president David John-Williams made several appointments without a tendering process; but only for interim jobs. The normalisation committee, which also comprises vice-chair Judy Daniel and ordinary member Nigel Romano, now appears to be giving out full-time jobs in that manner, though.
Elie sounded a note of caution to Eve. Despite the length of contract awarded to the new coach, he is uncertain whether the Soca Warriors head coach truly has the support of the Hadad-led committee.
"I don't think the normalisation committee wanted Eve in the first place but he forced their hand and earned the position with his performances at the Gold Cup," Elie told Wired868. "Why else would they wait until after Eve's contract expired [on 31 August 2021] to appoint him—unless he wasn't their first choice?
"I have no doubt that they were reserving that post for some foreigner and he stopped them [by the national team's positive showings at the 2021 Concacaf Gold Cup]. Not that they care about what anyone thinks. But they would have known that there would be upheaval if they changed the coach now."
Trinidad and Tobago defeated Montserrat and French Guiana in the Gold Cup qualifying round before holding Mexico and Guatemala to draws with a solitary defeat against El Salvador.
Elie warned Eve to be as wary of Hadad and 'the media monsters that support him' as he might be of his perceived detractors.
"While we are saying there are no standing committees [operational], there are a group of people that the chairman speaks to," said Elie. "We hear [Richard] Chinapoo's name come up, [Anthony] Sherwood's name come up, [Anton] Corneal's name come up—but it is all behind the scenes. 
"Hadad cannot make those decisions because he doesn't know anything about football. What does he know about the technical side of football? What does he know about coaching?
"Eve could be easily undermined by these people who are operating in the shadows. The people that Eve has to fear most is the people who put him in that position—because he was their second choice."
The normalisation committee openly declared that former national players Richard Chinapoo and Anton Corneal and ex-World Youth Cup player Anthony Sherwood were all involved in the initial appointment of Eve as an interim coach. It is uncertain whether they were involved in the decision to hire him on a full-time basis. Sherwood denied any such suggestion.
Elie suggested parallels between Eve and West Indies cricket coach Phil Simmons and said both need patience and support. An investment in Eve and Simmons, he said, is akin to an investment in local coaches.
He also spoke positively of the involvement of former national players Reynold Carrington and Hutson Charles, who are also respected domestic coaches and assisted Eve at the Gold Cup.
However, Elie suggested that Eve missed a trick by not finding room on his staff for 2006 World Cup goalkeeper Kelvin Jack, who served as goalkeeper coach and assistant coach under Terry Fenwick. And he hopes that Jack was not blacklisted due to his row with Gary Griffith III, the son of acting Commissioner of Police Gary Griffith.
"Kelvin [Jack] has proven himself at every level as a player and is now a qualified coach who I think can bring the right personality to the team," said Elie. "Kelvin is someone who looks at the big picture in terms of the discipline of players and the cohesiveness of the team. That thing with Gary [Griffith III] where he walks out of a team exercise will not slip past a Kelvin Jack, because Kelvin didn't make the national team by being a likeable fellah. He made it by working hard and following the rules. 
"He saw first hand when [Russell] Latapy and [Dwight] Yorke were staying in Hilton when the team was elsewhere and how those sort of things mash up the team spirit. And Kelvin has been out there so long amongst professionals [in Britain] that he knows even more than Angus about the threshold of professionalism and he will stick to that.
"Those are the things I see Kelvin Jack coming back and bringing to the team."
George also expressed concern at Hadad's failure to appoint standing committees to guide the normalisation committee, as he is mandated to do under the constitution.
"Although I think Angus [Eve] is the right person for the job, my concern is still that people don't seem to know their role," said the UFCTT president. "Hadad is appointing coaches but he is not appointing committees, which is actually his remit. The coach is supposed to report to the technical committee and not to the head of the TTFA, which in this case is the normalisation committee chairman.
"My concern here is for Angus as well. When he has to submit a programme, who is he giving it to? Hadad?"
For Elie, the normalisation committee's failure to appoint standing committees reveals the character of its members—or lack of it.
"Hadad and them have no intention of taking on anybody," he said, "and they have no interest in bringing on anyone they have to listen to."
He questioned technical director Dion La Foucade's role in the current operations of local football.
"The technical director just goes along with whatever they say and never opposes anything," said Elie. "At least he should have the guts to raise an issue and let us hear his views on what is taking place. But the truth is La Foucade has absolutely no say. He is an ornament on the wall. 
"He is just there so we can't say that we have no technical director."
Wired868 has provided readers with solid, independent journalism since 2012.  If you appreciate our work, please contribute to our efforts. 
Support Independent Journalism