Let me say from the outset, like Michael Holding, I think the only thing missing from a T20 match is (in our case) a case or two of Carib and a pot of pelau, some bottle and spoon and a DJ, plus some 'winer gyul' (the IPL & the CPL already have them.) 
Nonetheless, its drawing power and hence its lucrative cash-pull through television marketing and so on have not escaped the attention of the International Cricket Council (ICC). Thus, we have an official ICC tournament for something that is really little more than a glorified fete match—well, a series of fete matches.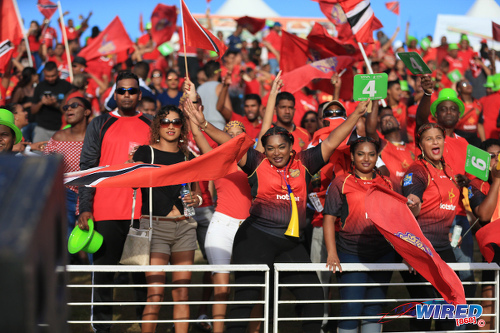 But if the ICC high priests could play….? 
Here, then, is my offering as regards the ideal WI squad for the World Cup coming up in October and November in the UAE and Oman.
My captain and vice-captain have selected themselves through their respective track records and recent performances. This is particularly true of vice-captain Nicholas Pooran after his outstanding performance as stand-in captain in place of the injured Kieron Pollard in the recently concluded T20 series against Australia.

The opening pair will be Evin Lewis and Lendl Simmons. I foresee no objections here. The reserve will be Andre Fletcher, who will not make the main squad of 15. I just was not impressed with what he has to offer. I would go so far as to say that, at this the highest level, he seems to be a bit out of his depth. 
The middle order will be selected from Pooran, Chris Gayle, Shimron Hetmyer and Jason Holder. 
I think I need to say something on the Gayle selection. Yes, he is on the wrong side of 40, but he still clears the boundary with ease and is feared by international opposition. Once he sticks to his tried and tested approach, he is an asset.
In addition, he can give us four tight overs. Never underestimate the value of that fact. There are only 20 overs to be bowled. We can hide him at short extra-cover, mid-wicket, slip or any of the saving-one positions. 
Of late, Hetmyer seems to be appreciating the importance of singles even in this party. Holder seems rejuvenated after a break from the game and his and Pooran's performances in this format both speak volumes for them. 
In this the game's shortest format, specialists are a luxury so the wicket-keeping duties will be shared between Pooran and Lendl Simmons. 
I have a category which I describe as 'all-rounders/finishers' and that is where I put Andre Russell, Fabian Allen and Dwayne Bravo. These three players can be shunted up and down the batting order as the situation demands. Allen will combine with Akeal Hosein and Hayden Walsh Jr to provide the spin, with support, when necessary, from Gayle. 
I thought long and hard about including Sunil Narine; in the end I could not convince myself that he is still as lethal as he once was. Nor could I tell if there is still the commitment to play for the WI. As a specialist off-spinner, the young and green Kevin Sinclair would have had to be as lethal as the Narine of yore to make the cut using purely the spin yardstick. 
I shall not use the term 'opening bowlers' since the nature of this format does not automatically give that role to fast bowlers. But for fast bowling, I go with Fidel Edwards, Alzarri Joseph, Obed McCoy and Holder, the all-rounder. 
What recommends McCoy over the others is first his left-handedness and then the fact that he is quite accurate and pacy and possesses a deceptive slower delivery, all requisite items for the party game. 
Joseph, a much improved cricketer in all departments, gets my nod here over Sheldon Cottrell and Oshane Thomas. Two reasons: a) his short professional stint in county cricket this year and b) his generally improved batting performances. 
Thomas as well as Cottrell, both specialists, tend to be too expensive—wides, no-balls—and thus give the opposition too many gifts. I place them among my reserves. 
At 38, Edwards is still surprisingly quick despite (certainly not because of) many years on the county circuit playing just this type of cricket, T20. In my squad, he is one of the specialists, of whom I have included few. He and McCoy excepted, everyone selected in this squad has the capacity to contribute materially with bat and ball. 
There is a very interesting issue with the batting line-up. All of Lewis, Gayle, Pooran and Hetmyer are left-handed. If we lose Simmons early, skipper Kieron Pollard will either have to reconsider his own position in the order or move the experienced DJ Bravo higher up. 
This is clearly something to which both he and coach Phil Simmons have to give some serious thought. Middle-order collapses have cost us dearly in the past. There has to be someone in the middle to shoulder the responsibility of guiding us through the slump if and when it occurs.
Of course, to my mind, the main factor is mental strength and, as a consequence, consistency. One thing I have noticed about the ICC World Cup T20 tournaments is that, as the tournament proceeds and approaches its culmination, matches begin more and more to resemble real cricket, proper cricket. 
If, therefore, we can get away in the early stages with the pelau and bottle and spoon variety, as the tournament proceeds, the pelau and beer will disappear and cricket will take over. 
We are defending champions. So, notwithstanding our current ranking, we need to beat people. 
So that when they ask the next destitute child, where you want to go?… 
West Indies starting XI: Lendl Simmons, Evin Lewis, Chris Gayle, Nicholas Pooran (vice–captain), Shimron Hetmyer, Kieron Pollard (captain), Dwayne Bravo, Fabian Allen, Obed McCoy, Hayden Walsh Jr, Fidel Edwards.
Squad #12-15: Akeal Hosein, Andre Russell, Jason Holder, Alzarri Joseph.
Reserves: Sheldon Cottrell, Andre Fletcher, Oshane Thomas.
Editor's Note: Warren Thompson cut his Test cricket teeth as a teenager on the Queen's Park Oval scoreboard and sharpened them during many, many hours in the old Concrete Stand.
Wired868 has provided readers with solid, independent journalism since 2012.  If you appreciate our work, please contribute to our efforts. 
Support Independent Journalism