The following article, written by Lasana Liburd, was first published in the Trinidad Express on Thursday 4 December 2003—just four months after Jason Scotland's arrival at Scotland Premier League (SPL) club, Dundee United, from Defence Force FC:
"Coaches [of the national team] used to watch me and turn their face," said Dundee United and Trinidad and Tobago striker Jason Scotland. "It was real frustrating for me because I was the [Pro League] top scorer for about three seasons and players who were not scoring as much for their clubs were ahead of me…
"But they can't turn their face now."
Chip on each shoulder and skilled with either foot, Scotland is ready to harness the talent that caught the eye while a Malick schoolboy and blossomed on the senior stage with CL Financial San Juan Jabloteh and, finally, Defence Force.
His list of accolades in the Trinidad and Tobago game comprise two Pro League top scorer titles and a Young Player of the Year award while he was an all-star at Secondary Schools Football League (SSFL) level.

Few at the Hasely Crawford Stadium on 29 January 2003 would forget Scotland's captivating performance in a 2-1 loss to Finland that threatened to overshadow the protest of 19 senior players, two days earlier, which almost derailed the international fixture.
Yet, Scotland was not assured of a starting place up until the infamous strike and was an unused substitute for coach Hannibal Najjar in the preceding Concacaf Gold Cup qualifiers. It was particularly galling considering that Najjar did not use the likes of Arnold Dwarika, Otis Seaton and Nigel Pierre in that stage of the series for various reasons.
Najjar was soon trumpeting Scotland's obvious skill; his burst of speed, powerful shots from either boot and ability to hold up the ball and take on players. Those were the traits that won him his first cap, almost three years earlier, under Ian Porterfield in a World Cup qualifier.
At 24, though, Scotland has just 12 caps—seven as a substitute—and three international goals.
And, while his compatriot Dwight Yorke joined Aston Villa as a national hero in 1989, Scotland slipped virtually unnoticed through customs this August to ply his trade in the Scottish Premier League.
He is adamant that he would not stay quiet for long.
"In Trinidad, everybody know about me and that I can score goals and whatever," said Scotland, "but here nobody knows about me. So I want them to know that I am around."
Not surprisingly, knowledgeable coaches in his homeland expect him to be a success in a league that should be as suitable to the attacker as his surname would suggest.
It has not quite worked out that way yet. There have been five SPL appearances and a few assists. And it was from the Tannadice Park stands that Scotland saw United edge Hearts 1-0 for their first home win of the season.
There were mixed emotions for the former soldier.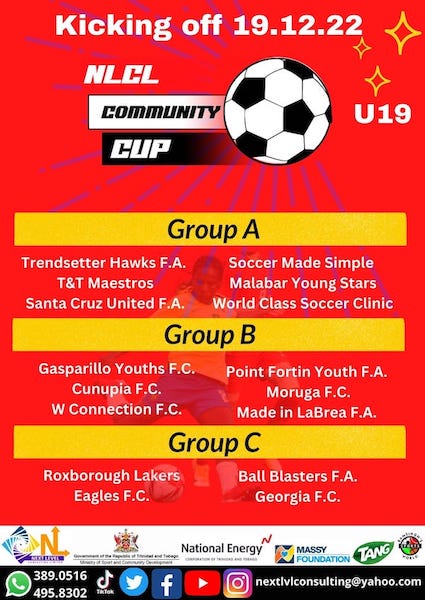 "I thought it would have been tough to get into the squad," he said, "but, once I got in, I thought I would have kept my place… I am not accustomed to sitting on the bench or in the stands.
"When I get back in the squad, I want to stay in it."
It has been a steep learning curve for the striker who, like most youngsters, may be guilty of knowing less than he thinks.
A young player committed to doing things his way.
He has already been lectured by his agent Mike Berry, who handles five other UK-based Soca Warriors including Dundee defender Brent Sancho, about the importance of collective defending in the British game.
"They reckoned that Liverpool's legendary striker Ian Rush was also their best defender," Berry explained, "because he tracked back so deep to pick up players…"
Scotland may take some convincing though.
"As a striker once you are scoring goals regularly, you are okay," he said. "So when you walk back it is not a problem because everyone knows what you can do when you do get the ball. Look at Ronaldo; he walks back.
"When you are not scoring, you have to work harder in other areas but a striker is paid to score goals; not run back."
Such cheek. But they are not empty words. Scotland has banged in goals at a notable rate wherever he has played.
Yet, he admitted that his personality—he confessed to not being the sharpest blade in training—has not always helped his relationships with coaches in his homeland.
Brazilian Rene Simoes never picked him; Stuart Charles-Fevrier used him for his African tour but has not played him since, despite a call-up against Morocco, and may still be undecided.
But Scotland is a player who usually picks himself eventually.
Defence Force coach and former national icon Hutson 'Barber' Charles, Scotland revealed, begged him to do more running off the ball but there was little chance of the army/coast guard unit sacrificing their most lethal attacker.
The goals flowed and Scotland remained adamant. Cocky but not stupid, though.
He has a message for Barber; he is running now.
"Up here, I make plenty runs in the channels because that is what football is here," he said. "It is much quicker than playing in Trinidad. At Dundee [United], they accustomed to a kind of running, long ball football rather than knocking the ball.
"Is so it is here so I just have to try to adopt to it because they not going to adjust to me."
A self-described slouch in training, Scotland voice took on an excited tone when he discussed his sessions at United.
"Everybody is just buzzing," he said. "Even I am buzzing. The sessions are really nice too. In Trinidad, you train for hours in the hot sun so it is hard to keep up your intensity.
"But here, you train for just an hour and a half so it is sharp and short."
He has a better appreciation of the relationship between player and manager as well.
"They treat you like a big man here," said Scotland. "I could go and talk to the manager after the game if I didn't play or whatever and he will explain things to me.
"In Trinidad, the manager would probably drop me for doing that."
Scotland has spent the past month playing with the reserve squad which, he insisted, was still a higher level than the Pro League.
After training, he would go the gym—another new practise for the striker—before joining his compatriot and roommate Collin Samuel to discuss football matters.
Samuel is in his second year in Britain after a promising rookie season with Division One team, Falkirk, and is ahead of Scotland in the pecking order. But he too is new to the area and trying to find his feet at this level.
Samuel was a substitute in their weekend win over Hearts but the countrymen have played together with the reserves.
Scotland believes that their relationship on and off the field has made a very good start and is sure to make an impression in the SPL.
His Trinidadian girlfriend, Nympha, has also helped him to settle in and she is expected to rejoin Scotland for the Christmas season. (The pair subsequent wed and divorced and Scotland has remarried.) Berry explained that it would all help his charge to get going.
The Englishman has been an agent for the past eight years and appreciates that there is a fine line between failure and success in exports, particularly from unheralded football nations.
"The most important attribute is ambition," said Berry. "If they are strong enough mentally to be successful in England and they have that ambition. If they have the skill and no ambition they are not going to make it."
He believes that Scotland is hungry enough.
Nothing in the interview with the young striker suggested differently.
No extra marks for humility perhaps; but then Scotland is aiming to be a top athlete not a reverend. And few can question his ability.
"I would say I hope to be back in the first team in the next two weeks," said Scotland. "I haven't scored yet for the first team so I want to get my first goal and just get a permanent spot and let people see what I can do.
"So long as I am scoring goals, I will be guaranteed a spot. I just need to get off the mark."
Trinidad, it seems, could not offer the necessary motivation for a player who excelled without having to try too hard.
He is looking forward to success at a higher level and is prepared to dig in to get it.
Dundee United are holding their breath.
(Epilogue)
Jason Scotland was denied a contract extension by the UK Home Office in July 2005, after Dundee United applied for a new work permit for the Trinidadian, who was immensely popular with their supporters.
The rejection did not break Scotland, who dropped into the Scottish Division One for the 2005/06 season at the invitation of St Johnstone manager Owen Coyle. It would be the re-making of the gifted attacker.
His career highlights since then were:
2005/06: Scotland First Division top scorer with 15 goals from 31 caps;
2006: Awarded Trinidad and Tobago's Chaconia Medal as a member of the historic 2006 World Cup team;
2006/07: Scotland First Division PFA Team of the Year;
2007/08: England League One top scorer with 24 goals from 45 caps and PFA Team of the Year after leading Swansea City to title;
2008: Trinidad and Tobago Football Federation (TTFF) Player of the Year;
2008/09: England Championship PFA Team of the Year;
2009/10: Made 31 England Premier League appearances for Wigan Athletic with one league goal—he also scored once in the FA Cup;
2013/14: Led Hamilton Academical to Scottish Championship title and promotion to Scotland Premier League;
2014/15: Made 24 Scotland Premier League appearances with five goals in his final top flight season at the age of 36;
2016: Retired with 132 league goals in Britain from 417 appearances.
2018/19: As head coach, he steered Hamilton Academical U-18s into the second knockout round of the Uefa Youth Champions League knockout stage, after eliminating FC Basel.
Editor's Note: Jason Scotland is a Uefa 'A' licensed football coach, with Belgium head coach Roberto Martinez listed among his more illustrious testimonials.
He represented Trinidad and Tobago in the 2002, 2006 and 2010 World Cup qualifying campaigns and ended his senior international career with returns of 38 appearances (21 starts and 17 substitute appearances) with eight goals.
Scotland played in one of Trinidad and Tobago's most competitive eras and competed for the centre-forward spot at international level with: Dwight Yorke, Stern John, Kenwyne Jones, Jerren Nixon, Cornell Glen, Arnold Dwarika, Nigel Pierre, Hector Sam, Gary Glasgow, Scott Sealy, Errol McFarlane Jr, Darryl Roberts, Joel Bailey, and Devorn Jorsling.