"The days for Caribbean teams getting walked over by Central American and North American teams are coming to an end," Dominica Men's National Senior Team head coach Rajesh Latchoo told Wired868. "Now the Caribbean nations are getting coaches from within the region who are finding the culture of the teams and applying it. They are not trying to play like someone else. 
"In four years, the Fifa ranking will be just a number."
Latchoo might be excused for feeling a bit feisty after pushing 2018 World Cup outfit, Panama, close in Dominica's last outing before an 85th item from Luis Fajardo ensured a 2-1 win for the Central America outfit. The narrow defeat against the group seeds followed on the heels of a 1-0 loss to the Dominican Republic.
There are 110 places between the two nations in Fifa's rankings—Dominica are 188th in the world and 28th from Concacaf's 35 full member nations—and the disparities do not end there. 
Panama, with a population of 4.25 million, has had a professional domestic league for over two decades; Dominica, which has 72,000 citizens on the island, has only amateur leagues and lacks even the facilities for night games or training.

"The lighting and the quality of the grounds in Dominica is a big challenge," said Latchoo. "[…] There are two grounds with lights but the quality of the lights is not what you would find at Eddie Hart and Constantine Park. Proper lighting would allow clubs to train more, which means that we can get more sessions in; and they are working on it.
"Our players finish work at 4pm and can start training by 5pm or 5.30pm, which means you can hardly train for more than an hour before the sun sets at around 6.30pm. And even then, it is very difficult to get a quality surface…"
In an effort to help the national team's preparation, the Dominican Football Association (DFA) negotiated a pilot scheme with the island's government and the private sector which saw players seconded from their jobs to the team—where possible, with pay—so as to allow daytime sessions.
Did it work?
"If you told me I would get those results before, I would have seen that as progress," said Latchoo. "[…] This is what we can do with just two months and three weeks of full-time preparation with a local squad. Imagine if we had a semi-professional league in Dominica and all our players were getting this kind of exposure?"
Still, Dominica are out of the Qatar 2022 World Cup qualifying series after just two games. They have no mathematical chance of topping Group D, even with wins from their remaining fixtures against Barbados and Anguilla.
And not everyone on the island is convinced that Latchoo deserves more time at the helm.
"Some people want me to resign because they feel I am getting paid and not getting results," said Latchoo. "The people who know football understand the progress of the team and what it means to be able to compete with teams like Panama. But I don't see the criticism as necessarily negative because belief has to be seen as positive.
"All I can do is try to make those expectations reality."
Latchoo's more heralded compatriot and Barbados Men's National Senior Team head coach Russell Latapy would sympathise. It was, arguably, a quirk of the draw that keeps the 'Bajan Tridents' alive while Dominica are eliminated.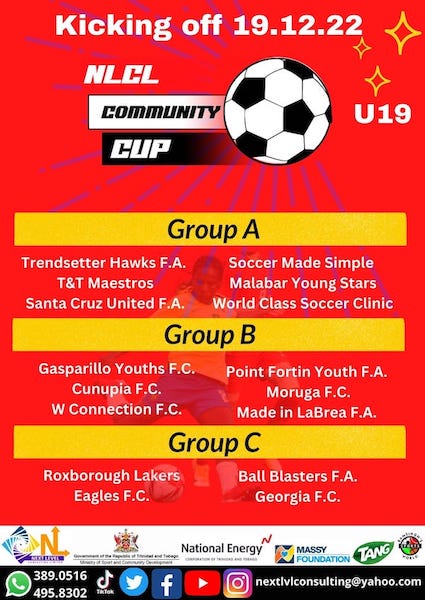 Barbados' first two qualifiers were against Panama and Anguilla; and the Tridents followed up a spiky 1-0 loss to Panama with a last gasp 1-0 win over Anguilla, who are coached by a third Trinidadian and Latapy's 2006 World Cup teammate Stern John. Midfielder Emile Saimovici got Barbados' winner in the 81st minute, with a header off a corner kick.
It is uncertain how Anguillians would define success under John. After 25 years as a Fifa member, they are yet to win a competitive match and are ranked 209th from the global governing body's 210 member associations.
"In reality, we were hoping to get a few more goals against Anguilla but they defended well," said Latapy, "and, as is well documented, we had very difficult circumstances coming in… 
"Over the last two months, we were not able to get on the training pitch because of the Covid situation in Barbados. We had just about two weeks to prepare in the Dominican Republic, which is not enough time for games at this level. So I think we have done reasonably well."
Barbados are not only alive in the World Cup qualifying series but they have a chance to sneak into the 2021 Concacaf Gold Cup too, through the playoffs in July. 
As reward for topping their group in the third tier of the Concacaf Nations League, Latapy's troops are pitted against the Bahamas on either 2 or 3 July with the winner set for an all-or-nothing showdown against either Haiti or St Vincent and the Grenadines.
"Barbados hasn't qualified for a major tournament, so every opportunity to advance to one is a big deal," said Latapy. "Realistically, one of my priorities here is to help improve some of these young men and maybe get a few of them to ply their trade outside—so they can then come back and help lift the level of football here. 
"On a coaching level, my ambition is to win as many football games as I can and help change how football is looked at here, as well as change the mentality of the players and make the game more professional. If I can do that, I think I will have helped to greatly improve the football on this island."
If Trinidad and Tobago Men's National Senior Team head coach Terry Fenwick is fighting for his reputation and the dreams of a generation of players, one suspects that Latchoo and Latapy have even more at stake.
In Dominica, the FA has hired full-time staff for the women's and youth teams for the first time while the involvement of the public and private sector followed heightened interest in the team.
The scheme that allowed players time off from their jobs to train with the national team has excited the island's small football community and Latchoo believes the standard of the domestic game lifted this year, with more young men hoping to impress and swap work for football.
He is anxious that their short-lived 2022 World Cup qualifying campaign delivers enough encouragement for such initiatives to stay in place.
"Once we can continue at that level [of preparation], the players can become more competitive," said Latchoo. "The players who are not in the team will see there is something in football and there is a reason for them to become a footballer. We also want parents to want their children to play sport. 
"[…] We want sport to become more recognised in the country. But it is only when the results come that people will pay attention to it."
Barbados, ranked 26 places higher than Dominica at 162 and with a population of 287,000, also has an amateur domestic league and, as he sets sessions, Latapy must bear in mind that some players are coming off an eight hour shift of manual labour.
(Jamaica, Suriname, Trinidad and Tobago and the Dominican Republic are the only professional domestic leagues in the Caribbean—albeit nominally in some cases.)
"If they can get more support in terms of funding and so on, it will make it a lot easier for them to follow their dreams," said Latapy.
A former European top-flight midfield playmaker with Porto, Glasgow Rangers and Hibernian, the Barbados job afforded Latapy a second chance at senior international coaching. 
In 2009, the 'Little Magician' made a decent start to life on the bench with the Soca Warriors in 2009, as they edged El Salvador 1-0, managed an historic equaliser at Mexico's Azteca Stadium before succumbing to a 2-1 loss, and twice led 'El Tricolor' in Port of Spain in a 2-2 tie.
However, Latapy's early promise was largely forgotten a year later when Trinidad and Tobago failed to advance from the 2010 Caribbean Cup group stage after defeats to Cuba and Grenada.
At 52, Latapy said he is still learning and improving as a coach.
"The biggest challenge is knowing how to manage situations with 20 to 25 different personalities who you need to get to maintain focus," he said. "But the more you coach, the more you learn. The better you can understand your players, then you can get the best out of them. 
"[…] Without doubt, experience is the best teacher, and you eventually become better equipped in terms of knowing what to look for and what you need to be successful."
Latapy said his Tridents are still developing their identity but believes they will blossom into a potent, ball-playing side.
"Against Panama, it wasn't going to be that type of game [where we could keep the ball] but we showed the level of competitiveness we need at this level," he said. "Against Anguilla we had a lot more of the ball, which is what we are trying to develop, but in the wrong parts of the pitch that were not hurting them… Stern put out a very organised team and made it really, really difficult for us to create clear-cut chances. So it was a fantastic game for them. 
"We need time on the training pitch to correct some aspects, as two weeks' training was not enough. But again I am happy with what I got from the players in terms of their effort and commitment and being brave in trying to play."
Barbados' decisive goal was fashioned from their diaspora. Saimovici, who was born in Bridgetown but grew up in Canada, headed home off a cross from Netherlands-born Ryan Trotman.
"Emile [Saimovici] is an intelligent football player who is very technical," said Latapy. "The players we had before are more explosive players who want to play behind [the opposing defence]. But with international football, you don't always get room to run behind and you need technical players who can get on the ball and play. He falls into that category."
Barbados were unable to get Swindon Town attacker Hallam Hope and Maccabi Tel Aviv forward Nick Blackman for the opening two group matches. But Latapy expects the pair to report for duty in June, when they face the Dominican Republic and Dominica.
Latapy believes the increased competitiveness of the Barbados set-up will assist the development of home-grown talent like 19-year-old attacker Niall Reid-Stephen, who has just accepted a soccer scholarship with Chicago State University. The school described its new acquisition as 'a prodigy'.
"Niall is six foot, he has got pace, a superb left foot and is hungry and wants to learn," said Latapy. "He was in the national setup before I came, as a 17-year-old, and I've continued to work with him. He is exceptional in understanding the way we want to play and I think the kid can play in various positions, because of his range of passes, his work-rate and his finishing."
In Dominica, 18-year-old forward Audel Laville has also given his island grounds for optimism. Laville scored a superb leveller against Panama on 28 March, and he was just 17 when he announced himself on the international stage with a winner against St Vincent and the Grenadines in the Nations League.
Dominica has no active domestic youth league and only a handful of academies, according to Latchoo, so it is not easy to develop talent there. 
Combative 26-year-old midfielder Briel Thomas and veteran forward Julian Wade, who both played professionally in Trinidad, are further signs of what the island can produce.
Latchoo, who steered the Trinidad and Tobago Girls Under-15 Team to third place at the 2014 Concacaf Championship and also coached at Joe Public, Morvant Caledonia United and Barrackpore United, hopes to keep the momentum going in Dominica—so as to create a pathway for a generation of Lavilles.
On 8 June, though, Latapy and Latchoo will cross swords, with each potentially fighting for the fate of his own football programme.
"When I saw Dominica against Panama, I thought they gave a fantastic performance and got a cracking goal at a good time," said Latapy. "It was unfortunate they couldn't hold on. They are a strong, physical and competitive team, and we know that we will be in a game again. 
"For me, it would be interesting and fun to go up against another coach from Trinidad and I look forward to that."
Latchoo was complimentary too about the work done by John and Latapy.
"Anguilla were very organised defensively and when they won the ball they were able to string passes together," said Latchoo. "They kept Barbados in front of them and prevented penetration down the flanks—you can see the change Stern has brought to the team.
"You can also see the 'Little Magician's' work with Barbados. They had a more disciplined approach with the ball; they are trying to keep it and play football…"
A little bit of belief, said Latchoo, would go a long way in propelling their respective programmes. It is important that Caribbean FAs see the importance of continual development, rather than something that stops and restarts every three or four years.
At present, Concacaf's top nation, Mexico, are 11th in the Fifa rankings with 1,629 points. Trinidad and Tobago, ranked 103rd, have 1,201 points while Barbados and Dominica have 1,010 and 904 points respectively.
By Latchoo's calculation, Dominica would need to win international games for four years straight to catch Mexico, providing that the North American nation took a hiatus.
"The truth is the Fifa ranking at this stage reflects who has more money to spend on international practice games more than it does the standard of the various nations," he said.
Where Latchoo feels Caribbean teams can emulate Mexico is by valuing long-term planning and investment and playing to their inherent strengths on the field rather than trying to copy someone else.
Dominica, he said, have already started.
"Panama know anytime they come back to the Caribbean, they are getting a fight," said Latchoo. "We will give them a run for their money."
Editor's Note: The Trinidad and Tobago Men's National Senior Team technical staff declined comment on their own campaign while Wired868 could not reach Anguilla coach Stern John.
Jamaal Shabazz's own adventure came to a premature end after St Lucia FA president Lyndon Cooper controversially withdrew his nation from the qualifying series.