The following is the third instalment of a series on Trinidad and Tobago's World Cup football adventures, adapted from articles published first in the Trinidad Express in 2006, and looks back at the controversial 1974 World Cup campaign:
Port-au-Prince was as silent as a grave on 4 December 1973. On that afternoon, at the Sylvio Cator Stadium, fair play died and nearly two dozen Trinidad and Tobago footballers grieved its passing.
Haiti had just defeated Trinidad and Tobago 2-1 in a World Cup qualifying group match but even the home fans did not celebrate the final shrill of the whistle. The awkward silence was broken by the tears of star striker and policeman, Steve David, and some of his colleagues.
The visitors banded together and headed off the ground in silence. They ignored requests for interviews from the Mexican media and refused to shake hands with their Haitian opponents.
For the first time, Trinidad and Tobago had progressed to the final World Cup qualifying phase of the Concacaf zone but were on the verge of being eliminated in the most unjust manner. On five occasions, the twin island nation got the ball in the back of the Haitian net—but each effort was mysteriously overruled by the match officials, save for one David item.

No one left the hotel that night as each player kept his own counsel. The feeling of injustice was everywhere in the Trinidad and Tobago camp.
"This is madness," said gifted midfielder Everald 'Gally' Cummings to no-one in particular.
The Trinidad and Tobago team of 1973, since nicknamed the 'Classic Team', possessed arguably the most lethal offensive line-up in the history of local football with the likes of David, Cummings and Warren Archibald. But it was the personality and camaraderie within the camp that helped ignite the group, after two short lived qualifying series in the 1966 and 1970 tournaments.
In 1966, Trinidad and Tobago sparkled but were naïve to the nuances of international competition. Four years later, the Trinidad and Tobago Football Association (TTFA) unearthed a gifted core of players from its schoolboy leagues, but they were still diamonds in the rough.
As the 1974 tournament drew close, the boys had become men and were not going to be pushed around by more established football nations anymore. The first manifestations of their spunk, though, came within the umbrella of the FA and the repercussions were nearly catastrophic.
In 1969, a Trinidad and Tobago contingent traveled to Paramaribo, Suriname with high hopes for the bi-annual Caribbean Football Union (CFU) tournament only to become embroiled in a class war between players and administrators.
At the eye of the storm was diminutive attacker, Cummings, who went on to become one of local football's biggest names over three generations.
Born on 28 August 1948, Cummings grew up on Dundonald Street, Port of Spain where parents regularly ordered their children to go play in the Queen's Park Savannah for rare minutes of silence at home.
At the nearby British consulate, local children were allowed to visit on designated days to see video footage of football stars like England's Stanley Matthews while one could also glimpse a young Pelé and Eusebio during international competition.
Cummings' elder brothers, Philbert and Ellis, were already well known for their football skills in the community and he was anxious to carry on the legacy. At 15 years old, Gally won his first national cap and, two years later, North American Soccer League (NASL) club, Atlanta Chiefs, signed him as a professional player.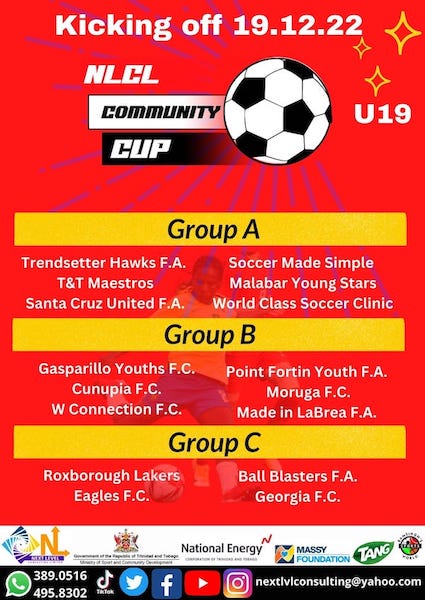 On the football field, Cummings impressed with a powerful shot and clever movement with and without the ball. But he had become a handful to local administrators off the field as well, as he sought to inject his knowledge of professionalism into all corners of the national set up.
In Suriname, the players stayed at a hotel with infrequent water supply and no air-condition or elevator while TTFA administrators led by president Phil Douglin enjoyed more comfortable surroundings.
The final straw came when Cummings had to climb three flights of stairs with a bucket of water so his roommate, Wilfred 'Bound to score' Cave could finish his bath. The next day, after another serving of tripe for lunch, he called a meeting in his room.
"We eating here like we in the orphan home when those fellahs have menu cards," Gally told his teammates. "If these administrators eating t-bone, we should be eating fillet mignon, because we are the ones bringing in the money and we are the ones who need the energy!"
Faced by a possible player revolt, Douglin called in ex-TTFA president and Concacaf representative Eric James who quickly ordered Cummings, Kenny Joseph, Gwenwyn Cust, Cave and trainer Trevor Smith to take the next flight home. 
The TTFA did not carry out its threat, which would have forced the team to forfeit its remaining fixtures and face international sanction, but the entire squad was banned from football at the end of the tournament.
As a sign of protest, Smith burnt his football boots near Roxy Cinema and vowed that he was finished with the local game. 'Burnt Boots' became a biting columnist and once wrote that he would shoot his dog if it bit Eric James.
Cummings threatened legal action and the TTFA rescinded the ban but he was not called back for international duty until 1971 when his success in the NASL and the pleadings of coaches Ken Henry and Edgar Vidale prompted his reinstatement under new president Ken Galt.
The tumultuous period left casualties, though. United States-based midfielder Leroy De Leon, Trinidad 's best player at the last World Cup campaign, refused to participate in the 1974 series after a row with the TTFA over match fees.
There were no overseas players when Trinidad and Tobago played its first qualifier at home to Antigua and Barbuda on 10 November 1972. But there was still plenty for local fans to get excited about with hattricks from 21-year-old striker, David, and his strike partner Sammy Llewellyn. 
The pair bagged one apiece in the return fixture at St John's too, which ended in a 2-0 win for the visitors.
Suriname were T&T's next opponent. In the 1970 series, the TTFA controversially waived its right to play any qualifying match at home. Four years later, Suriname similarly conceded hosting rights and lost 3-2 on goal aggregate to T&T who, for the first time, progressed to the last qualifying round.
The professional players, De Leon apart, were recalled for the final push. Reluctantly, Cummings agreed to give up his role as a forward to take over De Leon's playmaking duties.
The technical staff also had a new face as Englishman Kevin Verity, a school coach who played briefly for Halifax Town, was hired to take Trinidad and Tobago to the World Cup. It was his only known gig as a top flight coach.
Verity watched David play in a North versus South fixture and immediately fell for the front runner.
Tall, fast and skilful with a good shot off either boot, David became the fulcrum of Verity's attacking philosophy, which hinged on depositing the ball into the channels—the space between the opposing central defender and full back—as quickly as possible.
Cummings was the conductor with two hardworking central midfielders for cover while Warren Archibald and either Ray Roberts or Leo 'Twinkle Toes' Brewster were to create space for David around the opposing penalty area.
David and Cummings, who quickly excelled in his new role, struck up an extraordinary relationship on the field.
"I only have to look at Gally," David told his teammates, "and he knows where I want [the ball], when I want it and how I want it."
Haiti was the host for the final group stage between six competing nations. Only the winner would go on to the 1974 World Cup finals in Germany.
Trinidad and Tobago were in perfect physical shape but with eight changes to their line-up from the preliminary round—partly because the likes of Llewelyn and midfielder Leroy Spann refused to stop representing their clubs and dedicate themselves solely to a six month tournament preparation regime—the squad failed to gel in time for its first outing against Honduras. 
The Central American team won 2-1 despite a goal from David, which was his sixth from five qualifiers thus far.
The hosts were next but Trinidad and Tobago dominated the contest and pummelled the Haitian defence with crosses and long throws from left back Winston Phillips.
Five times, Trinidad and Tobago players celebrated a 'goal' and retreated to their own half, only to be stunned by a late whistle indicating an unseen infraction.
"It was as though we were in a trance," said David. "We felt we could score at will so we just did not argue; we just continued playing every time they disallowed one of our goals.
"We were so sure that we could not lose to Haiti."
In the 88th minute, Roger St Vil scored against the run of play to the delight of infamous Haiti president Jean-Claude 'Baby Doc' Duvalier.
After the defeat, the players waited for news of an official protest from the TTFA. The late Oliver Camps, who went on to be the island's longest serving football president, was team manager at the time while Jack Warner was TTFA general secretary and Concacaf official and ex-TTFA president Eric James worked for the Haitian consulate in Trinidad.
None, according to Cummings, expressed their disapproval in writing to Concacaf.
Instead, Mexico later protested the result which, they argued, affected the validity of the entire tournament. The El Salvadorian referee was subsequently banned indefinitely by Fifa, but the world body ruled that the 48-hour deadline for a protest had passed and the result stood.
(Mexico beat Haiti 1-0 in the final game of the tournament to finish two points behind the Haitians, while they trailed Trinidad and Tobago on goal difference. Had Fifa overturned Haiti's controversial win over T&T, Mexico would have had a mathematical chance to top the group if they won their final fixture by four goals or more. Any other result in that scenario would have seen the twin island republic advance to the World Cup.)
"Nobody else will beat us in this tournament," Cummings told his teammates. "Nobody!"
Trinidad and Tobago played Guatemala, eight days later, and another David goal settled the affair: 1-0. On 14 December, it was the turn of the formidable Mexicans.
Verity took his troops to watch Mexico train and David was rattled.
"Damn, look at them," David whispered to Archibald.
Archibald, a sublime left footed attacker, chastised his younger teammate.
"Listen, they are the same flesh and blood as you," said Archibald. "If I get down the line and cut it back, can you put it in the goal?"
"Sure," said David, who felt his confidence returning.
"Well then," responded Archibald, "that is all you have to do."
Trinidad and Tobago did the job with aplomb as they won 4-0—easily the country's most comfortable win against 'El Tricolor'. Cummings scored twice while David and Archibald chipped in one goal apiece.
Verity's tactics on the day were spot on as he omitted Roberts and introduced Steve Khan to man mark Mexico's playmaker while Archibald was used alongside David in a two-man forward line. Trinidad and Tobago soaked up pressure with goalkeeper Kelvin Barclay forced into some tremendous saves but Mexico had no answer for its opponent's rapid and clinical counter-attacks.
Cummings was sensational on the day, as he opened the score summary with a firm drive from inside the box before notching his second with a powerful free kick that took a cruel deflection off the wall.
It was Mexico's only loss of the tournament and, ironically, sealed Haiti's place atop the group. Verity returned to England before the final fixture, which Trinidad and Tobago won 4-0 against the Netherland Antilles with a David hattrick.
Once more, Trinidad and Tobago's individual skill caught the eye of Concacaf's judges as Cummings was named the confederation's best player.
As a parting gift, Verity arranged a trial for David in the English First Division and he was offered a contract Leicester City. He turned them down for a brief stint with then Mexico top flight club, San Luis FC, before he joined Archibald and Selris Figaro at Miami Toros.
But the memory of Haiti would haunt the 'Classic Team' for years to come.
Still, Trinidad and Tobago had finally announced their presence to their North and Central American neighbours while the dubious defeat to Haiti meant worldwide recognition and sympathy.
Perhaps they would go one step further in 1978.
(1974 World Cup qualifiers)
 (Preliminary Round)
(10 November 1972)
T&T 11 (Sammy Llewellyn (3), Steve David (3), Leroy Spann (2), Raymond Roberts (2), Leo Brewster), Antigua & Barbuda 1 at King George V Park, Port of Spain, 6,510 (attendance)
(19 November 1972)
Antigua & Barbuda 1, T&T 2 (Sammy Llewellyn, Steve David) at St John's Recreation Ground, 2,750
(28 November 1972)
T&T 2 (Leo Brewster, Raymond Roberts), Surinam 1 at Queen's Park Oval, Port of Spain, 7,964
(30 November 1972)
T&T 1 (Steve David), Surinam 1 at Skinner Park, San Fernando, 9,276
(Final Round)
(29 November 1973)
Honduras 2, T&T 1 (Steve David) at Stade Sylvio Cator, Port-au-Prince, 12,816
(4 December 1973)
Haiti 2, T&T 1 (Steve David) at Stade Sylvio Cator, Port-au-Prince, 12,816
(10 December 1973)
T&T 1 (Steve David), Guatemala 0 at Stade Sylvio Cator, Port-au-Prince, 15,361
(14 December 1973)
T&T 4 (Everald Cummings (2), Steve David, Warren Archibald), Mexico 0 at Stade Sylvio Cator, Port-au-Prince, 15,361
(17 December 1973)
T&T 4 (Steve David (3), Siegfried Brunken Own Goal), Netherlands Antilles at Stade Sylvio Cator, Port-au-Prince, 17,358
For your information:
Trinidad and Tobago used a 4-3-3 formation for the final qualifying phase although it was altered to a 4-1-3-2 for a crucial fixture with Mexico.
Coach Kevin Verity began the final round with Kelvin Barclay in goal guarded by four central defenders, due to a dearth of quality full backs at the time. Lawrence Rondon and Winston Phillips played at right and left back respectively with Selris Figaro and Russell Tesheira in the middle.
In midfield, Everald 'Gally' Cummings had playmaking responsibility with Dennis Morgan and either Leon Carpette or Anthony Douglas providing muscle in the centre of the park while Steve David started at centre forward with Warren Archibald to his left and either free kick specialist Ray Roberts or Leo Brewster tucking in alongside him to his right.
Steve David's haul of 12 qualifying goals set a new national record which stood for 32 years until Stern John matched him in Trinidad and Tobago's successful 2006 World Cup campaign. David managed 12 goals from 9 fixtures while it took John 18 games to pull level.
Gally Cummings was the second Trinidad and Tobago player to be named MVP in a Concacaf series, after Leroy De Leon in 1970.