Trinidad and Tobago Men's National Senior Team head coach Terry Fenwick gave his press officer, Shaun Fuentes, a hug in the Piarco International Airport Departure Lounge this morning, as the Soca Warriors headed off to Santo Domingo and their opening Qatar 2022 World Cup qualifier against Guyana.
At a glance, Fenwick seemed to enjoy the moment more than Fuentes. Perhaps not unsurprisingly.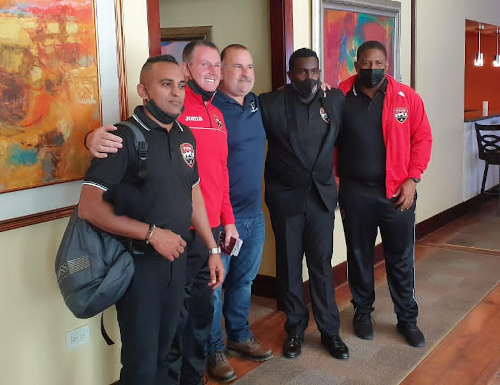 On Wednesday morning, the English coach allegedly head-butted Fuentes before a press briefing for not culling the list of media invitees to his liking—Fenwick apparently felt Wired868 should not have been present.
The incident did not stop the briefing from taking place and, by afternoon, Fuentes issued a release which said the alleged altercation was 'blown out of proportion' and that: 'apologies were exchanged and Fenwick and Fuentes have since agreed to put the incident behind them'.
The statement did not explicitly deny that Fenwick physically struck the Trinidad and Tobago Football Association (TTFA) employee, nor did it explain what Fuentes had to apologise about.

Fenwick, who earns US$20,000 a month and is due for a pay raise in July should the team qualify for the 2021 Concacaf Gold Cup group stage, arguably had a lot to be relieved about.
Article 30 of the Offence Against The Person (Amendment) Act 2000 states: 'any person who is convicted upon an indictment for a common assault is liable to a fine of four thousand dollars and to imprisonment for two years'.
And while jail time might be considered a stretch by Trinidad and Tobago's general lenient standards where violence is concerned, there were other ramifications if Fuentes pressed charges or Hadad took the issue more seriously.
Fenwick's controversial contract—agreed to by then president William Wallace but unseen by the Trinidad and Tobago Football Association (TTFA) Board of Directors—does contain disciplinary clauses.
Article 18.2 states: 'Where the coach is accused of criminal activity for an offence which carries a term of imprisonment of more than 12 months, and/or accused of any conduct which may bring the association into disrepute […], or such conduct as the association may in its absolute discretion declare to be disgraceful, the coach shall be immediately suspended to allow for the dispute resolution process as is hereinafter set out to take effect.'
And Article 18.3 states: 'Where the dispute resolution process confirms disgraceful conduct, the general secretary, in consultation with the president and board of directors, may in its absolute discretion terminate this agreement for cause.'
The TTFA revealed that the parties decided to live and let live, after a meeting that included team manager Adrian Romain and Fifa-appointed normalisation committee chairman Robert Hadad. Commissioner of Police Gary Griffith and TTFA interim general secretary Amiel Mohammed also attended.
Hadad, who has not held a press conference in 11 months as chairman, gave no details about the meeting or the process used to decide that Fenwick had nothing to answer for.
Was it a unilateral decision or were normalisation committee members Judy Daniel and Nigel Romano included? Was any HR advice sought—and, if so, what was the advice and who provided it?
Who decided upon the composition of the meeting?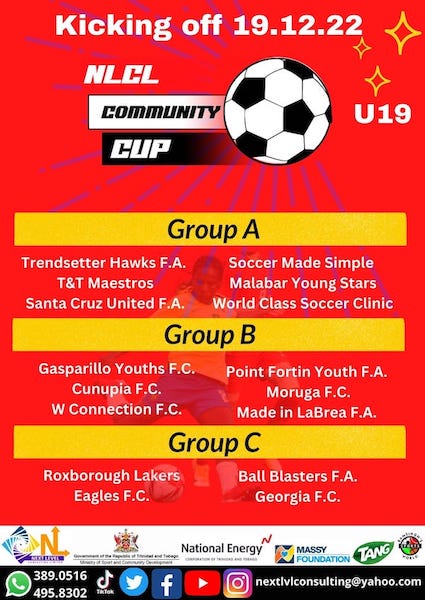 Romain was appointed by Fenwick, Griffith employs Fenwick at his annual Commissioner's Cup tournament, and Mohammed is Hadad's employee. Who exactly represented Fuentes' interests at the meeting?
And, since the TTFA did not deny that the head-butt took place, is it that Hadad does not believe physical assault at the workplace is a big deal?
The cost of Fenwick's contract for the remainder of 2021, incidentally, is US$200,000 (TT$1.4 million). Should the Englishman get his renewal, based on terms he apparently drafted himself, the next two years of his deal will cost the TTFA an additional US$600,000 (TT$4 million).
If the money was coming from HadCo Limited's bank account and not local football's purse, would Hadad have decided to 'play on' with such haste?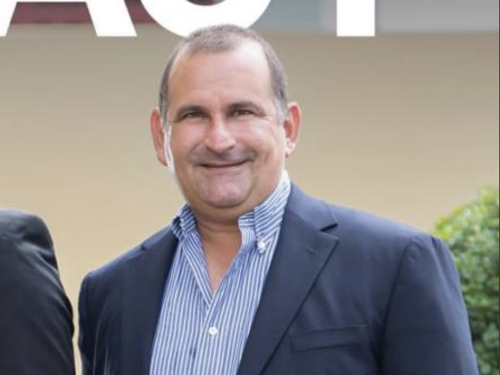 This is to say nothing of the TTFA's breezy response to the English coach's apparent belief that he could dictate which media houses have access to a Trinidad and Tobago national sporting team. Not yet, anyway.
Hadad's response appears to have drawn a line under the incident though, and Fenwick can now focus on World Cup qualifying games against Guyana and Puerto—although his technical staff might have the added responsibility of keeping their head coach in good spirits.
The consequences of Fenwick's temper are now well known to his support staff of Derek King (assistant coach), Kelvin Jack (assistant coach/goalkeeper coach), Sion Cain (masseuse), Joseph Rooplal (physiotherapist), Dr Akash Dhanai (team doctor), Michael Williams (kit manager), Captain Basil Thompson (logistics coordinator), Romain and Fuentes.
So too is Hadad's apparent forgiveness and latitude to the former England 1986 World Cup defender.
Trinidad and Tobago football fans can only hope that the controversial coach makes the Guyana and Puerto Rico national teams far more uncomfortable than his own press officer.