Education kills … by degrees!
That graffito leapt off the walls of the London Underground at me about half a century ago. And stayed with me.
Last weekend's Sunday Express brought it back to the front of my mind. And reminded me as well of this idea, long espoused by a PNM friend: doctorates mislead as they age and should therefore all come with an expiry date.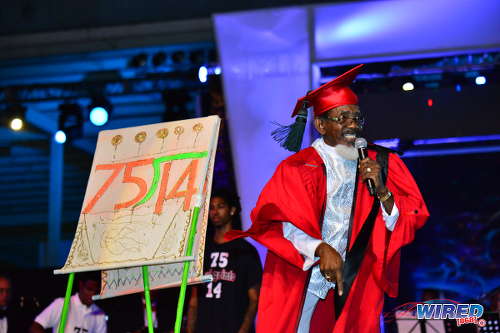 After last month's pyrrhic victory outburst and this new episode, I have inched closer to agreement.
In an open letter on page 16 of the paper, a veteran calypsonian responds to an invitation from the education minister, Dr Nyan Gadsby-Dolly. He seeks to offer her his 'ideas that will help you to transform the Ministry of Education and […] improve the education and lives of the nation's children …'
You're thinking Sparrow, no? Dan is the Man in the Van (1963), Education (1967) and School Days (1972)—not to mention his honorary doctorate—hint at some kind of qualification in the field.
But you're wide of the mark.
"Ah-hahn," you say, taking a second stab at it, "David Rudder! His brilliant, creative mind has given us gems like Calypso music,1990, Hosay and Haiti, I'm sorry."
Wrong again! Still off the mark.
'Letter to Minister Gadsby-Dolly' is the handiwork of Dr Hollis 'Chalkdust' Liverpool, who, Google confirms, is 79 years old, has authored several books and earned a PhD in history and ethnomusicology from the University of Michigan 27 years ago in 1993. He is also, the editor reminds us, an Honorary Distinguished Fellow of the UTT.
Wired868 readers probably remember that I need no reminder of Dimanche Gras 2017. That was when, in defence of the nation's girls, the Ah Fraid Karl bard waded into Sat Maharaj for his public position on Hindu child marriages. Singing Learn from Arithmetic and repeating ad nauseam that '75 can't go into 14', Chalkie that night beat out 16 other finalists to capture his record-breaking ninth National Calypso Monarch title.
That number equals Birdie plus King David. In the course of an illustrious career which began in 1956, Sparrow has (so far?) managed only eight wins; Rudder's spectacular 1986 triple triumph remains his only lien on the title.
"… were I appointed minister of education by Dr Rowley today," the erstwhile director of culture writes, "I would use my own grasp of the intellectual knowledge I gained as a primary schoolboy of yesteryear to serve as the ideal to bestow on the children of today."
Shudder, shudder.
This university lecturer, it is immediately obvious, needs to have his blinkers removed. Sadly, he has not yet realised that the educator's real job is to prepare his charges for a constantly changing world that often does not yet exist.
Fortunately for all of us and all our children and grandchildren, Prime Minister Dr Keith Rowley may be willing to follow Eric Williams' diktat and let everyone in the gayelle freely bray. But he is not about to appoint this calypsonian to the education ministry. Not today, not tomorrow, not in the next parliament, not ever. Not if he has troubled to read the letter.
Full of the trite half-truths we have heard repeatedly from some of Chalkdust's—and my!—generation, it has nothing for today's educators to get their teeth into. (Maybe he would object to my ending that sentence with a preposition!) There is to be gleaned from it no general definition of education, no general theory of education, in it, no attempted adumbration of the vexed question of the important difference between mere schooling and genuine education.
There is no evidence that the calypsonian, reputed to have authored over 300 calypsoes, has read anything at all—not even a pamphlet—on education in the 21st century. Or thought deeply about it. And there is a strong suggestion that he remains unclear about the chasm separating the authoritative from the authoritarian.
The bulk of the letter, consisting of the 10 paragraphs between the three-paragraph introduction and the two-paragraph conclusion, provides great detail about the 'syllabus and curriculum that forged my good self'. It leaves the reader in no doubt about just how out-of-touch with the realities of contemporary education this would-be minister of education is.
Despite the very real and continuing experience of schooling in the time of Covid-19, 'computer' features just once in the 1100-plus-word piece. And there is not a single mention of 'distance learning'. Strikingly, the words 'connectivity', 'internet', 'media', 'online', 'platform', 'technology', 'virtual' and 'wi-fi' are all conspicuous by their complete absence.
Likewise, 'environment', 'family', 'nurture', 'parents' and 'values' get no explicit mention, although there is copious discussion of primary school education and repeated reference to 'knowledge' and rote learning.
Nor is there, despite the recent and continuing experience of widespread dissatisfaction with CXC and CSEC results and sempiternal grumbling about the Common Entrance/SEA placement arrangements, any discussion of the issue of meaningful, satisfactory assessment at all levels of the school system.
No evaluation is offered either about the tenure of the minister's predecessor or his obsession with the non-issue of attendance on Ash Wednesday. One would think that, on that specific subject, a calypsonian-cum-educator would have an opinion worth sharing. Although he leaves little doubt as to his conviction about the physical classroom as a place of real, useful learning, my bet would be that the ex-secondary school teacher does not have one.
In closing, Chalkdust calls on the current minister to 'put the best teachers in the primary schools […] (as well as) the holders of master's degrees and doctorates'. He adds a call for 'the greater part of your budget' to be allocated to the same area.
In short, Dr Liverpool has no worthwhile idea, not one new idea to offer the minister. This offering was, not to put too fine a point on it, an embarrassment.
A serious editor with some sense of his/her paper's role in the quest to improve the education and lives of the nation's children might well have politely suggested to the veteran calypsonian that he read and come again.
But in the conventional media these days, which editor even thinks of standards when there are many column inches still to be filled and deadlines to be met?