The Anguilla Men's National Senior Team have never scored a World Cup qualifying goal from open play, after five successive campaigns dating back to 5 March 2000.
However, for the Qatar 2022 World Cup qualifying series, Anguilla are set to be steered by one of the most prolific men in the business, as record Trinidad and Tobago international goalscorer Stern John has already agreed terms with the Anguilla Football Association (AFA).
Wired868 was unable to reach John for comment. However, an AFA source confirmed John's new position which was agreed at the football body's AGM on 31 October, with only 'red tape' due to Covid-19 restrictions delaying his unveiling.
Anguilla, which has a population of just under 15,000 and still recognises Queen Elizabeth II as its monarch, had a total of three Covid-19 cases since the onset of the pandemic, with its last infection on 30 March. However, the tiny island did not take chances and only re-opened its international borders six days ago.
For John, a former 2006 World Cup player and England Premier League striker with Birmingham City and Sunderland, the Anguilla job is only his third appointment as a head coach.

The ex-Soca Warriors stand-out was promoted to head coach at Central FC in the midst of a mini-exodus of players and staff—including coach Dale Sanders—over unpaid salaries at the Pro League outfit in September 2017.
By then, John had already served seven months as assistant to then Soca Warriors head coach Dennis Lawrence. And, in March 2019, he steered the Trinidad and Tobago Men's National Under-17 Team to the Round of 16 in the Concacaf Championship, after group stage wins over Bermuda and Jamaica.
His last international posting was as assistant to Derek King for the Men's National Under-20 Team in January 2020. However, the onset of the Covid-19 pandemic meant the squad never played an international game before their coaches' short term contracts expired in July.
And, with the Trinidad and Tobago Football Association (TTFA) paralysed by normalisation and then suspension by Fifa, Anguilla offered the 44-year-old coach a job.
It is not a task for the faint of heart. Anguilla are 209th from Fifa's 210 active member associations—ahead of only San Marino—and rock bottom of Concacaf's 35 nations which are full members of the world governing body.
Infamously, Lawrence agreed to a friendly with Anguilla on 10 November 2019, as a means of snapping a record 14 game winless streak. And, at the Ato Boldon Stadium in Couva, the Warriors romped to a 15-0 win, which is simultaneously Trinidad and Tobago's highest margin of victory and Anguilla's largest defeat.
Anguilla hope to have better luck with John in their technical area, rather than on the opposing side. In the process, the former El Dorado East Secondary student should become the fourth Trinidadian to head a Caribbean outfit at present—while Englishman Terry Fenwick is in charge of the Warriors.
Former Morvant Caledonia United coach Rajesh Latchoo has led the Dominica football team since 2017, while Morvant Caledonia technical director Jamaal Shabazz is the St Lucia head coach and Russell Latapy, arguably Trinidad and Tobago's most gifted former player, is the Barbados Men's National Senior Team head coach.
John is regarded as a competent, promising coach, albeit one renowned for a prickly, combative personality. His often abrasive style did not hold him back as a player.
The two-footed frontman, nicknamed 'Johnny Bravo' by teammates, banged in a national record 70 goals from 115 international appearances, which makes him the world game's 16th highest goal scorer of all time—alongside Argentina sensation Lionel Messi, who played 23 games more.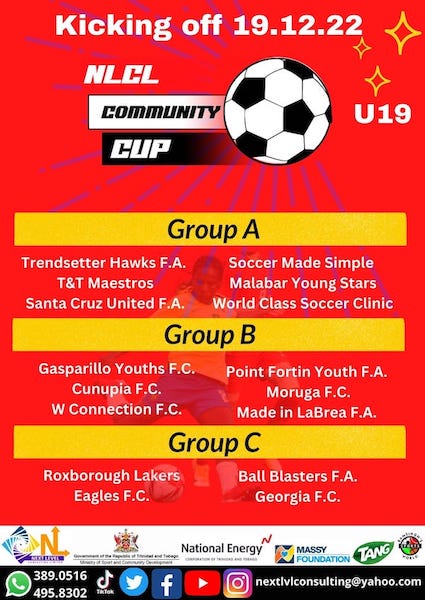 Concacaf's second best international scorers are Americans Clint Dempsey (57 goals from 141 caps) and Landon Donovan (57 goals from 157 caps), while the next highest Caribbean marksman is Antigua and Barbuda forward Peter Byers, with 43 goals from 86 appearances.
John also leads all Trinidad and Tobago scorers with 20 World Cup qualifying goals from 49 outings, followed by Steve David (16 goals/14 WCQ caps) and Angus Eve (12 goals/35 WCQ caps).
In contrast, Anguilla have played 10 World Cup qualifying matches in total with the action usually confined to the wrong end of the field. The minnows have conceded 41 times with just two successful penalties to show for their endeavours.
Anguilla's first qualifying goal was scored by Kenneth Hughes in a 3-1 loss to Bahamas at their Webster Park headquarters on 5 March 2000. And their second and last item at this level came in the return leg against Bahamas, when Richard O'Conner also scored from the spot in a 2-1 loss at Nassau. They are on a 10-year scoring drought at present in that particular competition.
AFA president Girdon Connor will hope things are different in the 2022 campaign for more reasons than one.
Concacaf's new World Cup qualifying schedule was derided by mid-tier football nations like Trinidad and Tobago for offering a trickier route to Qatar. However, it looks to be a revelation for less fancied football nations like Anguilla.
In previous campaigns, Anguilla had one home-and-away playoff tie to advance to the group stages—and, one goalless draw to the Dominican Republic apart, lost every outing. However, the new format sees the minnows drawn automatically in Group D.
So, for the first time, Anguilla are assured of eight qualifying matches rather than just two. And if John can spring a surprise in just one of them, it would be an unprecedented feat for his employers.
Ironically, John's pain is likely to mean despair for at least one of his compatriots.
Anguilla are drawn with Latchoo's Dominica and Latapy's Barbados in Group D, along with the Dominican Republic and clear favourites, Panama. Shabazz's St Lucia are in Group E alongside Haiti, Nicaragua, Belize and the Turks and Caicos Islands.
Trinidad and Tobago are seeded in Group F where, once their Fifa suspension is lifted, they will face St Kitts and Nevis, Guyana, Puerto Rica and Bahamas. Concacaf's 2022 World Cup qualifying rounds are due to kick off in March 2021.
John's team comprises solely of amateur players, led by 39-year-old goalkeeper Ryan Liddie, who has 31 international caps.
Anguilla, a Fifa-recognised member association since 1996, have played a total of 42 full international games with one win apiece against Montserrat (ranked 184) and the British Virgin Islands (ranked 208), four draws against the Bahamas, Dominican Republic, United States Virgin Islands and Montserrat and 36 losses—including two defeats to Trinidad and Tobago at an aggregate of 25 goals to zero.
John, who is expected to travel with a strength and conditioning coach, has his work cut out. However, unlike the Soca Warriors, at least Anguilla are certain of seeing action for the Qatar campaign.
Editor's Note: Click HERE to read as Wired868 chats with Jamaal Shabazz and Rajesh Latchoo on what lies ahead for Stern John in one of Caribbean football's outposts.