Trinidad and Tobago Football Association (TTFA) president William Wallace will convene an extraordinary general meeting on Sunday 25 October with member delegates of the local football body.
And the agenda will deal specifically with 'the way forward' for the TTFA and the current Fifa suspension.
Wallace confirmed the date and agenda to Wired868 last night. As promised, the embattled administrator contacted his board within 24 hours of Tuesday's High Court win, with the majority of directors agreeing to the meeting.
The TTFA has until 3pm on Friday 18 December to satisfy Fifa's terms, or they could miss out on the 2021 Concacaf Gold Cup as well as the Qatar 2022 World Cup qualifying series. Fifa gave the TTFA until 3pm CET (Central European Time), which would be 9am here. Concacaf's deadline is 3pm Eastern Time, which is the same as T&T's local time.
Football fans will hope the rift with Fifa is patched up before then, although the cost of doing so remains uncertain.

On 24 September, the Bureau of the Fifa Council, which is headed by Fifa president Gianni Infantino, said: 'this suspension will only be lifted when the TTFA fully complies with its obligations as a member of Fifa, including recognising the legitimacy of the appointed normalisation committee and bringing its own statutes into line with the Fifa Statutes'.
Thus far, Fifa has not clarified what amendments are required, although it is presumed to be something that will allow the governing body to treat the TTFA's elected officials as replaceable employees, rather than partners with some level of autonomy.
The TTFA's legal team challenged the Fifa suspension at the Court of Arbitration (CAS) for Sport on 25 September but are yet to get a hearing date. Wallace said they have asked for an expedited hearing. However, if one is not granted before the 25 October EGM, then the local body's 47 member delegates will decide if to allow the case to continue, or if to withdraw it.
"The priority is trying to get the Fifa suspension lifted because the 18 December is right ahead," said Wallace. "We don't want to linger."
Yesterday, Wallace and third vice-president Sam Phillip met Prime Minister Dr Keith Rowley, Minister of National Security and Minister in the Office of the Prime Minister Stuart Young, and Minister of Sport and Community Development Shamfa Cudjoe from 2pm at the Diplomatic Centre in St Ann's.
The meeting was arranged at the request of the prime minister and, ironically, it was the first time that Dr Rowley met Wallace since he was elected TTFA president on 24 November 2019.
Young did not even acknowledge Wallace's emails, a few months ago, when the TTFA president thanked him for an upgrade at the Home of Football and subsequently enquired about footballers stranded in El Salvador. Instead, the Port of Spain North/St Ann's West MP dealt exclusively with Fifa-appointed normalisation committee chairman Robert Hadad at the time.
Cudjoe repeatedly derided Wallace's legal battle with Fifa in the press, while Dr Rowley mocked the administrator's legal win on Wednesday morning.
Wallace said Dr Rowley's social media post did not come up in the meeting. And, although nobody congratulated him on Madame Justice Carol Gobin's High Court ruling, the football president said the discussion itself was cordial and calm.
"The prime minister wanted to know if we want to continue playing football under Fifa," Wallace told Wired868. "If we did not, then he wanted to know our plan going forward; and if we do, then he wanted to know what we have to do to remain playing as a part of Fifa."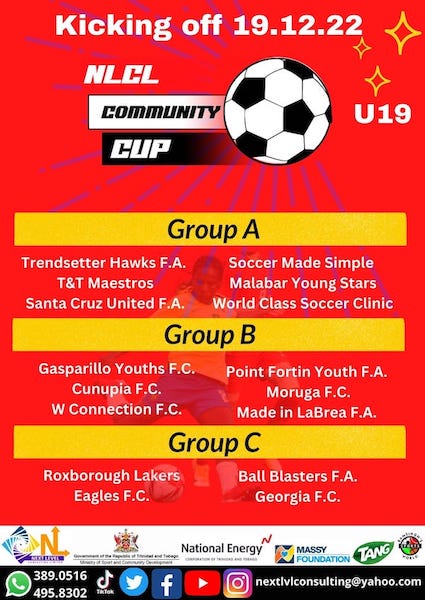 Wallace informed the prime minister that the TTFA does want to remain a member of Fifa, and the way forward from here on will be discussed with the membership on 25 October.
"I also told him that, based on the court's interpretation of our statutes, the Parliament may very well have a part to play in that," said Wallace, in reference to the yet unspecified constitutional amendment demanded by Fifa. "[Dr Rowley] said in whatever way they can help, they are willing and ready to help."
Wallace noted that Trinidad and Tobago are not the only member association within Fifa which is incorporated by an Act of Parliament. The same is also true of England, Portugal, Australia and the United States of America, among others.
"If they are asking Trinidad and Tobago alone to change, then we will have a real issue with that," said Wallace.
But he insisted that the general meeting will decide. Unlike their previous meeting with members, the 25 October conclave will be a formal one with the president obliged to follow the guidance of his membership.
Does Wallace want to remain in charge of the TTFA after that meeting? Does he see himself at the helm come December?
"I am not answering that yet," he said. "I want to show the members the respect of talking to them first."
Wallace said he has no regrets about his seven months of struggle with Fifa, which led to a provisional suspension from the football body but also vindication in the court.
"It has to be said that the law expects the TTFA to do what its statutory duty requires, even in the face of unlawful pressure," stated Gobin, in her judgment on 13 October. "[…] In the circumstances, the TTFA's actions of seeking redress before the court was perhaps the only appropriate response, which avoided capitulating to the demands of Fifa and thereby elevating the status of Fifa Statutes above the laws passed by our Parliament."
Wallace said it was his favourite excerpt from the ruling.
"If that is the only thing that we accomplished, then to me it is a major accomplishment—who wants to move that [Parliamentary protection] after, it is their problem," he said.
He suggested it was not so much that Fifa did not defend themselves in court as they could not defend their actions.
"Remember Fifa provided affidavits upfront from Veron Mosengo-Omba and I was able to respond to every one, it just did not make sense," said Wallace. "And the judge cited those affidavits in her judgment and came to the same conclusion. It is not that they were not involved, because they paid to take part in the Court of Appeal hearing, so you can't be participating in part of the court and not the other part.
"The reason they did not try to defend themselves [on Tuesday] is because they could not defend the indefensible."
Wallace said he reached out to Fifa on eight occasions for mediation, but was snubbed each time.
"Even a condemned man is given a chance to be heard," he said.
In the end, Wallace said he is saddened that his legal stance has so divided his countrymen.
"For me, there were so many lessons in this," he said. "This wasn't just about football and what happens on the field of play… Our sovereignty was being threatened by a foreign entity; we were right to defend that. It was bigger than just football.
"I have no regrets."
Wallace said he shared some of the issues involving the local game with the prime minister. Chief among them is a debt estimated at between TT$50 to $80 million, which he described as a 'stranglehold on the local game'.
"I told the prime minister that regardless of who is running Trinidad and Tobago's football, that debt is a major problem," he said. "If normalisation would have meant Fifa paying that off, I would have gladly walked away there and then.
"The prime minister's response was that taxpayers' money can't be used to deal with it and I agree with that—not in this time at least, when people are suffering and losing their jobs and so on."
The TTFA's problems will not be solved merely by re-entry to Fifa and, possibly, normalisation. Wallace suggested introspection is needed, rather than noise.
"We need to reset Trinidad and Tobago's football," he said. "We cannot continue doing the same things over and over with half-prepared teams. We need to start properly developing our players so they can have a real chance.
"Everybody's talking about missing out on this and missing out on that but we should be focusing on building up our players, so they can go out there and perform. Instead we have been taking a little bit of money and running into competitions and coming back out early, running in and coming back out again."
The TTFA entered just one tournament under the Wallace-led administration. The Women's National Under-20 Team finished as quarterfinalists at the Concacaf 2020 competition under head coach Richard Hood.
It was a significant improvement from a bunch of players who were humiliated at Under-15 level under coach Marlon Charles—they lost 22-0 to USA and 15-0 to Mexico—and failed to even reach the final Caribbean Under-17 qualifying round under Jamaal Shabazz.
However, within weeks of the Women's Soca Warriors credible showing, the Bureau of the Fifa Council stepped in to remove Wallace. Revelations about a secret contract handed to marketing director Peter Miller and deals with Soca Warriors head coach Terry Fenwick and general secretary Ramesh Ramdhan that did not match terms agreed to by the board, weakened Wallace's moral authority too.
Arguably, Gobin's judgment offered a touch of redemption to the former Carapichaima East Secondary vice-principal, who was voted into office with a largely unblemished record from his time as Secondary Schools Football League (SSFL) president.
Even with the High Court win under his belt—once it is not snatched away by the Court of Appeal on Monday—Wallace would surely need a CAS miracle to survive at the helm of the TTFA. That is particularly ironic considering his team's acrimonious departure from the Swiss-based sport arbitration body in May.
At this stage, though, Wallace's fate still remains in his own hands.