It was a wild night in Manama on 16 November 2005 and a bunch of Trinbagonians celebrated the success of the Soca Warriors at a night club.
Girls are in short supply at recreation places in Bahrain while local females are non-existent. But one young pannist got lucky as he befriended a girl of Asian descent and danced the night away—while secretly exchanging winks and 'fist bumps' with his envious friends.
His good mood lasted until the bright lights flicked on at about 3am. That's when he discovered that his new 'girlfriend' had a bigger Adam's apple than he did and probably uses the same restroom too!
(To each his or her own eh. All Mr Live Wire saying is that if you requested bake and saltfish and, after your first bite, realise yuh eating a hotdog… some disappointment is probably natural.)
Suffice to say that light bulbs have been going on across the country over the past 24 hours, with Trinbagonians generally left feeling like the confused fellah in the Crying Game.
Cut the grass, Jay-Z once sang, and the snakes will show. And how do you unearth racist ideology? Well, show footage of 'blacks' standing up to the establishment for three days straight to persons who don't identify as blacks, pass them an internet-ready device, and count backwards: 10, 9, 8…
And 'boom'! It's Club Coconuts 2.0, with blacks only allowed entry on what was not-so-subtly called 'golliwog night'.
Mr Live Wire saw so much unprompted disdain and resentment for melanin over the past 48 hours that for a second he thought Black Panther 2 was in cinemas!
Michael Patrick Aboud, unsurprisingly, was just the tip of this decidedly unsavoury iceberg. Trinidad and Tobago Arts Society president Peter Sheppard, like ME marketing essentials owner Shabania Carter (the girlfriend of UK High Commissioner Tim Stew), responded to renewed cries of 'black lives matter', after the tragic killing of unarmed, handcuffed black man Floyd George, with: 'all lives matter'—shorthand for 'get over yourselves darkies'.
One can only hope that the relevant state body remembers that 'off-colour' remark when Sheppard next surfaces for a hand-out. He and his sheep can flock right off.
Ken Ali also seemed irked by the seemingly innocuous suggestion that 'black lives matter'.
"Blacks kill more blacks in Chicago," he wrote. "I guess it does not matter when it's black on black."
Honestly, if Mr Live Wire has to explain to you the flawed reasoning in comparing crime—prevalent in societies of all races—to state-sponsored discrimination and extermination, then the battle is already lost. You are truly all shades of dotish.
Dianne Hunt, a Donald Trump supporter based on some of her social media posts, told Newsday that she could not grasp the intricacies of the black lives matter rallying cry. I mean it has only been around for seven years.
She got the hang of it when faced with a possible financial backlash for her Dianne Tea Shop. She understands 'blacks dollars matter' just fine.
Michael Patrick Aboud, whose own place of employment is unclear at present, also tried to hit 'reverse', as he claimed his statement that violent protesters were doing 'what comes natural' was not aimed at any particular race of people.
"[…] For those who were hurt, or upset by my miscommunication, I am truly sorry. It is not what I meant at all. I hope my thoughts here could somehow correct my misrepresentation of my statement…"
Aboud isn't a racist asshole, you see. Not in his retelling. At worst, he is a man with ideas who needs a better publicist.
As for Hunt? She said she did not know that 'all lives matter' could be construed as a retort to 'black lives matter' and apologised for her 'unawareness'.
And, just in case, anyone found her excuse to be weak; she had a spare one handy: "My waitress wrote it. It was a black girl who wrote it…"
How noble. Push the black foot soldier into the frontline at the first sign of trouble. Why does that sound familiar?
In fact, Trinidad and Tobago has been stuck in a loop for more than 50 years now. Discipline, tolerance and production? We have had just about enough discipline to tolerate each other for the sake of producing goods and services.
Perhaps we owe it to ourselves to go deeper than that. Maybe wining on an Indian/Africa/Asian/Chinese/Caucasian bam bam for Carnival, with all due respect to our ambassador of soca, Machel Montano, is not enough for 'real unity'—although it sure was a fun attempt.
Maybe if we learnt the magnitude of the loss for our First People, the trauma of our African slaves here, the suffering that prompted Indians to make the journey here, and the emptiness that lured the other chancers from the Chinese, Europeans and Syrians to turn up at these shores… Perhaps understanding might lead to respect.
After all, nobody came to Trinidad and Tobago because they were living good lives elsewhere but got bored.
We did not suffer equally here, nor did have similar journeys or opportunities. But our tales are, together, the story of Trinidad and Tobago.
If we do not know who we are and why we are here, then how can we ever be at peace with ourselves? Of what use is our education?
By the way, anybody know if Gerald Aboud stopped digging yet?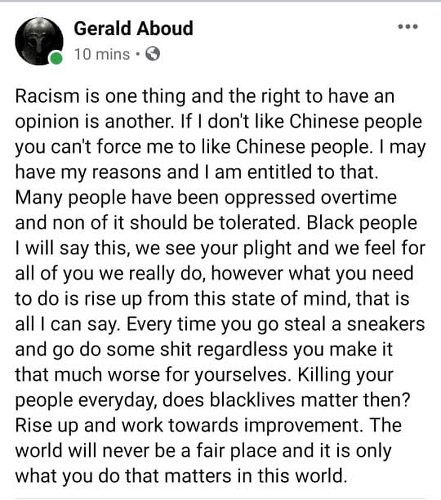 I didn't say disturb him eh. Nobody could force yuh to like any race of people, right 'Gerrie'? That's just an 'opinion', not so? Black people making things worse for themselves by stealing sneakers and killing dey own people, ent?
Give him another shovel; let him go. Tell me when Gerrie realises that he reach so far outside the fold that he needs an exemption to get back to the twin island republic—one for him and the Starlite Pharmacy that he runs in Diego Martin, Maraval and the South Park Mall.
If he doesn't respect black lives, let him appreciate black dollars.
Gerrie boi, Mr Live Wire is hoping there's a different sort of Crying Game in your future…
Editor's Note: Apologies to Michelle Sohan from Bakery Treatz. We missed your 'all lives matter' post the first time and didn't see it fit to edit the column just for you.
However, having listened to you explain how 'really upset' everyone made YOU by their interpretation of your message and 'how ridiculous' you think it is to be 'dragged into this'…
After all, your 'godfather was a black man'…
Well, Michelle, join the party!