The Trinidad and Tobago Women's National Under-20 Team completed their Group F assignments today on the wrong side of a fierce whipping, as they were routed 7-0 by Haiti in Concacaf Championship action at the Estadio Panamericano in San Cristóbal, Dominican Republic.
The Women Soca Warriors, who were already guaranteed a top two group finish after successive wins over St Kitts and Nevis and the Cayman Islands, advance to the Round of 16 as runners-up while Haiti topped the group after racking up an eye-popping 22 goals in three matches.
Haitian captain and playmaker Melchie Dumornay, who played at the 2018 France Under-20 World Cup and is still just 16 years old, led the way with a hattrick today—which put her joint top of the Concacaf scoring chart, alongside United States forward Mia Fishel with six goals.
Haiti face Barbados next from 1pm on Sunday while Trinidad and Tobago tackle Group D third placed team, Puerto Rico, from 4pm.
Barbados, who finished third in their Caribbean qualifying Group B, were allowed to advance straight to the Round of 16 to face a group winner while the qualifying group champion, St Kitts, competed in the Concacaf group stage and were eliminated today after a 3-2 loss by the Cayman Islands, led by ex-Trinidad and Tobago Women's coach Stephan De Four.

It is probably not even the most bizarre feature of Concacaf competitions these days. Trinidad and Tobago's weekend match will be their fourth game in nine days. As a result, coach Richard Hood, encouraged by TTFA technical committee chairman Keith Look Loy, effectively opted to shoulder arms today.
The young Women Soca Warriors did not show up against Haiti in more ways than one as Hood withdrew seven starters from T&T's last fixture—including team captain Afiyah Cornwall, who was Concacaf's second highest scorer with five goals—and effectively conceded the result before the opening whistle.
"Our team was on the bench resting [today and] will be fresher for the Round of 16 match [against Puerto Rico]," Look Loy told Wired868. "We will have had more rest than our opponents come the weekend's match and therefore we took a calculated decision. This is the art of war. You don't win a campaign by trying to win every battle—not necessarily.
"So it was a strategic decision to rest our starting team in this match, concede first place to Haiti—who we would have had to beat outright, which is a formidable task—and accept second place and play against the third place team. And that explains our decision."
Puerto Rico have used only 12 different outfield players for their three group matches; Trinidad and Tobago have used 18. So there can be little question that the Warriors should be the fresher of the two teams on the weekend.
The psychological impact of today's lopsided result on the Trinidad and Tobago camp as well as the disappointment for the players who missed the chance to face the Caribbean's fast rising women's team is another matter. But Look Loy said pragmatism was the priority.
"As to the other factors about supposed national pride and the ego and the negative effect it might have on the players' thinking and so on," he said, "the players know what is happening—this has been explained to [them]."
[sports-match template="logos" match="60954″]
Hood was the only coach who gave his best players the afternoon off, though. There could be no questioning the intent of the Haitian contingent.
Coach Laurent Mortel started 10 of the 11 players who kicked off the competition for the French-speaking islanders and they seized immediate control of the match.
Dumornay got her first crack of goal within the first minute as Trinidad and Tobago goalkeeper K'lil Keshwar, who was named the team captain for the day, was immediately put to work. And by the time the referee signalled the first water break in the 29th minute, Haiti were already four goals clear and the match was done and dusted.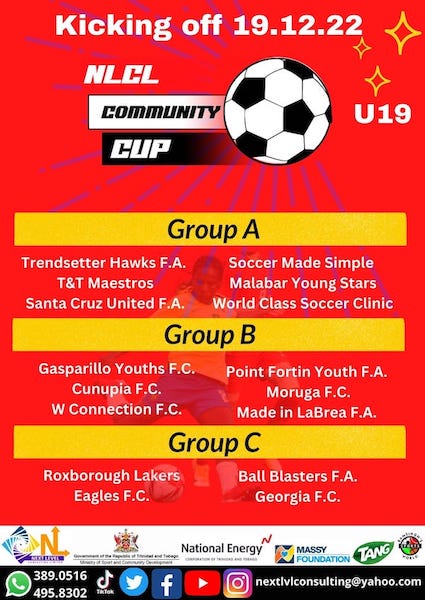 Dumornay, built like a truck with the light feet of a dancer, played a key role in three of them. First, she scored directly off a corner kick in the sixth minute as she penalised Trinidad and Tobago's decision not to put a defender on the near post. Then, she pounced on a defensive error to burst clear and struck between Keshwar's legs for the second item in the 16th minute.
For the third item, Dumornay made opposing left back Nathifa Hackshaw look as though she was standing in wet cement, as she flew past her before crossing for Valentina Ornis to finish expertly at the far post.
Haiti's fourth goal was a tribute to crafty, slender forward Abaina Louis, as she dribbled past T&T right back Roshun Williams and then central defender Tsai-Anne Fernandez before crossing for Florsie Joseph to score with a precise header. Each item seemingly better than the last.
Dumornay almost had an outrageous assist for the fifth, as she scooped a pass into the path of fellow midfielder Danielle Etienne. Keshwar clattered into Etienne for a cast-iron penalty call, only the Haitians spared the match official of the trouble as Ornis volleyed in the loose ball.
The halftime score read Haiti 5, Trinidad and Tobago 0—and, if anything, the scoreline flattered the twin island republic.
"Haiti [are] a genuine World Cup threat within Concacaf women's football today," said Look Loy. "Seven of the players in the Haiti squad played in the last Under-20 World Cup. It is a quality outfit… The Haitian Federation has made massive investment in women's football over the last 20 years.
"I, Look Loy, was the Fifa official responsible for building the first technical centre [there] in 2003 or 2004. Since then they have been concentrating all their women's selections in the technical centre where they eat, sleep and breathe football—training twice a day and so on.
"Our programme is in no way able to compete with theirs at this point in time."
Six minutes after the interval, Haiti got their sixth goal as Joseph stabbed past Keshwar off a left side cross. And the scorer did a curious thing with the fixture already over as a contest. She sprinted to the back of the net to retrieve the ball and then ran with it to the half line.
Haiti are not satisfied to win games. They want to destroy opponents—just like the free-scoring American women always set out to do.
Dumornay made it 7-0 in the 60th minute with a beautiful curling free kick around the T&T wall that would probably scored no matter the sex of the opposing custodian. And then, thankfully, Mortel called off his ladies as he replaced his entire front three. They, undoubtedly, have more damage to do in the knockout stages.
And yet Hood's most painful moment might have come after the goals stopped flowing. He sent on key midfielder Sarah De Gannes in the 57th minute but she lasted just 15 minutes before she appeared to twist an ankle and was replaced.
If the objective was to protect Trinidad and Tobago's best players, then even that was not an unqualified success.
By the final whistle, the Warriors managed a solitary shot on target, which was a tame effort by Celine Loraine that offered only catching practice to Haiti goalkeeper Madelina Fleuriot. In contrast, Haiti had 11 shots on target and nine off target while the north Caribbean team also enjoyed 62 per cent ball possession.
Look Loy said today's heavy defeat showed the weakness of the TTFA's development programme in ensuring that each squad has a deep reservoir of quality players available for selection. That, he said, will be addressed in time.
For now, he is anxious for the quarterfinal finish that he requested of Hood's outfit before the tournament kicked off.
"We understand the importance for the women's programme of this team going forward as far as the quarterfinal," said Look Loy. "This is the objective that I, as the chairman, set for the team—and which I have set for all our teams.
"So we understand the political importance and the spiritual importance of getting this team into the quarterfinal and hopefully beyond, in this first tournament that the new administration is playing."
Cornwall, who scored a hattrick against Puerto Rico in T&T's pre-tournament win, will hope to compensate for today's day off when her team face them again on Sunday.
But today belonged to the devilishly skilful Dumornay and deft Haitian women's squad.
(Teams)
Trinidad and Tobago (4-2-3-1): 1.K'lil Keshwar (GK) (captain); 2.Roshun Williams, 5.Tsai-Anne Fernandez, 14.Moenesa Mejias, 3.Nathifa Hackshaw; 13.Megan Rampersad, 6.Aaliyah Pascall (7.Sarah De Gannes 57 [12.Cayla McFarlane 73]); 16.Sydni Greaves, 10.Alexcia Ali, 20.Tori Paul; 17.Cecile Loraine.
Unused substitutes: 18.Chelsea Ramnauth (GK), 4.Latifha Pascall, 8.Maria-Frances Serrant, 9.Afiyah Cornwall, 11.Chrissy Mitchell, 15.Arnelle Douglas, 19.Aaliyah Prince.
Coach: Richard Hood
Haiti (4-3-3): 1.Madelina Fleuriot (GK); 11.Betina Petit-Frere, 19.Maudeline Moryl, 2.Dougenie Tabita Joseph, 4.Ruthny Mathurin; 8.Danielle Etienne, 10.Melchie Dumornay (captain), 14.Valentina Ornis; 9.Florsie Joseph (3.Meghane St Cyr 60), 7.Abaina Louis (17.Flero Surpris 56), 16.Dayana Pierre (13.Mariline Guerrier 77).
Unused substitutes: 12.Nahomie Ambrosie (GK), 5.Estericove Joseph, 6.Mirlene Dorce, 15.Gaelle Dumas, 18.Rose-Alya Marcellus, 20.Rose Pierreline France.
Coach: Laurent Mortel
Wired868 Player of the Match: Melchie Dumornay (Haiti)
Concacaf U-20 result
(Thursday 27 February)
Trinidad and Tobago 0, Haiti 7 (Melchie Dumornay 6, 16, 59, Valentina Ornis 21, 38, Florsie Joseph 22, 51).