"I was the only girl in the community playing football amongst the boys but they never looked at me differently… I had a lot of trophies from running but I was always so talented in football, so I decided to switch over."
Nineteen year old Aaliyah 'Apples' Prince stands at just over four feet five inches but she has already made a name for herself in the local women's game and hopes to make an impact on the international stage.
The Northeastern Texas Community College student is with the Trinidad and Tobago Women's National Under-20 Team at present but took time to talk one-on-one with Wired868:
What is your date of birth?
5 February 2001.

What is your home town?
Morvant.
When did you first become interested in football?
I was about 11 years old. Before, I was a runner but every time after running practice I used to sneak to play football. Everyone in my community was always playing football, so I believed that I could too.
I was the only girl in the community playing football amongst the boys but they never looked at me differently. They always tried to encourage me.
I had a lot of trophies from running but I was always so talented in football, so I decided to switch over. My friends from the neighbourhood used to play football—every time I went home, it's always football. So I said I'll go over to football and since then I've never regretted it.
What's your earliest football memory?
When I was playing for Morvant Anglican Primary School. I was the only girl on the football team and I scored a goal against St Dominic's. That has always stuck with me.
How do you describe yourself as a person?
I'm a little shy. I'm not outspoken. But on the field, I'm tiny but mighty!
What do you think sets you apart from your opponents?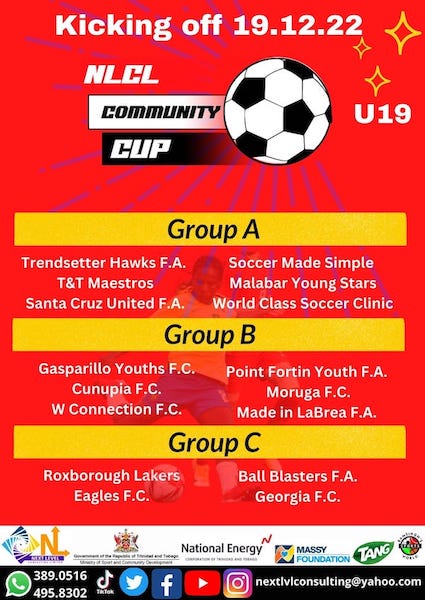 I think because I'm small, they don't expect much but when I'm on the field I don't stop running. I'm a great player. I'm hard working and I'll give my all.
What pushes you to succeed?
Knowing that my younger brothers, Kimani and Malakai, are looking up to me, as well as my granny. My both brothers like football so they always ask me to help them play.
Being the big sister can be hard work. Sometimes I come home from training and I'm tired but I have to find the time to go out in the yard and play with them. They look up to me and I want to see them play the football also. They love it.
Also, my best friend, Abiela Adams, who died. She used to play football for the national youth team with me. She was really good and she died at a young age, so I would like to carry on that legacy.
What has been your best moment in football thus far?
The best is yet to come! But I guess, for me, I will say my best moment was my first goal on the National Senior Women's Team.
Who were your most important coaches and why?
Jamal Shabazz had a big part in me playing football. He was also from Morvant and there were days that I never felt to go to training and 'coach man' will sit and talk to me and say 'you know Prince you have to go out there and play the football'. I think he was a good inspiration towards me. Even though he knew me well, he was never easy on me and I think that had a big part to play on my football career.
Also, coach Desiree Sarjaent. That's my club coach at St Augustine FC, so 'Coach Desiree' also has a big part to play. And Marlon Charles. That was my first coach on the National Under-15 team. He started me off with the national team.
Who is your favourite player?
Maylee Johnson, our manager. That was my role model. She is my favourite player because she is very hardworking and shows good leadership and always gives good motivational talks and shows me the right things to do.
What is your favourite team?
Chelsea FC—because Eden Hazard used to play for them. He's not there anymore but he reminds me of myself. He's short and stocky just like me and he's very hardworking, so I always had love for that team.
What is your ambition in the game?
Well, I always wanted to play for the Chelsea FC Women's Team and I hope I can do that before my career is finished. I want to play football abroad.
What is something most people do not know about you?
That I like to sing—anything from soca, jazz, pop, etc. I mostly enjoy soca and dancehall music. I sing at home for family members, but I don't think I'll be doing it in public soon! Football, yes; but singing is just a hobby.
What is your personal target for the upcoming Concacaf championship?
I just hope I can go out there and help the team as best as I could. I will put my all out and work hard for my team and make sure that we reach far in this tournament.
Editor's Note: Trinidad and Tobago kick off their Concacaf Under-20 Championship campaign against St Kitts and Nevis in the Dominican Republic on 23 February 2020. The top two nations advance to the 2020 World Cup, which will be co-hosted by Costa Rica and Panama.