MaGuaya United were crowned as inaugural champions of the U-19 Community Invitational Tournament Championship on Sunday as they defeated Deportivo PF Youths 3-2 in the maiden final of the competition on Sunday at the Mayaro Recreation Ground.
Gasparillo Youths finished third with a similar 3-2 result over DCS/Dass Trace in the opening match of a double header at the venue.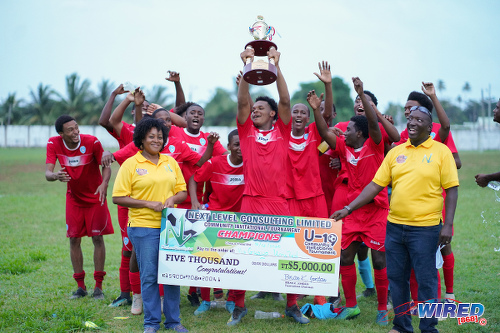 MaGuaya, who played unbeaten throughout the competition, were awarded TT$5,000 as winners—provided by tournament co-ordinators Next Level Consulting Limited (NLC)—along with a trophy and medals sponsored by Ramsingh's Sports World.
There were 10 entrants from across Trinidad but, in the end, there was a southern flavour to the final four clubs. MaGuaya represents the Mayaro and Guaya constituencies although the club is based in Mayaro while Deportivo PF hails from Point Fortin. Gasparillo Youths, as the name suggests, are from Gasparillo and DCS/Dass Trace represents players from Enterprise in Chaguanas and La Brea but trained at the latter location.
MaGuaya, who were coached by Joseph Weekes, Leston Paul and Ryan 'Fry' Stewart, got their decisive goals from Akeal Pierre, Kyrise Frontin and Naparima College standout Isa Bramble. Presentation College (San Fernando) standout and National Under-17 attacker Jaiye Sheppard and 'Naps' attacker Ezekiel Kesar scored for Deportivo.

Tournament chairman Brian Jordan, the owner of NLC, thanked sponsors Ramlogan and Sons, Ramsingh's Sports World, Maritime Insurance, the Mayaro/Rio Claro Regional Corporation and the National Energy Corporation of Trinidad and Tobago for their support as well as the tournament committee of Sandra Pompey, Don Griffith and Germaine Jordan.
"When we started on this journey, we wanted to make a difference in the footballing lives of these talented youngsters by providing a platform to showcase their talent and skills," said Jordan.