Terminix La Horquetta Rangers maintained their menacing offensive record at Phase 2, La Horquetta yesterday but the host team did benefit from a helping hand, as they trounced W Connection FC 4-1 in Pro League action.
In seven games at the Phase 2 Recreation Ground, Rangers have five emphatic wins—7-2 (AC Port of Spain), 6-0 (San Juan Jabloteh), 5-1 (Point Fortin Civic), 8-1 (Cunupia FC) and 4-1 (Connection) respectively.
Yet, Connection insisted, the turning point came before a goal was scored, as referee Keilon Bacchus pointed to the penalty spot and issued a red card to their defender Adan Noel for a supposed handled ball that none of the players from either team saw.
"I don't usually comment on referees but this was really, really disappointing," said Connection head coach Earl Jean. "Now Adan cannot play the next game because it is a straight red card. And for what? We are going to appeal on Monday but we have a game on Tuesday [against Point Fortin Civic] and how long will the appeal take [to reach a decision]?
"That decision destroyed our players! One game can have a big effect because it is a short league. We could have gone [third] if we won the game. Who knows?"

Instead, Connection, the defending champions, stay fourth on 18 points—11 points short of leaders, Defence Force. Rangers are second with 23 points.
Police FC are third with 22 points and might have gone second if Rangers had lost. Yesterday, the 'Lawmen' were first out on to the La Horquetta surface and put Central FC to the sword 5-1 in a one-side fixture.
[sports-match template="logos" match="60684″]
Central coach Stern John spoke last week about the club's failure to pay players and staff and the absence of several senior players as a result. The 'Couva Sharks', whose managing director is Pro League interim chairman Brent Sancho, have now conceded nine goals in their last two games while scoring twice.
There can be no doubting the commitment of 23-year-old flanker Sean Bonval though. Blessed with quick feet, tenacious spirit and a precise delivery, the former Trinity College East student gave the best individual performance of yesterday's clash—even as the Sharks were being torn asunder.
Bonval created the game's opening item with a teasing free kick that Police and Trinidad and Tobago National Senior Team Adrian Foncette failed to gather, allowing midfielder Romario Burke to poke Central ahead in the 16th minute.
Bonval almost created a second with a raking cross that forward Noel Williams headed against the upright, while he tormented both Police full backs in turns.
Yet, it was not nearly enough to compensate for Central's ragged collectively showing, particularly in defensive transition.
Police flanker Joel Lewis created two goals with low, precise crosses that were tucked away by Juma Clarence and Kareem Freitas respectively. And defender Elijah Belgrave scored with a thumping header off a corner kick while left back Christon Thomas and midfielder Jabari Mitchell both cashed in with speculative attempts that embarrassed veteran Central custodian Cleon John.
The Pro League goes on break this week for Carnival. But Central, who are ninth in the 11-team standings, are well ahead of them. The Sharks look more like an 'old mas' band than a team with three League titles these days.
The feature match of the double header promised to be a more evenly contested clash. Connection spanked Rangers 3-1 at the Ato Boldon Stadium in Couva last month but could not have expected such a straightforward affair on the tiny La Horquetta pitch that has seen defences repeatedly humiliated since its opening last August.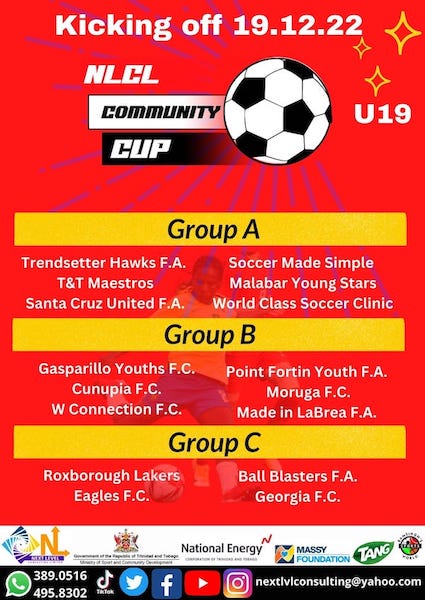 Noel is the latest in a line of defenders to have a nightmarish introduction to Phase 2, although it was hard not to sympathise with him.
The talented right back was stationed on the goal line when Rangers captain Jamal Creighton thumped a header in his direction, off a right side corner kick.
Noel took the effort on his chest and prepared to punt the ball forward, before he noticed that the Rangers players were all hurriedly backing away from him.
So he took another touch. And then a third, before passing the ball into a midfield teammate.
It was only then, six seconds after he chested down Creighton's header, that referee Keilon Bacchus blew his whistle and pointed to the penalty spot. Bacchus followed up on that decision by brandishing a red card and ordering Noel to the dressing room.
The game was only six minutes old and goalless at the time.
"When a referee is in position and the linesman is further away from the situation, then how can he overrule the referee?" asked Jean. "The referee was in a better position to see and he continued play—and the players never appealed; they continued playing. But [assistant referee Caleb Wales] is flagging away. Then the referee calls a penalty and goes over to the linesman and comes back and shows a straight red card.
"Straight red?! That is baffling. Even the Rangers players said the referee threw off the game."
(Check penalty decision below at 15 seconds into clip.)
Connection goalkeeper Denzil Smith got a hand to Creighton's penalty kick but could not keep it out.
Rangers are not the bashful sort when an opponent loses their bearings. They doubled their lead within seconds, as midfielder Keron 'Ball Pest' Cummings picked off an errant Smith clearance and Samuel Delice crossed for Kishun Seecharan to head home at the far post—where Noel would have been but for the controversial sending off.
Fifteen-year-old Connection midfielder Molik Jesse Khan got his team on Bacchus' score card in the 18th minute, as he dribbled past Rangers right back Anselm 'Worm' Jackson and surprised goalkeeper Jabari St Hillaire at his near post.
Remarkably, Khan is the third 15-year-old to score in the Pro League this season, after his club teammate Nathaniel 'Natty' James and San Juan Jabloteh attacker Jaheim Faustin.
But it is a stat that owes much to the mass exodus of talent to destinations as varied as India, El Salvador, Malta, the Philippines and Barbados, due to the financial shortcomings of the local top flight competition.
Rangers did not stop there, as left back Ross Russell Jr got his first item of the season off a corner kick with a header that Smith mishandled. And Cummings got the goal of the night with a fine volley, after skilful wide play by teammate Tyrone Charles.
There might have been a fifth too, as Seecharan struck the inside of the Connection upright after a clever Cummings backheel in a flowing Rangers move.
The second half had barely begun when Jean threw in the towel, as Connection went into damage limitation mode and the game petered out.
"With some of the decisions going against us, I said let us hold back instead of getting embarrassed and focus on our game against Civic on Tuesday," said Jean. "I saw no way we were getting anything from the referees on the day… It was really disheartening and I am still bitter about it.
"[…] The players were furious when they came into the dressing room at halftime and I had to ask them to calm down… I think we shut off a bit after the penalty and Rangers took full advantage.
"But I give the guys kudos in the second half because they battled well and played tactically. They are a young team so it is a learning process."
Jean credited Rangers too for their aggressive approach, as they pressed high up the field and forced Connection into mistakes. However, his mood was not helped by assistant referee Caleb Wales' insistence that the Noel decision was correct.
"The linesman said he saw it and his eyes are not lying to him," said Jean. "How can you be wrong and strong and say your eyes are right after that? It is just ridiculous man; that really broke me.
"[…] Games should be decided by players—not them. We don't want referees and linesmen coming out thinking it is about them."
Connection vowed to fight until the last, as they try to claw their way back into contention. Truth is, there was not enough of that fighting spirit exhibited yesterday.
Twice, Defence Force were reduced to 10 players in La Horquetta. The Army/Coast Guard combination managed a draw during the 2019 Ascension Invitational Tournament and, earlier this month, they came away with a 2-0 win despite having star defender Curtis 'Boyo' Gonzales ejected in the 19th minute.
Incidentally, Rangers got a penalty in each game against Defence Force too. Goalkeeper Aaron 'Demon' Enill saved both of them.
Connection did not display such mettle. Instead, Rangers exhibited more control of the ball than usual and never looked in trouble once ahead.
As a result, Rangers remain in the title race. But the involvement of Bacchus and Wales will rankle for some time yet.
(Editor's Note: The Pro League subsequently rescinded the red card to W Connection player Adan Noel after the two match referees admitted a grave error. Click HERE to read story.)
(Teams)
Terminix La Horquetta Rangers (4-4-2): 20.Jabari St Hillaire (GK); 99.Anselm Jackson, 12.Caleb Sturge, 26.Jesus Perez, 17.Ross Russell Jr; 7.Aikim Andrews, 8.Jamal Creighton (captain), 15.Keron Cummings, 9.Kishun Seecharan; 77.Samuel Delice (5.Leslie Russell 87), 10.Tyrone Charles (28.Johnny Noriega Brito 83).
Unused substitutes: 29.Emmanuel John (GK), 27.Isaiah Lee, 31.Junior Asson, 32.Yohannes Richardson, 45.Kadeem Corbin.
Coach: Dave Quamina
W Connection FC (4-3-3): 18.Denzil Smith (GK); 11.Adan Noel, 3.Isaiah Garcia, 8.Rhondel Gibson, 6.Alvinus Myers; 27.Aaron Rodney, 19.Briel Thomas, 36.Molik Khan; 7.Neil Benjamin Jr (29.Jabari Lee 79), 35.Nathaniel James (32.Isaiah Hudson 66), 17.Dimitrie Apai (9.Mickaeel Jem Gordon 80).
Unused substitutes: 1.Jason Belfon (GK), 14.Akinola Gregory, 24.Ronald Charles, 99.Quinn Rodney.
Coach: Earl Jean
Referee: Keilon Bacchus
Wired868 Man of the Match: Keron Cummings (Rangers)
Pro League results
(Friday 14 February)
Defence Force 3 (Brent Sam 38, Reon Moore 54, Adrian Welch 65), AC Port of Spain 1 (Shem Clauzel 87) at Ato Boldon Stadium;
Club Sando 3 (Shaqkeem Joseph 13, 45+1 pen, Keron Cornwall 61), M'vt Caledonia Utd 0 at Ato Boldon Stadium;
*—Red Card: Joshua Alexander (Caledonia)
Point Fortin Civic 2 (Daniel Diaz 27, Justin Sadoo 32 pen), San Juan Jabloteh 1 (Brandon Semper 77) at Mahaica Oval;
(Saturday 15 February)
Central FC 1 (Romario Burke 16), Police FC 5 (Juma Clarence 18, Elijah Belgrave 20, Christon Thomas 47, Kareem Freitas 55, Jabari Mitchell 71) Phase 2, La Horquetta;
Terminix La Horquetta Rangers 4 (Jamal Creighton 8 pen, Kishun Seecharan 10, Ross Russell Jr 36, Keron Cummings 38), W Connection 1 (Molik Khan 18) at La Horquetta;
*—Red Card: Adan Noel (W Connection)
Upcoming fixtures
(Tuesday 18 February)
Defence Force FC v Cunupia FC, 6pm, Ato Boldon Stadium;
Police FC v Club Sando, 8pm, Ato Boldon Stadium;
Point Fortin Civic v W Connection, 7pm, Mahaica Oval.