There was a straightforward case of pickpocketing at the Ato Boldon Stadium in Couva last night. One minute, burly SRP Elijah Belgrave was giving the ball a police escort back to his goalkeeper, Terrence Lewis; then, in a flash, San Juan Jabloteh forward Renaldo Francois pounced to relieve the lawman of the precious object, which he smashed low into the far corner of the net.
At referee Rashby McPhie's final whistle, Jabloteh were 3-2 victors and had finally climbed into the top half of the Pro League standings.
Jabloteh, at present, are fifth in the 11 team standings with 12 points from eight games, which is eight points better than table proppers Cunupia FC and 11 shy of leaders Defence Force.
Police, on the other hand, slipped from second to third place with 17 points from 10 matches. And, by the time the weekend is done, they could feasibly be fourth—if Morvant Caledonia United defeat AC Port of Spain at the Larry Gomes Stadium tomorrow.
"Obviously it is a disappointing result and a disappointing performance as well," said Police head coach Richard Hood. "The first half was decent. But after that we stopped doing what was working for us and the players just didn't follow my instructions…"

Their loss was Terminix La Horquetta Rangers' gain, as the Phase Two outfit were grooving again with another lopsided result at their home venue.
Fresh from a 5-1 spanking of Point Fortin Civic on Tuesday, Rangers trounced Cunupia FC 8-1 yesterday with doubles from forwards Tyrone Charles and Isaiah Lee and midfielder Jamal Creighton, who now heads the Pro League's scoring charts with eight items.
On Tuesday, Civic coach Dexter Cyrus suggested that Rangers' mastery of their swanky but tiny home ground could not be overstated. The statistics appear to support that view.
In five matches away from home, Rangers won twice and lost on three occasions with six goals scored and eight conceded. At the Phase Two Recreation Ground, coach Dave Quamina's team plundered 27 goals with five conceded from five games—an average of more than five goals a match!—with four wins and one draw.
Still, Rangers are four points off the top and Defence Force maintained their grip on first place yesterday, with a 3-0 win over Point Fortin Civic at Mahaica Oval. The Army/Coast Guard combination got their final two goals came in the closing two minutes of the game while Hashim Arcia and Devorn Jorsling both scored off penalty kicks.
While the 36-year-old Jorsling continues to push the Pro League's all-time scoring record out of sight, there was a memorable moment at the other end as W Connection forward Nathaniel 'Natty' James opened his account at just 15 years old.
The QRC schoolboy is the Pro League's second youngest scorer. He was beaten to the punch by Trinidad and Tobago National Under-17 teammate Jaheim Faustin, who scored for Jabloteh against Cunupia on Tuesday.
Faustin, who attends Trinity College East, is five months younger than James.
James' item did not help Connection get a result though, as they were edged out 3-2 by Tiger Tanks Club Sando in an exciting contest at the Ato Boldon Stadium.
Sando were eight games without a win before kickoff but were two goals ahead by the interval, after first half strikes by Keron Cornwall and Michael Basdeo. And despite Connection's second half rally, with goals from captain Nicholas Benjamin Jr and James, Shaqkeem Joseph's 80th minute item secure all three points for Sando.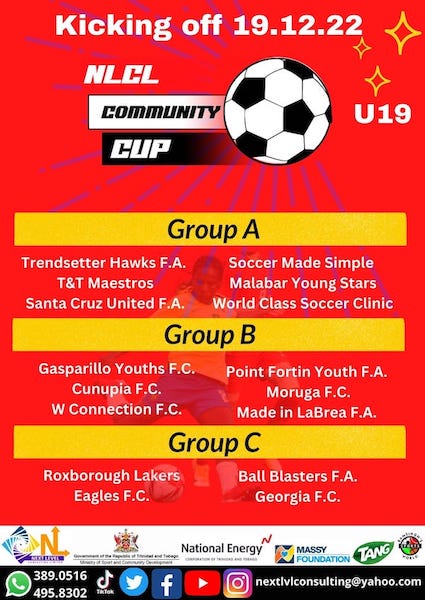 The second game of the Couva double header was just as entertaining, although Police failed to hold on to their fortuitous first half opener—attacker Christian Thomas was gifted a goal in the third minute after Jabloteh goalkeeper Christopher Bigette failed to hold on to a Kareem Freitas corner kick.
The 'Lawmen' should have scored at least two more in the first half, as forward Jameel Perry hit the bar twice in one attack in the ninth minute while midfielder Dillon Kirton crashed a shot off the frame of the goal in the 35th minute.
The misses would come back to haunt Hood. His opposing number, Jabloteh technical director Keith Jeffrey, made sure of that.
[sports-match template="logos" match="60100″]
"In the first 25 minutes, if Police were clinical they would have won the game [then]—but football is about taking your chances," Jeffrey told Wired868. "We were more looking at what Police were doing at the start of the game and they were bypassing their midfield and going straight to Perry and Thomas for knock downs… So we started to play higher up the field and added numbers in the middle to be more compact there."
As a result, Jabloteh switched from 4-2-3-1 to 4-1-3-1-1 while defending with captain Nical Stephens as a midfield sweeper with Micah Lansiquot, Jair Edwards and Dellon Jaggasar forming a net to snatch 'second balls' off the Police frontmen.
Not that Hood was convinced by Jabloteh's tactical adjustments.
"[Jabloteh] didn't nullify anything, we just stopped doing what we are accustomed doing because we lack that discipline at times," said Hood. "They were supposed to drive balls through the opposing midfield on the ground into Jameel, followed by a [pass] into midfield to create overloads on the flanks and get more crosses.
"[…] They started the game that way but stopped doing it and let Jabloteh off the hook. We became predictable because we were trying to hit big diagonals, which were not quite working, rather than play into Jameel."
Jabloteh's opener certainly owed more to happenstance than design. In the 38th minute, Bigette launched a long punt upfield that Police custodian Terrence Lewis somehow glanced off the top off his head for a corner kick—to roars of laughter from the covered stands.
As Police only partially cleared the resulting spot kick, Jabloteh left back Brandon Semper took possession and dribbled past one opponent before being tripped by the second, Kirton, for a penalty kick. Stephens made no mistake from the spot.
Police captain and Trinidad and Tobago international goalkeeper Adrian Foncette, who was on the substitutes bench last night, must have winced.
"The idea [behind selecting Lewis ahead of Foncette] was since we have another quality keeper who is training hard, we try to give him a game every so often to keep him focused," said Hood. "It is not a risk playing [Lewis] but he had a bad game last night."
Five minutes into the second half, Police were back on top as Stephens inadvertently scored at the wrong end when Jabloteh failed to deal with a Clevon McFee corner kick.
Once more, Jabloteh responded, as Jeffrey's troops produced an incisive attack down the right side of the Police defence with Semper and substitute Francois combining before another sub, Kadeem Hutchinson, tucked in off the other flank to drive home.
"When we were defending, we had Kendall Hitlal play behind the striker to make us more compact," said Jeffrey. "But when we won the ball, he became the left side wide man along with Semper while we had only [right back] Nickolai Orr on the other flank.
"The idea was to overload Police's right side, so we wouldn't allow [opposing right back] Kaydion 'Drogba' Gabriel to come forward as he would like. He does a very good job when he comes forward."
Hood responded by sending on former national youth team standouts Jabari Mitchell and Juma Clarence from off the bench. They joined fellow substitute Keion Wilson, who is the Pro League's joint second highest scorer this season at present.
Yet none of Hood's attacking changes helped engineer a vital Police goal. Instead, Jabloteh got another item from a substitute, as Francois stripped Belgrave before snatching the winner.
It looked like a possible foul on the veteran Police utility player but Belgrave's protests were muted. Referee McPhie appeared convinced that youthful vigour prevailed, fair and square.
Hood did not fuss about the legality of Jabloteh's winner. Not that he would want his acceptance to be confused with general support for McPhie's officiating.
"McPhie seems to have a personal with Police," said Hood. "There were a lot of poor decisions from him again last night and a lot of stupid talk thrown [by the official] to Police players and staff.
"[…] I thought there were a lot of situations in the game where we were fouled and they weren't given; and I thought he blew a lot of soft fouls against us, particularly against Jameel…"
Jeffrey, who snubs the bench to sit on a cooler during fixtures, immediately swung into defensive mode, as he replaced Hitlal with defender Aquil Selby. There were disapproving murmurs in the stands too when he snapped at a young, female ball-attendant for being too keen to get the ball back into play.
"She was throwing the ball back too fast and I wanted time to share information with my players," said the Jabloteh coach. "So I was asking her to leave the ball and let it run off a bit…"
Jeffrey had the last laugh, as Jabloteh held on for the result.
The 'San Juan Kings', incidentally, were without midfielders Nickell Orr and Tyrone Bailey, right back Keshawn Hutchinson and forward Justin Araujo-Wilson through injuries. Police missed injured defenders Xavier Wheeler and Kemron Purcell while midfielders Kenaz Williams and Stephen Campbell were ill.
Jeffrey and Hood joined Cyrus in criticising the crammed Pro League fixture schedule, with games carded for every weekend and midweek.
"We are playing [three times] in a week, so we cannot train the way we want to," said Hood. "All we can do in training is prepare for the next game."
Hood and Jeffrey are burning the candle on both ends themselves. Hood is also head coach of the Trinidad and Tobago Women's National Under-20 and Under-17 Teams while Jeffrey is Boys' National Under-15 Team head coach and National Under-17 Team assistant coach.
At least Hood is allowed to train the Under-17 and Under-20 Women at the same time. Jeffrey's schedule is more manic.
After last night's Pro League outing, he was on the training ground with the Jabloteh academy from 8am this morning in Barataria. Then, he drove to Marabella to link up with the National Under-17 Team from 10.30am. There was time for lunch before he was back on the road and driving to El Dorado for National Under-15 training from 2pm.
This week, Jeffrey will train with: the Under-17s from mid-morning on Saturday and Sunday and on Wednesday evening, the Under-15s on Monday, Thursday and Saturday evening, while Jabloteh's Pro League team will train three times this week at night and play games on Tuesday evening and the weekend.
Not that he is complaining.
"It is manageable and I train my body for things like this," said Jeffrey. "I am also lucky to have Marvin Gordon at Jabloteh who is a senior Pro League coach; and I have all the confidence that even if I am not there, he can do a job that is just as good as [mine]."
Jeffrey suggested that having Eve as National Under-17 Team head coach has made the job easier for him.
"Myself and Angus [Eve] share a similar philosophy in terms of football knowledge and how we look at the game," he said. "It is strange that this is the first time that I have worked with him because we think alike—I guess that is where the mutual respect comes from."
Jeffrey also wanted to clarify his refusal to work as assistant to Shawn Cooper on the National Under-15 Team, which the TTFA Board responded to by overruling its technical committee and putting the Jabloteh technical director in charge.
"When I refuse the job as [National Under-15 Team] assistant coach, I didn't know who it was [that the technical committee selected]," said Jeffrey. "I just knew it was somebody local; and no matter who it was—it could have been [Derek] King, Angus [Eve], Terry Fenwick—I would have still refused it. I just know with my experience I had to be the head coach of one of the teams."
On Friday night, Jeffrey came out on top in Couva too. as Jabloteh climbed two spots from seventh to fifth in the Pro League standings.
(Teams)
Police FC (4-2-3-1): 1.Terrence Lewis (GK); 27.Kaydion Gabriel, 20.Elijah Belgrave, 8.Kurdell Brathwaite, 19.Christon Thomas; 4.Kadeem Boyce (7.Jabari Mitchell 80), 13.Dillon Kirton; 29.Clevon McFee (35.Juma Clarence 85), 15.Christian Thomas (32.Keion Wilson 63), 10.Kareem Freitas; 9.Jameel Perry (captain).
Unused substitutes: 18.Adrian Foncette (GK), 5.Kenaz Williams, 6.J'deem Parris, 26.Marcus Chandool.
Coach: Richard Hood
San Juan Jabloteh (4-1-4-1): 30.Christopher Bigette (GK); 14.Nickolai Orr (15.Kadeem Hutchinson 63), 20.Shakiyl Phillip, 12.Sévère Verilus, 16.Brandon Semper; 4.Nical Stephens (captain), 11.Micah Lansiquot; 8.Dellon Jaggasar; 18.Jair Edwards, 9.Kendell Hitlal (5.Aquil Selby 83); 19.Shawndell Augustus (10.Renaldo Francois 63).
Unused substitutes: 35.Jesse Peters (GK), 2.Kerdell Sween, 21.Kareem Eastman, 26.Trevon Weekes, 27.Jaheim Faustin.
Coach: Keith Jeffrey
Referee: Rashby McPhie
Wired868 Man of the Match: Brandon Semper (San Juan Jabloteh)
Pro League results
(Friday 31 January)
W Connection 2 (Neil Benjamin Jr 61, Nathaniel James 82), Tiger Tanks Club Sando 3 (Keron Cornwall 21, Michael Basdeo 32 pen, Shaqkeem Joseph 80) at Ato Boldon Stadium;
Police FC 2 (Christian Thomas 3, Nical Stephens OG 52), San Juan Jabloteh 3 (Nical Stephens 41 pen, Kadeem Hutchinson 71, Renaldo Francois 81) at Ato Boldon Stadium;
Terminix La Horquetta Rangers 8 (Tyrone Charles 1, 90+2, Kishun Seecharan 48, Jamal Creighton 56, 61, Isaiah Lee 60, 68, Aikim Andrews 77), Cunupia FC 1 (Kevon Woodley 20 pen) at La Horquetta;
Pt Fortin Civic 0, Defence Force 3 (Hashim Arcia 62 pen, Devorn Jorsling 88 pen, Reon Moore 90+2) at Mahaica Oval.
Upcoming fixtures
(Sunday 2 February)
AC Port of Spain v M'vt Caledonia Utd, 3.30pm, Larry Gomes Stadium;
(Tuesday 4 February)
Police FC v Cunupia FC, 6pm, Ato Boldon Stadium;
San Juan Jabloteh v Club Sando, 6pm, Hasely Crawford Stadium training field;
Terminix La Horquetta Rangers v Defence Force, 7pm, La Horquetta;
(Wednesday 5 February)
AC Port of Spain v Central FC, 6pm, Hasely Crawford Stadium training field;
W Connection v M'vt Caledonia Utd, 7pm, Ato Boldon Stadium.