"[Terminix La Horquetta Rangers] start their matches incredibly fast," said Point Fortin Civic head coach Dexter Cyrus, before pausing to think some more. "I haven't seen a team start a game that fast in some time…"
Rangers are still waiting for their first trophy, two years since Terminix director Richard Ferguson helped execute a takeover of the struggling club. But on Tuesday night, La Horquetta Rangers gave another demonstration of their offensive firepower in a 5-2 spanking of Point Fortin Civic in 2019/20 Pro League action at their Phase Two headquarters.
The result helped Rangers climb one spot to third place, as they leapfrogged Morvant Caledonia United who were on a bye. Rangers and Caledonia have 16 points each from nine matches but the former team's goal difference is so superior—they have scored 14 goals more while conceding five extra items—that they might as well have an extra point.
Defence Force FC remain on top of the standings with 20 points, which is three more than second place Police FC. Arguably, it was the 'Lawmen' who had the biggest result of Match Day Ten as they gunned down W Connection 4-0 at the Ato Boldon Stadium in Couva with versatile attacker Christian Thomas notching a double.
At other end of the table, Tiger Tanks Club Sando's woeful run continued as they lost 1-0 to AC Port of Spain at the Diego Martin Sporting Complex. Veteran forward Kordell Samuel grabbed AC's winner in the 84th minute.

Sando are second from bottom of the 11-team standings and, since their opening day win over San Juan Jabloteh on 13 December 2019, have reeled off three draws and five defeats.
Table proppers Cunupia FC might have caught Sando on Tuesday too but failed to hold on to their lead as 15-year-old Trinity College East schoolboy Jaheim Faustin scored his first Pro League item to secure a 1-1 draw for Jabloteh.
Central FC got even less value from their opening goal. Attacker Akim Armstrong, who operates as a 'false 9' for the Couva Sharks, put his team ahead after just two minutes in the opening game of a La Horquetta double header.
But Central could not withstand an 'Army' assault that came in more ways than one. In a feisty affair, Central were temporarily down to 10 players—with attacker Sean Bonval receiving treatment after a lunging tackle by Defence Force midfielder Cassim Kellar—when flanker Reon Moore swept home the winner for the Pro League leaders.
The 2-1 win for the 'Teteron Boys' was a positive response to their loss against Morvant Caledonia by a similar margin last weekend.
When it comes to making a statement, though, it is hard to top the La Horquetta Rangers.
The game was barely three minutes old when 20-year-old forward Isaiah Lee, just back from serving a suspension for a red card against Morvant Caledonia, put the hosts ahead with a close range finish at the back post off a right side cross.
By the 14th minute, Civic were three goals down—as Lee notched a second and Aikim Andrews cut in off the left flank to curl home his team's third—and Cyrus might have well told their maxi driver to warm up the engine.
[sports-match template="logos" match="60088″]
"I have never played [at Rangers' La Horquetta ground] before, so it is the first time I experienced the facility and I wasn't aware the field was that small," Cyrus told Wired868. "If I knew, I would have made our field smaller in training to prepare. [In La Horquetta] you could play two passes and you are in the [opposing] box comfortably.
"[…] We started incredibly slow and they started incredibly quick. By the time we started to play, they were three goals up. My group is a young inexperienced team and they were stunned. We lost the game based on that."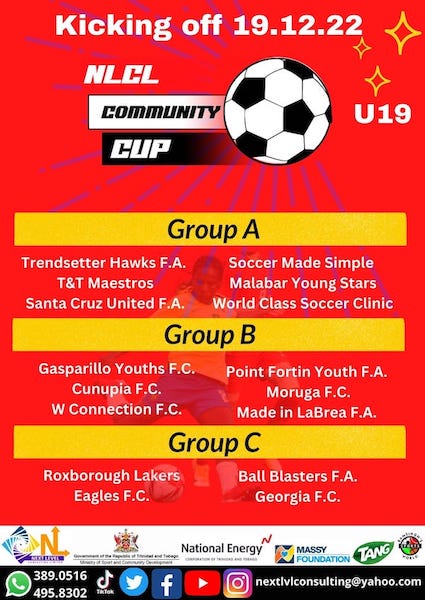 Of course, Civic have made a habit of being unfashionable late in recent times. The 2019/20 Pro League season started without the southern team as their management initially balked at the competition's registration fee. By the time an agreement was struck between Civic and the Pro League board, two match days were already completed.
"It was a bit up in the air as to if we would play," said Cyrus. "As I told the boys, we have no control over that. The 'manage' (Alyson Williams) came and spoke to the boys and said 'you all train and leave us let us handle those side of things'…"
Being the Pro League, Civic were allowed to participate anyway. It is easy to mock an organisation that allows clubs to enter their competition weeks after the deadline, as though strolling casually into a fete. Yet, it must be said that the benefit to the footballers involved is unmistakable.
Cyrus explained his project, which won the approval of Civic technical director Steve David, administrator Keith Bailey and the rest of the board.
"When they approached me last October, I said I thought they needed to freshen up their squad," said Cyrus, a former St Benedict's College coach who also runs his own football academy. "I said that was the only way I would take on Civic."
That done, Cyrus went out to look for players who fit a particular profile: gifted south-based players who had fallen by the wayside but were still young enough to rehabilitate. He came up with names like attacker Daniel Diaz, goalkeeper Stephon Seepersad, midfielder Maurice Dick and, of course, former Shiva Boys Hindu College maverick midfielder Tyrel 'Pappy' Emmanuel.
"When we approached Pappy, he expressed to us that he had a severe groin injury and it kept reoccurring," said Cyrus. "We told him to come for assessment by our physio [Adaryll John] and he came, put his head down and worked very hard to come up to fitness. And it worked out for him and us.
"[…] Adaryll is a miracle worker and he has a very humane touch, as a practising Christian… He literally took Pappy's career out of the grave."
Civic should have been sloppy and disorganised this season. Instead, Cyrus' troops proved to be a solid balanced unit, led by the one-two combination of Emmanuel and six foot five forward Kerville Jeremiah, a former lower league poacher with San Fernando Giants, on top.
Jeremiah had scored six goals from his last five matches before Civic's trip to La Horquetta.
"[Jeremiah] doesn't look like a typical centre forward," said Cyrus, a former Trinidad and Tobago international forward during the mid-1990s. "You might not see the nice touch or silky move and dribble that we like as Trinidadians. But he is able to impact the game because he can protect the ball and he reads the game very well and is able to get into goal scoring positions. He can also help in attack or defence with aerial battles.
"We did a lot of work on goal scoring with him and we are reaping the benefits of that."
Emmanuel, now 21, has also been a slow burner. At Shiva Boys, 'Pappy' thrilled as a deep-lying playmaker but Cyrus is convinced that he has a future higher up the field—playing just behind their centre forward.
"Pappy is definitely a 10," said Cyrus, who admitted that Emmanuel did not quite get his positioning right in his first few games as an advanced midfielder. "The thing about Pappy is all we needed to do was clear certain things up as he is very, very coachable… He is accustomed to playing lower in midfield but he is not the strongest defensively.
"Tyrel 'Pappy' Emmanuel is a '10'. He is superb at that final penetrative ball in those tight areas and he is able to find pockets of space in and around the [opposing defensive and midfield] lines.
"And remember he is inexperienced at this level. He is just doing that off a little coaching and his natural ability. His best is still to come."
'Pappy' would not have fond memories of La Horquetta, though. His former schoolmate, Junior Asson, got Rangers' fourth item in the 27th minute, after Lee thumped a header off the bar. And captain Jamal Creighton completed the handful in the 40th minute, with his sixth goal of the season which is the joint highest individual scoring tally in the Pro League.
Creighton, mind you, plays as an orthodox central midfielder in a 4-4-2 formation. That is, if you consider anything about Rangers' approach to be 'orthodox'.
In attack, coach Dave Quamina's team can get as many as eight players in and around the opposing penalty area. On their day, against wilting opposition, it can be a fierce-some sight—picture a pack of wolves mauling a sheep.
"I thought their knowledge of their ground was the underlying factor in their win," said Cyrus. "Because their ground is so small, there isn't a lot of space they have to recover when they lose possession. I am not sure they can do that [effectively] on a large field; and I am definitely not sure they can do that at Mahaica Oval. I would have to see that."
The Civic coach praised Rangers' front pair of Tyrone Charles and Lee, who tormented his team over the opening 45 minutes.
"Tyrone [Charles] and Isaiah Lee were exceptional when it came to their movement and touch," said Cyrus. "If Isaiah keeps that up, he could be a very good player for Trinidad [and Tobago] in the future. He moves a lot and intelligently too. You have to give them kudos."
At halftime, Rangers were halfway to double figures but they would not rediscover their scoring touch after the break. Midfielder Keron 'Ballpest' Cummings came within a whisker of a sixth goal in the 81st minute but, otherwise, Rangers custodian Jabari St Hillaire was the busier of the two goalkeepers.
St Hillaire tipped an effort from 18-year-old Civic flanker Kyron Williams on to the bar in the 40th minute and was quick off his line to smother an attempt by another teenager, substitute Jalen Bristol, in the 78th minute.
When Civic's goal did come, it was worth the wait as Diaz, another substitute, scored a deft, chipped stoppage time effort from inside the Rangers penalty box.
There ought to have been sniggers when Diaz grabbed the ball from the back of the net and sprinted back to the half-line, with his team trailing by four goals. But if someone had walked into the ground during the interval, it might have been difficult to guess which team was in control. Possession changed hands as often as it might in a tennis match.
Civic players should have been praying for the final whistle. Instead, they found solace in getting plenty of the ball with space to run into as well.
"We were wasteful in front of goal," said Cyrus. "Rangers score a lot of goals but they give up a lot of chances at the back too. They are a bit top heavy and lopsided but I guess their coach worked out that that is how they have to win their games.
"[…] They are a very individualistic team. They gave up 21 shots on their goal and 12 were on target while they had 17 shots and scored five. It is clear that Rangers [are] a team that plays very good attack but you can beat them on any given day.
"[…] I am still proud of our guys, although I am disappointed with the result. Where they are right now, the performance is acceptable because they did not bow their heads. I will take that into the Army game [at Mahaica Oval] on Friday."
Cyrus credited assistant coaches Brent Garcia and Duane Richardson for his match statistics. Despite scarce resources, the former Petrotrin stand-out as a player and coach is attempting to use creativity and a can-do attitude to lift the glom at the Point Fortin outfit that has languished at the wrong end of the Pro League table in recent times.
He suggested that the format of the top flight competition is limiting his abilities as coach, though.
"It is very difficult to play three games every seven days for three months because it takes away your time to coach team and prepare tactically," said Cyrus. "All you can do with that timeframe is focus on man-management and maintaining energies. It is as if the league is designed for the teams with the big squads, who can afford to rotate—and that would be Defence Force, Police and that same Rangers team.
"I don't think we can continue like that. The body needs opportunity to rest, take coaching and come again. Tactically, you cannot do much with players who can't move."
Cyrus would hope that his troops kept something in the tank when they host a physical Defence Force team on Friday night.
And Rangers? They welcome bottom placed Cunupia to Phase Two, La Horquetta from 7pm on Friday.
Cunupia coach Michael De Four at least has the benefit of being forewarned. His team lost 4-1 to Rangers last August in the Ascension Invitational Tournament.
If Lee and company get off to an early flier again, he would consider such a scoreline to be 'acceptable'.
(Teams)
Terminix La Horquetta Rangers (4-4-2): 20.Jabari St Hillaire (GK); 99.Anselm Jackson, 12.Caleb Sturge (5.Leslie Russell 76), 26.Jesus Perez, 17.Ross Russell Jr; 31.Junior Asson (77.Samuel Delice 82), 8.Jamal Creighton (captain), 15.Keron Cummings, 7.Aikim Andrews (25.Michael Yaw Darko 87); 27.Isaiah Lee, 10.Tyrone Charles.
Unused substitutes: 29.Emmanuel John (GK), 9.Kishun Seecharan, 28.Johnny Noriega-Brito, 32.Yohannes Richardson.
Coach: Dave Quamina
Point Fortin Civic (4-2-3-1): 1.Stephon Seepersad (GK); 26.Jeremiah Kesar, 16.Kern Edwards, 20.Justin Cornwall, 33.Maurice Dick; 8.Shakuile Williams, 4.Justin Sadoo (captain); 17.Kestwin Goolie (7.Akeem Redhead 60), 9.Tyrel Emmanuel, 24.Kyron Williams (28.Daniel Diaz); 12.Kerville Jeremiah (32.Jalen Bristol 72).
Unused substitutes: 22.Kenny Dick (GK), 11.Kyle Celestine, 55.Akiniyel Rouse, 99.Ackeel Jacob.
Coach: Dexter Cyrus
Wired868 Man of the Match: Isaiah Lee (Terminix La Horquetta Rangers)
Pro League results
(Tuesday 28 January)
Central FC 1 (Akim Armstrong 2), Defence Force 2 (Reon Moore 22, 78) at Phase 2, La Horquetta;
Terminix La Horquetta Rangers 5 (Isaiah Lee 3, 7, Aikim Andrews 14, Junior Asson 27, Jamal Creighton 42), Pt Fortin Civic 1 (Daniel Diaz 90+1) at Phase 2, La Horquetta;
AC Port of Spain 1 (Kordell Samuel 84), Tiger Tanks Club Sando 0 at Diego Martin Sporting Complex;
San Juan Jabloteh 1 (Jaheim Faustin 70), Cunupia FC 1 (Kevon Woodley 50) at Diego Martin Sporting Complex;
W Connection 0, Police FC 4 (Christian Thomas 10, 52, Clevon Mc Fee 65, Jameel Perry 70) at Ato Boldon Stadium.
Upcoming Pro League fixtures
(Friday 31 January)
W Connection v Tiger Tanks Club Sando, 6pm, Ato Boldon Stadium;
San Juan Jabloteh v Police FC, 8pm, Ato Boldon Stadium;
Terminix La Horquetta Rangers v Cunupia FC, 7pm, La Horquetta;
Pt Fortin Civic v Defence Force, 7pm, Mahaica Oval;
(Sunday 2 February)
AC Port of Spain v M'vt Caledonia Utd, 3.30pm, Larry Gomes Stadium.