Trinidad and Tobago Football Association (TTFA) president William Wallace has promised to regularise the FA's technical committee, after its ranks swelled to an unprecedented and unconstitutional size at the last board meeting.
A six member technical committee comprising of chairman and board member Keith Look Loy, Michael Grayson, Jinelle James, Norris Ferguson, Ken Elie and Richard Piper was instituted soon after Wallace's election last November.
However, the board added two additional committee members at its last meeting, AYSO president Dale Toney and Cunupia FC president Narvin Charles, which took the headcount to eight. And Look Loy suggested today that technical director Dion La Foucade should also serve on the committee.
The TTFA constitution caps standing committees at seven members. Article 43.3 states: Each standing committee shall consist of a chairman, a deputy chairman and maximum five other members.
Wallace said he will move swiftly to address the error, which was pointed out by Wired868. Thankfully, the additional numbers came after the appointment of over 30 staff members to various national football teams.

"The decisions made by the committee were made before those members were put on the committee, so at least there is no problem there," said Wallace. "Initially when the committee was set up there was a question as to why the Pro League did not have a representative on the board as they are playing club football at the highest level. The board agreed to expand but I guess we expanded one too much."
It is uncertain which technical committee members will be asked to step aside. Or if the board would approach its general membership for a constitutional change, so as to permit additional persons.
Look Loy, who also serves as Trinidad and Tobago Super League (TTSL) president, handpicked close to 90 per cent of the technical committee—outside of Charles, who was nominated by Pro League chairman and board representative Brent Sancho. He explained his process and defended the fact that only three members of the committee, excluding La Foucade, have coached at national or local top flight level.
"It is not your normal committee which is chocked full of coaches," said Look Loy. "The population [of the technical committee] responds to the structure of the committee that the board wanted, which is one that oversees the four pillars of the technical committee: the technical department, the national teams department, women's football, and club licensing and compliance.
"[…] The central concept of the new technical committee is it has supervisory authority over a wide range of TTFA activities and not just technical matters, as was the case in the past. That needs to be reflected in the expertise of the members of the committee."
Three technical committee members have already been assigned to various departments within the TTFA's technical arm. At the last board meeting, members endorsed Piper as national teams director, James as women's football director and Ferguson as club licensing and compliance director.
If Look Loy was beaming at the scope of his new committee, he was just as enthusiastic about the new national teams coaching set-up. Today, coaches and support staff for all teams met the committee to discuss the way forward for the Soca Warriors.
It was the first step in a new format that insists on collaboration between the various national teams and saw the likes of Terry Fenwick (National Senior Team head coach), Derek King (National Under-20 Team head coach), Angus Eve (National Under-17 Team head coach), Clayton Morris (National Under-15 Team assistant coach) and Stern John (National Under-20 Team assistant coach) asked to trade ideas. England-based national senior team goalkeeper coach and head of the TTFA's goalkeeper department, Kelvin Jack, was believed to be the only absentee.
"It went excellently well," said Look Loy. "We had a full turnout of staff with more than 50 people in the room, which was everybody from head coach to equipment manager and everyone in between.
"[…] I opened the meeting by making the point that today is a historic day because never has there been such a meeting with the objective of creating a common vision for all teams about how we have to play.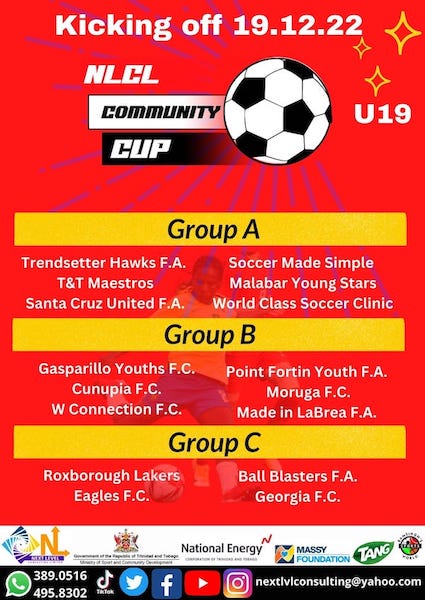 "We have to sacrifice egos to make Trinidad and Tobago football feared again. The teams don't belong to the coaches, they belong to the TTFA and we have to work together. They accepted that and are eager to work."
Among the issues discussed was a code of conduct for players and staff, incident reporting (all players will be insured for training and matches) and monthly reports from the various coaching staff. And, more intriguingly, the country's top coaches spoke about the characteristics of a future Trinidad and Tobago team and footballer.
Look Loy offered a bit of the dialogue to Warriors fans.
"We talked about playing with width, efficient ball movement, and exploiting wide places in the field when we are in attack," he told Wired868. "[…] When we get into the final third, we are not looking to pass square and go back; we are looking to take risks and be aggressive. We are going to goal!
"[…] In defence, we spoke about defending the wide areas and funnelling the opposing attackers into the centre of the pitch where we have bodies to break down the play… Whatever formation a coach decides, we want to see certain principles employed in the way we play the game, regardless of if they use 4-4-2 or 4-3-3.
"[…] Fenwick, Eve and Clayton Ince (National Under-20 Team goalkeeper coach) contributed to the discussion and [Wayne] Sheppard (National Under-15 Team assistant coach) made a couple of important points."
The upshot of the TTFA's new approach, Look Loy suggested, was a consistent philosophy for players to follow throughout their international careers.
"We are going to be making a documentation out of the meeting that we will circulate and put in academies and give to regional scouts," said Look Loy. "We have to train players in the way we have to play from today. The 13-year-old today is an under-17 player in four years' time."
Look Loy gave other examples of the benefit of the range of ideas within the TTFA's current technical arm. James, a former Women's National Senior Team player and manager, alerted the technical committee chairman as to why he could not offer girls the identical development plan created for the boys.
"We say we want to do screenings for youths in each region but we can't do this for girls as the player pool is not big enough," said Look Loy. "What Jinelle explained is that girls don't have the freedom to expose themselves to football outside of a formal structure like boys (who are often allowed to play on the streets and in open spaces).
"So the approach to women's football is entirely different. What we may need instead is three or four hubs at grassroots level to teach them how to play."
Look Loy said the technical committee also brainstormed about ideas to better involve Tobago talent within the national set-up.
Tobagonian Dwight Yorke captained the twin island republic at the 2006 World Cup and remains the country's most successful export, yet players from the 'sister isle' do not get a fair shot at national selection and often drop out at youth level.
"They can't just take a maxi to get to training like the players in Trinidad and a lot of the Tobago players are forced to pull out, especially during exam times," said Look Loy. "What we are pushing to get for the National Under-17 girls training squad is a regional programme that allows selected players to train in Tobago during the week and then we bring them over on the weekend.
"In the rest of the country, the regional centres will not have the national team players because they would end up occupying places that other players can take. But in Tobago we have to do it and have them training there so they will not be left alone.
"It will probably never be equal but we have to make it as equitable as possible."
Eventually, Look Loy hopes the TTFA can mirror nations like the United States and Cuba with residential training centres, which can house national youth players. However, the local football body lacks the finances to do so in the near future.
"This is where I want to push the TTFA but we have to creep before we walk," he said.
The TTFA's Home of Football, which is uninsured at present, is little help. Look Loy wants to activate all national teams by 1 February but said there is a shortage of venues for training, with work ongoing at the Ato Boldon, Larry Gomes and Hasely Crawford stadia.
At present, the Women's National Under-17 and Under-20 Teams are shuttling between the St Mary's College ground on Serpentine Road, St Clair and the Ato Boldon Stadium training field in Couva.
"We are trying to manoeuvre to find grounds for national training and the training field at the Home of Football is useless," said Look Loy. "The surface is poor and uneven and it is not good enough for training a high level team."
There is still no date set for the first Men's National Senior Team session and no confirmed practice games either. The Warriors play either Guyana or Barbados in a decisive 2021 Concacaf Gold Cup Play Off in June and Fenwick has only the March Fifa international window to prepare his outfit.
The TTFA is yet to secure him any games, though.
"We are getting offers and then those offers are disappearing because the teams find better opponents," said Look Loy. "Our free-fall in the Fifa rankings is affecting our ability to secure opponents. We have been invited to play in a tournament in Europe in late May. (Fenwick will not have his full squad for that proposed tournament as it falls outside the Fifa window.)
"March is presenting a ticklish situation but we are still trying to get decent opponents."