Thirty-nine year old coach Derek King is set to become the third appointment of the new Trinidad and Tobago Football Association (TTFA) era, as technical committee chairman Keith Look Loy confirmed today that his name will be presented to the Board for ratification in the first week of January.
King, who previously worked as assistant to Hutson 'Barber' Charles and Stephen Hart with the National Senior Team, has agreed to leave Canadian Premier League outfit HFX Wanderers to rejoin the Soca Warriors to support new head coach Terry Fenwick. (The first new appointment of the new William Wallace-led administration was Richard Hood as Women's National Under-17 Team head coach.)
The former national defender was part of Hart's staff when Trinidad and Tobago qualified for successive Concacaf Gold Cup quarterfinals in 2013 and 2015 while he is only the second local coach to win Pro League titles with different clubs—a feat he managed with Joe Public and North East Stars. Incidentally, Fenwick did it first with San Juan Jabloteh and Central FC.
King, who worked briefly with Fenwick for the 2017 Pro League pre-season, is excited about reuniting with the Englishman for international duty.
"With Fenwick's experience and my experience I think we can do wonders at this point in time where Trinidad's football is at its lowest," said King, who also led Look Loy's FC Santa Rosa to the Super League title in 2018. "Our focus now is on the Play Offs and getting the team into the 2021 Gold Cup. I look forward to the challenge of working with Fenwick."

King is the last coach to lead a Trinidad and Tobago Men's National Team to a trophy, which he managed at the 2014 Caribbean Under-20 Championship with a team that included Levi Garcia, Aikim Andrews, Shannon Garcia, Akeem Garcia, Neveal Hackshaw and Marteon Watson.
And Look Loy said he may have another shot at that level too.
"Everybody knows King has a record as a national youth coach and we will look at that," said Look Loy. "My recommendation is that he be made National Under-20 coach."
If the Board accepts the nomination from its technical committee, it would see King beat a field that includes Angus Eve, Shawn Cooper, Keith Jeffreys and Anthony 'Dada' Wickham to become the first appointment to a Men's National Youth Team by the current administration.
"If you're talking about coaching in youth football, there are two names you cannot sidestep—Angus Eve and Shawn Cooper," Look Loy told Wired868, last week. "These are the two coaches who win titles. I have known both of them a long time and I asked them to submit resumes along with Keith Jeffrey and 'Dada'. All of these guys are interested in coaching the youth sides and we are going to look at that.
"The people we have handling the youth side on both [men's and women's] sides have failed and now we need to look at new people. Full stop."
However, as Look Loy heralded a new integrated approach that would see the National Under-20 coach assist at Senior Team level, King's familiarity with Fenwick might have been an asset.
"The National Senior Team coach will work alongside the coaches in the youth team," said Look Loy. "Not dominate eh; but work with. The idea is that the National Under-17 coach will be assistant to the National Under-20 coach and the Under-20 coach will be assistant to the Senior Team coach. That way, we will have tactical unity, continuity and fluidity between the teams.
"The day of a National Team being the private reserve of the national coach is gone and will not resurface under my watch. Now, we need integration of the teams and the staff and we will do it by having linkages."
King is thrilled by the challenge.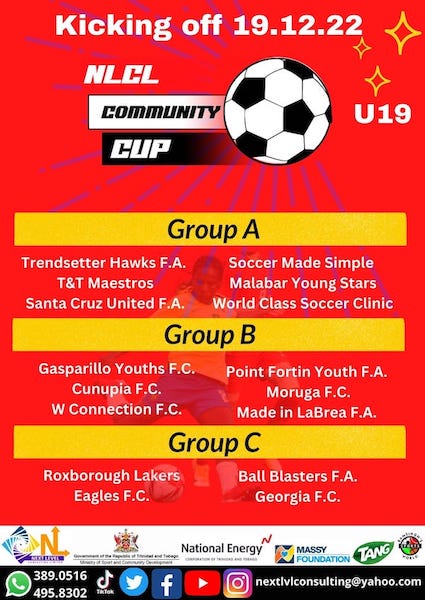 "Terry and I worked together for two months at North East [Stars] and we had a good working relationship," said King. "He is a very passionate coach and will drive the players to get the best out of them; and watching the team play for the last few games, you weren't seeing that urgency and that drive.
"Now we are starting something fresh and trying to build on this. I know Terry likes to work with youths and this will be a good opportunity to integrate some of the young players with the senior ones.
"But our first step is to get the team together and get two games in the Fifa date [in March] and get the team ready for the [Gold Cup] Play Offs [in June]."
King's return to Trinidad means a temporary end to his working relationship with Hart that lasted for the better part of six years. He described his departure from Wanderers as 'bittersweet' and commended the club for making him and its Trinidad and Tobago contingent feel at home.
However, he said a return to Trinidad was best for his young family, which comprises of girlfriend Calyssa and daughters Sarai (16), Aniyah (4) and Kaliah (eight months).
"Being part of history, meaning the Canadian League launch, was a really good experience and working alongside Stephen Hart is always a joy," said King. "[…] It was a tough decision but, at this point, I prefer to be home… I really want to thank Stephen for giving me the opportunity as well asthe president Derek Martin and the whole of Halifax.
"They welcomed us with open arms, so it is bittersweet to leave. But at the end of the day, life goes on."